We are becoming so reliant on electronic devices these days that I hope we maintain some basic level of skills, survival or otherwise, if [or when] these gadgets fail. The SPOT Messenger is one of those devices I've taken with me on all my hiking, snowmobiling and off-roading adventures since 2011! My wife gave it to me for her peace of mind as I spend so much time in the backcountry.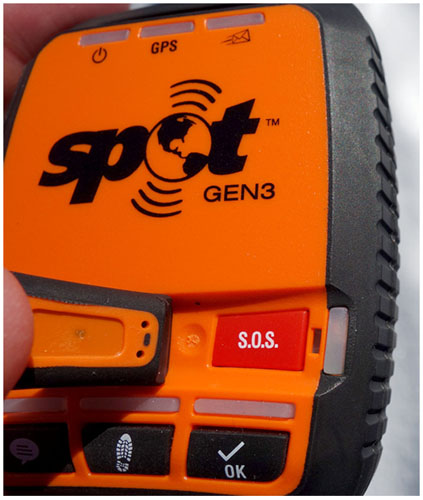 The idea is that I would be able to quickly activate help if I ever found myself in that kind of predicament. I use preset messages all the time to check-in with cryptic "I'm OK" status updates while on my adventures, but have yet to press that emergency SOS button!
Following a recent story about an injured snowmobiler up in the Mt. Baker Wilderness, he did need to press that SOS button and… IT DIDN'T WORK! What are the odds? That situation really makes me think about how much trust I put in any electronic device that would be used in critical circumstances – including a GPS.
The good news is that SPOT has hundreds of thousands of subscribers and fully committed to providing a reliable service we all can depend on. However, if you still want a SPOT device tested for your own peace of mind, you can make that request by using this GEOS* form in either Word or PDF format.
*GEOS provides emergency rescue coordination and SPOT SOS/911 monitoring through the dedicated International Emergency Response Coordination Center (IERCC). Click to learn more about "the power behind the button".