Decisions, decisions, decisions… there are a lot to be made when putting together a trek to the base camp of Mt. Everest.  As our EBC plans begin taking shape, a few of the biggest ones we've just finalized are: 1) who to guide us, 2) what villages to see along the way and 3) when to go.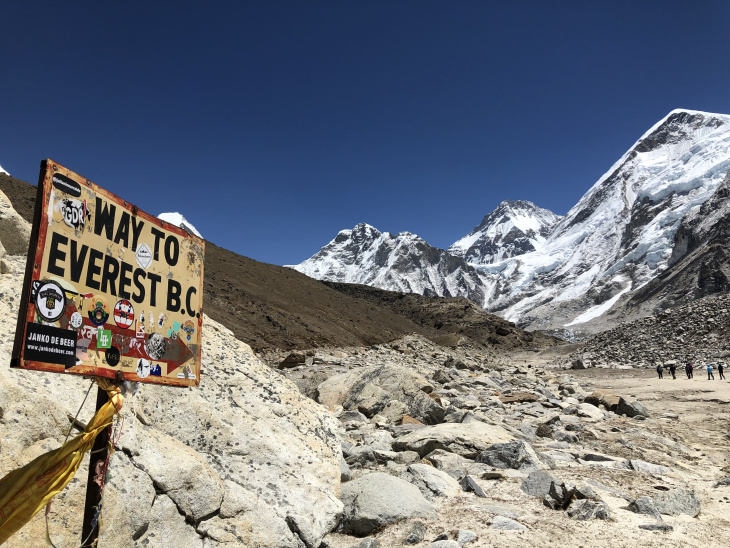 I will highlight the outcome of these decisions in reverse order:
3) WHEN TO GO
We chose early October as the best time for us to go.  Realizing this is peak season for an EBC trek, we felt we'd rather deal with more people on the trail than travel all that way and not see anything but thick clouds and lousy weather.  That's what happened when we hiked Costa Rica's tallest peak last year!  While summiting Cerro Chirripo was still fun, I hope trekking Nepal in October will only increase our chance of actually seeing the world's tallest peak on our first try!  We also don't think we'll mind busier trails since a trek like this is more of a social and cultural experience over those 15 days it takes to complete.
2) WHAT VILLAGES TO SEE
I've read a lot of EBC trek itineraries over the past few weeks and most of the routes follow a similar pattern: Lukla, Phakding, Namche, Dingboche, Loboche, Gorakshep, Kalapathar, Pheriche, Namche, Lukla.  Obviously there can't be much variation due to the mountainous region this is and I'm positive the experience will be amazing no matter what village we pass through or stay in.  However, I think there are two destinations along this trek that we don't want to miss or just quickly pass through:
TENGBOCHE
Not only is this the village with the largest monastery, but I've read that "morning prayer horns wake you up in the morning, adding yet another spiritual dimension to the trek."(i)
KHUMJUNG
I think spending a night in Khumjung is also worth making this a part of our experience.  Apparently, the "Khumjung village is the largest, oldest and most scenic Sherpa village in the entire Khumbu valley."(ii)  I plan to visit the Khumjung Monastery, see the mysterious YETI skull and scalp and take in views of Everest and Ama Dablam from the Sir Edmund Hilary Memorial Park…not to mention try some apple pie from the well-known Everest Bakery.
We also timed our acclimatization day in Namche (DAY 4) to fall on a Saturday in order to "check out the weekly market when local Sherpas from surrounding villages set up in the middle of town and exchange everything from electronics to sporting goods."(iii)
1) WHO TO GUIDE US
Lastly, the first question we asked ourselves was, do we even need a guide? 
Young explorers and seasoned trekkers would likely say no, but this group is well beyond our twenties and not quite as willing to just "wing it" without a whole lot of experience.  We also want to get the most out of our first trip to Nepal with the least amount of complication.  So why not support the local economy and utilize those who know what they are doing because they do it for a living. 
That said, this decision was probably the most difficult one to make because you are selecting the people who will help make this an experience of a lifetime.  These are the people that arrange all your lodging, handle certain logistics (permits, ground transportation, local flights) and ultimately support you in accomplishing your end goal.  This choice is made without meeting your handler and only communicating through email thus far. 
After much consideration, we made reservations with Advanced Adventures!  They have been very responsive in email with many good things written about them on Trip Advisor.  We also liked their 15-day GAP EBC Trek at $980 per person instead of the 14-day all-inclusive EBC Trek at $1380.  This decision had less to do with overall cost and more to do with not wanting to be locked in to pre-paid food.  While the all-inclusive package with this company does take care of literally everything, we decided to leave food plans open to make those choices ourselves along the way.  I also like that AA's GAP EBC had the two villages mentioned above already worked into their itinerary.  So to me, this package is ideal in terms of cost, number of days, flexibility with food and overall destination plans.
Next up: more decisions to make about getting there (which ought to be interesting with all this Coronageddon craziness going on)
March 14, 2020 update: While the world went into lockdown yesterday over COVID-19, my company instructed all of its employees to leave the office and to begin working from home until further notice.  I guess we'll have to wait and see what comes from all this before moving forward with buying plane tickets or taking care of any other travel-related logistics.
References:
i. Himalayan Independent Guides, Day 11
ii. Himalayan Independent Guides, Day 3
iii. Himalayan Wonders, Comprehensive Everest Base Camp Packing List