DAY 3 – Tag the Top, Return to Camp 1
Midnight came quickly.  The rain had stopped and the sky looked clear in those early morning hours.  Headlamps bounced around in the dark as we each got ready to go, silently hoping for the kind of weather needed to safely summit today.  4ish miles each way, with roughly 5,000′ of gain, we thought we could get up and back in 12-13 hours.  Leaving at 1am, as discussed the night before, would put us back at camp no later than 2pm to minimize any possible storm encounters.
Standing on top of Bonney Pass at 3am, we were already half-way there at 2 miles in and 2,000′ feet up.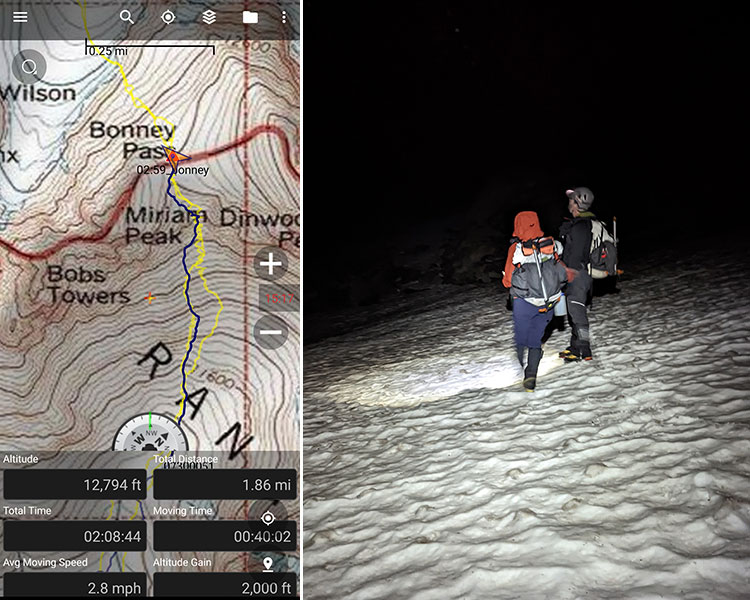 I have to say, it was pretty cool crossing the Dinwoody Glacier in the dark, without really knowing where we were going.  The amount of water flowing through so many runnels was amazing.  We also came across this crevasse that was just above the tracks we were following.  I knew we would have to check it out again on the way back.  More on that later.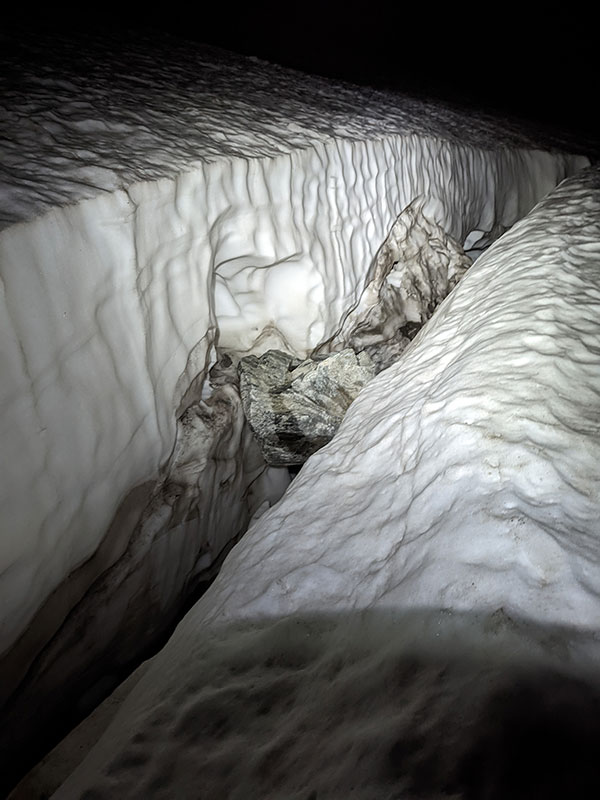 Heading up Gooseneck Pinnacle, we came upon two guys that had spent the night curled up in the boulders.  They got caught up in bad weather and had to hunker down.  Luckily they made it but that's exactly what we were trying to avoid by starting so early.  Our weather continued to look promising as the sun rose above the far ridge at 6am.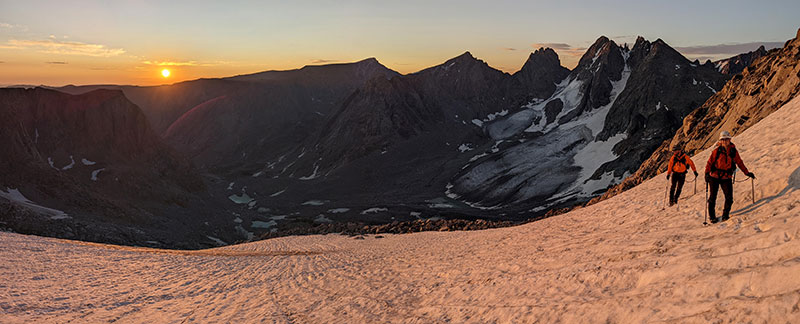 Skirting along the Gooseneck Glacier right before the bergschrund and the final summit ridge.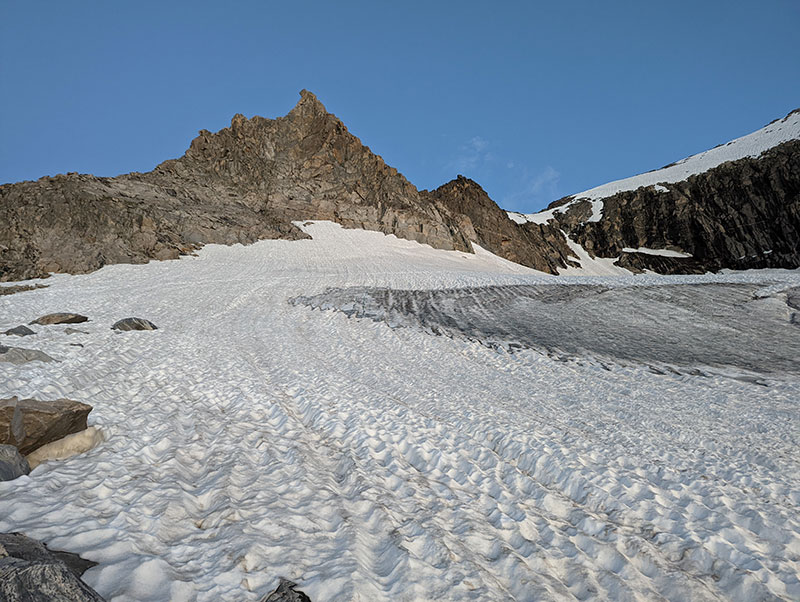 No Crux Today
The bergschrund was hardly visible as we approached it.  You kinda had to know where to look and what to look for from this lower angle.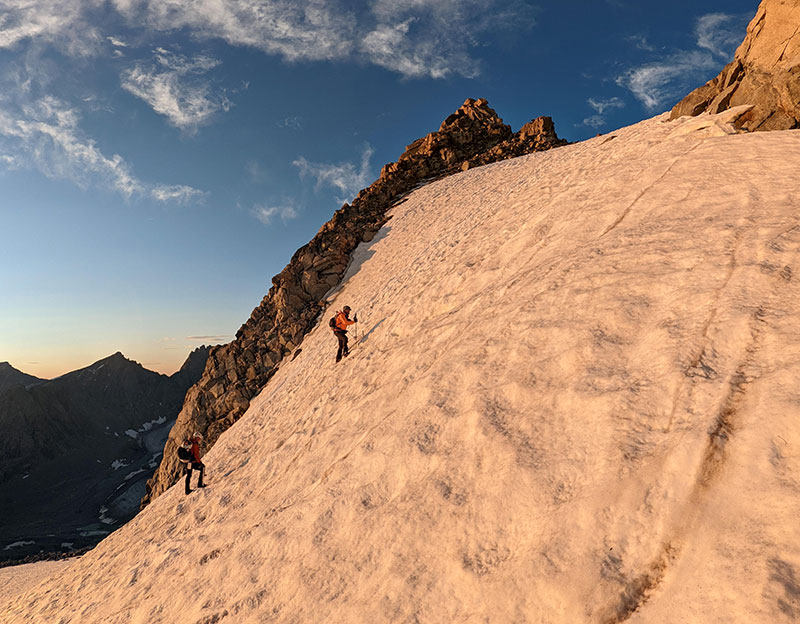 The anticipated crux of the route was much more obvious when standing on top of it.  In fact, we were quite happy to find the snow bridge so in tact.  It made our crossing of this gap non-eventful.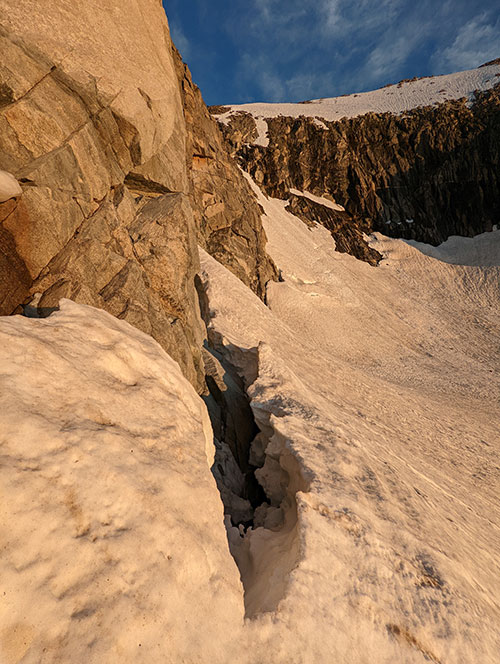 The last part to the top of Gooseneck Pinnacle is literally straight up!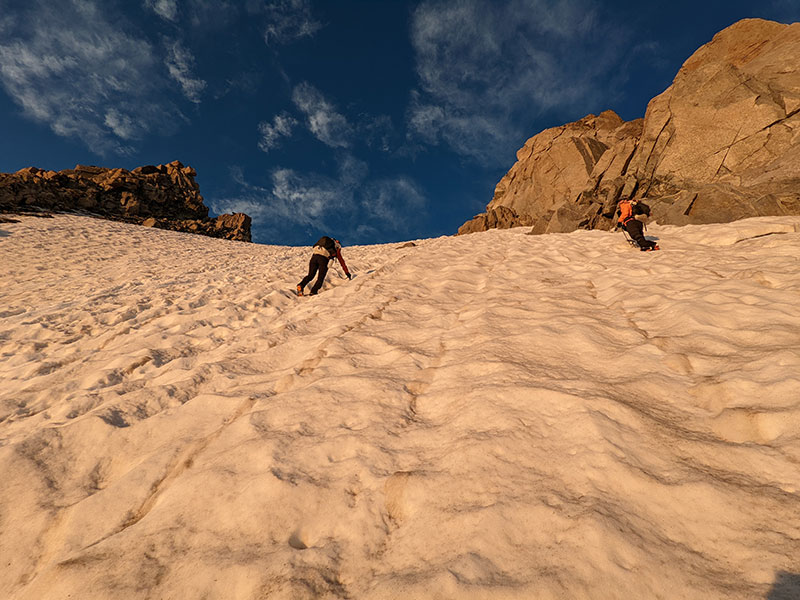 Here we are at the top of Gooseneck Pinnacle.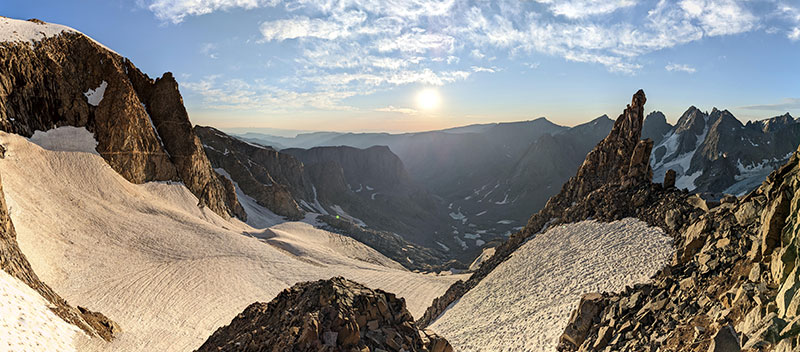 Traversing the summit ridge was next.
We heard a lot of people talk about how sketchy this last section is.  I didn't feel that way about it at all.  It certainly isn't that much of a knife-edge.  You just follow the ridgeline wherever you feel most comfortable, along the snowpack or on the rocks.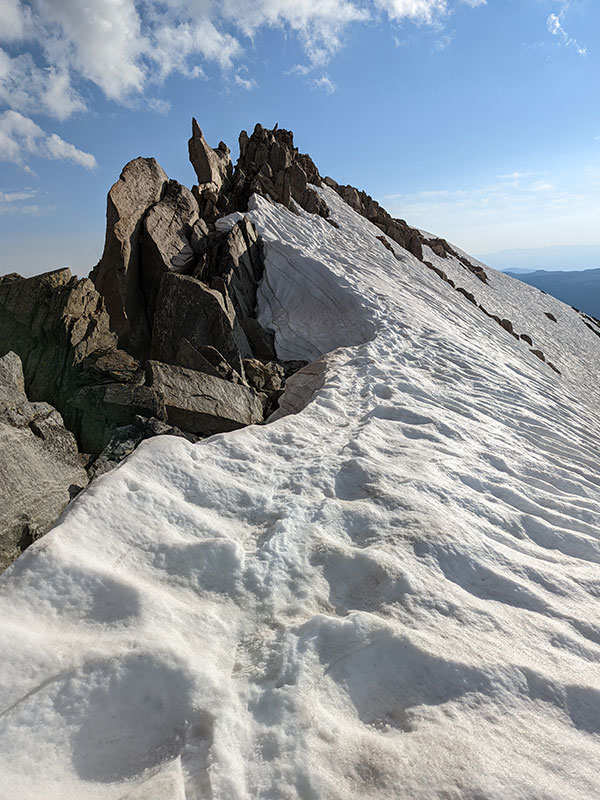 More views from the summit ridge.  I didn't know what I was looking at in this direction until I got home and started reading about routes from the west.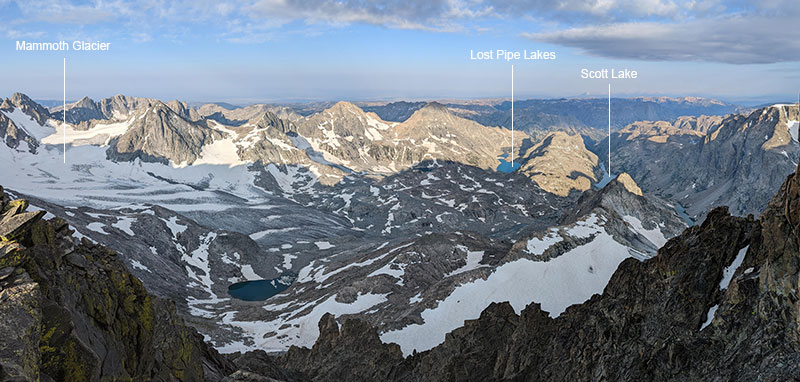 CJ is already on the top of Wyoming while I make the final push!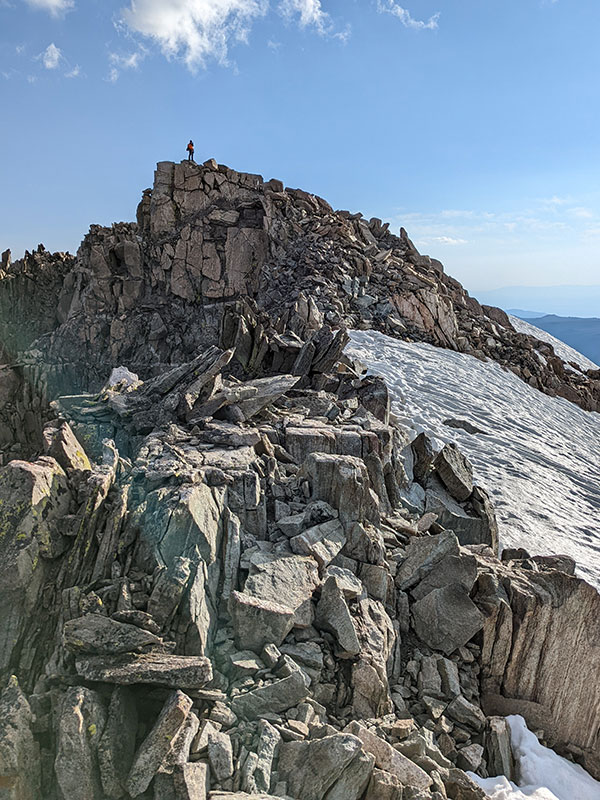 Summit Success
WOO HOO!!  4.5 miles and 4,200′ of vert in under 7 hours.  We were so excited to get this one done.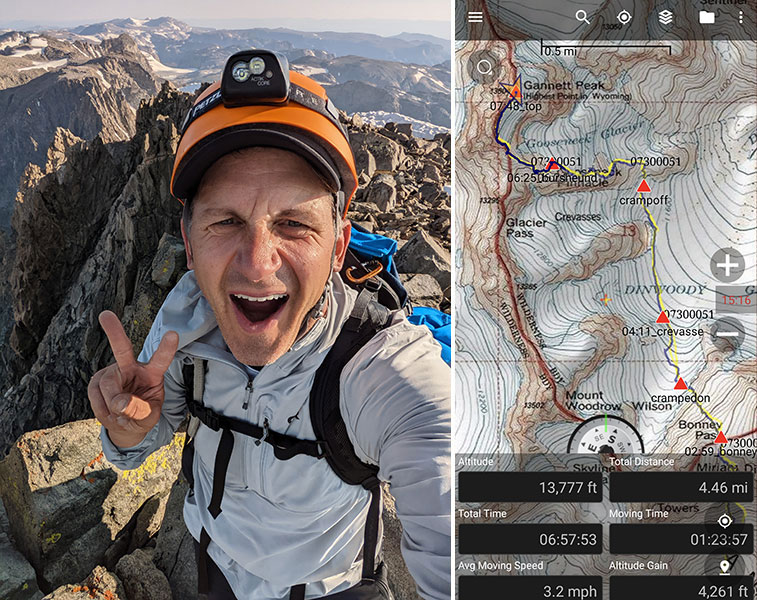 We enjoyed the peak to ourselves for an hour, taking pics and texting family.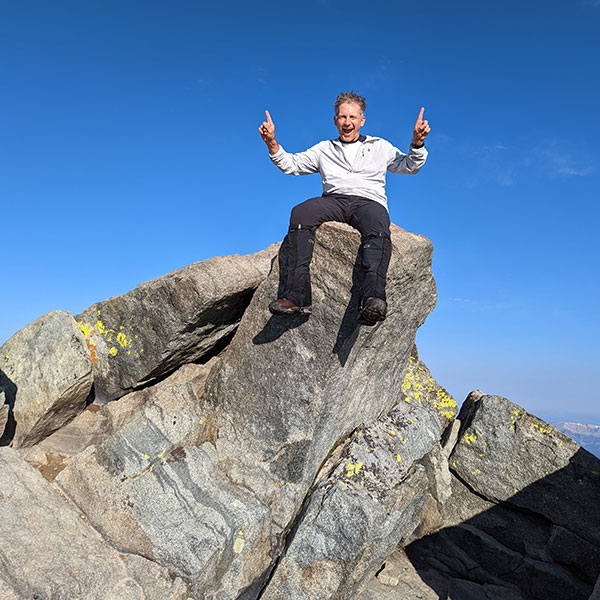 Picture perfect views to the south where we just came from…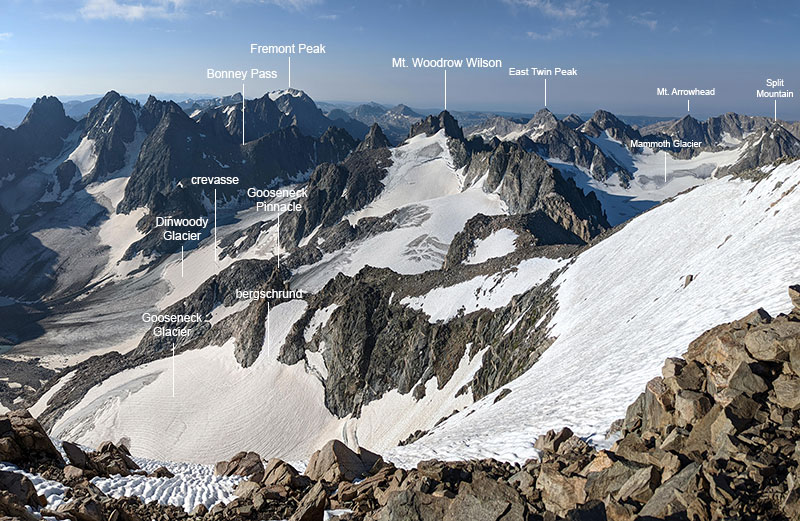 …and again to the west, but now from 13,800 feet up!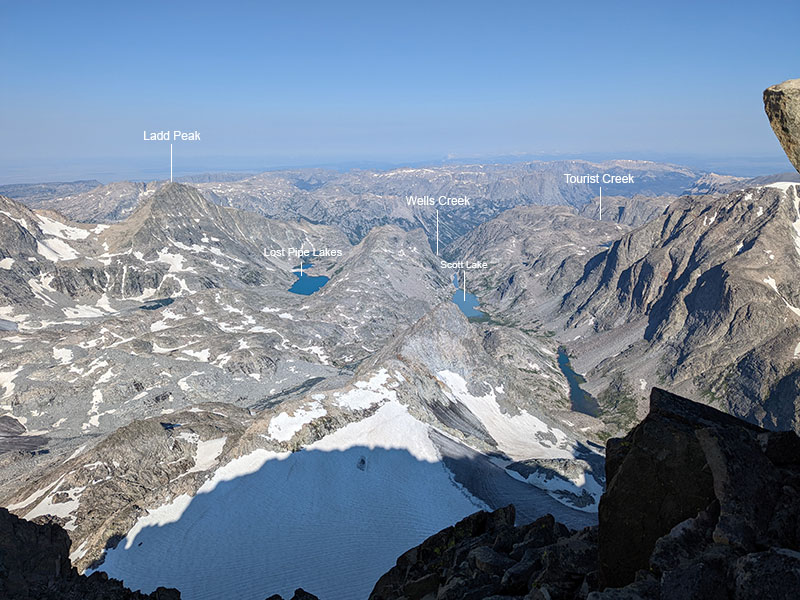 The Descent
When it came time to descend, after our private reservation had ended, we followed the same track down.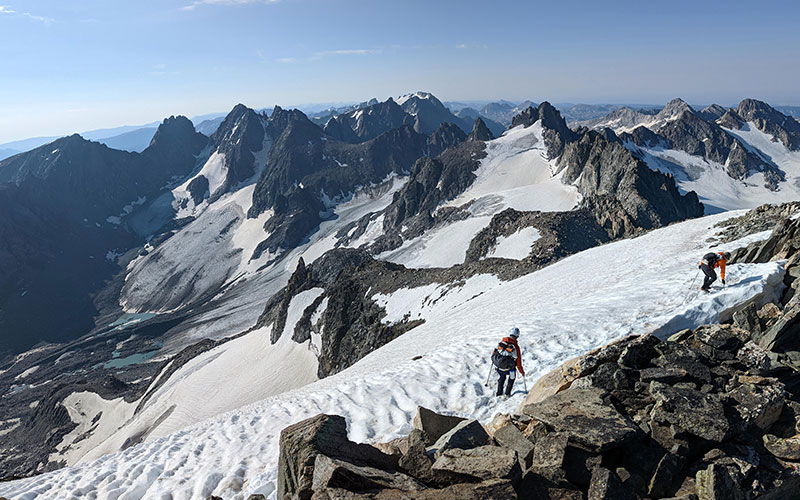 Looking back again at the summit ridge…marveling at what we just did.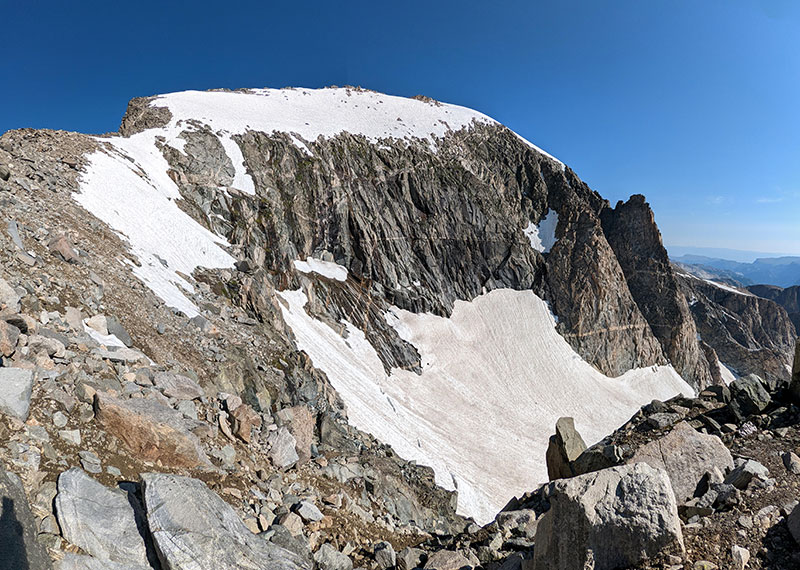 Even got in a nice glissade down the upper part of the Gooseneck Glacier, right over the bergschrund.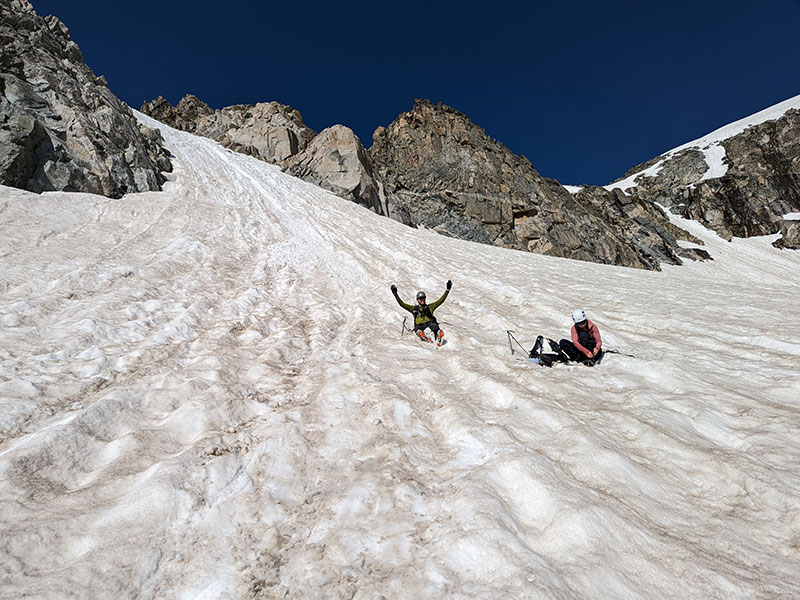 So many different ecosystems going on up here.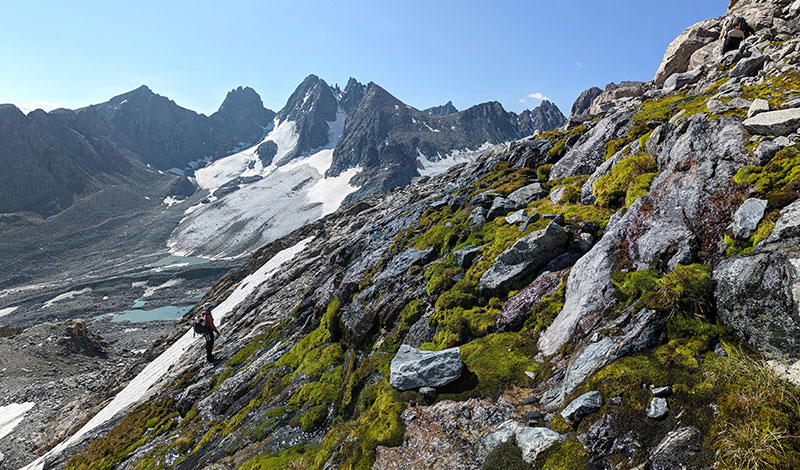 Back across the Dinwoody Glacier.
We had to see this giant wind drift in the day time.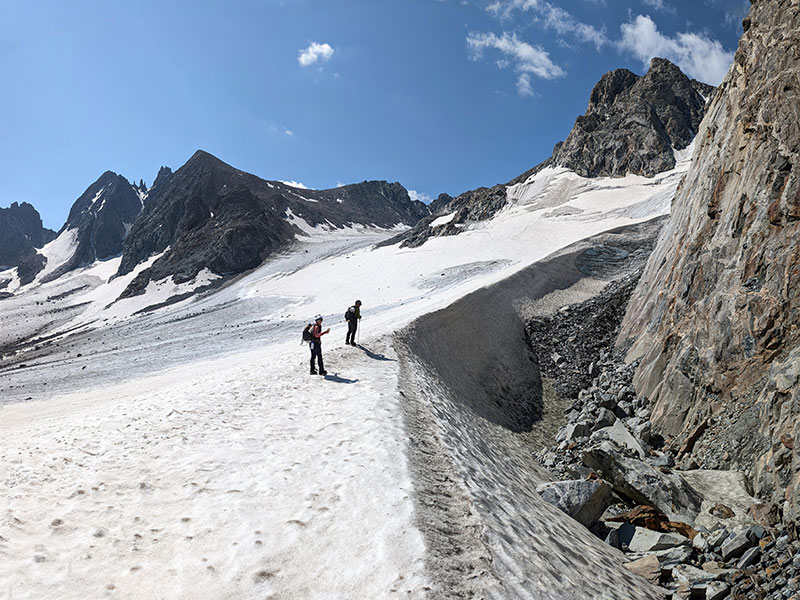 Here's the only significant crevasse in daylight.  The trail avoids it on the lower side (red line) but we stayed high to get a closer look (and to keep our elevation coming off Gooseneck Pinnacle).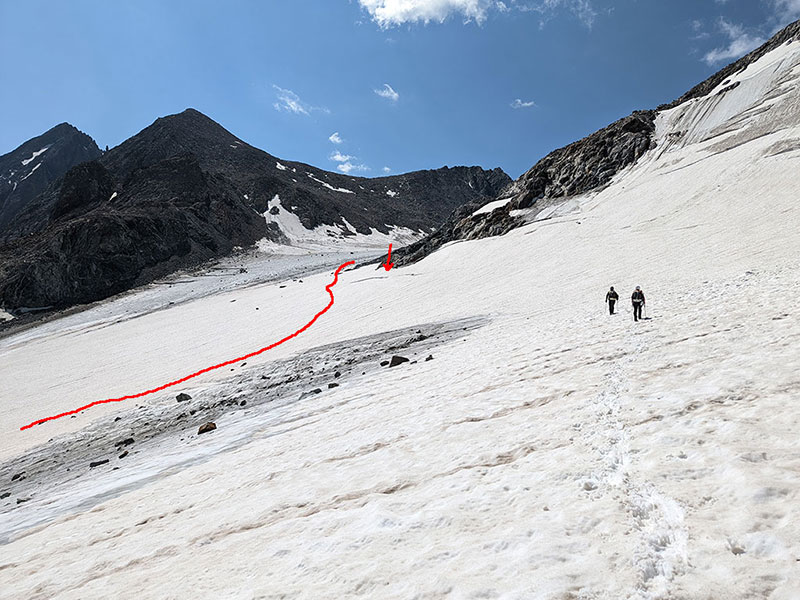 This was pretty cool to see!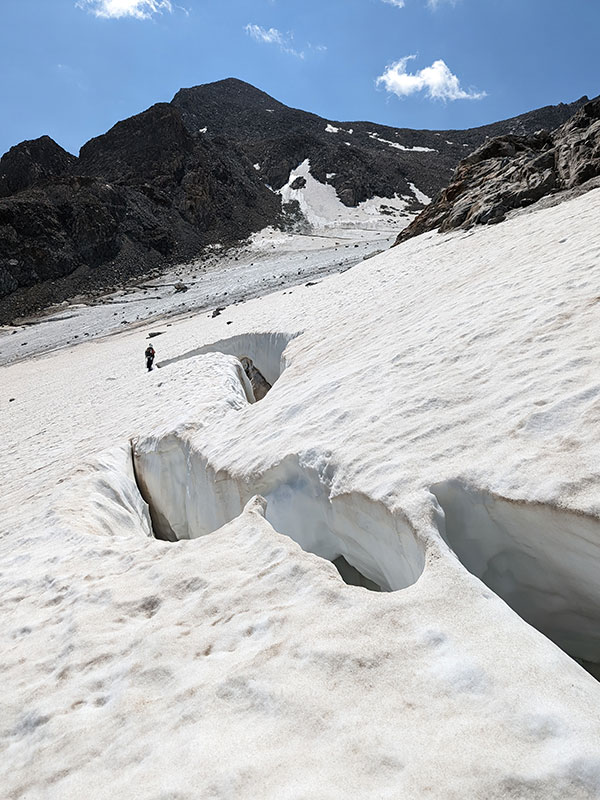 This is right at the the bottom of Bonny Pass. I'm not sure I'd call it a crevasse but more like a fissue where water was cascading in to and funneling down through.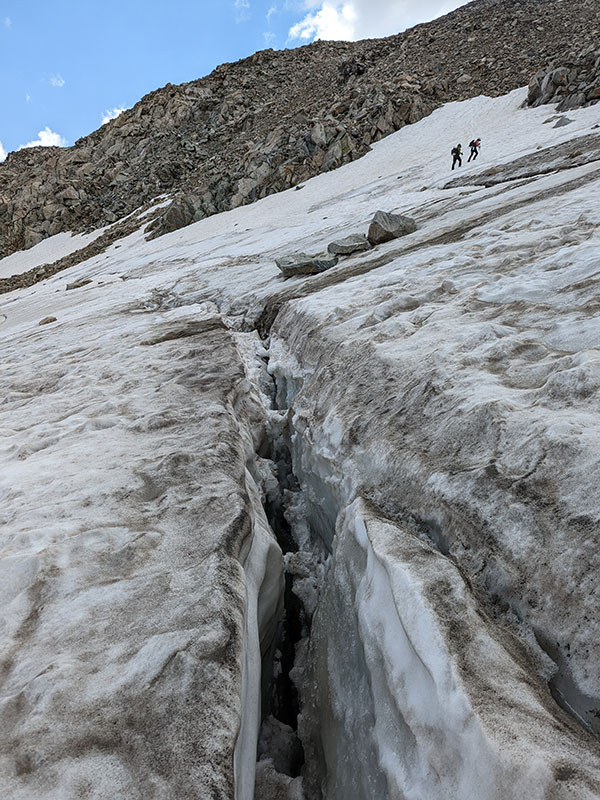 The water has to flow somewhere…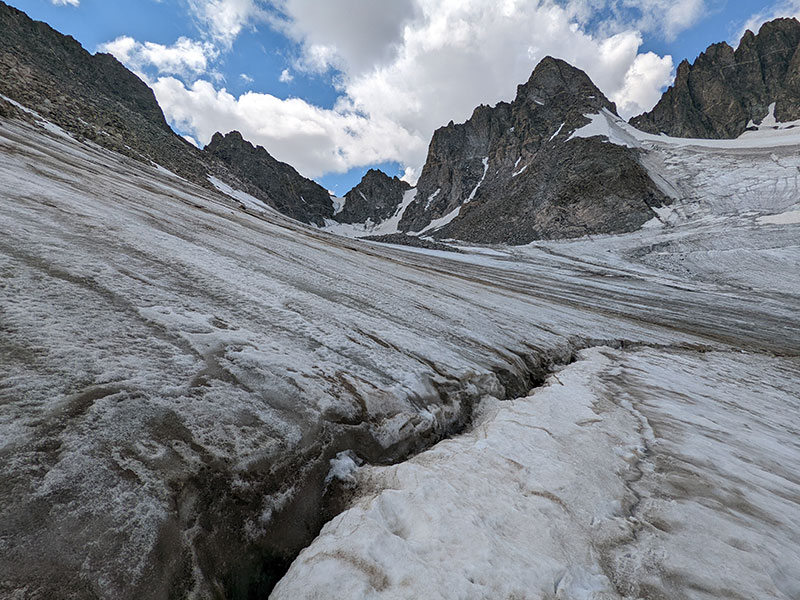 …and just cuts its own path down through the ice.
Lots and lots of water flowing down off the Dinwoody Glacier into Dinwoody Creek.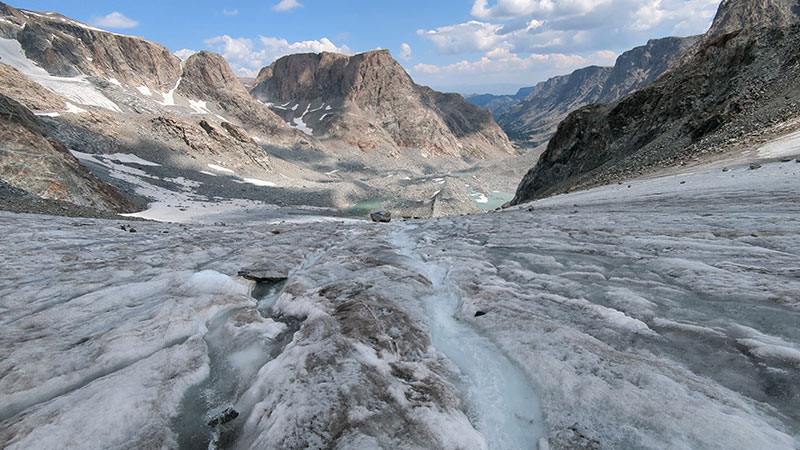 I dreaded going down Bonney for 2,000′ on the other side. That was more unnerving than anything, especially doing so when tired.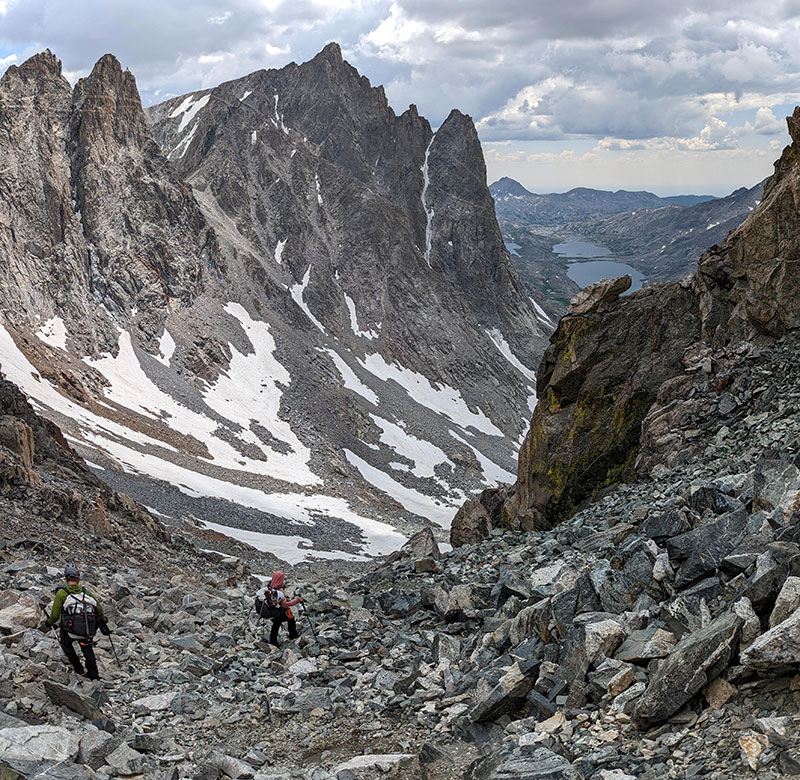 We did make our goal though and walked back into camp at 2:20p, thirteen and a half hours from when we started.  Hungry and tired, but not exhausted.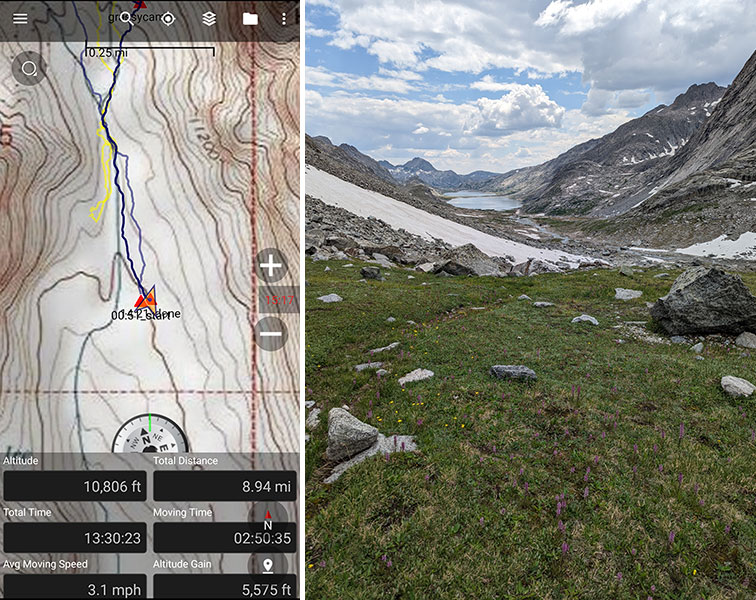 Summit day on Gannett didn't feel too different from some of our bigger days on peaks in Utah.  What made this tougher was doing those 9 miles and 5,600′ of elevation after 18 miles and 3,000 feet right before it… not to mention starting at 1am after not a whole lot of sleep (and that wasn't even the "end of the day" for us).
Day 3 Continues
After a late lunch, we decided to pack up and hike the first 5 miles back to Island Lake.  Now this was miserable as we baked along the entire eastern side of Titcomb Lakes.  It was so freakin' hot in that late afternoon sun.  The weather turned out to be great all day.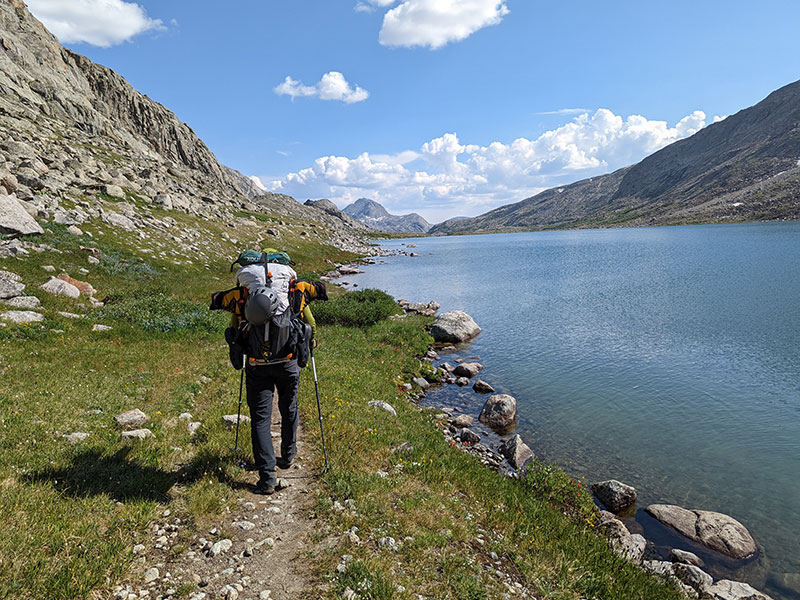 The end of July does happen to be the perfect time to see the wildflowers in full bloom!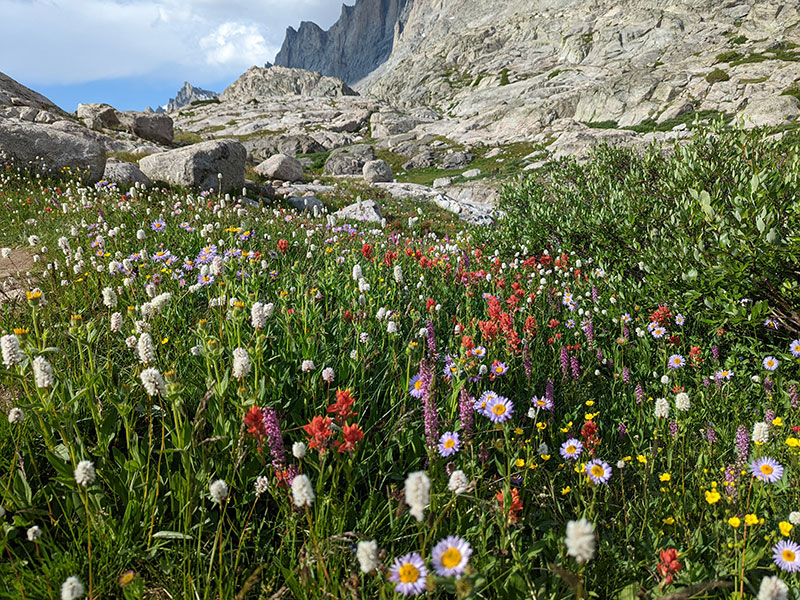 A sandy beach at 10,000 feet?  That's sure not what you find along the typical alpine lake!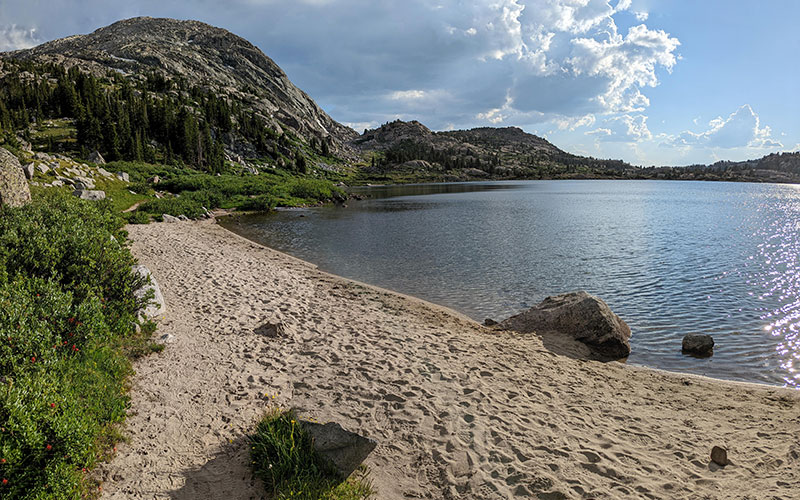 It was so nice to finally call it a day when we arrived back to camp 1.  As if summiting Gannett wasn't enough today, we liked the idea of shortening tomorrow's exit by these 5 easy miles.

DAY 4 – Hike out, Head home
My pack was a bit lighter for the last 12.5 miles from Island Lake back to the trailhead, but not by much.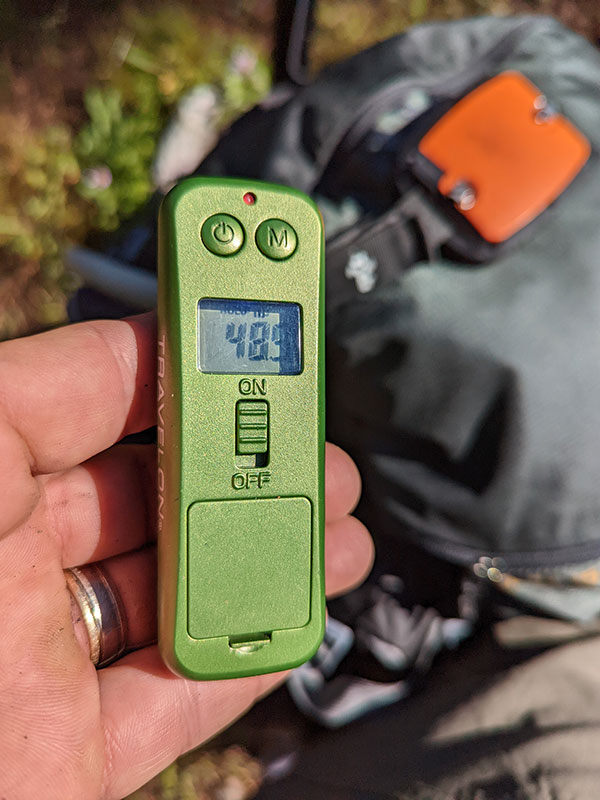 I definitely want to come back here to get Fremont Peak.
So and after 44 miles in 4 days with over 10,000′ of vert, a Brew Master Burger from Wind River Brewing tasted so, SO good!!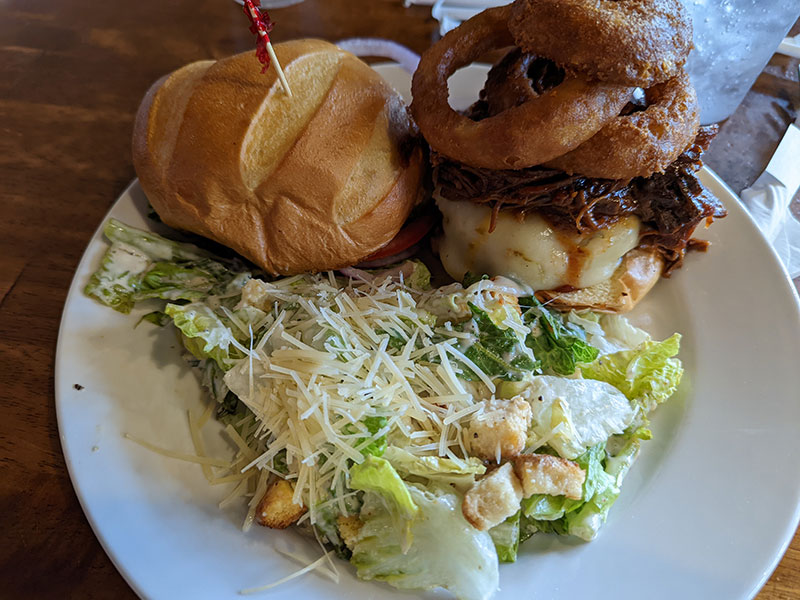 Gannett Peak is a tough one to get when you consider the distance, vert and weight of gear needed to be carried in.  It's also the most remote highpoint I have experienced yet and one where extraction from injury or accident would not be fun.  You have to be pretty well prepared for this one.  That said, I'd love to hit this peak again from a different direction, like from the north along the Glacier Trail or maybe up the Southwest Couloir from the west.