This year's Six Pack of Peaks Challenge for Utah wasn't announced until late March.  Before then, I honestly didn't think this would continue for Utah again in 2022.  I was sure it died a quick death after its inaugural year.  From what I can tell, this challenge didn't get much participation despite how many people hike the Wasatch.  That might have something to do with a $40 registration fee or maybe just poor advertising by the organizers.  Either way, it's on again for 2022… and I signed up again to support the cause/concept.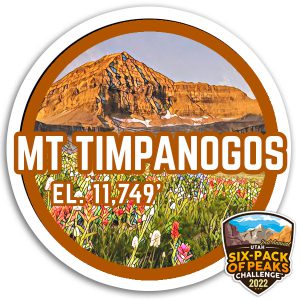 First up for me, Mt. Timpanogos!
This peak is not easily accessible in the winter and only few attempt it until the snow is gone.  I've also done this peak 10 times now and looking for different ways to experience this massif as my skills grow.  So far, those opportunities have included hitting its north summit via the Cold Fusion Couloir last Spring and a partial traverse this past Fall.  But the one I've been patiently waiting for is to hit Timp from Everest Ridge.
The day started with an alpine start to get the best conditions possible with what snow is left.  We met at the Dry Canyon Trailhead in Lindon at 3:30a and on the trail shortly thereafter.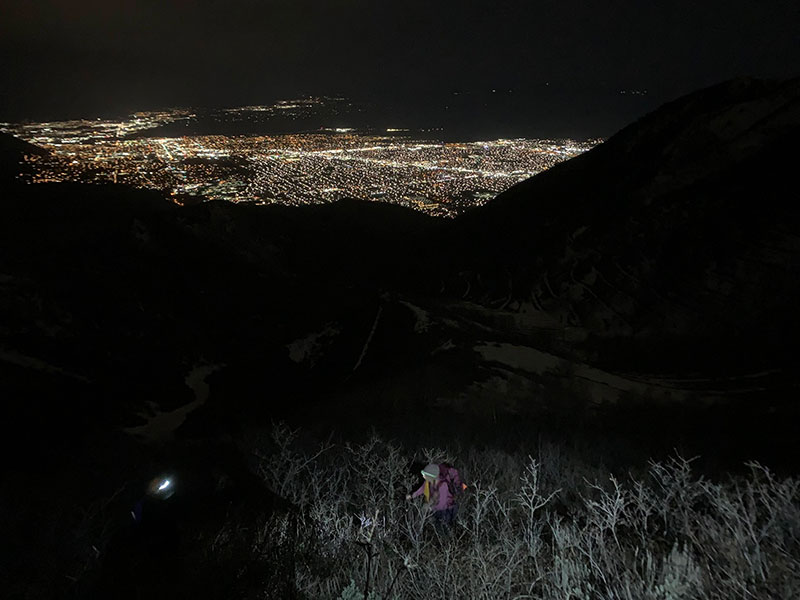 Everest Ridge Up
Conditions for this route were deteriorating too fast, too early.  A few unexpected days in the 80's this early in April didn't help.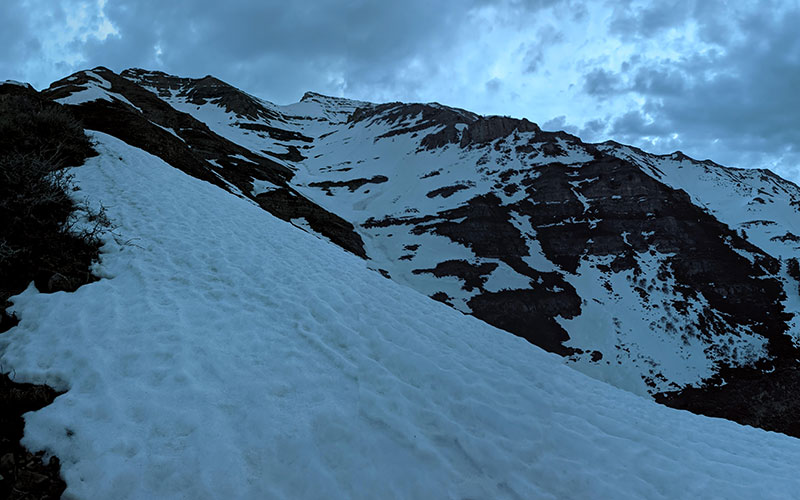 Gaining elevation straight up the ridge opposite Big Baldy.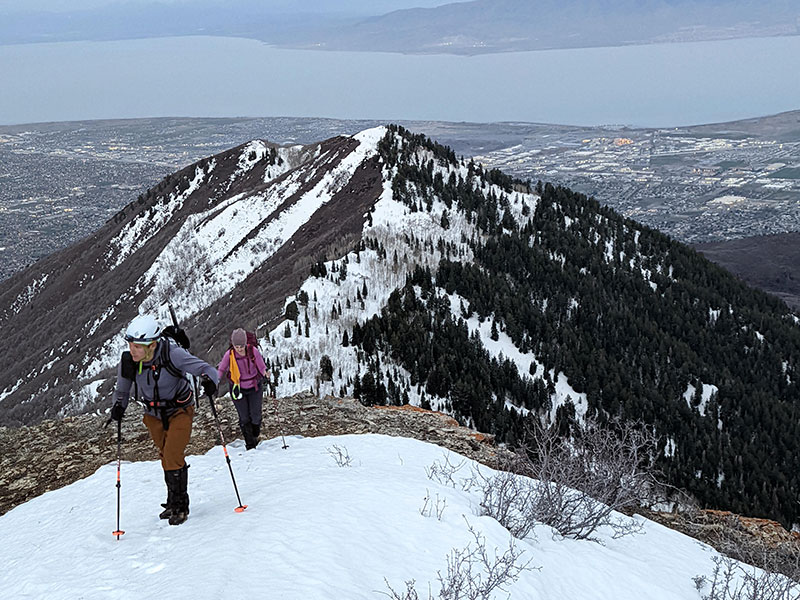 There are a few cliff bands to navigation along this route.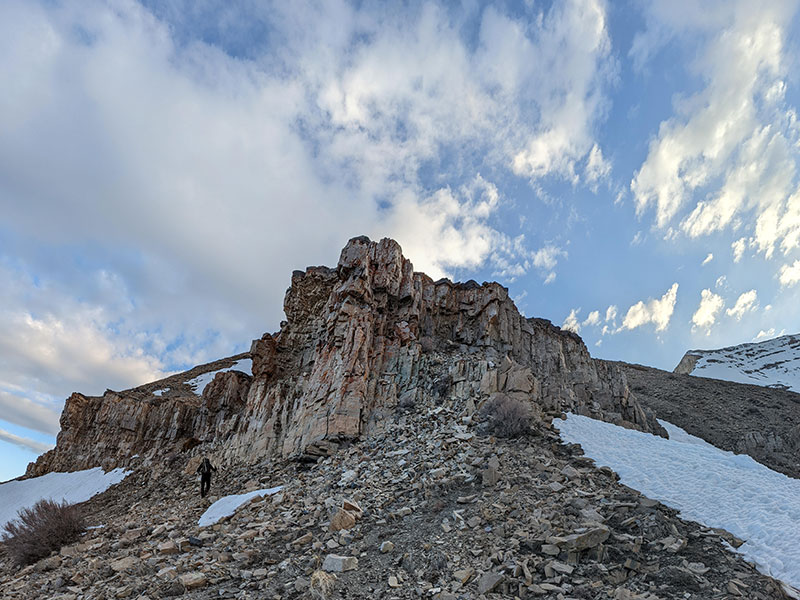 I'm sure this is better with more snow but no one was complaining today.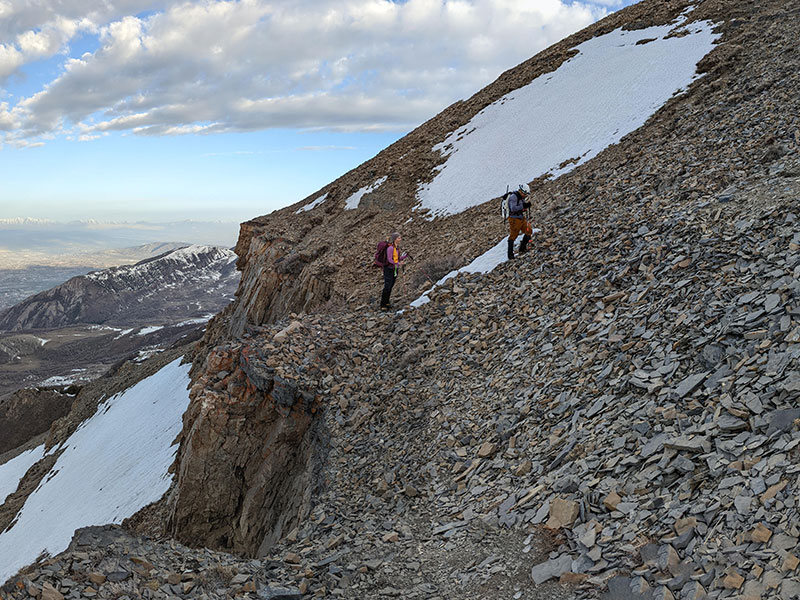 The route continues up along this ridge on the left.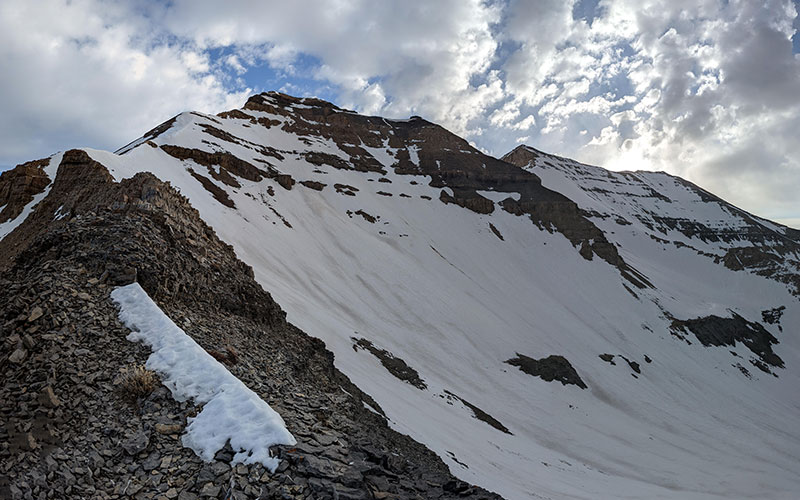 This is where we stopped to put on our crampons.
As we reach the crux of this route, the summit comes into view with a bit more elevation to be gained.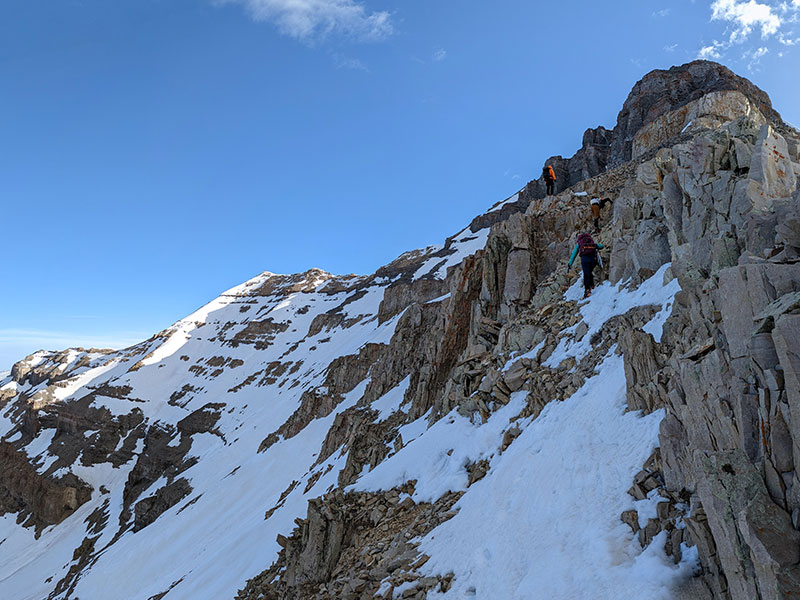 The Crux 
We took a quick break at the base of the crux, another cliff band to navigate.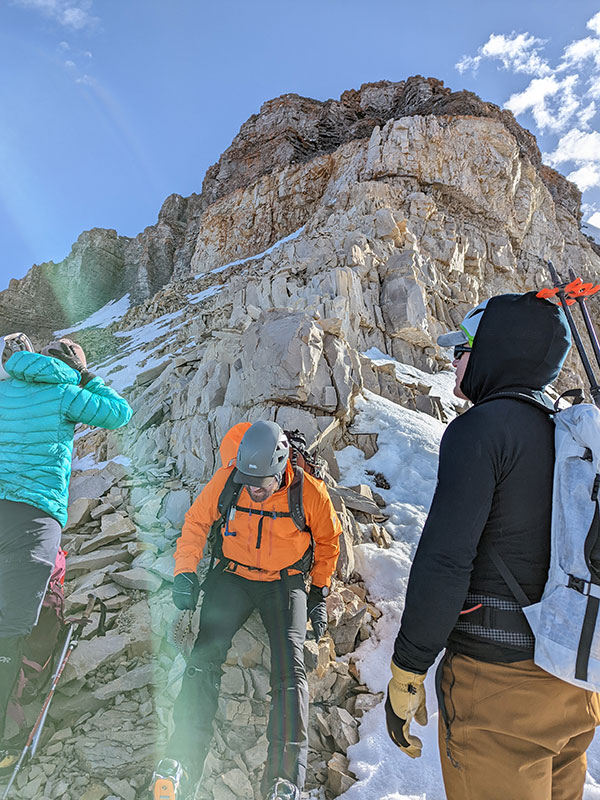 We went around to the right (south).  I don't know if there is another option to navigate here, but we went the way that seemed the most logical under these conditions.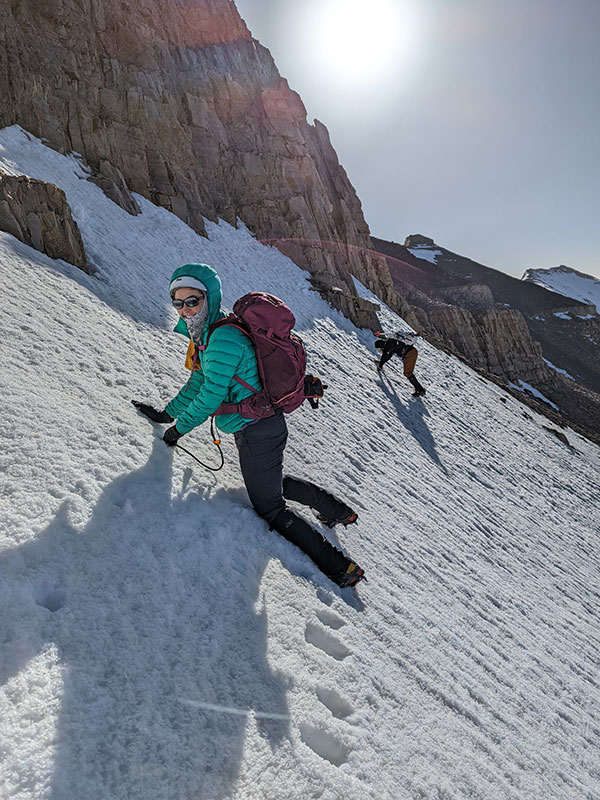 Once above the crux, the next part is to gain the ridge.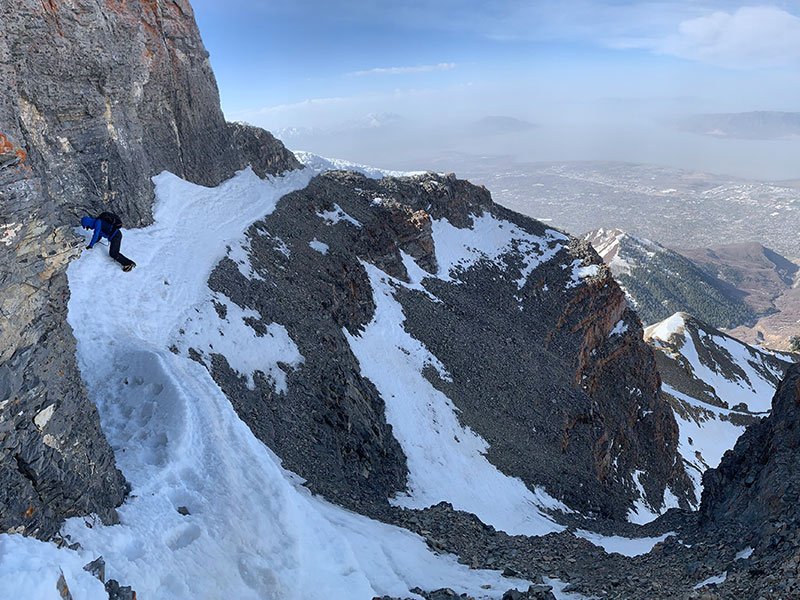 Fantastic views of South Timp and Elk Point from the ridge.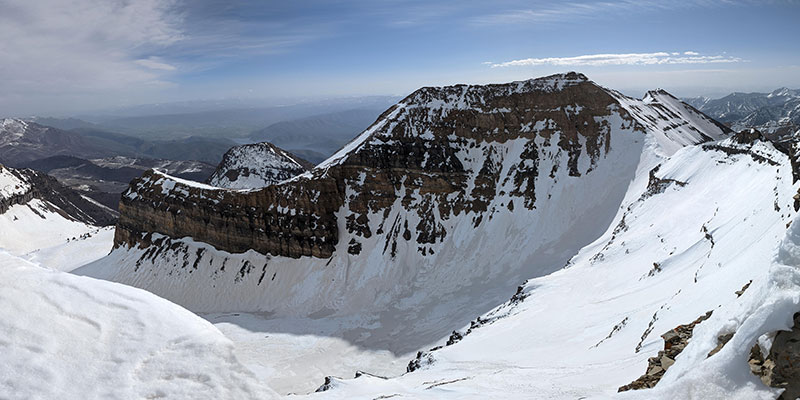 Still following the ridgeline to the summit.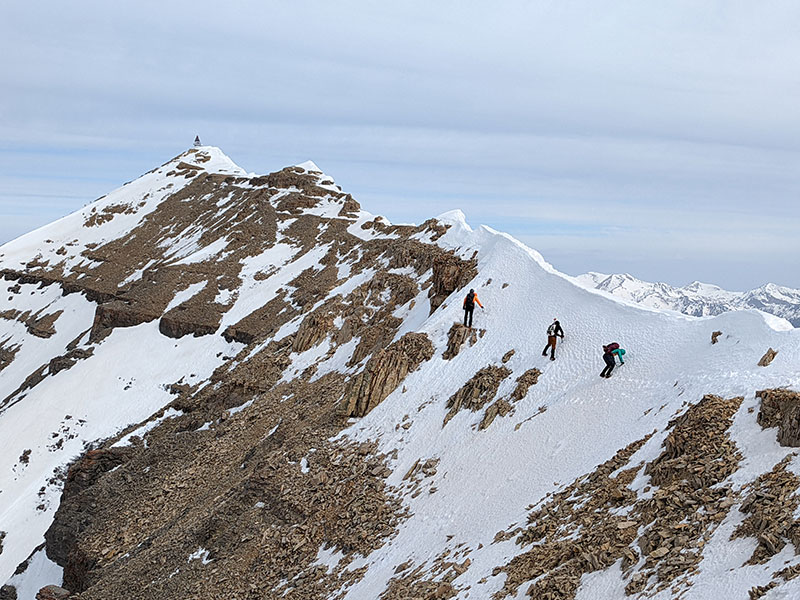 Almost there…
The Summit
SUCCESS!!  We reached the top at 11:17a, seven and a half hours from when we started.  6,200′ feet is gained in those 5 miles.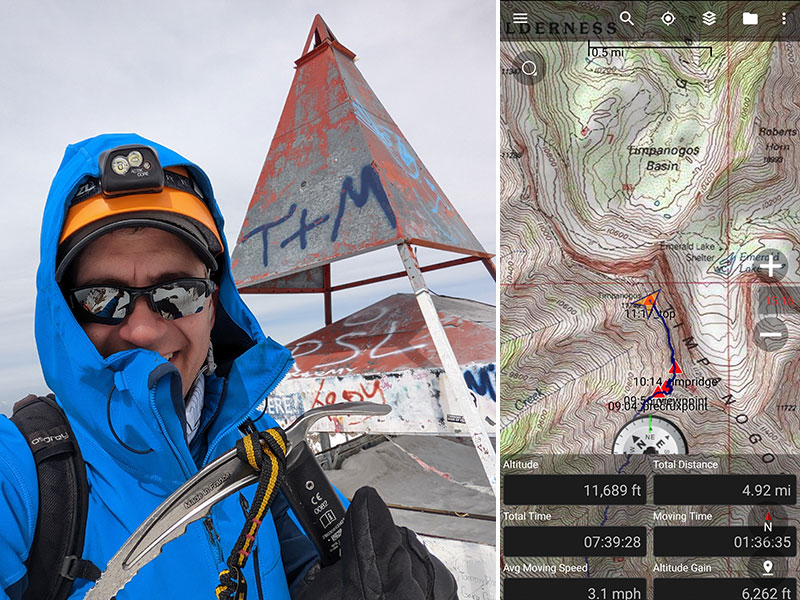 I was also stoked to get this peak first for this year's Six Pack.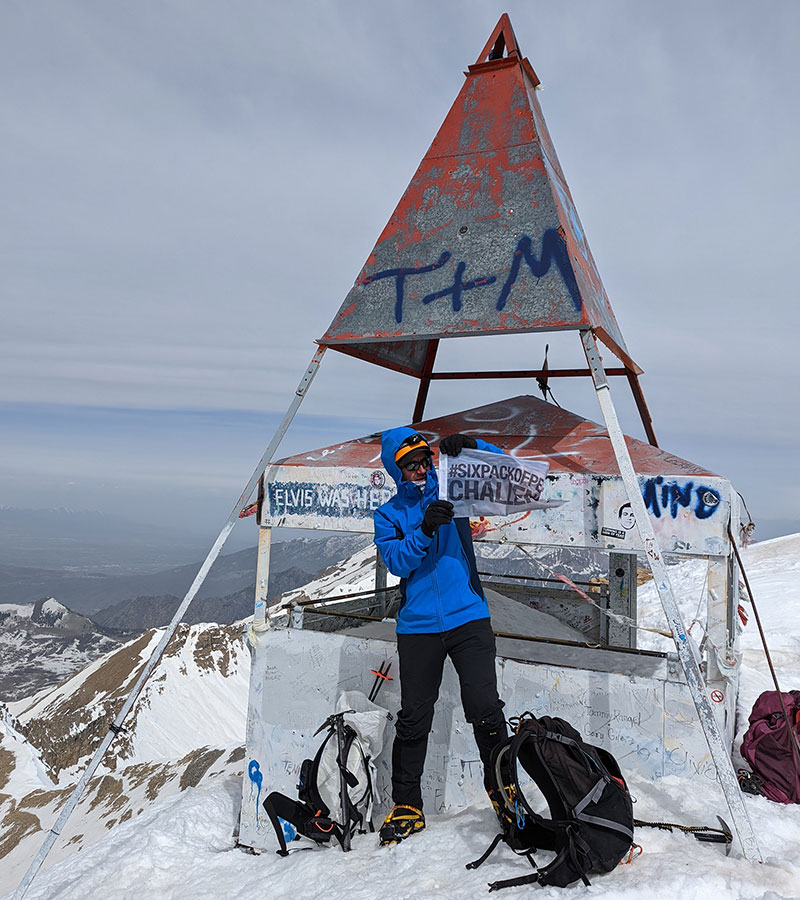 The Timpanogos Basin was awesome to see all covered with snow.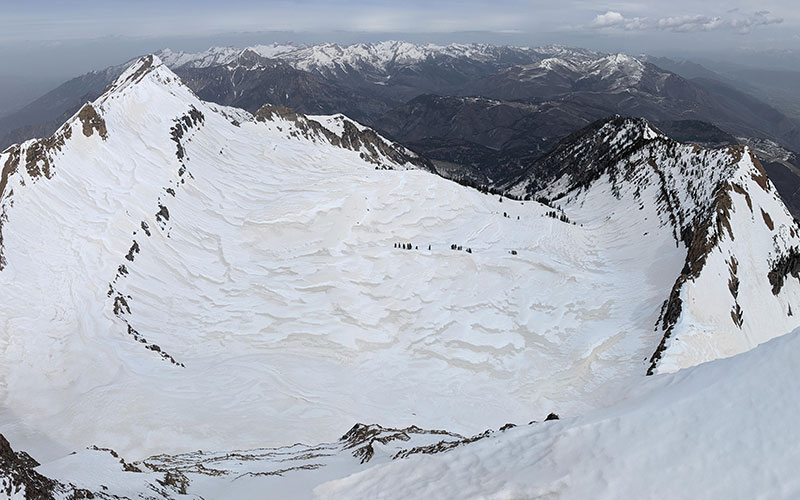 One look back at the summit from the standard summer trail.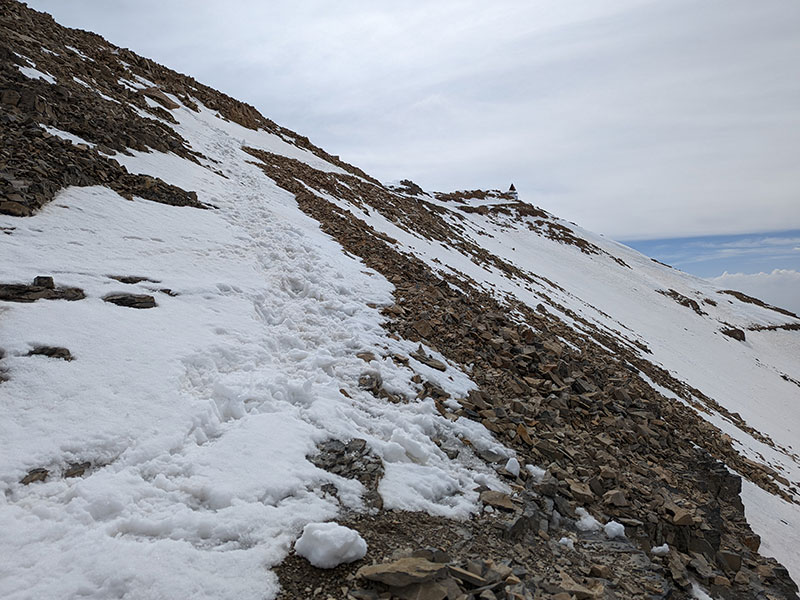 Battle Creek Down
We really didn't want to go back the way we came so the decision was to head down Battle Creek instead.  This was a new way for everyone in our group.  Another guy we follow online came up this route just a week ago so that piqued our interest.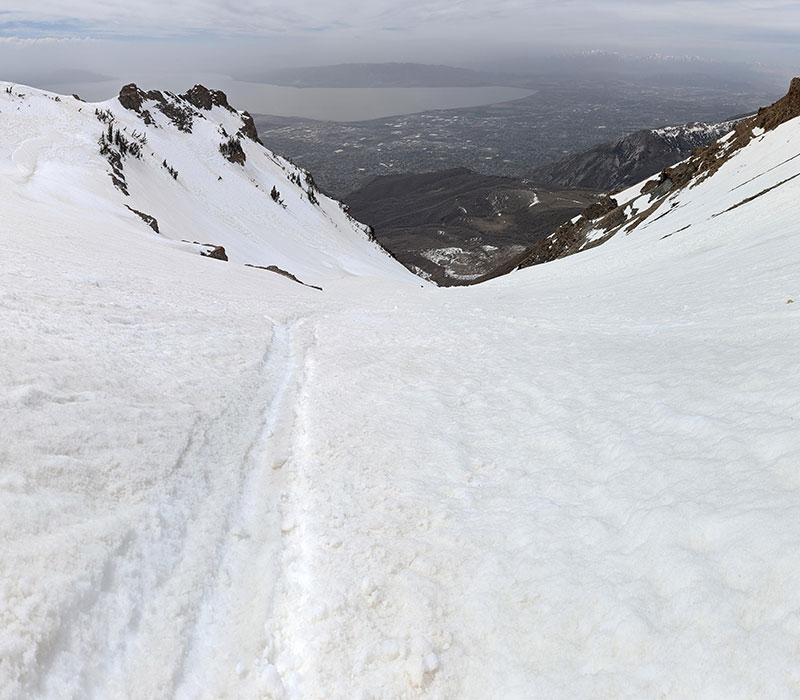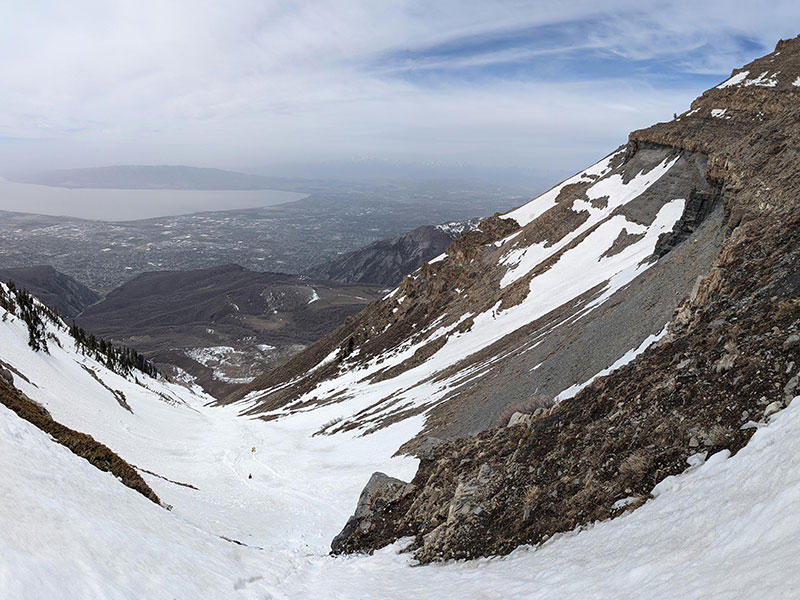 We did come upon an avalanche path in this drainage that had a pretty decent runout.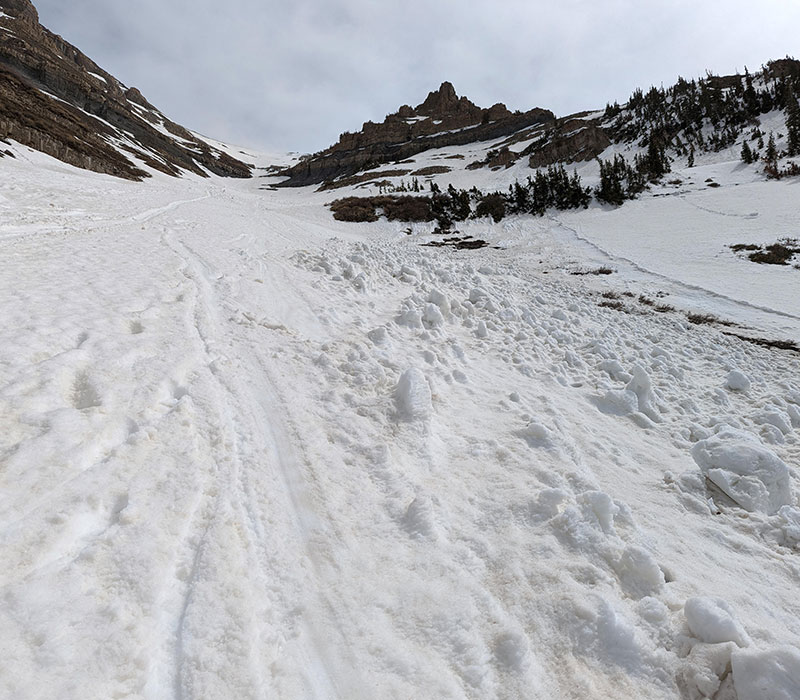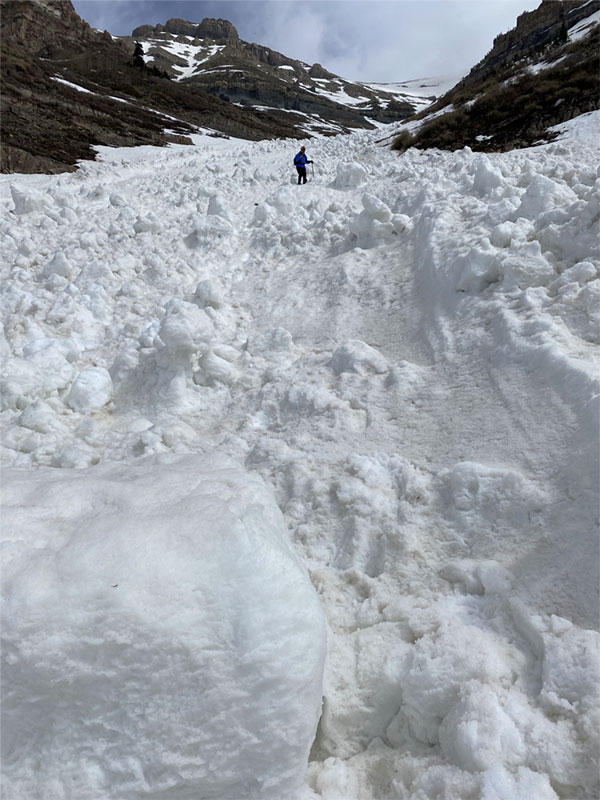 A waterfall was the only real obstacle to navigate around as we worked our way down.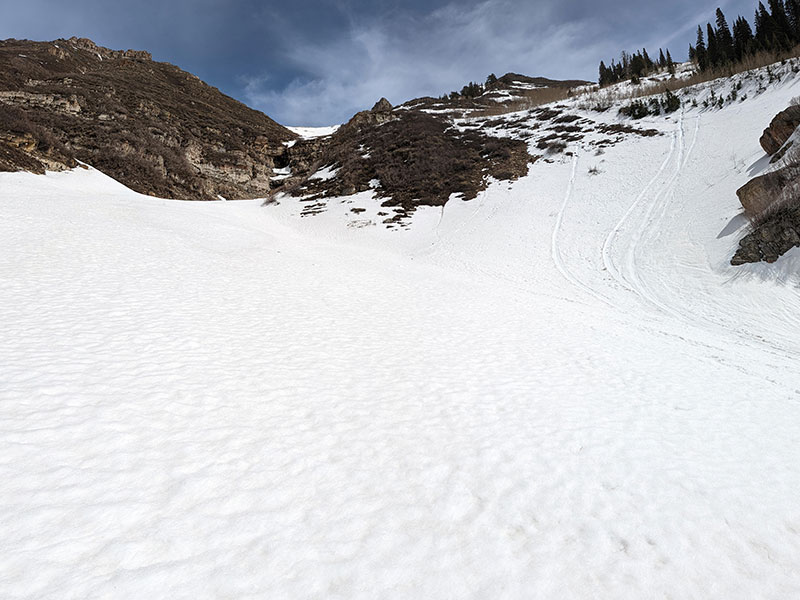 The rest of the way out was following this dry creek bed.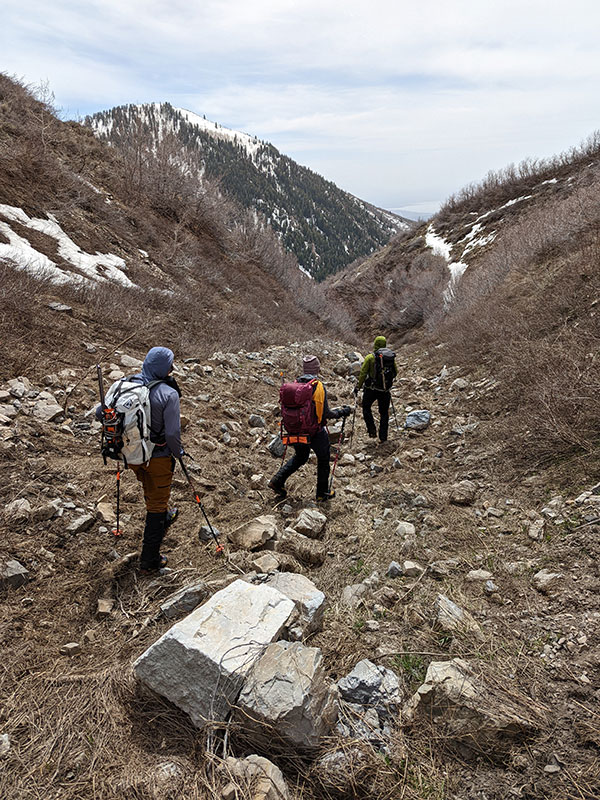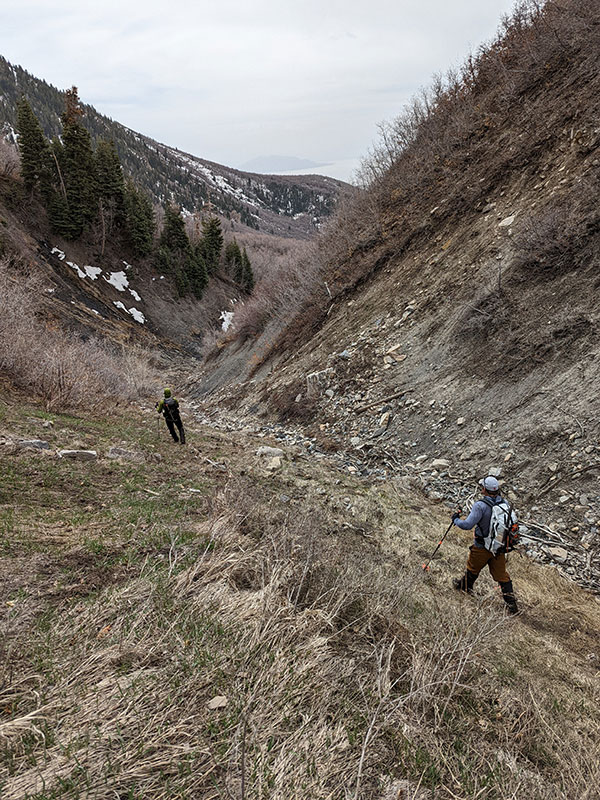 Honestly, the hardest part of the day was the posthole slog back up to the Baldy saddle in deep, soggy snow.  We gained another 1,000 feet in that short stretch!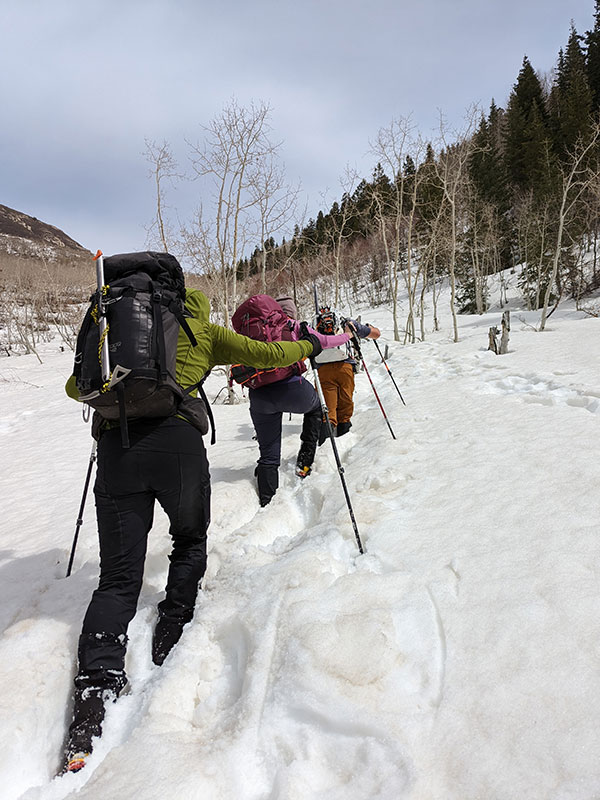 Final stats for the day: 11 miles in 13 hours with 7,279′ of elevation.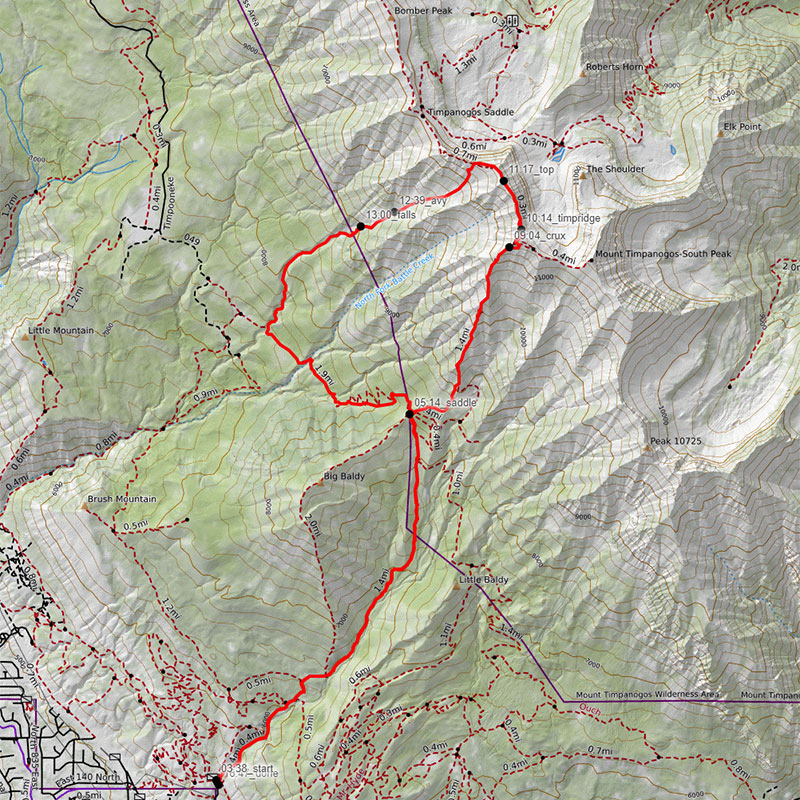 Someone told me this Everest Ridge route can be done in the summer.  Not sure how I'd like a few of those sections with loose rock, but I might be tempted to try it.  I might even be curious to check out Battle Creek sometime without snow.