DAY 3 – Roped up for the Summit
The night before a big adventure is always a restless one.  You go to bed shortly after dinner in preparation for an alpine start.  Unfortunately, you just end up laying there thinking about the day to come.  Today's plan was to get up at midnight and start heading up the Coleman Glacier by 1am.  We ended up being 20 minutes late because someone in the group misplaced their phone and had to run back to camp and find it.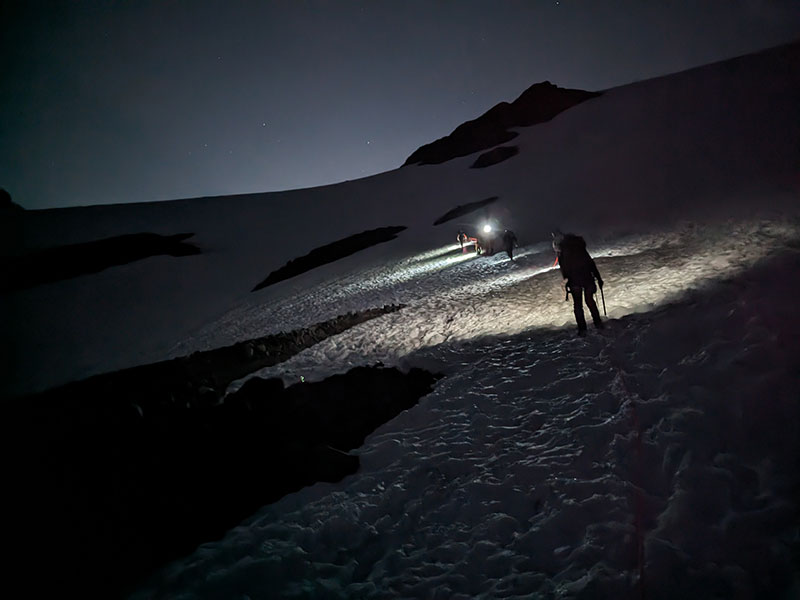 We navigated around a few partially open crevasses as soon as we got up near the black buttes, not even a half-mile in!  It was hard to see the extent of the danger, but we knew the terrain was real.  We also didn't have a boot pack to follow so we just cut across the lower flats in the direction of our ultimate destination.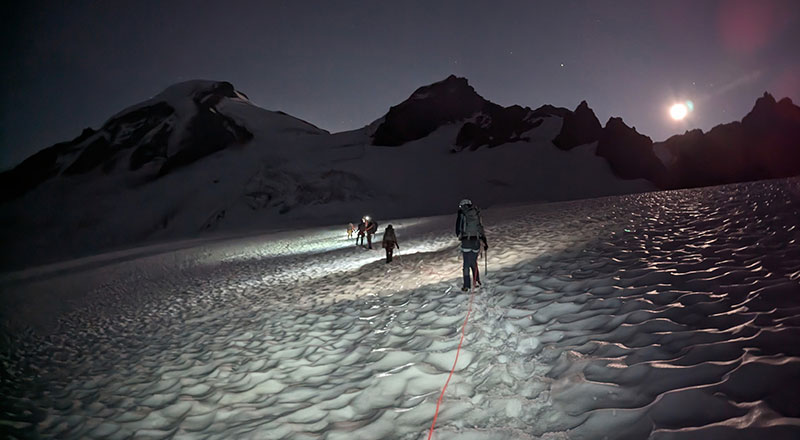 Coleman-Deming Route
Both teams moved slowly and carefully along this lower route.  At 3 hours in and only 1 mile up, we found ourselves right in line with a gigantic crevasse.  As we backtracked a bit to go around, several of us punched through in places up to our knee.  Hearts were pounding.  It was too dark to snap a pic, but I did when we came back later that afternoon.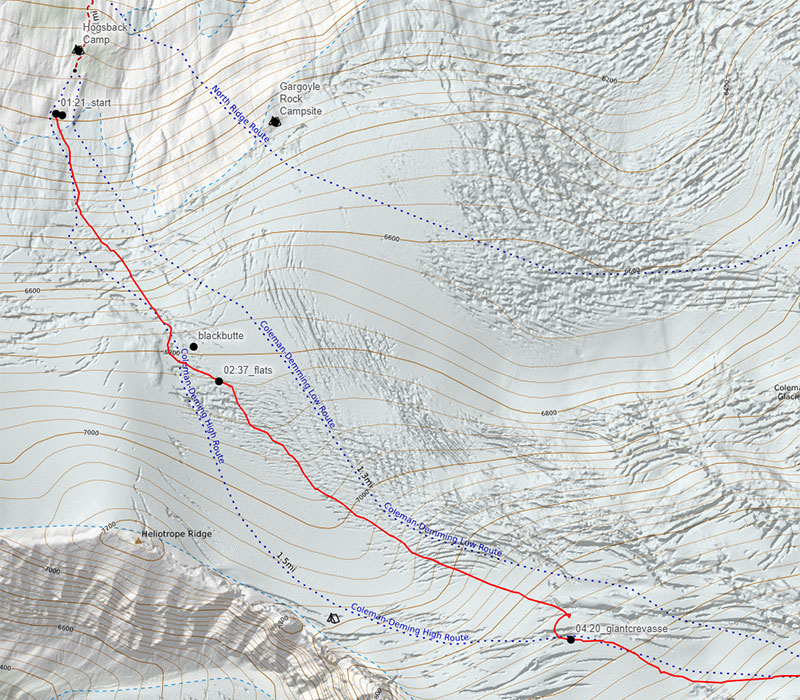 Above this crevasse it where we then found the boot pack.  It is also where our first member of the group felt too sick to continue.  So he anchored himself to his picket and sat there until we would return some 8 1/2  hours later.
Pictures don't really do the size of these openings any justice.  I so wanted to get a closer look.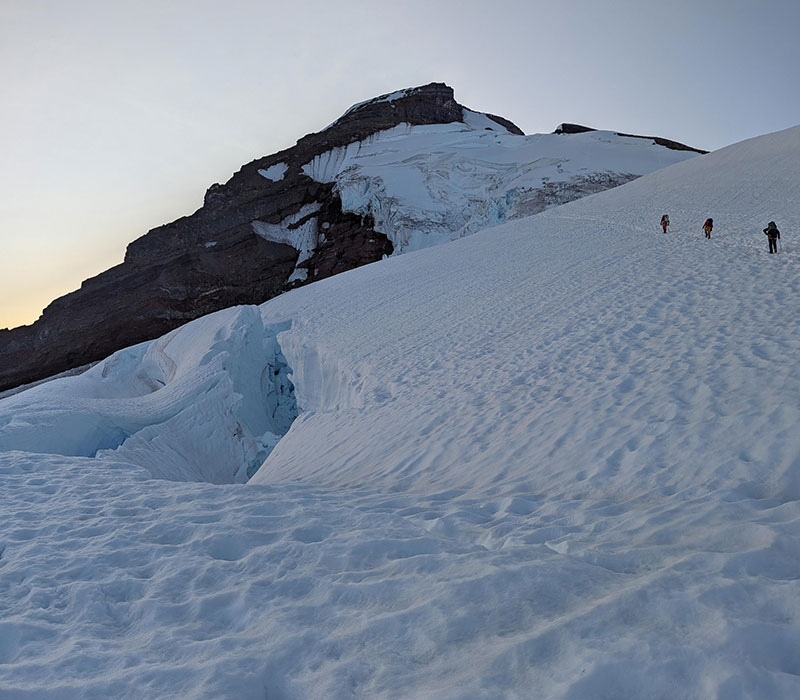 Here's looking back at where we just came across Coleman Glacier.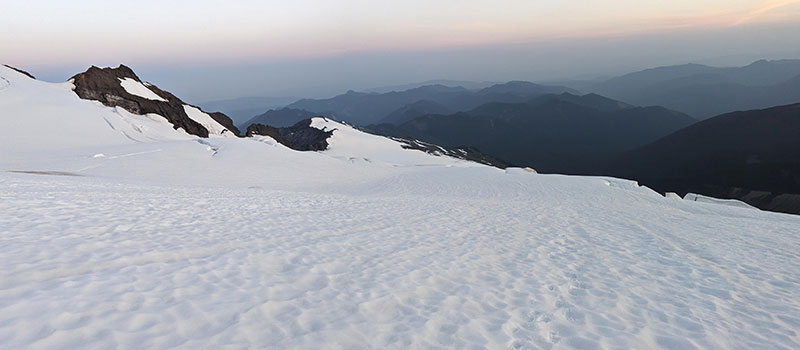 The higher we got, the more we saw things opening up.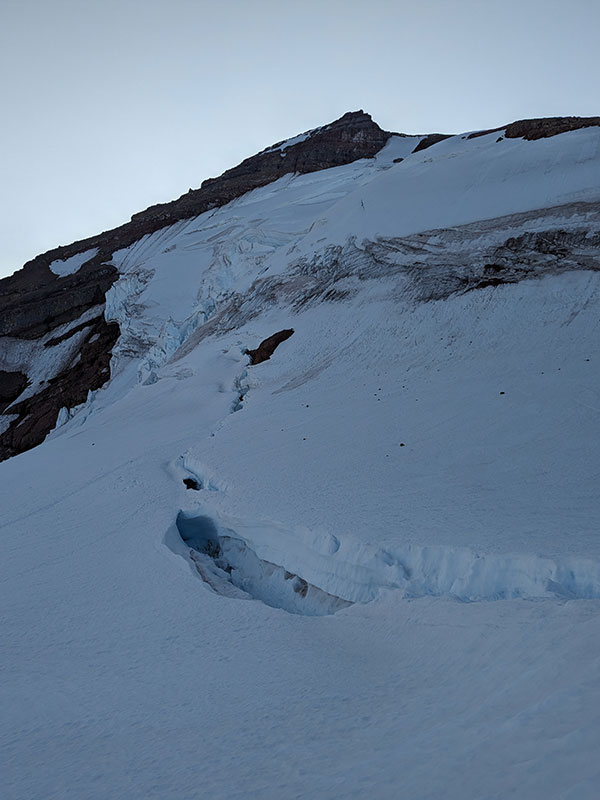 Pumice Ridge
We were only 2.24 miles in and 3,000 feet up when we got to Pumice Ridge (aka Coleman/Deming Clever).  Both teams were pretty slow for it to take 5 hours over such a short distance with no added challenge of high altitude.  9,000 feet is a typical day for Utahns.  What troubled me was learning that half of this group was brand new to wearing crampons!  WHAT?!  This didn't seem the place to be learning.  I recalled the trip leader drilling me for my skills and experience.  She made me organize this resume of sorts and assumed everyone was vetted in the same manner.  I just shook my head and prayed we wouldn't be "that group" to make any headlines today.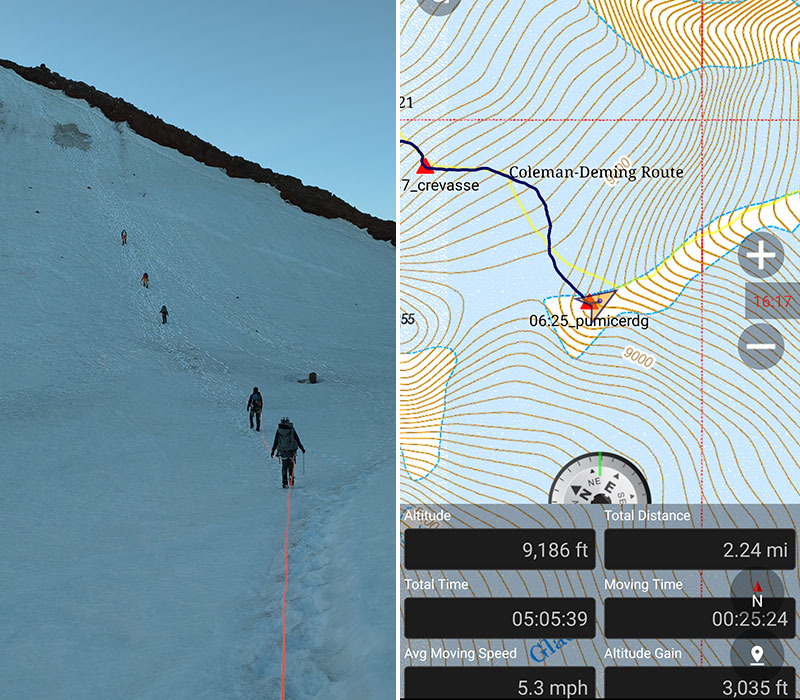 Ascending along this clever to Roman Wall, straight ahead in the distance.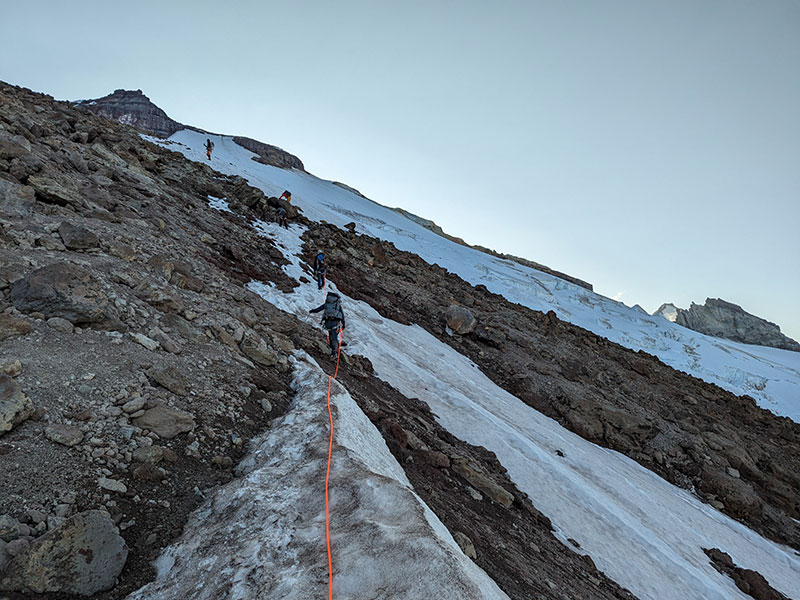 Getting to the end of the ridge/clever, just below Roman Wall, took us another hour to go 1/4 mile further and 600 feet higher.  Here we stopped for newbie blister management while another had tapped out and decided to hunker down and wait for our return.  Good thing the sun was just about to hit this slope.
Speaking of waiting, our friend at the first crevasse can be seen from this vantage point as a itty bitty black spec if you zoom way in and know exactly where to look.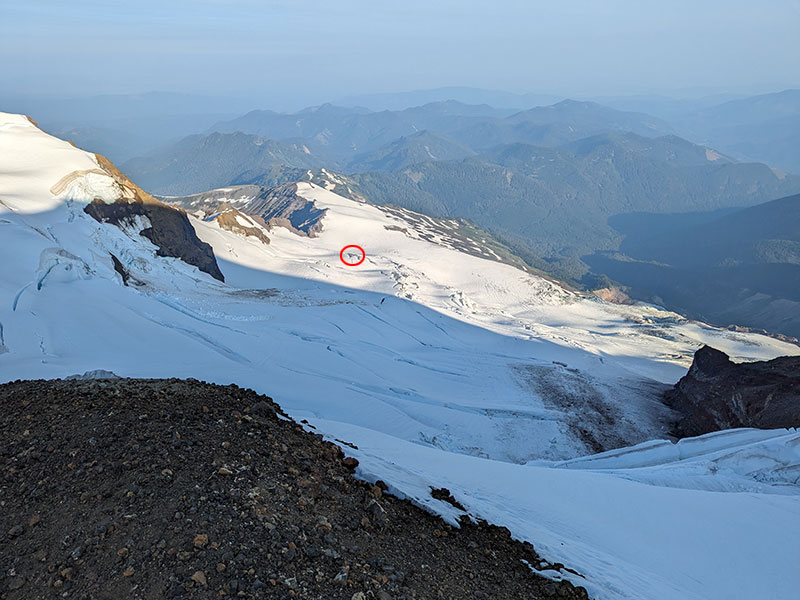 Roman Wall
Up Roman Wall was next with our group, now down to five.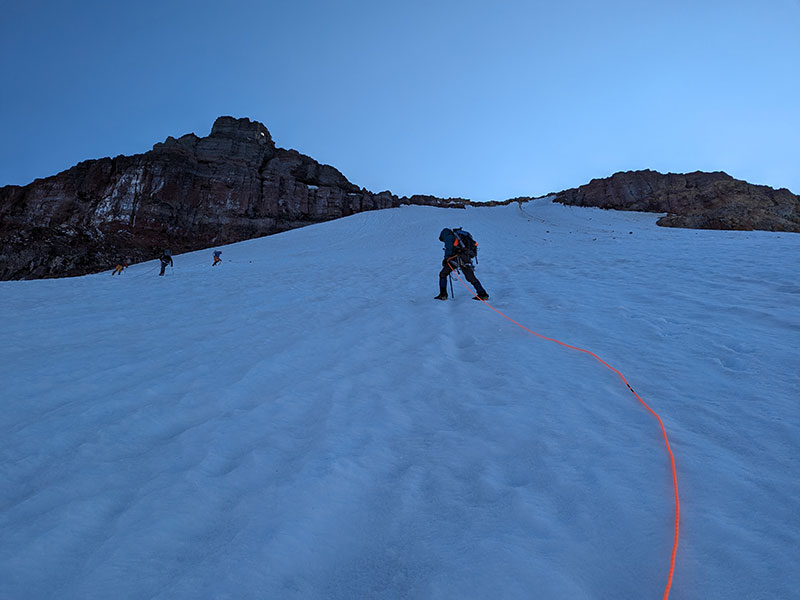 A slope angle of about 38° feels pretty steep here.  It reminded me of the upper part of Cold Fusion.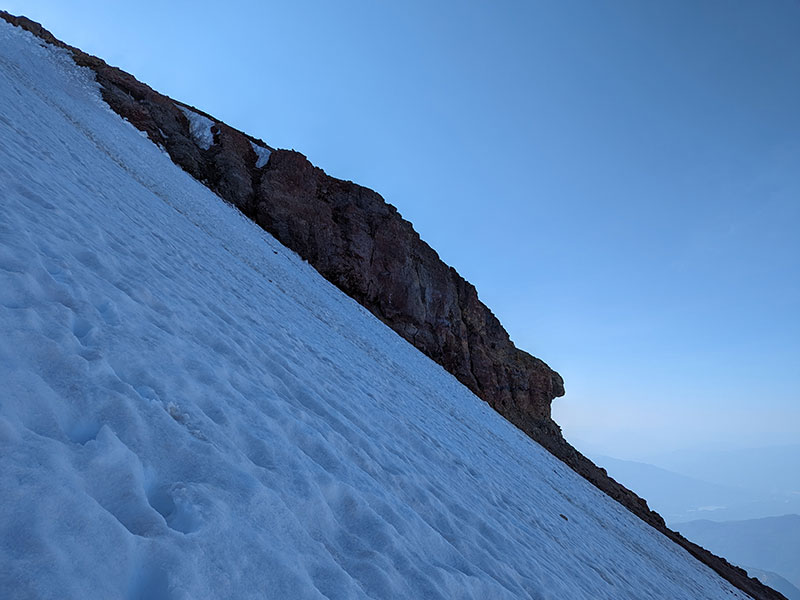 This short section is another 800 feet up and 1/3 of a mile long.  We crept up that in just over an hour.
Looking back again at the route we followed across this glacier now that it was completely in the sun.  The yellow circles are where we had team members sitting and waiting.  For the one that dropped at 4am, he had been there now for over four hours.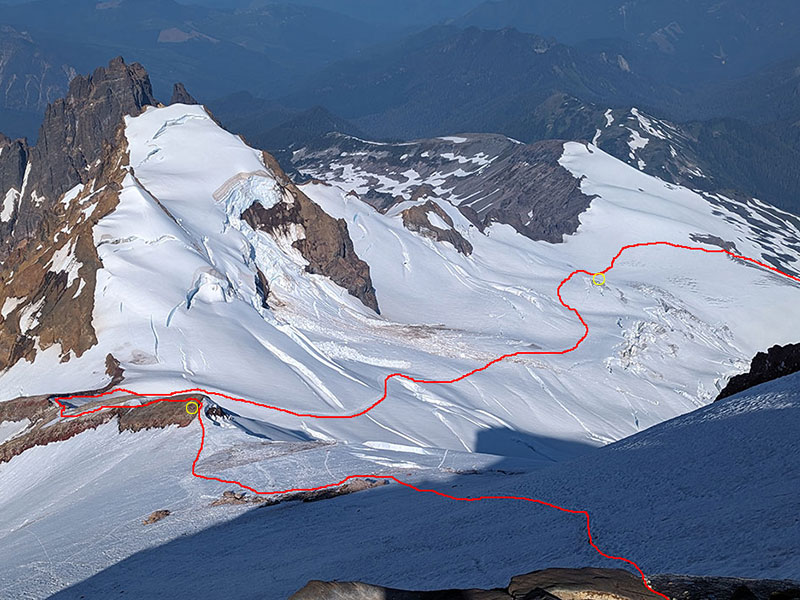 Grant Peak
The final stretch to the highest point is across this surprisingly flat top, about a quarter mile across.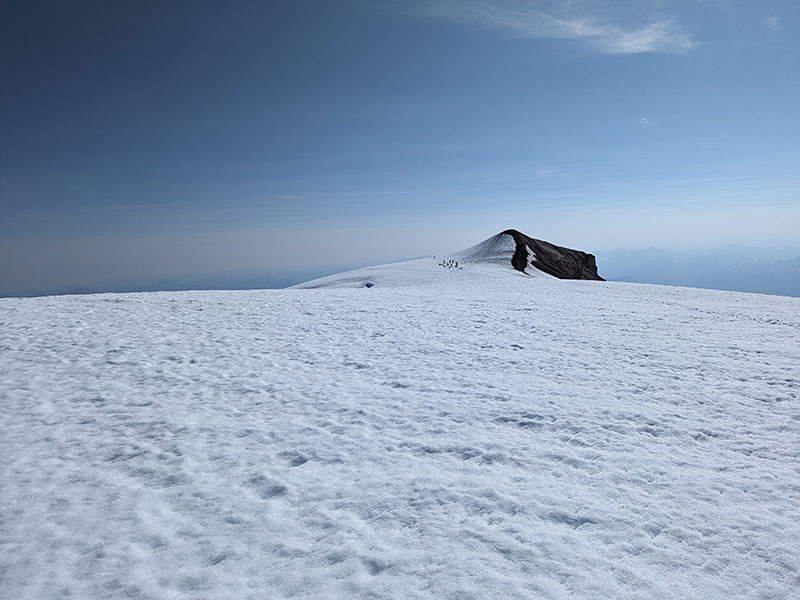 Eminent danger lurks up here too, despite how flat it is.
A group near the top were the only people we saw all day.  They had come up from Easton Glacier and were just leaving as we arrived.  It was as though their private reservation was up and ours was next.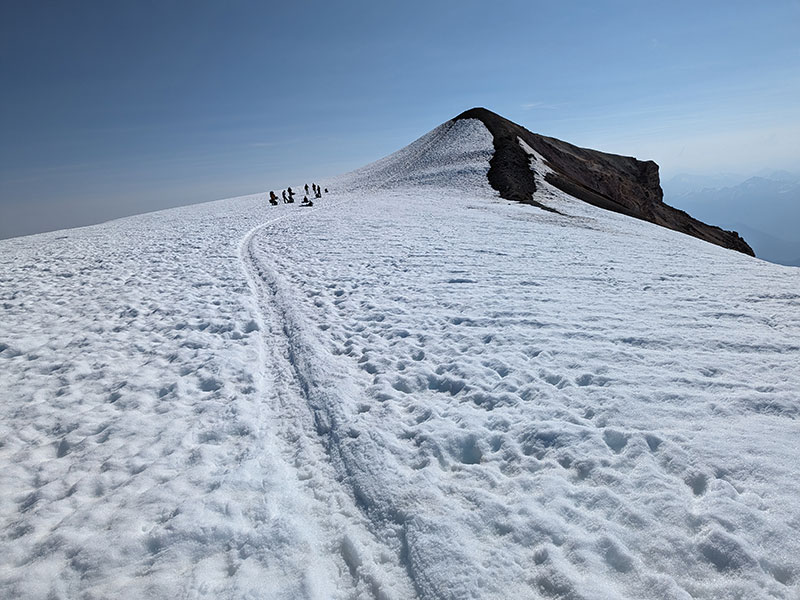 My hope was to hit the summit in under 8 hours. With all the stops we made for rope team re-configs, rest breaks, picture taking and marveling at that intense landscape, we just barely made it!  4,700 feet of elevation in a little over 3 miles took a lot longer than expected.  Yeah, we could have moved faster, but didn't really mind this slower pace given such awesome conditions we had all day.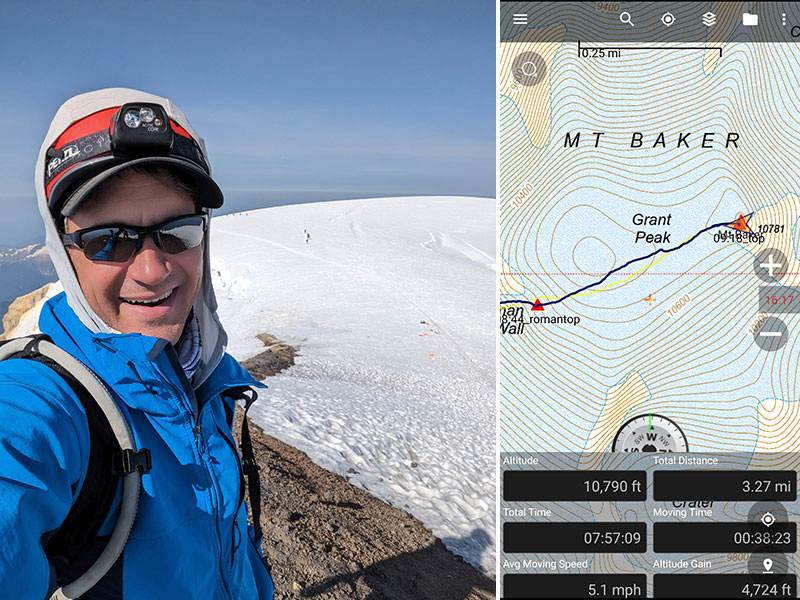 The weather was perfect with views of Mt. Shuksan to the northwest…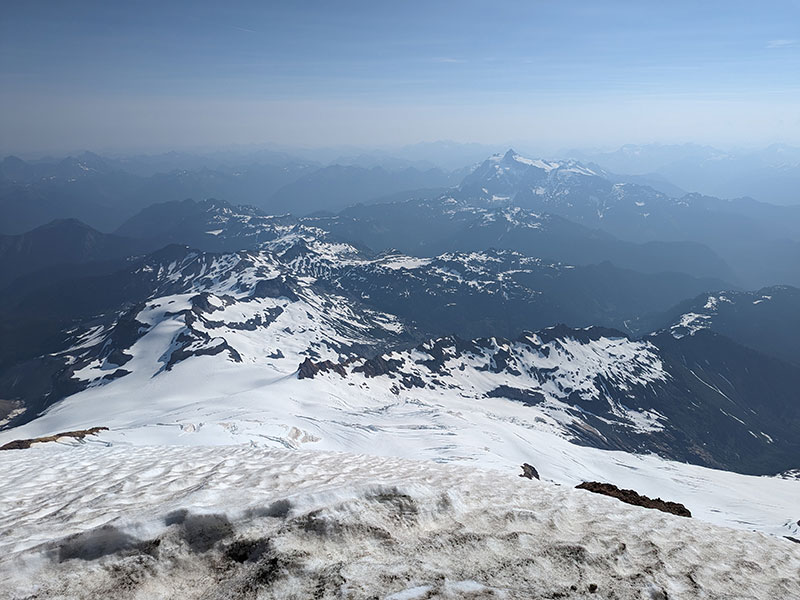 …and the Colfax Peaks to the southeast.
Careful Descent
Reaching the summit was exciting, but that was only the half-way point.  We still had to navigate all those obstacles on the way back down, starting with the Roman Wall.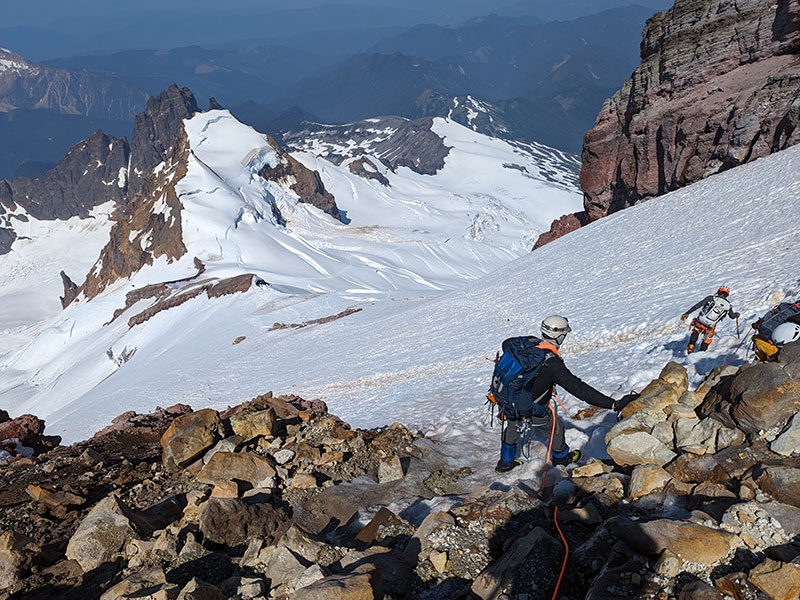 Descending Pumice Ridge offered panoramic views of Deming Glacier.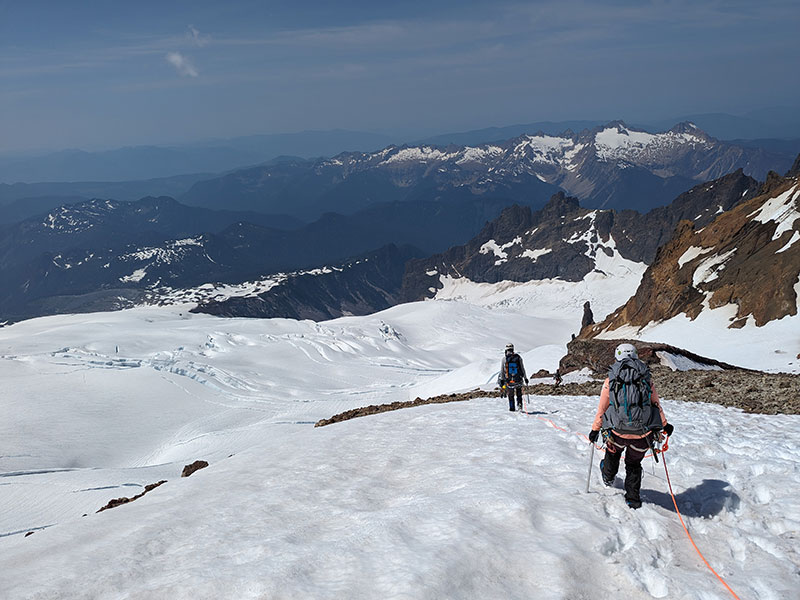 Now off the ridge, the last part was across Coleman Glacier again.  The warming conditions were a concern but still holding up.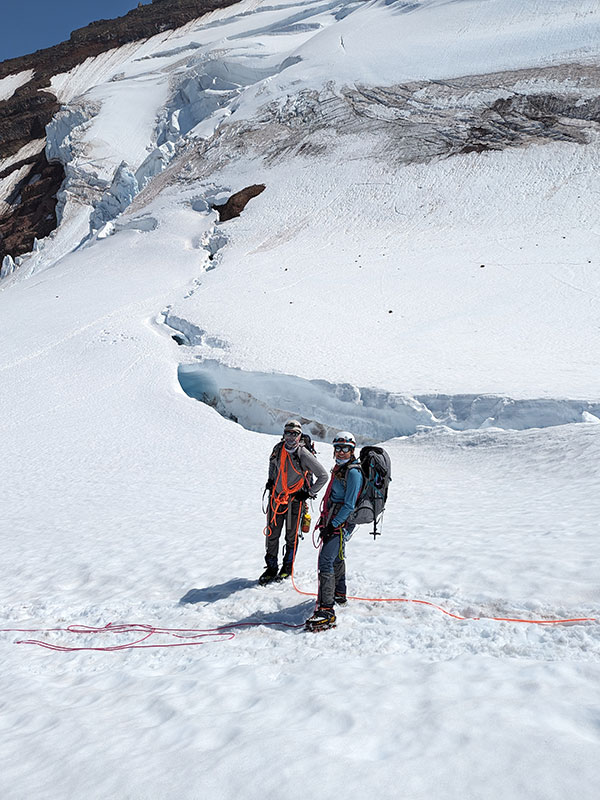 We heard about Colfax Peak calving the week before.  Walking through its slide path was pretty cool.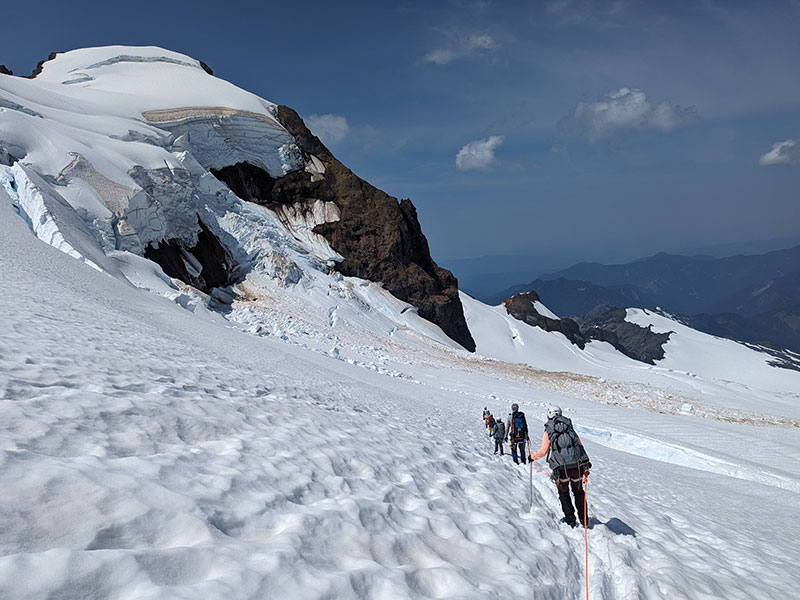 Cracks like this were all over.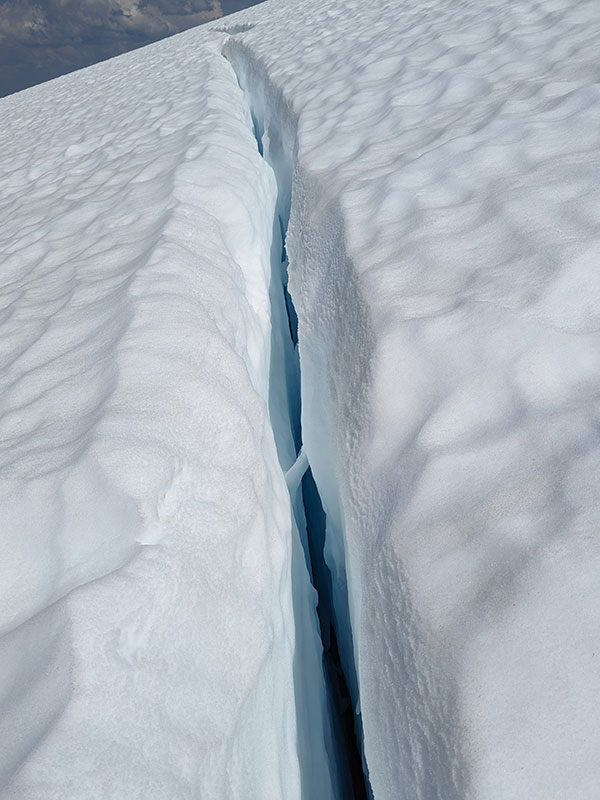 Ariel views of these crevasse openings would have been awesome to capture.  This is the one we first encountered at 4am.  It's also where our first fallen team member stopped and waited for 8 1/2 hours by this time.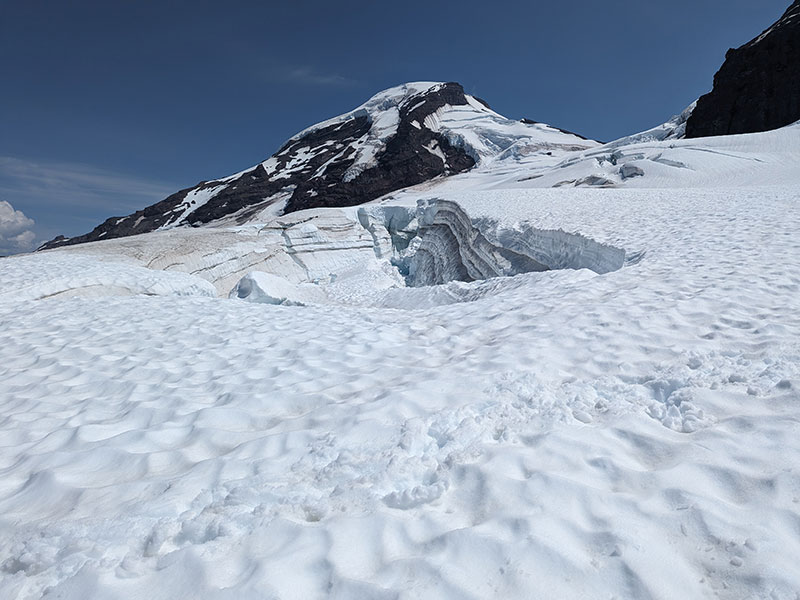 Everyone ultimately made it back to camp safely.  It was 2pm by then and we were tired, hungry and very satisfied with how the day had gone.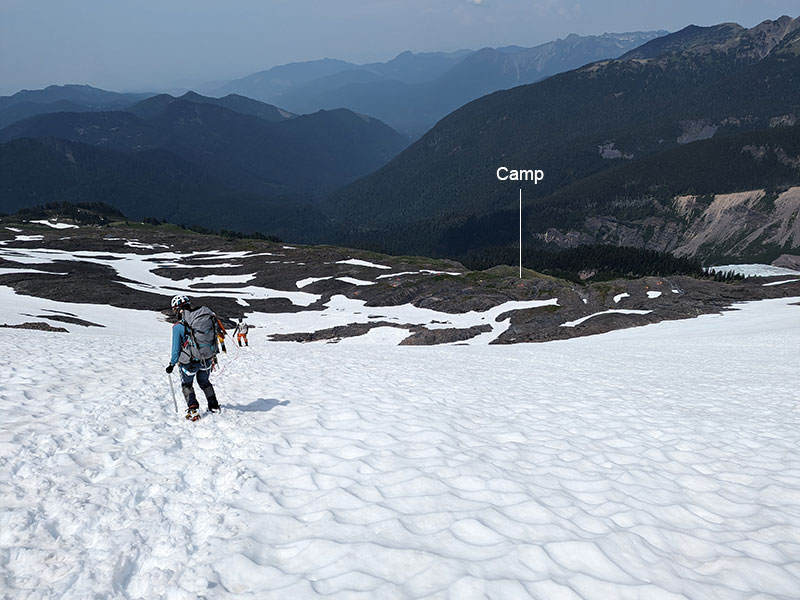 There's something about a sunset that sooth the soul… especially after a successful summit.
Final stats for the day: 4,700 feet of elevation in 6.6 miles, ten minutes shy of 13 hours.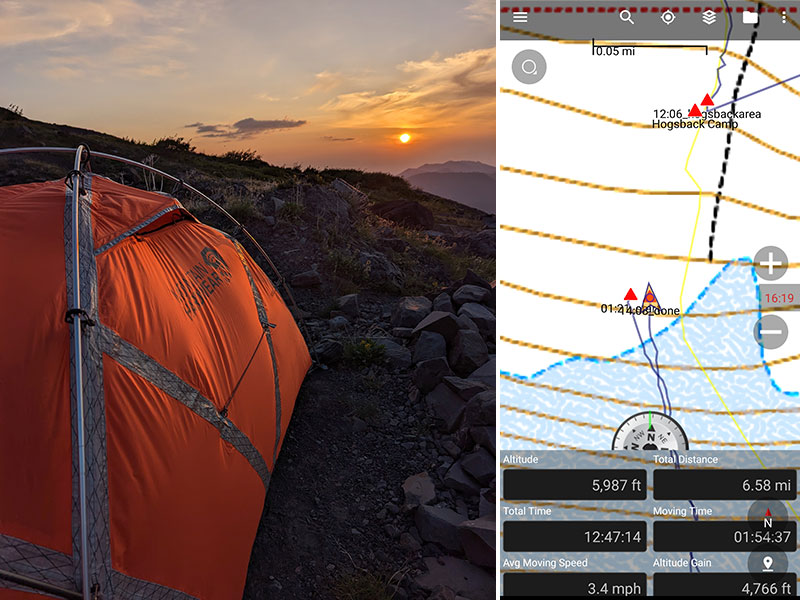 DAY 4: Down and Out
Our last day in the North Cascades was an exit back over the river and through the woods.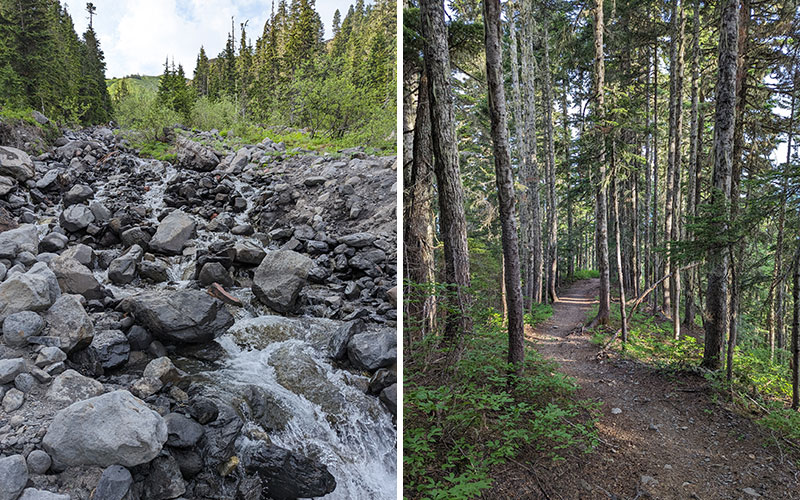 My pack weight hadn't change that much from the start, but it was all down hill from there anyway.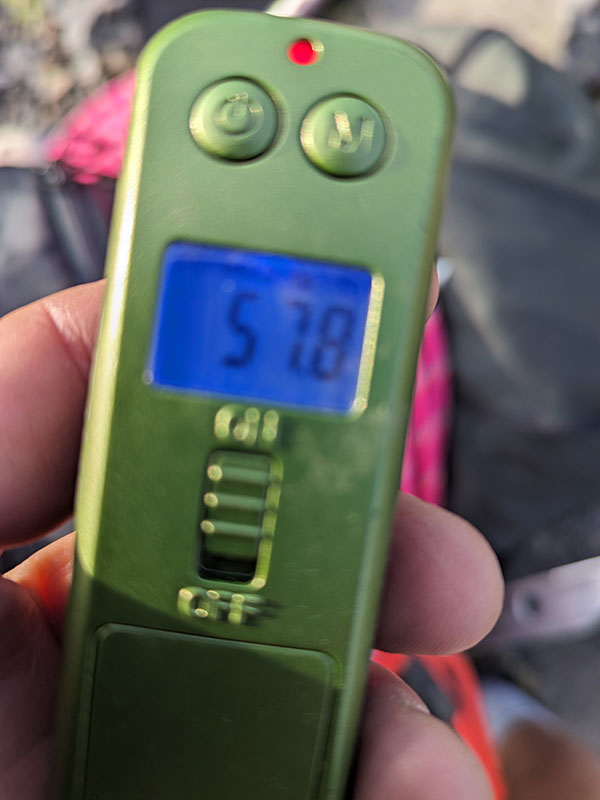 Finally, we enjoyed a nice big lunch in Burlington before heading down to Seattle for our last night in town.

DAY 5 – Early Flight Back Home
On an early flight back home, we were already thinking about the next adventure.