My summer mountaineering tour of the Pacific Northwest continues in Washington with Mt. Baker.  We planned for 5 days to bag Baker from the Coleman-Deming Route with a schedule that went like this: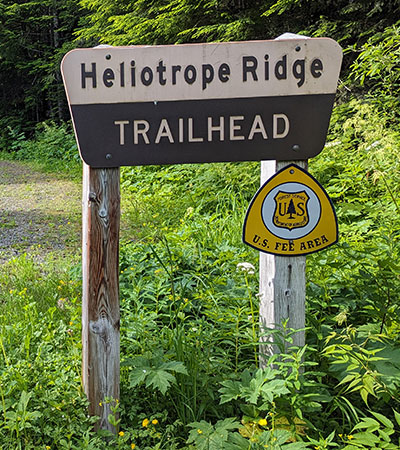 DAY 1 – Fly in to Seattle, drive up to Bellingham
Most of us chose to fly in for this one because our timeframe was a bit tight.  A 14-hour drive between Salt Lake City and Bellingham is hard to do in one push and no one wanted to waste two full days of this trip sitting in a car!  Flying was much more convenient and not at all cost-prohibitive.
So an early flight to SeaTac set us up just right to swing in for lunch at Pike Place Chowder.  From there, we stopped at the flagship REI store before heading up to Bellingham where we spent the first night in an Airbnb.
DAY 2 – Heliotrope Ridge Trail to Hogsback Camp
With an early start on Day 2, we took the Mt. Baker Highway east to Glacier Creek Road where we turned south towards the Heliotrope Ridge Trailhead.  We knew this Forest Service road 39 would be closed about half-way up after being washed out since 2013.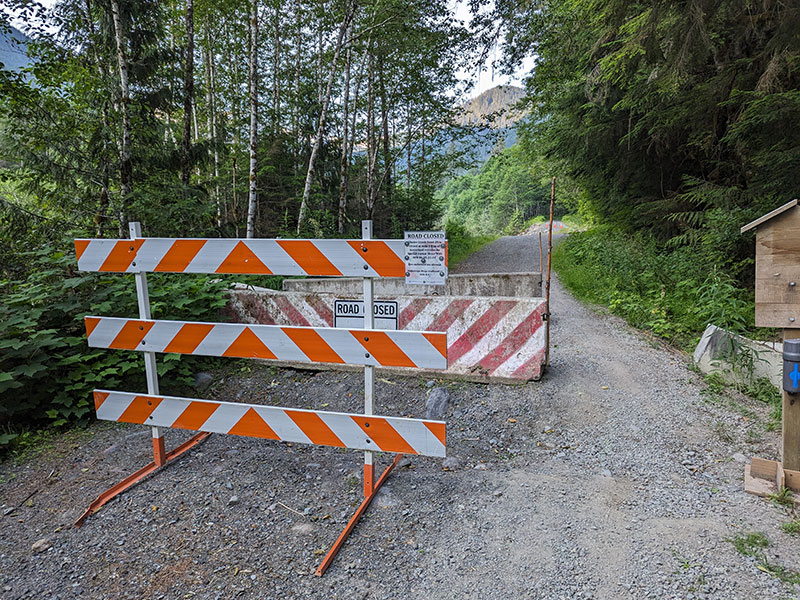 10 years later and it's still in disrepair?!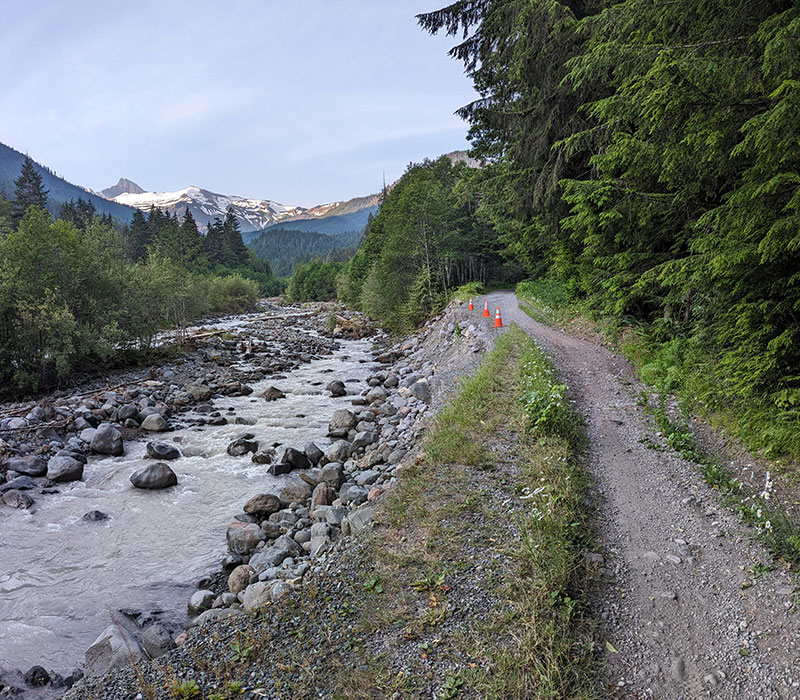 That's too bad because Glacier Creek Road (NF-39) is very nice beyond that barricade.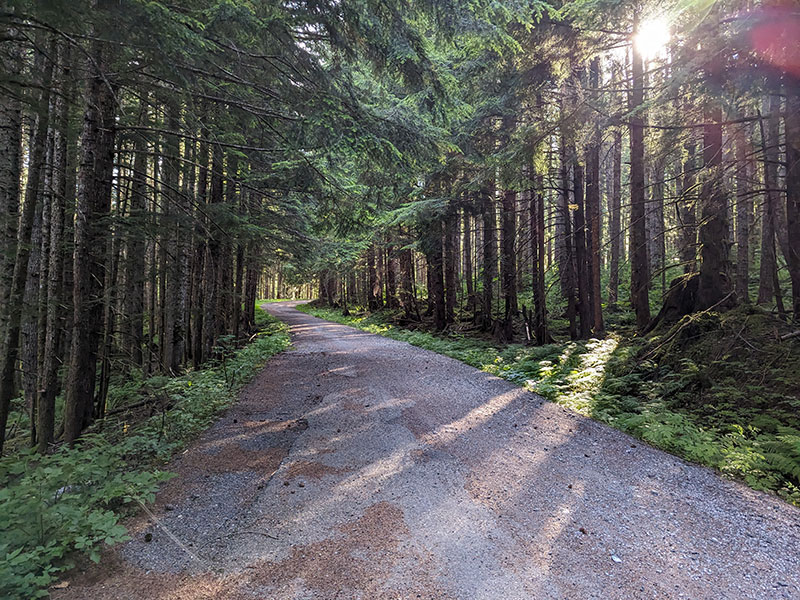 This is also where we got our first clear view of the majestic Mount Baker.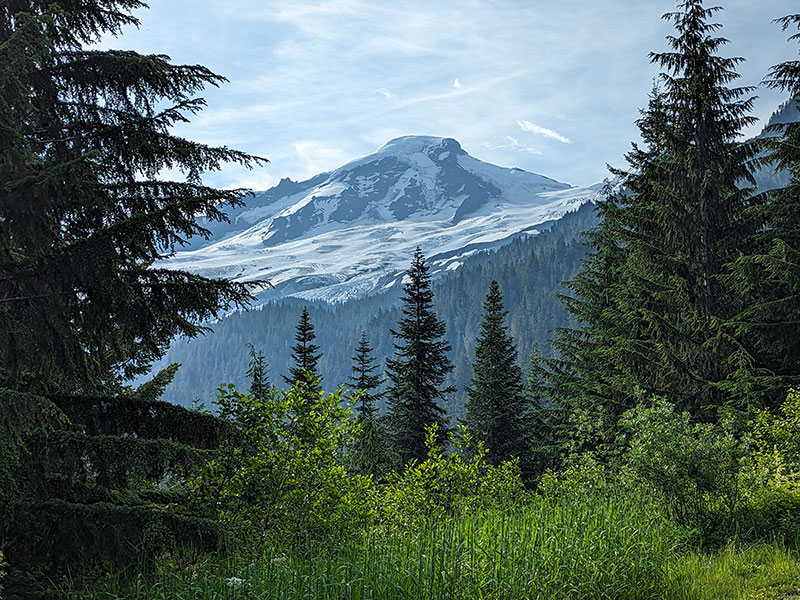 The Heliotrope Ridge Trailhead is 4.5 miles in from the roadblock/washout, with ample parking and decent restroom facilities.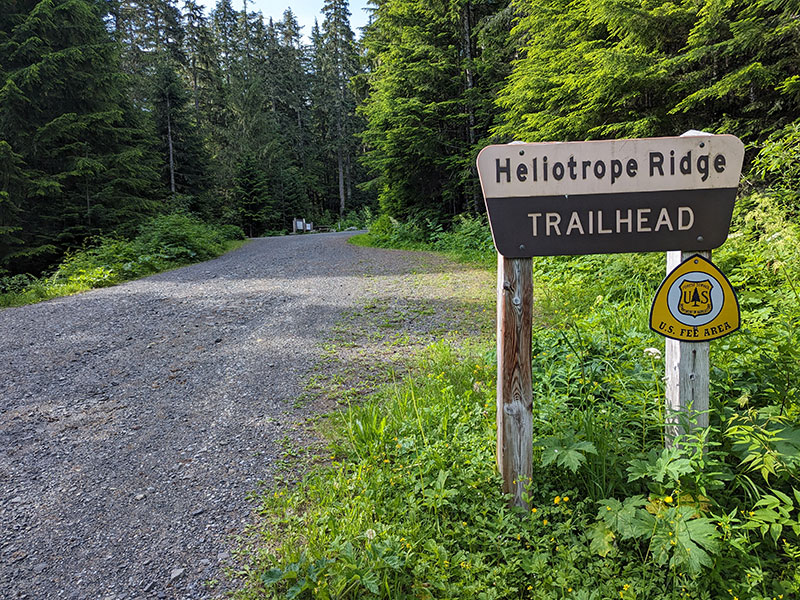 Elevation gained on this first stretch is just under 2'000 feet and pretty easy… even with a 60 lb pack.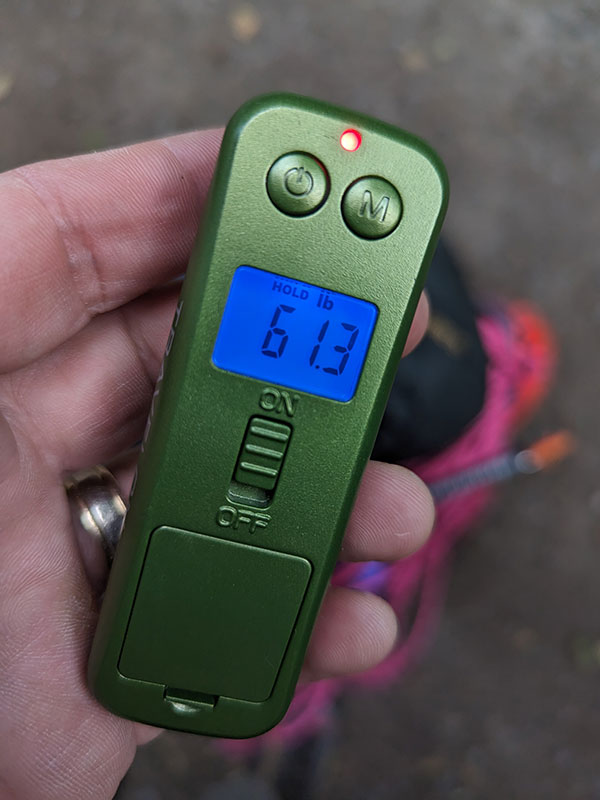 Heliotrope Ridge Trail
Despite an inconvenient road closure that adds over 4 miles to this approach, the Heliotrope Ridge Trail is wide and very well traveled.  It also begins with a warning about several creek crossings, one of which we heard could be up to "waist deep".  Notice the word used on this sign is fording (not crossing).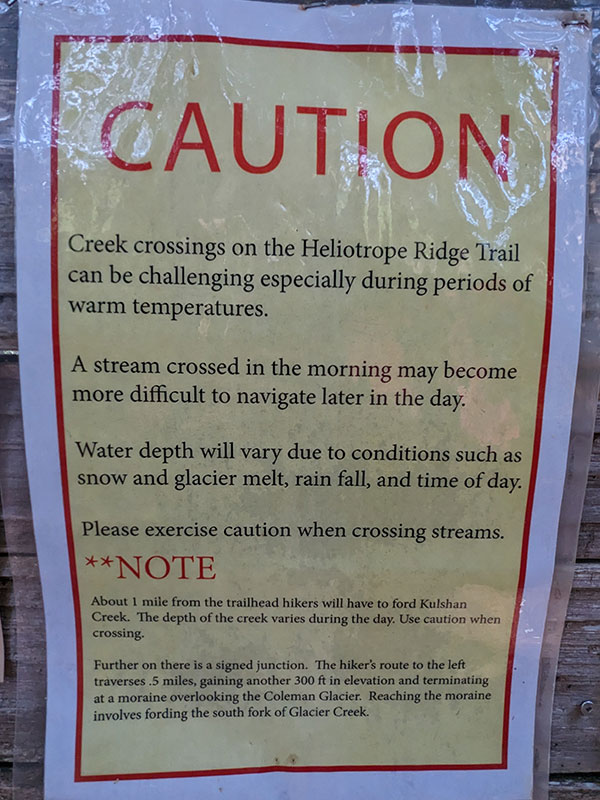 I love the dense forest of the Pacific Northwest.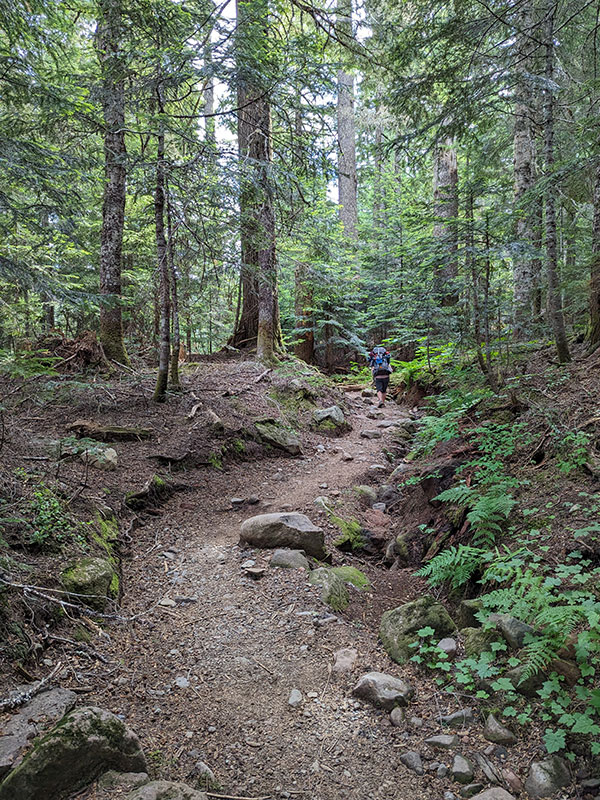 Kulshan Creek is the first one to cross, a mile and a half from the trailhead (or 6 miles from the roadblock/washout).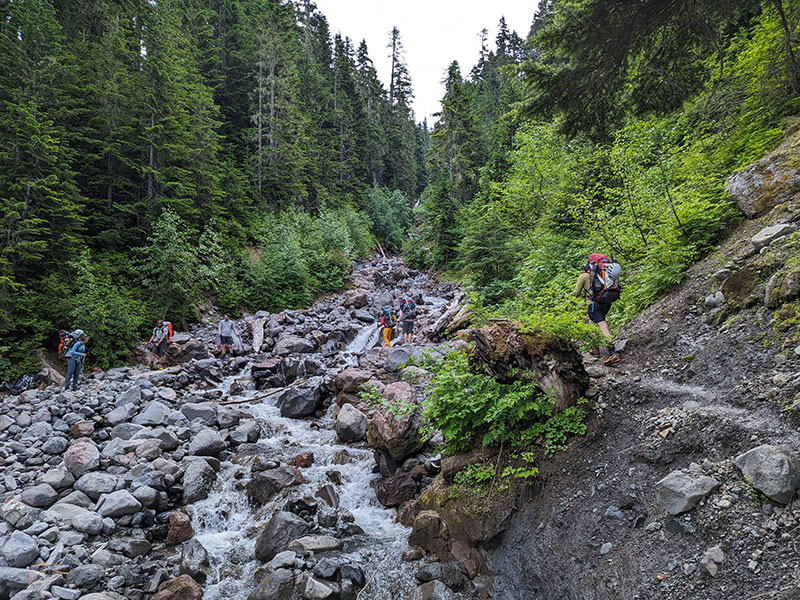 Luckily there was nothing much to ford at Kulshan.  It was pretty easy for us that morning of July 5th as we carefully navigated over a few slippery rocks.  No one really even got their shoes wet.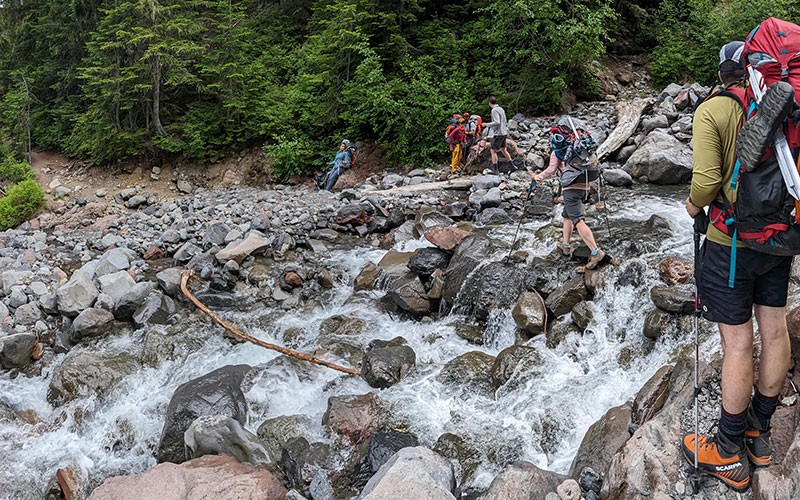 The second crossing was another 3/4 of a mile up at the West Fork of Heliotrope Creek.  I don't recall this being anything significant since I took no picture of it from either direction.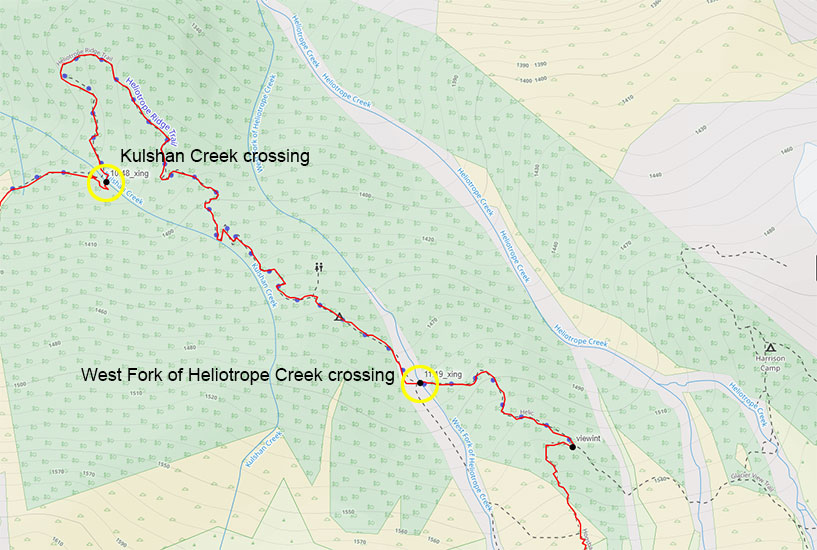 Not far from where the trail splits off for the Glacier View Trail and Camp Harrison, 2.5 miles from the trailhead (7 miles from the washout), the steepest part ascends along the Hogsback.
Half-mile More to Hogsback Camp
It's only another half-mile more to Hogsback Camp where the views above treeline just keep getting better.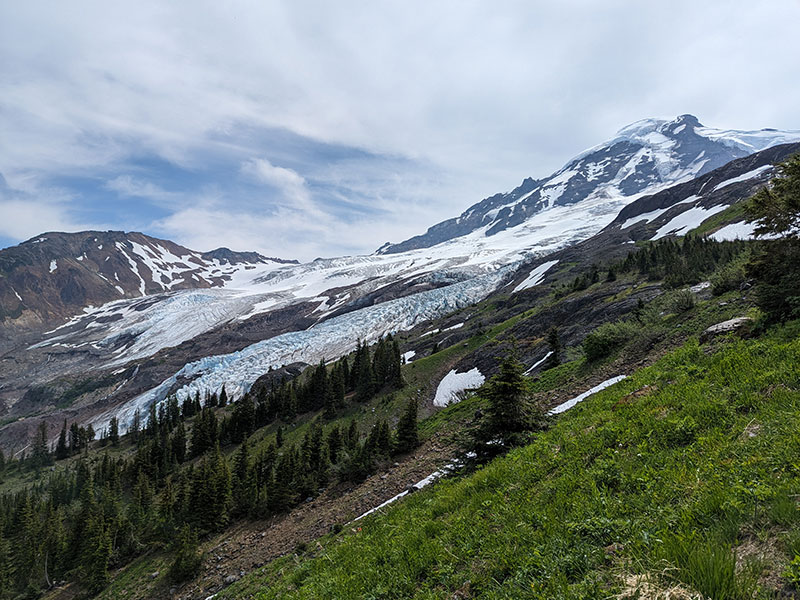 This shot is looking north, back at the Hogsback part of this route we just climbed.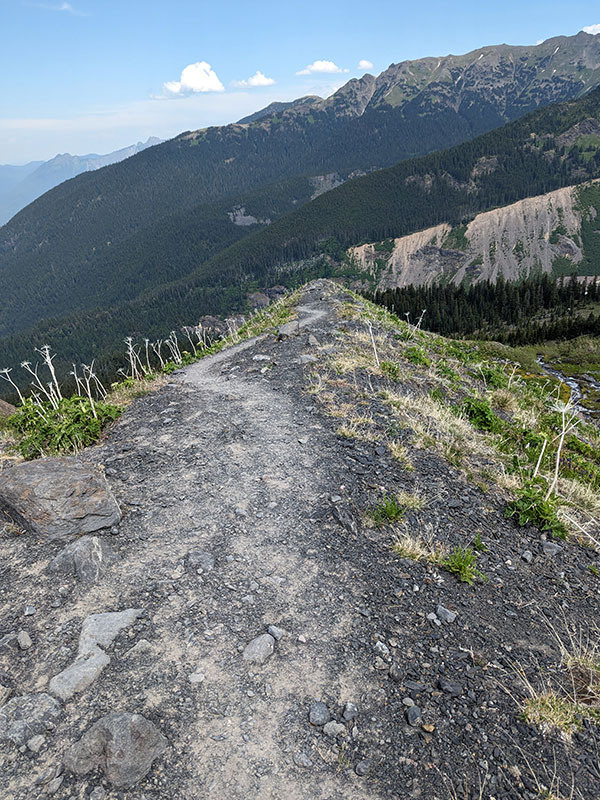 You know you're close when you start seeing more fields of snow!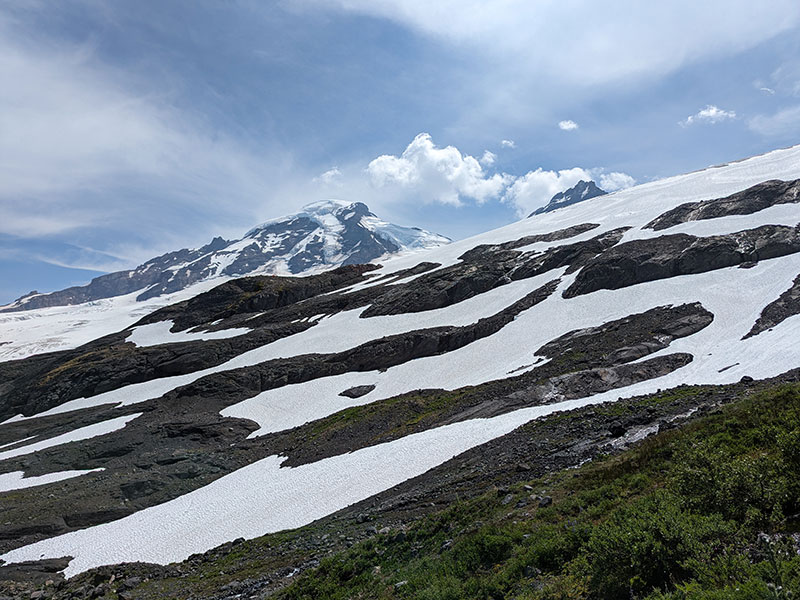 What a view from camp as the skies cleared up and showed signs of a promising day tomorrow.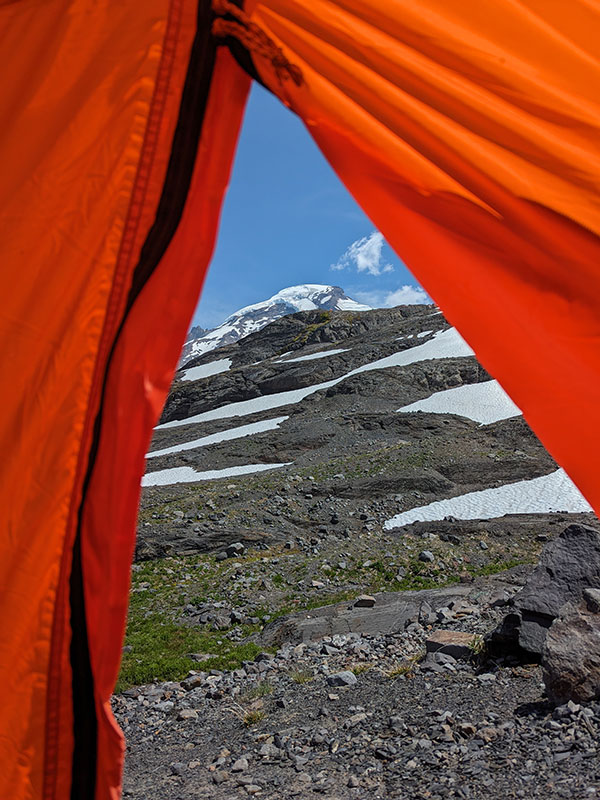 We even had some of the locals stop by to have dinner with us!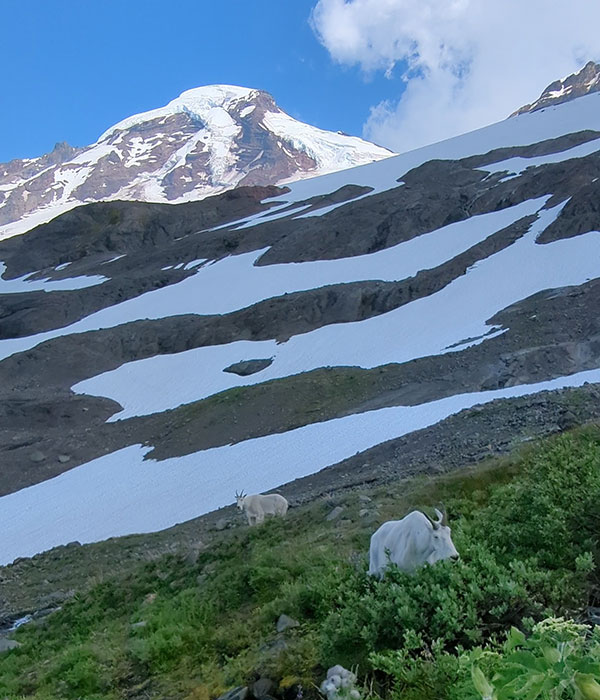 Final stats for the day: 7.37 miles with 4,127 feet of elevation
Feeling good, excited and ready for my first rope team experience over some serious glacier terrain.