After success at Mt. Hood on Wednesday (5/31) and again at South Sister on Saturday (6/3), the group had accomplished their plans and would now be heading home.  My plan, however, involved one more stop.  My heart was set on continuing just a little further south to knock something off my list that has been there for about three years.  It only made sense to take the extra time now to get this done.  After all, I was already right there!
So I drove to the town of Mt. Shasta on Sunday (6/4), early enough to stop by the trailhead, fill out a climbing permit, pick up my wag bag and check out the conditions.  Seeing the starting point was important to me since it would be dark when I would set off for this 14er's summit by myself.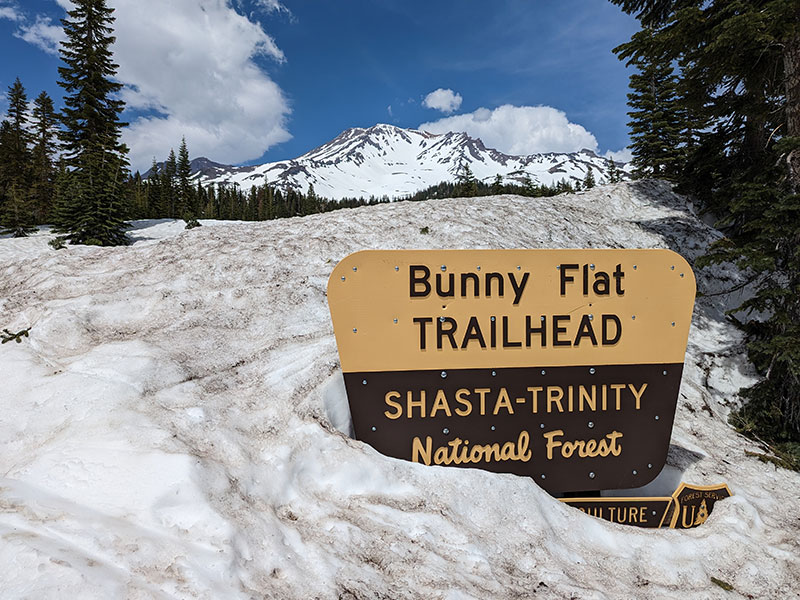 I couldn't decide what time to start the next morning.  A few people I spoke with at the trailhead said they were starting at 10:30p tonight, and another group planning for midnight.  Three guys unloading tents to camp near the parking lot were debating on whether to start at 4a or 9a.  Talk about all over the place!  My thoughts were to leave sometime between 2a and 5a.  Since 2a seemed too early and 5a too late, I split the difference and decided to be on the trail to later than 3:30a.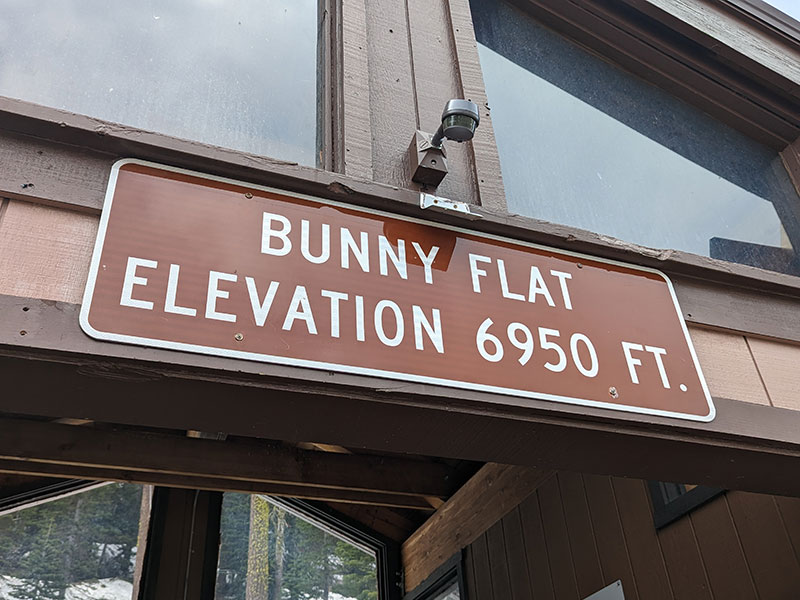 Morning came quickly.  Too quickly in fact.  When I rolled over and looked at my watch, it read 3:50a.  WHAAAT?!  How did that happen??  Why didn't my alarm go off?  I quickly jumped out of bed and scrambled to get myself out the door.  Luckily, 90% of my stuff was organized the night before and hoped this small mistake wouldn't cost me the summit.  That extra sleep must have been needed though because I felt good and rested.  I pulled into Bunny Flat at 4:20a and was on the trail at 4:32… an hour late from when I wanted, but still within my original window of reasonable start times.
Lights were flickering way up the mountainside but no one else could be seen down low.  I was sure to be the last one on the trail at that time.  After a short distance up Bunny Flat, this is the only sign I saw that provided some direction.  The path beyond this wasn't too hard to follow in the dark once I got on the ski track/bootpack. (pic taken on my way down)
My headlamp was the only light showing the way.  The well-defined track I followed was likely the result of another busy weekend up here.  It led me right into Avalanche Gulch.  This is only significant if you are expecting to pass by the Horse Camp.  I didn't need that stop and just continued up the contour of this natural terrain… which was pretty cool actually.  It was like walking up through a giant water slide in places.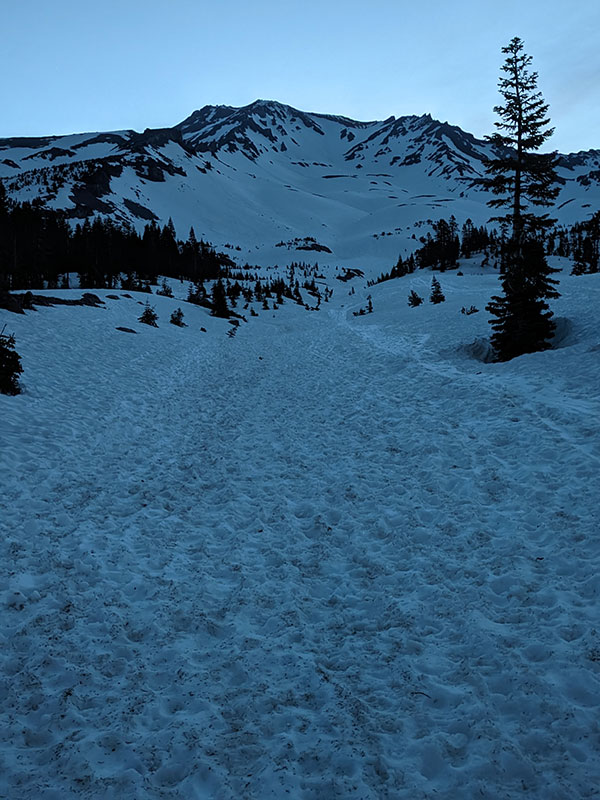 There wasn't a lot to take pictures of as I snaked up through Avalanche Gulch.  Even looking back at the route from about 2 and 1/2 miles up doesn't look like much. Yet, that's at least 2,500 feet of elevation from the start.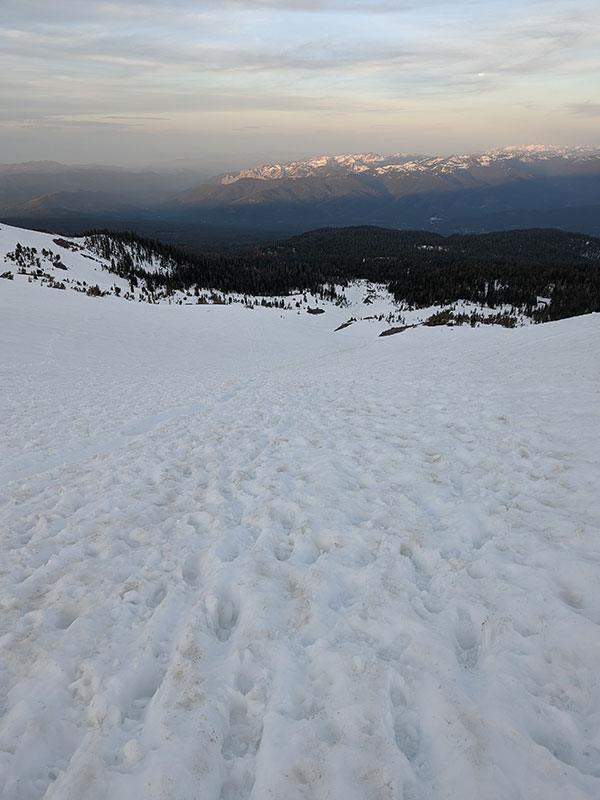 Helen Lake
At the 3-mile mark, I reached Helen Lake at 7:20a.  This felt like good progress with 3,400 feet of elevation done in under 3 hours to that point.  The slope was dotted with a dozen climbers ahead of me.  I noticed all of them going right of the Heart as they trudged up towards Red Banks.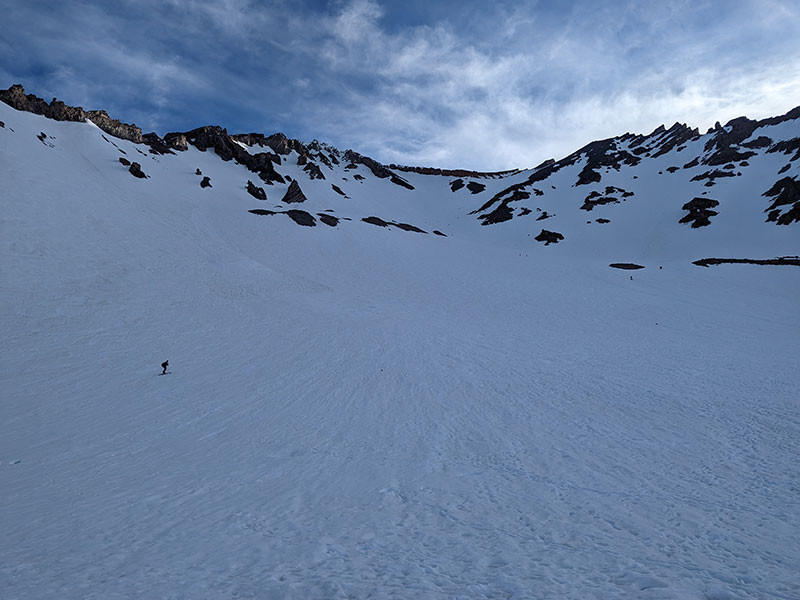 Crossing avalanche debris part-way up this slope, I started catching up to people.  Only two looked to be going left of the Heart while everyone else was staying right.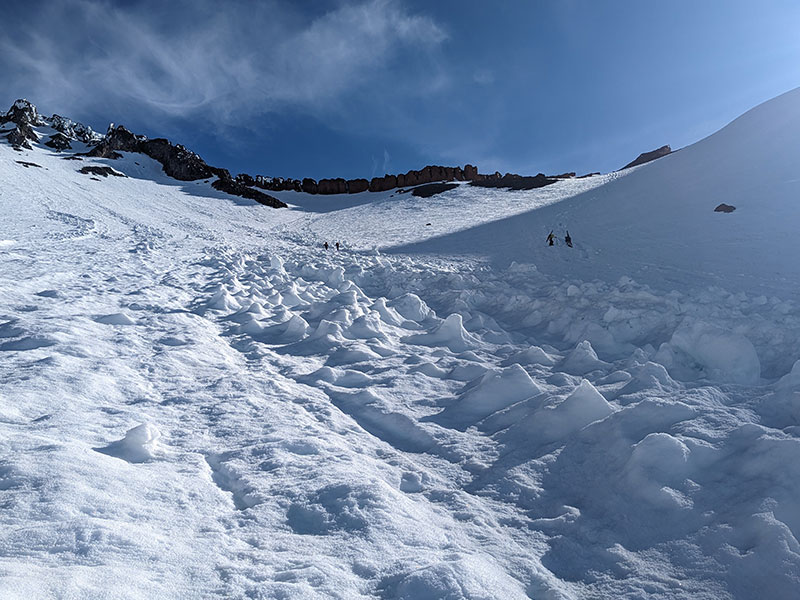 I recalled the Climbing Advisory that had been posted a few days earlier.  It stated that "Through the right side of the chutes is no longer the best route due to lack of consistent snow coverage.  Abundant loose rock exists above the chutes."

Now, I still don't know if this was referring to the main route up to the right of the Heart or some "right chute" in a cluster of chutes that I would've found had I gone up to the left of the Heart.  Either way, this advisory gave no better alternative, snow coverage looked consistent to me and the route to the left had been in the sun longer.  So I just followed the clearly defined bootpack that was switchbacking up to the right towards Thumb Rock.   There was also a well-carved glissade path straight down the middle of this slope.  More on that later!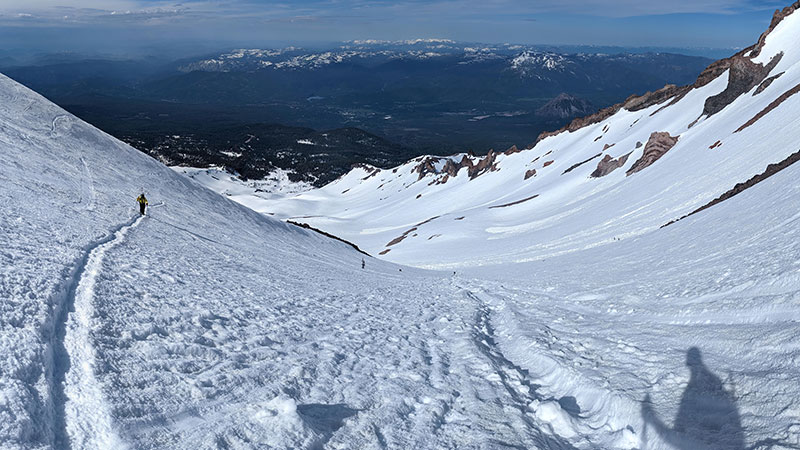 Red Banks
I was nearing the top of Red Banks when these wispy clouds started rolling over the ridge.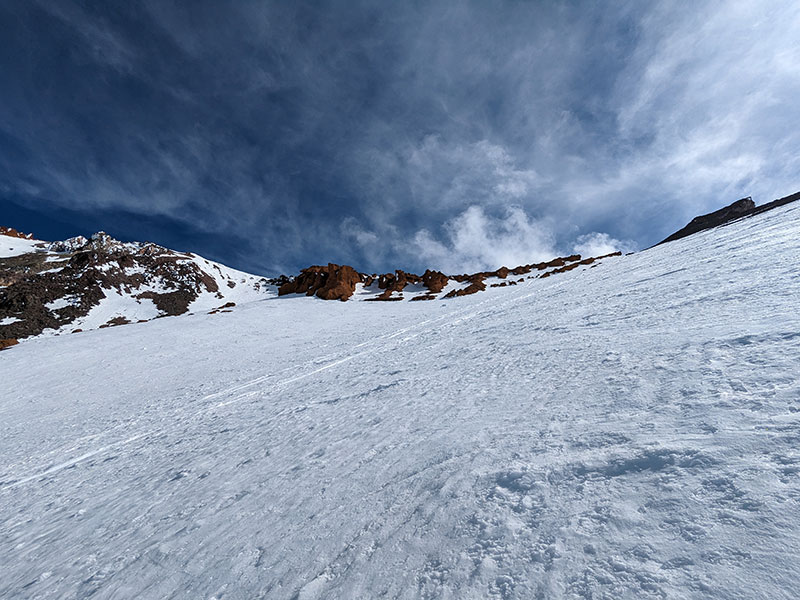 Within 30 minutes, my blue sky was gone!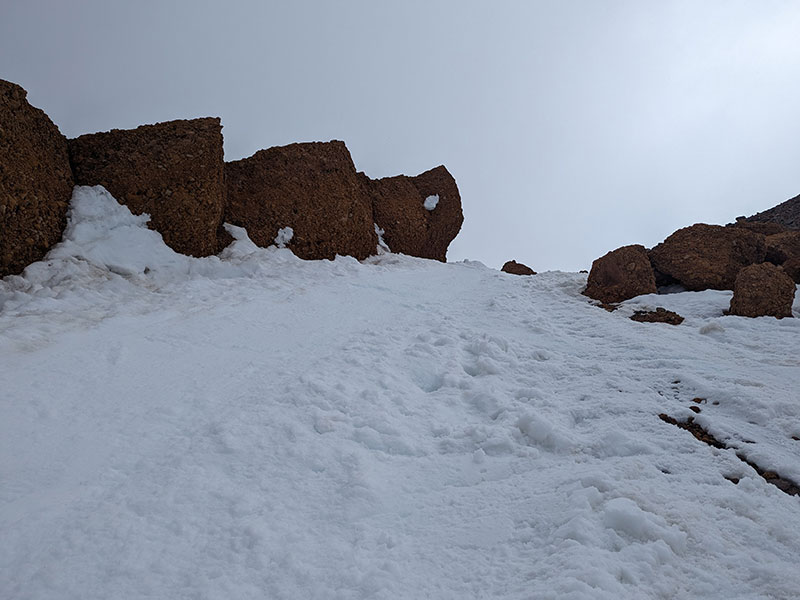 Visibility shifted in an instant after Thumb Rock.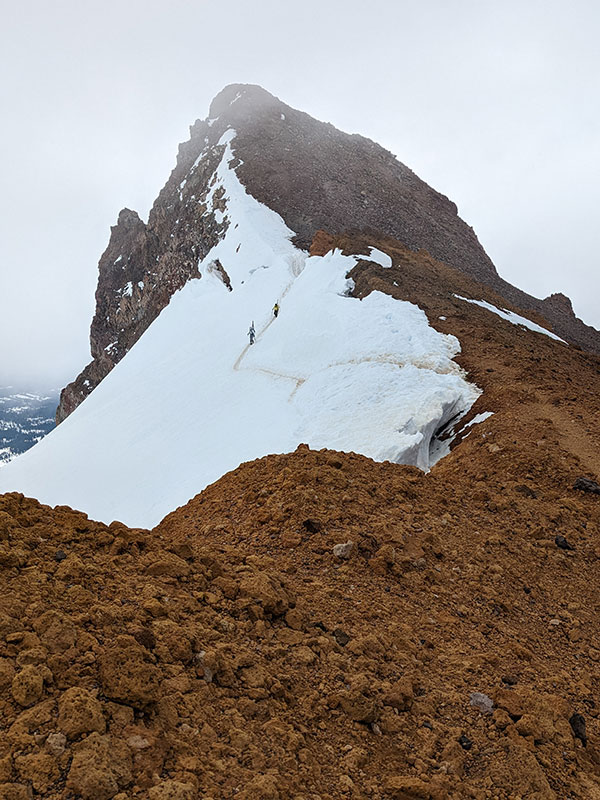 Misery Hill was somewhere off in the distance in these questionable conditions.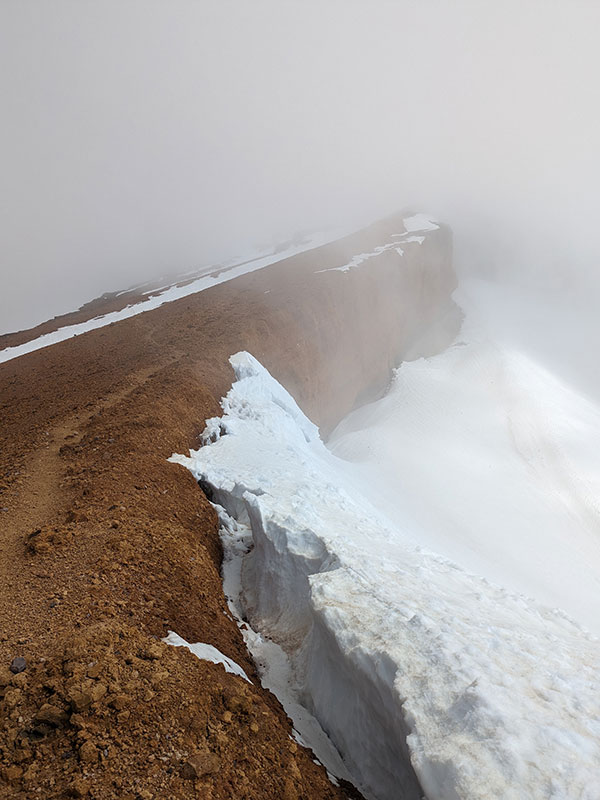 The Climbing Advisory for Shasta's sudden change of weather was spot on!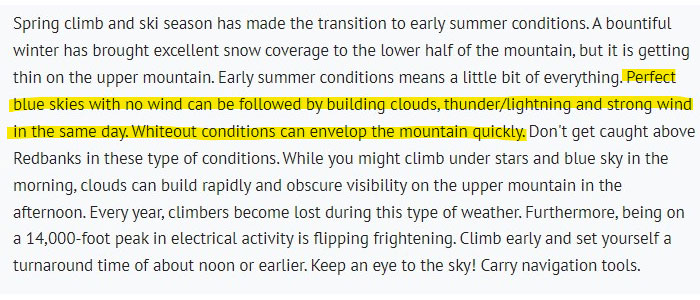 Although I didn't agree with the part of the advisory about Redbanks not being "almost the top".  It's pretty damn close in my opinion!  According to my GPS, I had gained 5,800 feet of elevation in 4 miles.  That meant I had only about 1,200 feet to go in an unsure number of miles remaining.  I guessed no more than 2.  If that's not "almost the top", I don't know what is… Misery Hill??

Misery Hill
I knew there was another big group in front of me, who hadn't turned around yet.  It was a little after 11a with mixed visibility.  I pressed on up Misery Hill, which really wasn't miserable at all…  just another 1,000 feet and 1/2 mile more of mini switchbacks like the ones we did along the upper ridge of South Sister.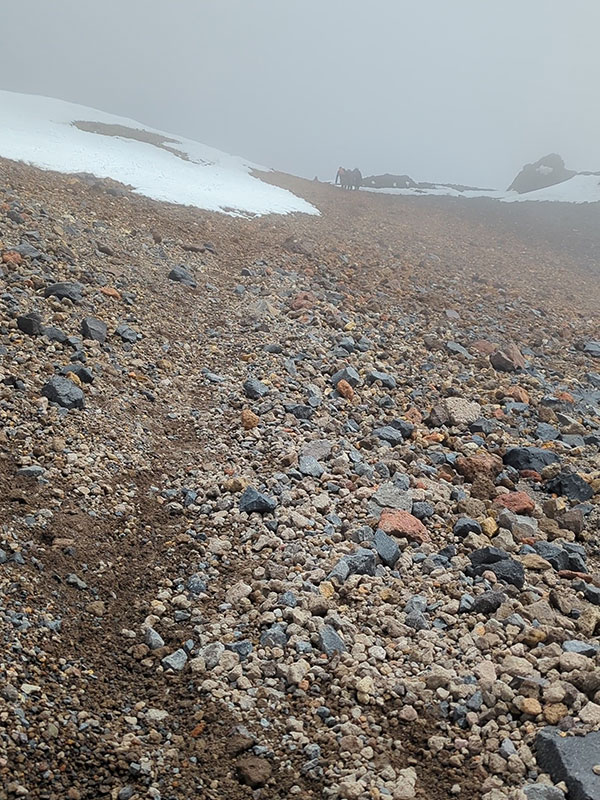 The weather was definitely moody as I got to the top of Misery and found that large group here resting and waiting for the clouds to pass.  Even with such poor conditions, the path across the plateau was visible enough to see.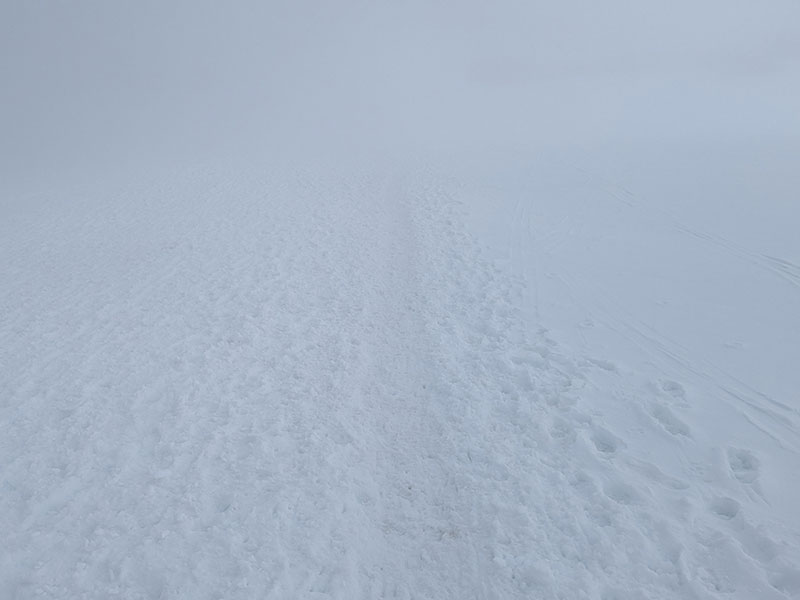 Lucky for us though, it did clear up enough to keep going without concern.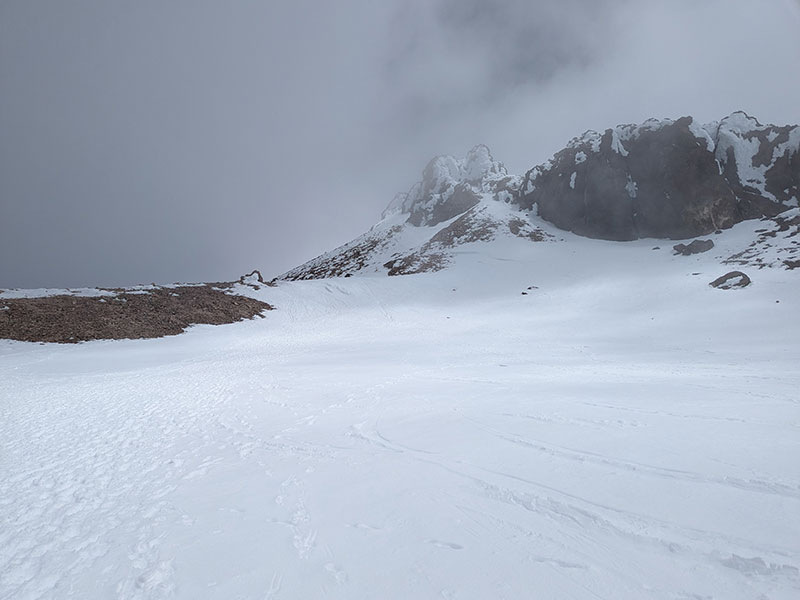 Summit Push
Looking back towards the top of Misery Hill, I was now out in front of that large group as we all made our final push to the summit.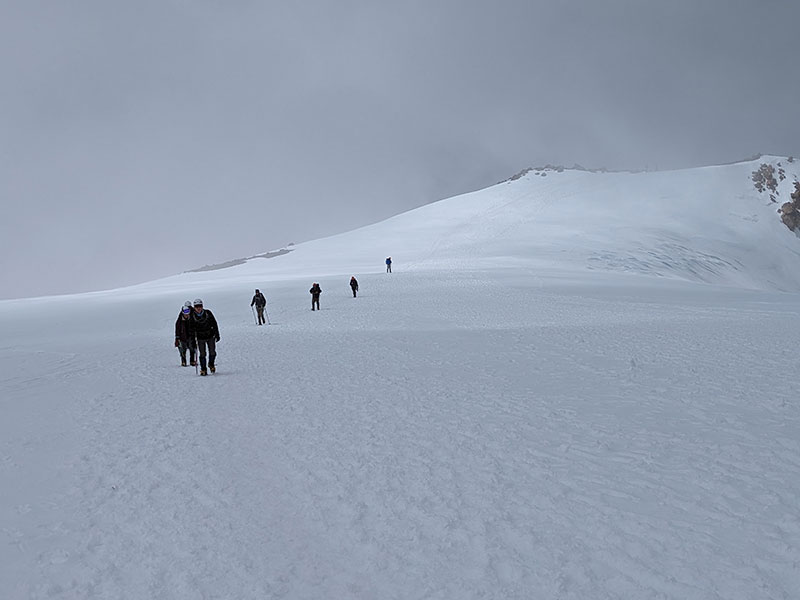 There were a couple of different ways to the top, some more spicy than others.  I chose the simple, well-traveled route.  Even though others were on the mountain at the same time, I was still hiking alone and needed to make it all the way back without issue.  The skies did clear up for a brief minute as I reached the summit.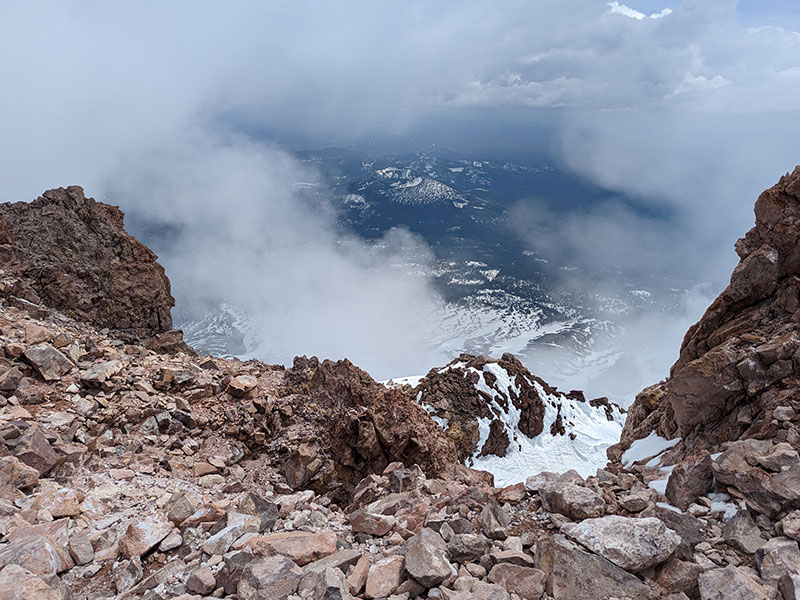 I've wanted to bag this 14er for almost 3 years!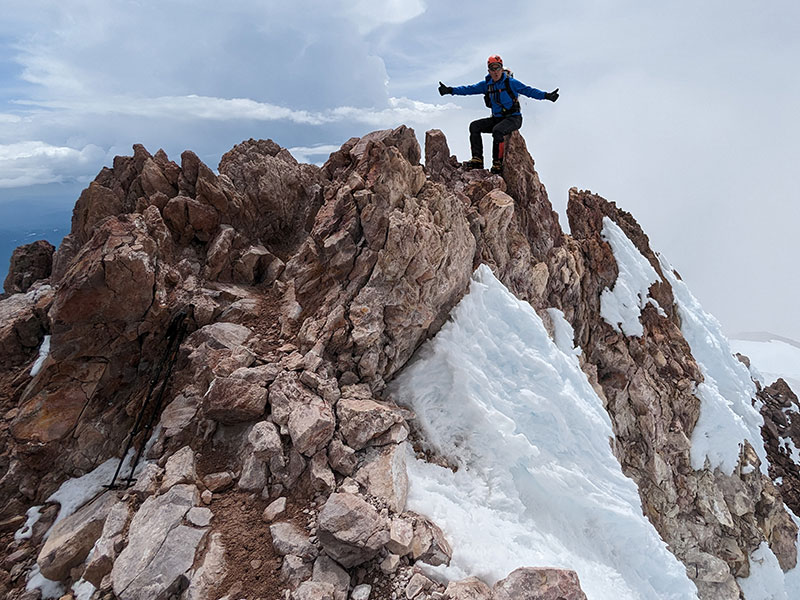 It was almost noon when I touched the top.  Seven and a half hours to do 7,000 feet in 5 miles…  I was so stoked to get 3 for 3 this week!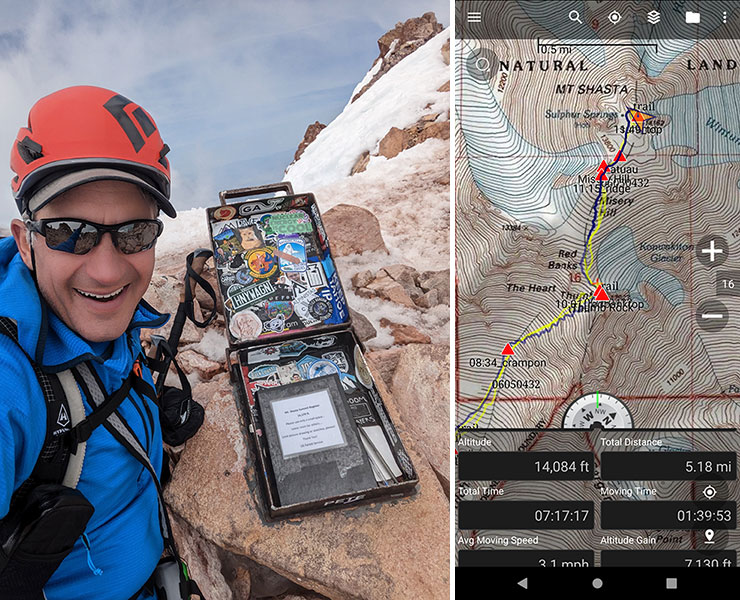 The Descent
As I descended back down to the plateau, it cleared for another brief moment.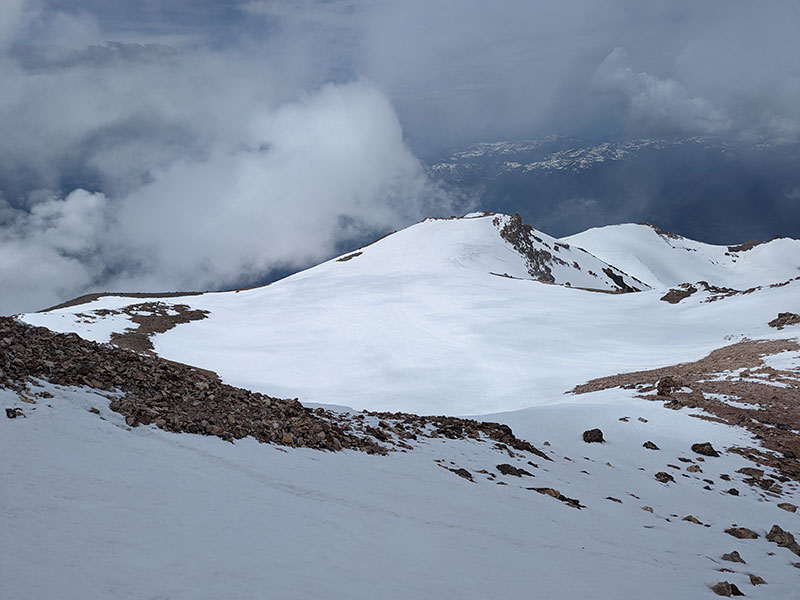 That large group behind me was still working their way up.  I found out they were a family of 15, also from Utah.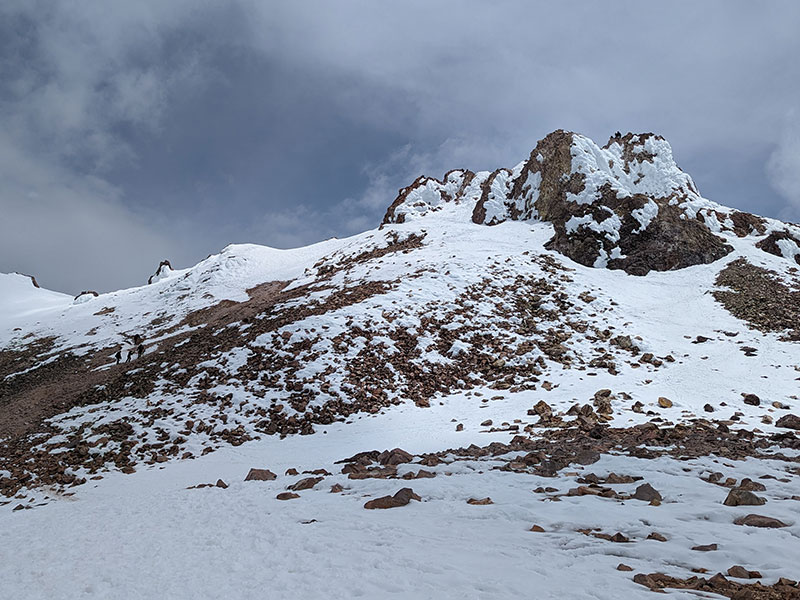 Here are the different routes to the summit.  Green was easiest, yellow was tangy, red was spicy.  I know this because I took green up and red to yellow down.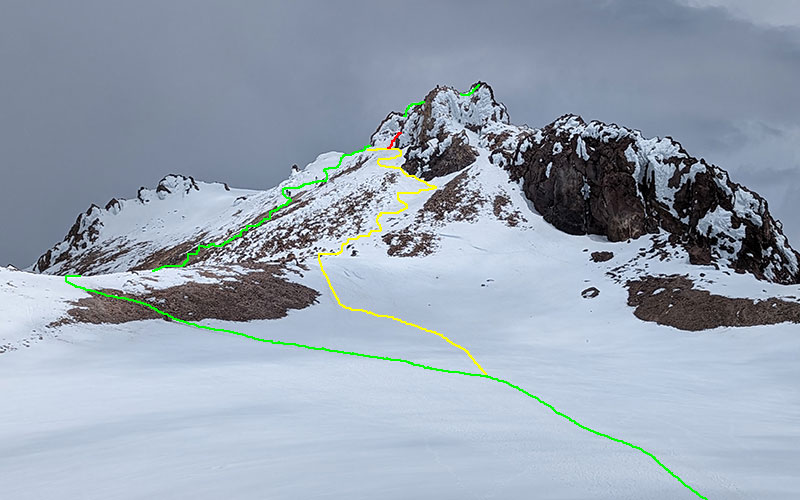 The weather rolled back in again from Misery Hill all the way down to the traverse over to Thumb Rock.  From this point on, I was really all alone on the mountain.  Everyone I had passed were far behind me while all the skiers were long gone in front of me.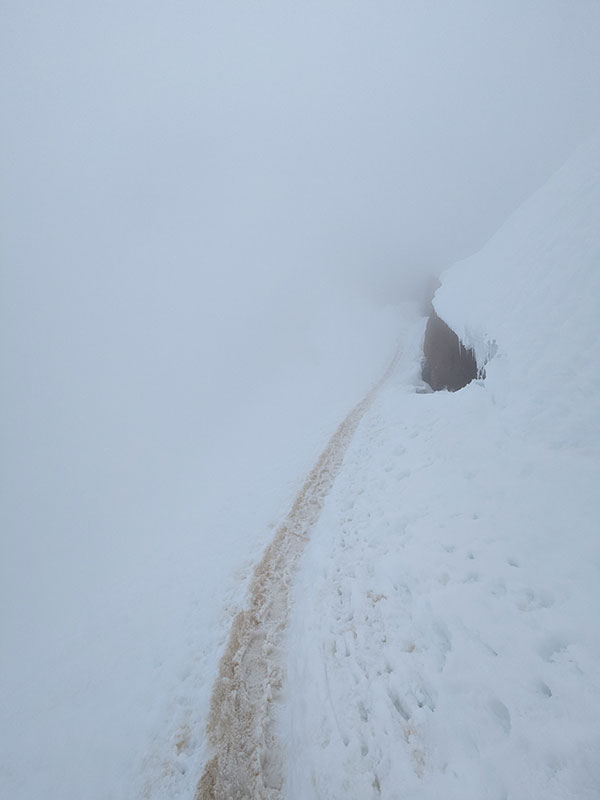 Poor visibility continued down from Red Banks as well.
In fact, it snowed on me the whole glissade down.  I sat my butt in that trench I saw earlier and quickly but cautiously whizzed down this mile-long stretch.  The glide path didn't quite make it to Helen Lake, but close enough.  I thought about what the Climbing Advisory said about glissading and wondered why.

Is the concern about potential rockfall coming from behind and hitting you without warning?  Is the risk related to people stabbing themselves with their ice axe or not knowing how to use it to control their speed?  What about ripping up your rear end on sharp rocks that lie just below the surface?  (that's what my apprehension is always about doing these glides).
Whatever the reason, I had to balance the risks associated with taking a controlled fast ride down or slowly slogging through snow that was loose enough to take me for another kind of ride.  I opted for the quick exit.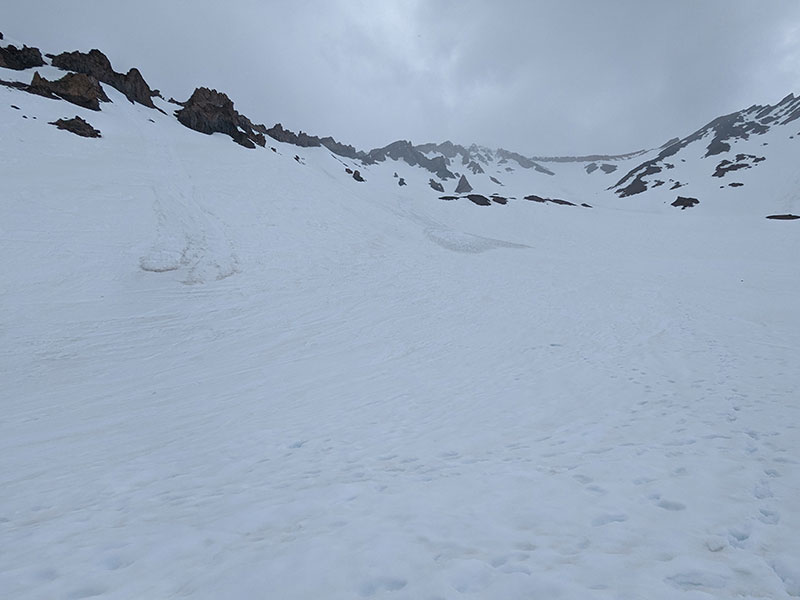 The only two people I saw on my way out were following Avalanche Gulch below Helen Lake.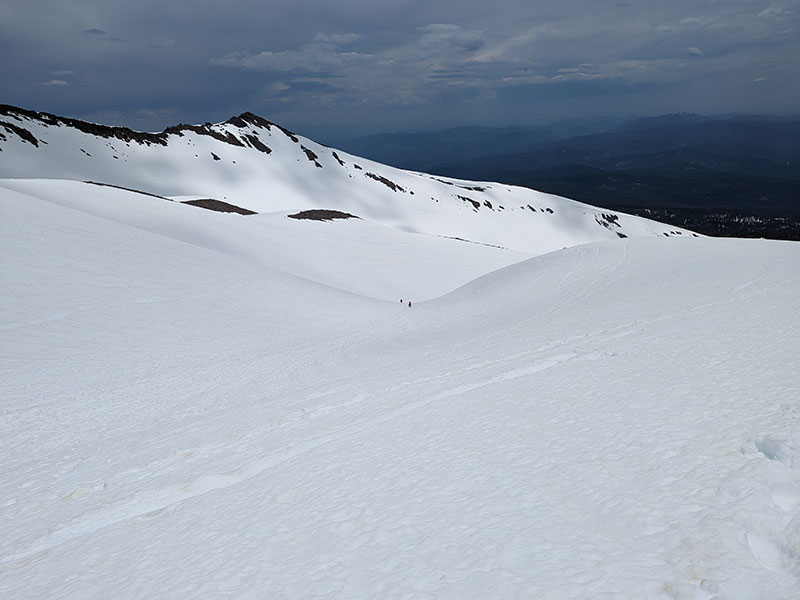 Horse Camp
I chose a different way down.  Since I missed seeing this Horse Camp earlier in the day, I felt I had plenty of time to go check it out now.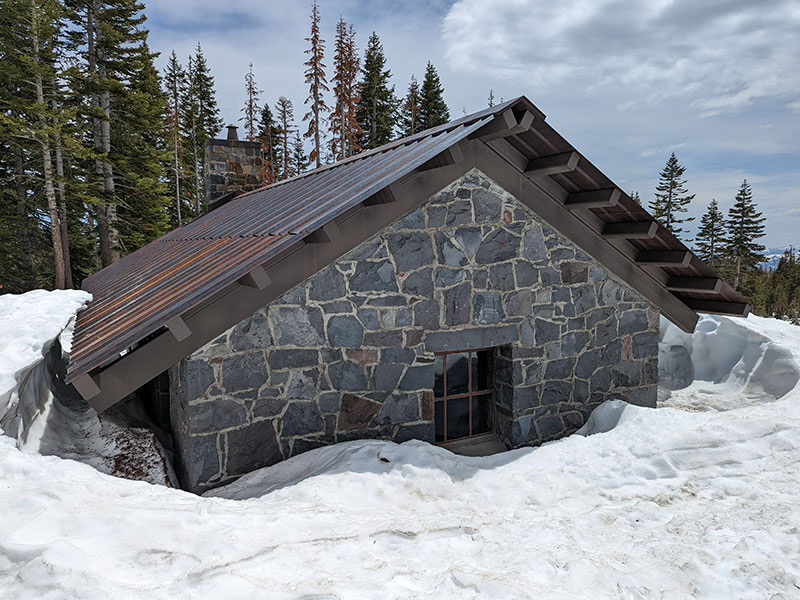 It was cool but definitely not worth the detour in the morning.  I'm sure this spring water was good too, but I didn't need any.  Not even this late in the day.  It was 2p and all I could think about was having a big juicy burger for dinner!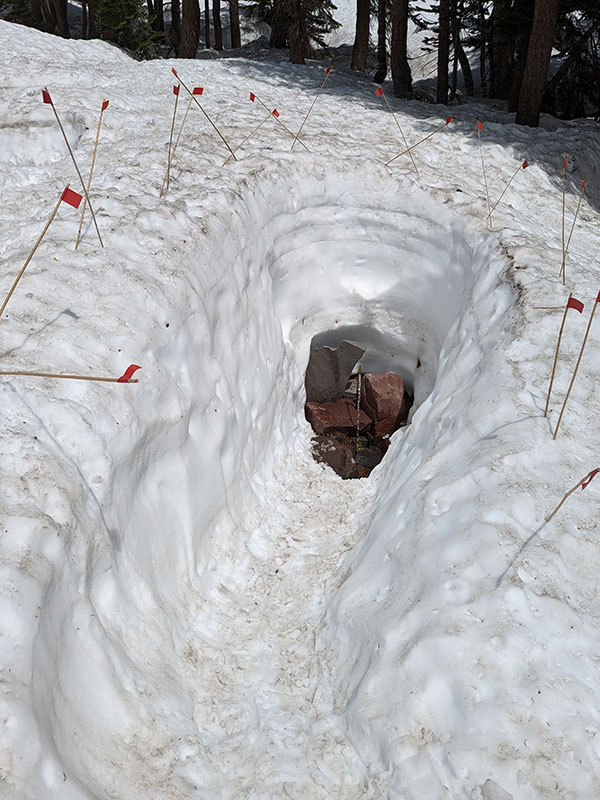 Wandering in the woods to find the path out through the trees was probably the most challenging part of the day!  I was so glad I didn't try to find this Horse Camp in the wee hours of the morning.  There were no real distinct tracks by way of the summer trail.  I finally found the split I had "missed" that morning (at 41.35689 N 122.23500 W).  Missing the split worked out better for me and that's how I'd do this route again.  Unless you have a strong reason to need the cabin, I'd skip it on the way up.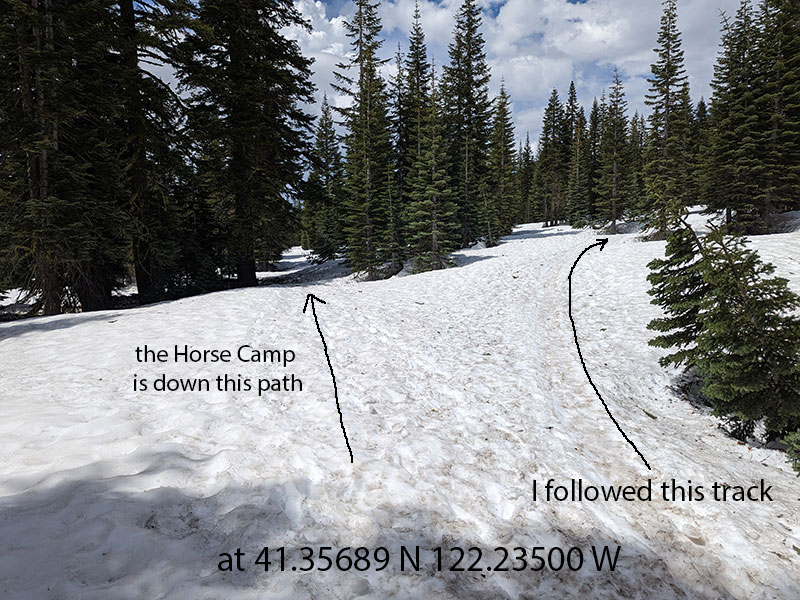 I couldn't believe the weather from Horse Camp down.  Without pictures for proof, you'd think I was telling a tale of such crazy weather on this temperamental mountain!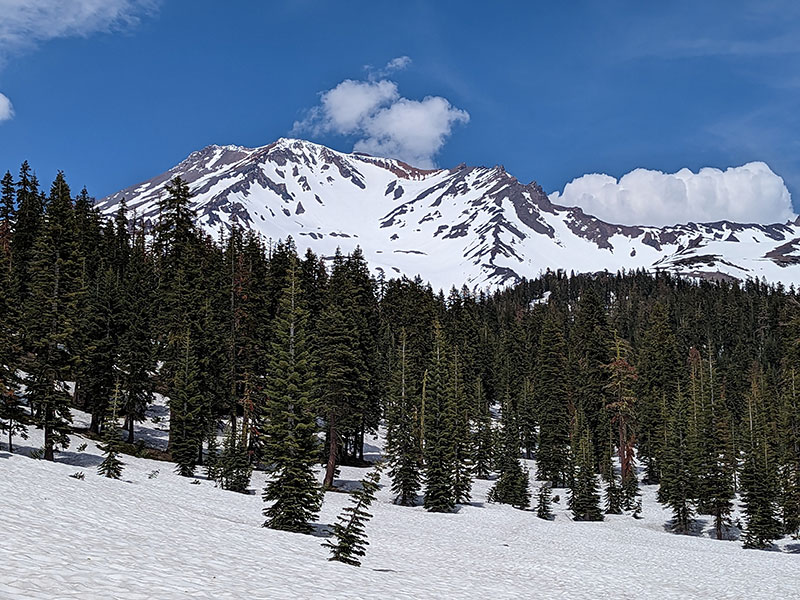 It felt good to be done!  Final status for the day: 10.5 miles and 7,100 feet in 10 hours.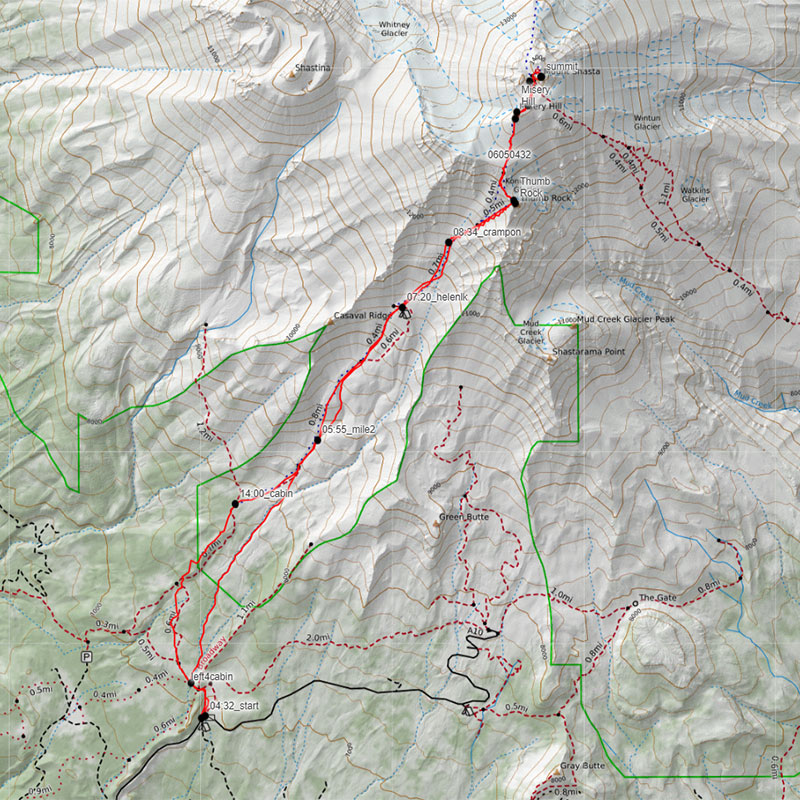 I'd love to summit Shasta again, but next time up from the north through some real glacier and crevasse terrain.