The last stop on my End of Summer East Coast Highpointing Tour is Georgia's Brasstown Bald.  I chose to summit this state's highpoint using the Arkaquah Trail from Track Rock Gap, not far off US 76 between Blairsville and Young Harris.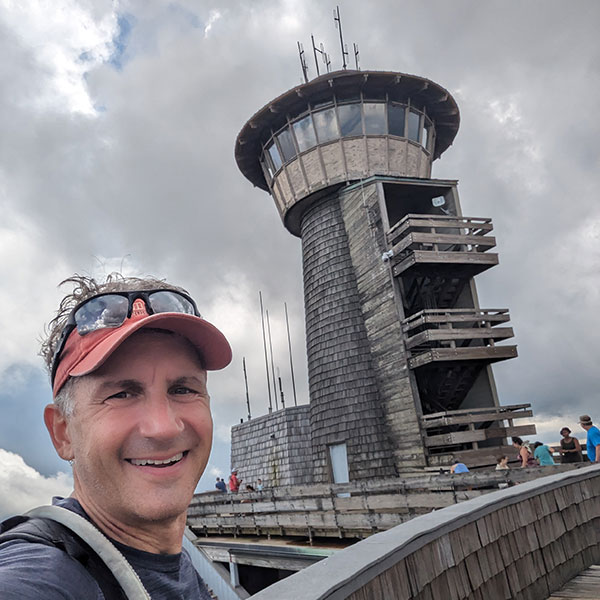 The parking area on the west side of the road is really for the petroglyph site that is temporarily closed to the public.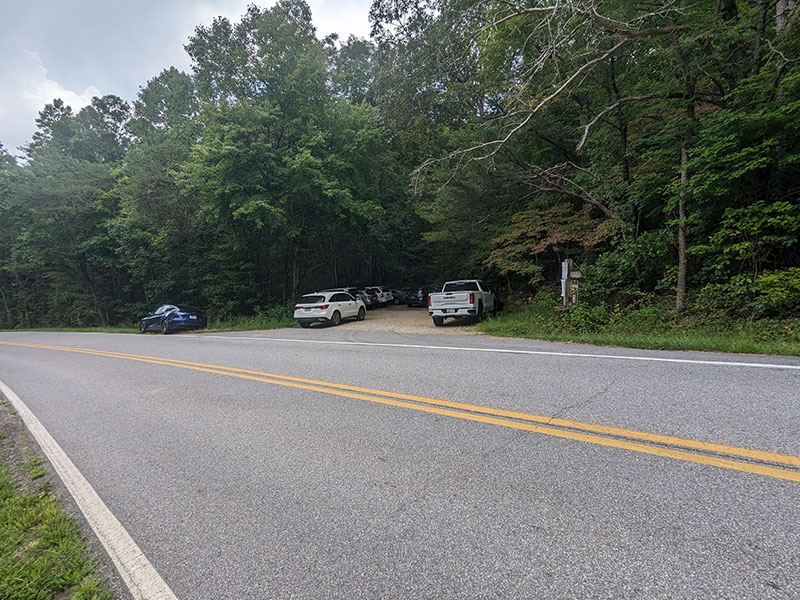 The trail is actually on the east side of the Track Rock Gap Road and slightly to the north of this archaeological area.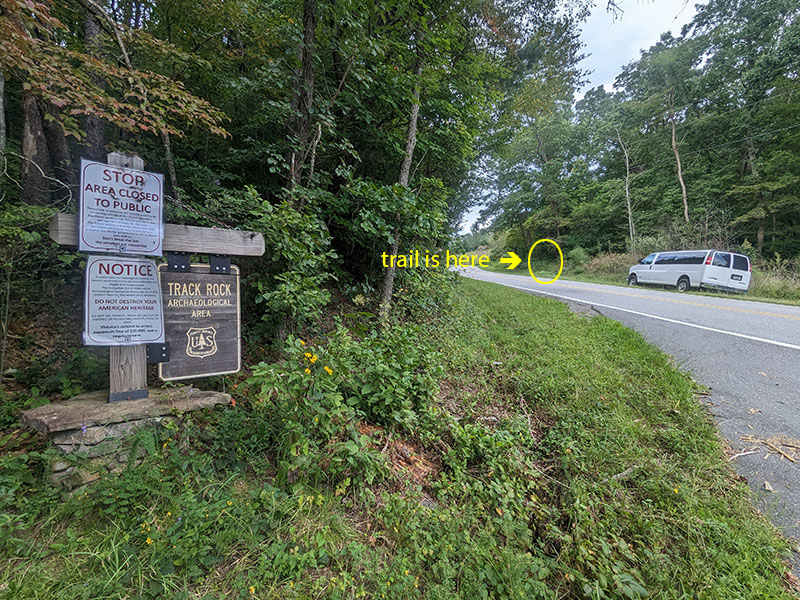 Arkaquah Trail
The Arkaquah Trail is barely noticeable along the side of the road.  No trailhead parking, no signage… not even a blaze!  Either way, I anticipated this 5.5-mile route to take around 2.5 hours from here.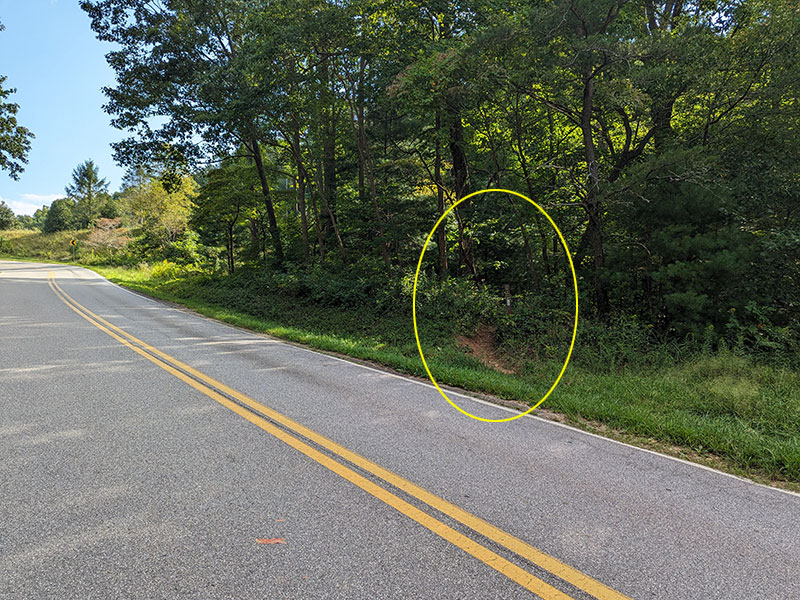 This trail is another Appalachian-style hike through the jungle…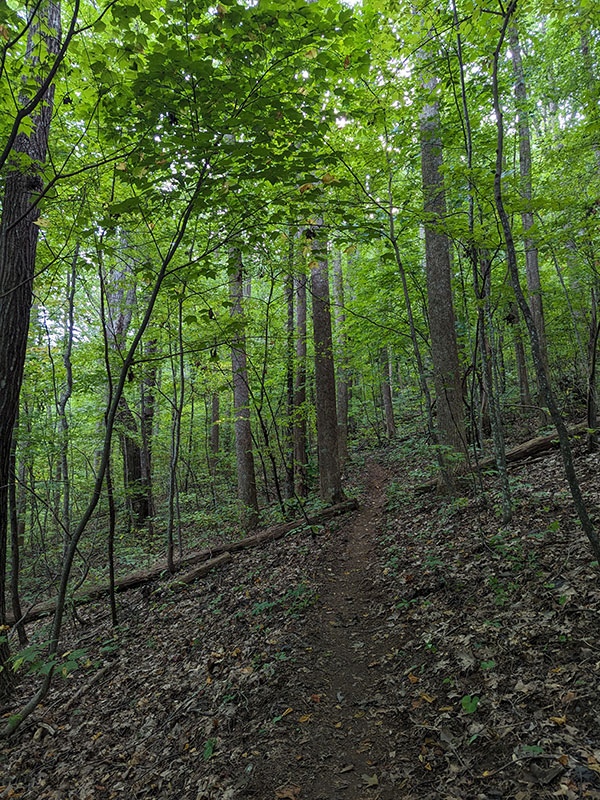 …with a bunch of ups and downs through dense foliage and viny rhododendron shrubs.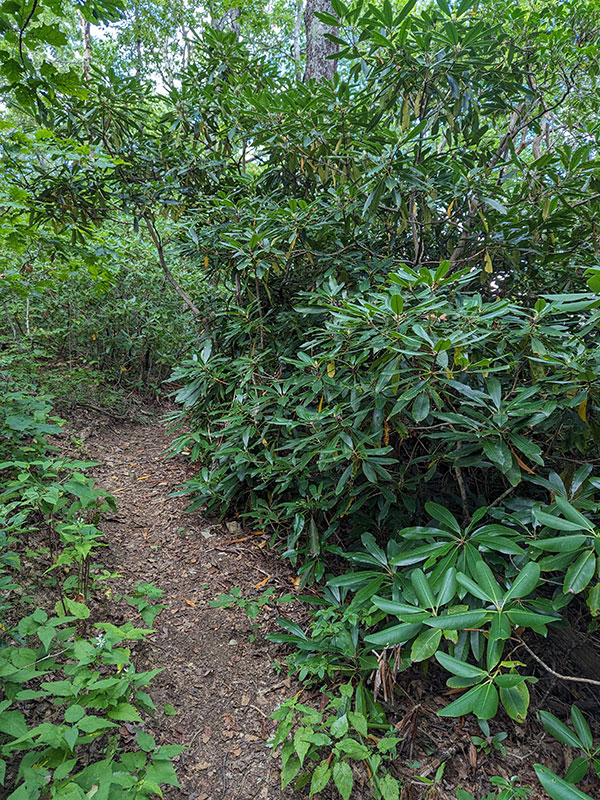 My favorite part was the narrow traverse across Locust Log Ridge.  You can see how far up you are from the peepholes through the trees.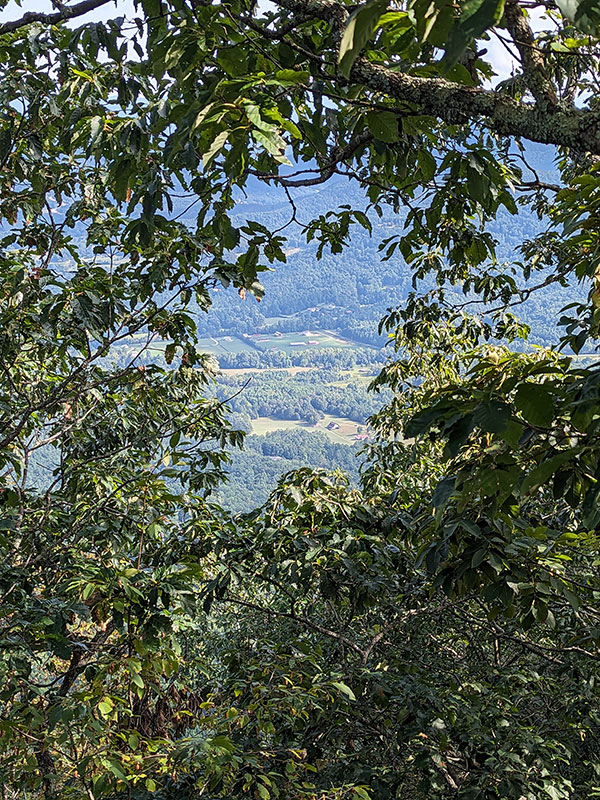 The only open view of the sky you get is the few steps you take across Chimneytop Mountain, 4 miles in.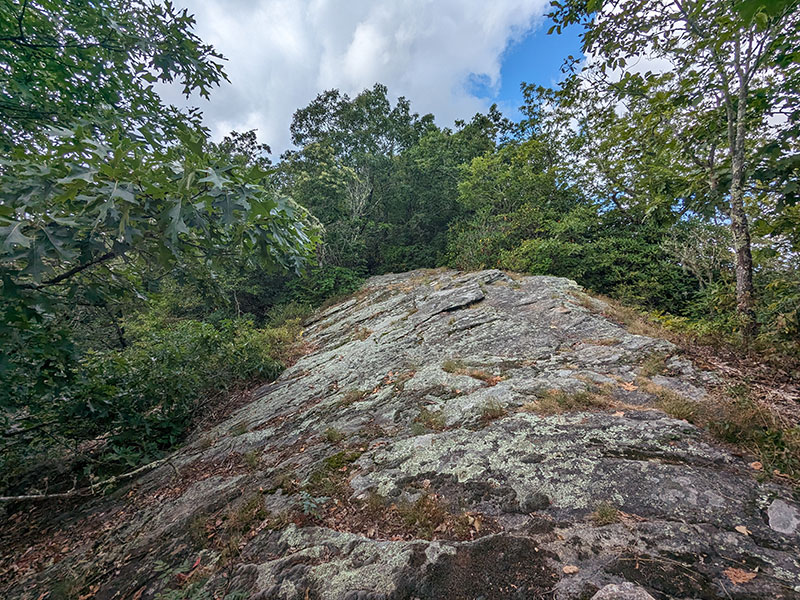 There is one place you might need to stop and look for a continuation of the trail.  It's where this camp is located by the giant boulder.  I was drawn to the left at first, but the trail actually goes to the right through that crack.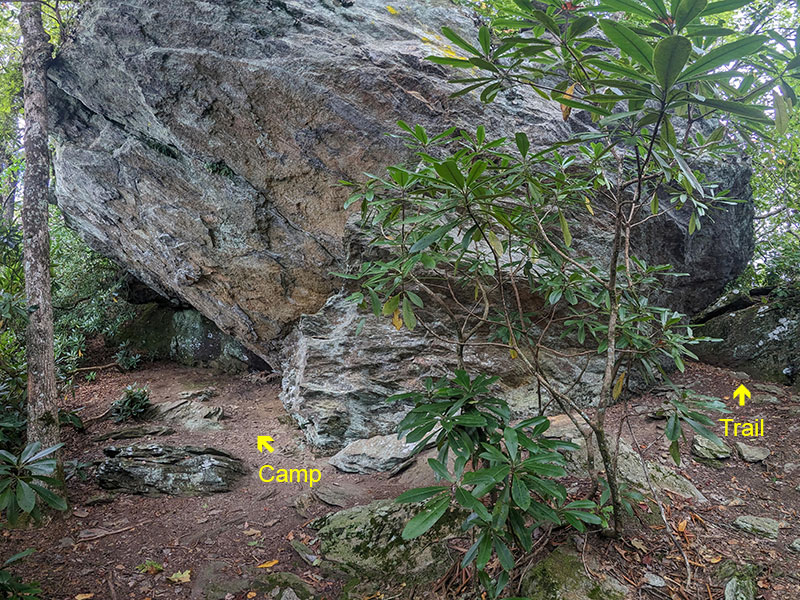 Remember, this is bear country too, as seen by somewhat fresh evidence left behind.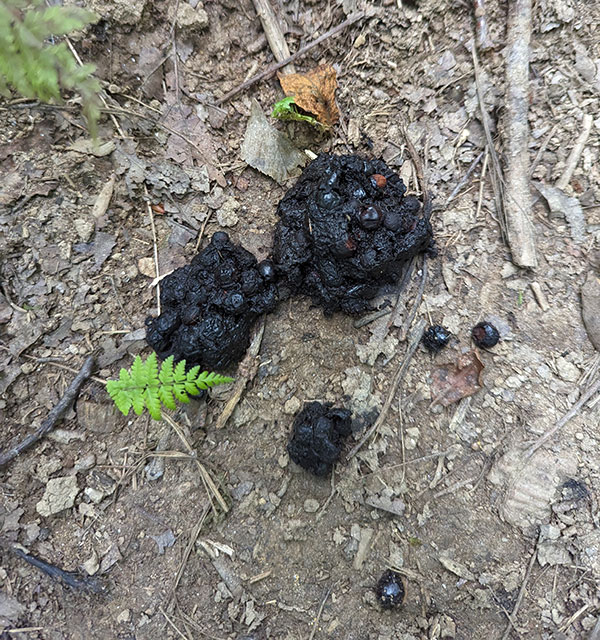 Final Stretch
Not far after the 5-mile mark, Arkaquah ends at the Brasstown Bald parking area.  Here you will find a restroom, gift shop and the final stretch to the summit.  That last 1/2 mile is paved but does climb another 400′ of elevation too.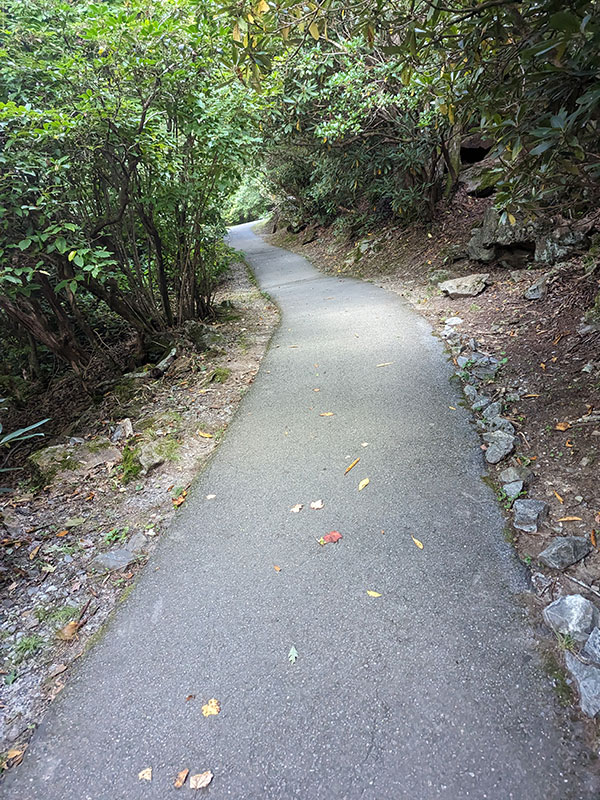 Brasstown's observation tower was the coolest of the three I visited this week!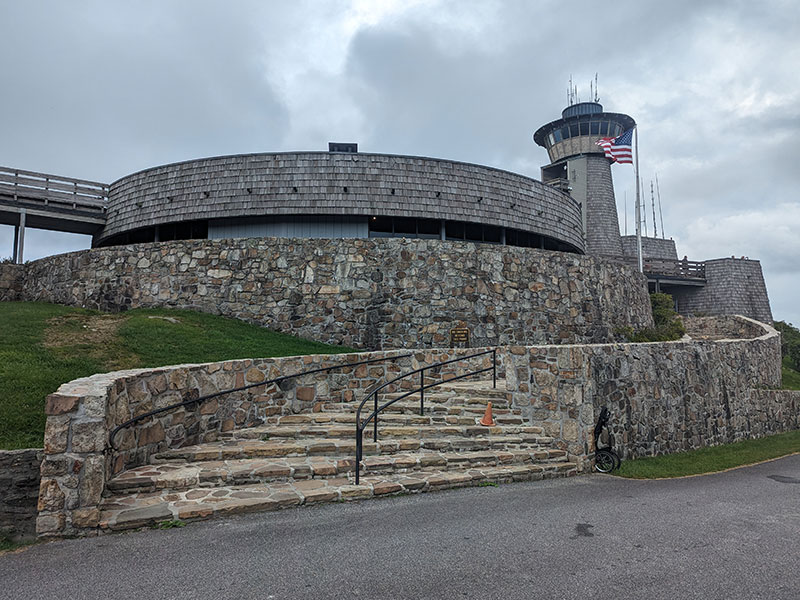 1-way stats to the top turned out to be a little over 5.5 miles and just under 3,000 feet of elevation.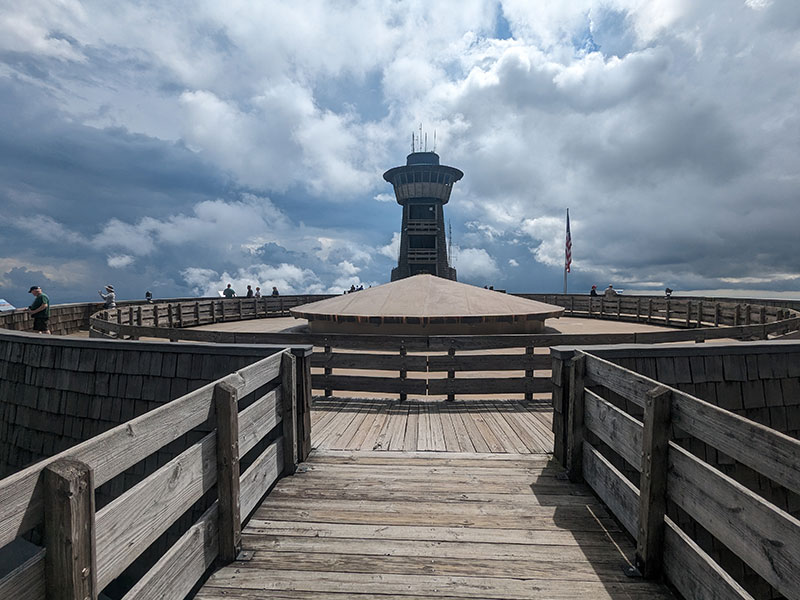 The views were more or less the same as what was seen from Mt. Mitchell and Sassafras Mountain.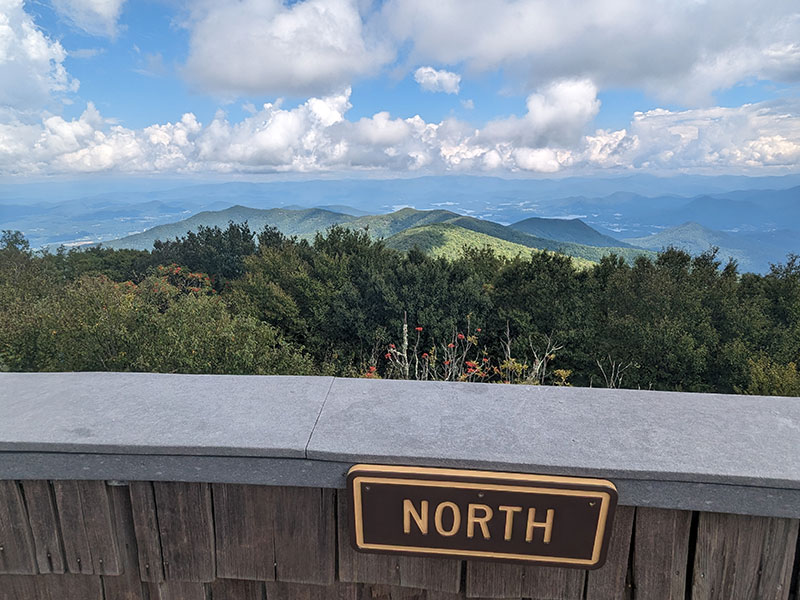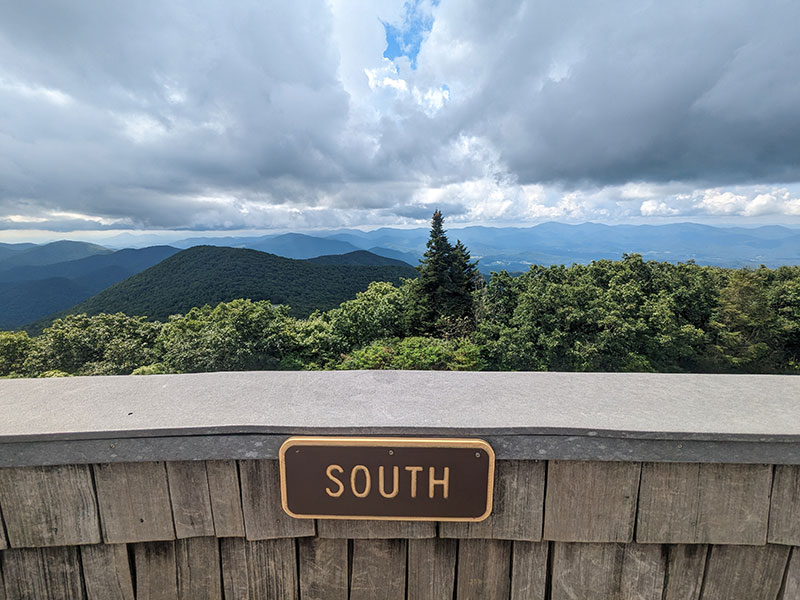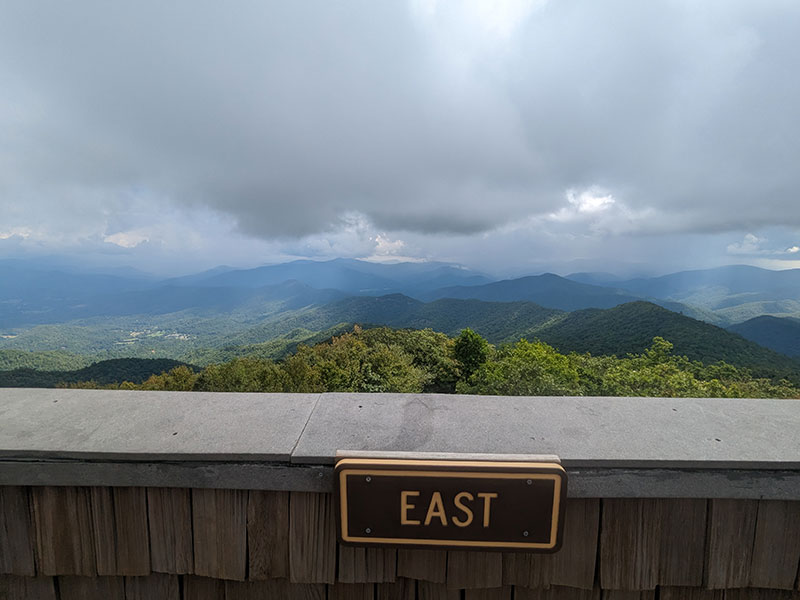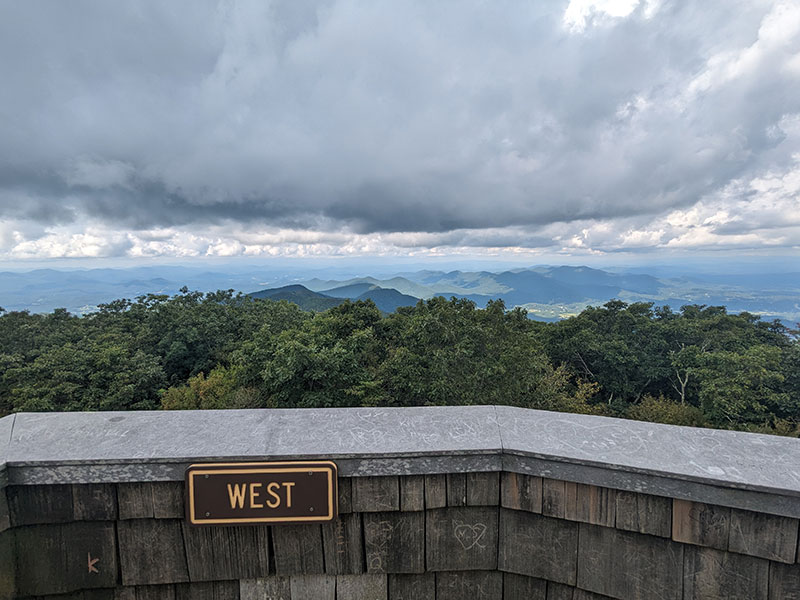 I guess you can see Tennessee's high point from here, but it all looks the same to me.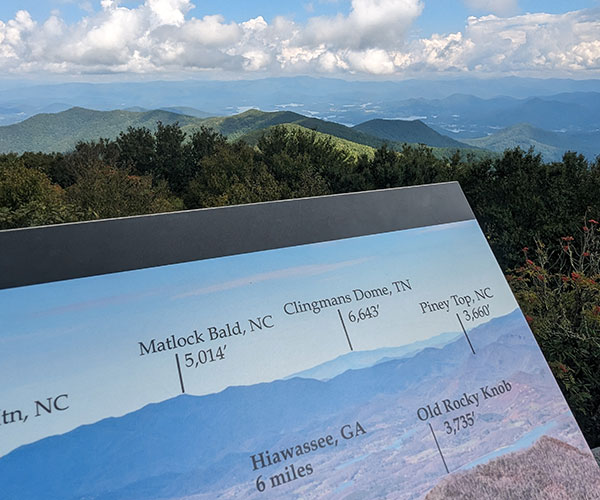 Back to Track Rock Gap
I returned the way I came as rain clouds threatened nearby.  I also had a rain jacket stuffed in my pack, but didn't end up needing it.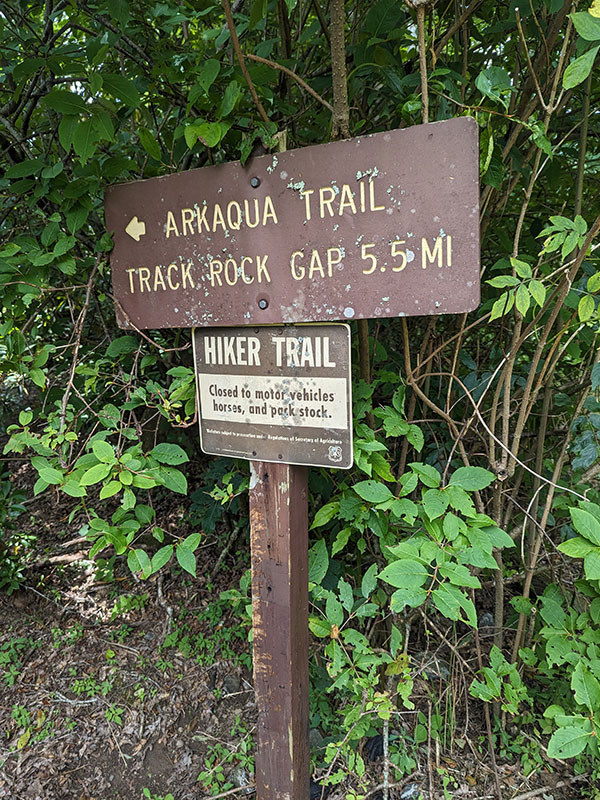 Turned out to be another 12-mile day RT with about 3,400 of gain. Not bad for the highest point in Georgia.  Here's a GPX track of this route if you're interested.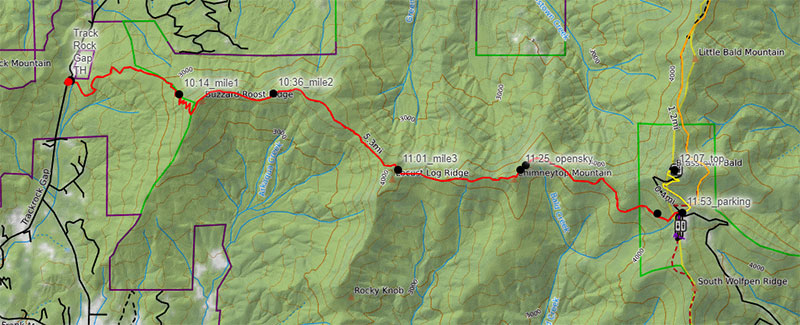 Wagon Train Trail
As I made my way down off the summit, a Father and son were milling around the Wagon Train Trailhead and asked if I knew anything about it.  Unfortunately, I didn't… but it did make me wonder.
Where did that trail go?
How long was it?
Could I have taken that trail to somehow make this a loop?  (see orange track below)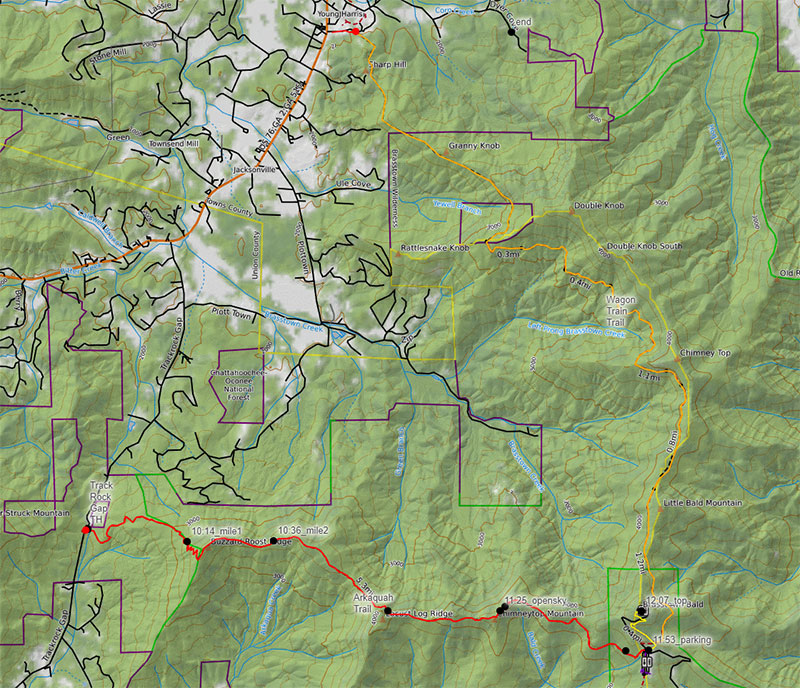 The Wagon Train Trail starts in Young Harris.  Recalling that we passed through this town on our way in, I went back to check it out.  Google Maps lead me to Young Harris College and Bald Mountain Road where the paved road skirts along college housing before ending at a gate adjacent to student parking.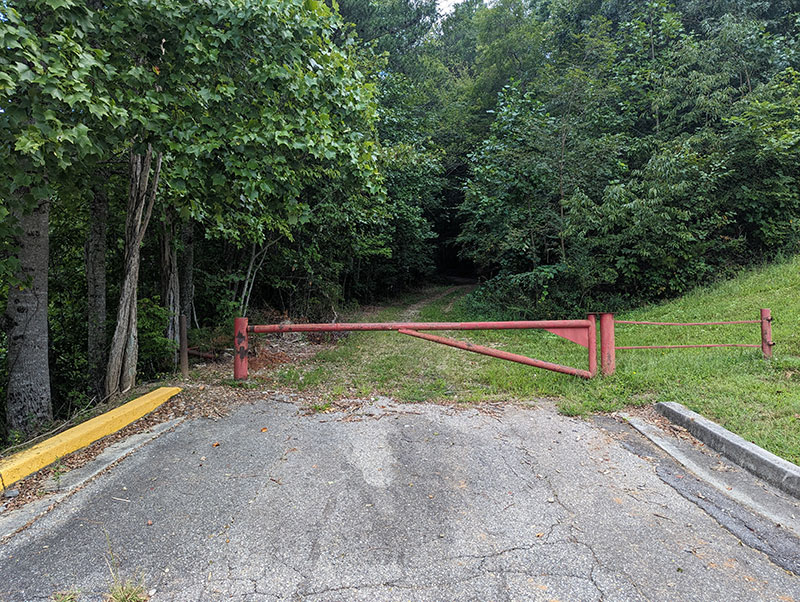 There are no signs here indicating an "historic trailhead" nor anything that resembles trailhead parking.  In fact, student permits are required to park in the lot next to this gate.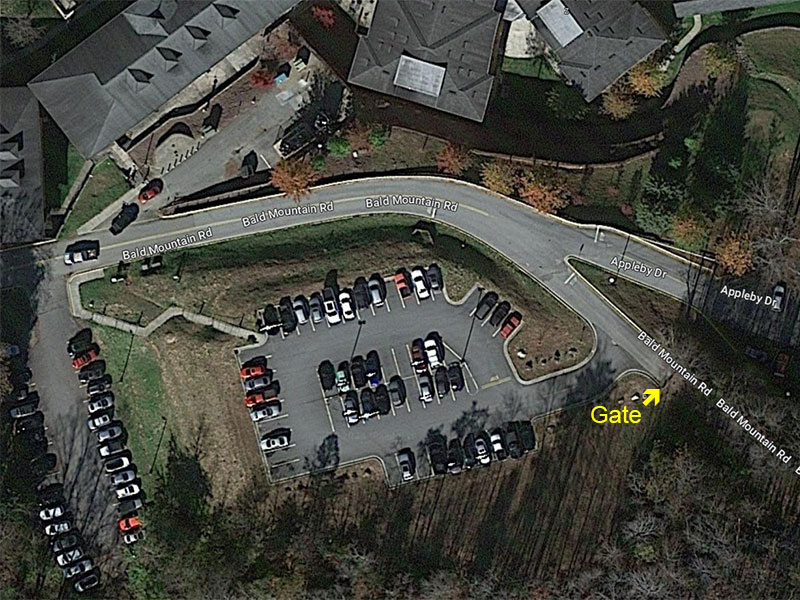 My best guess is that hikers starting here might park across from the Methodist church near the corner of Main and Bald Mountain Road.
If so, then all you have to do is walk up the road a tenth of a mile to these stairs and cut across the parking lot to begin your hike.  Based on my mapping, the Wagon Train Trail is about 6.5 miles one-way with about 2,500 feet of elevation.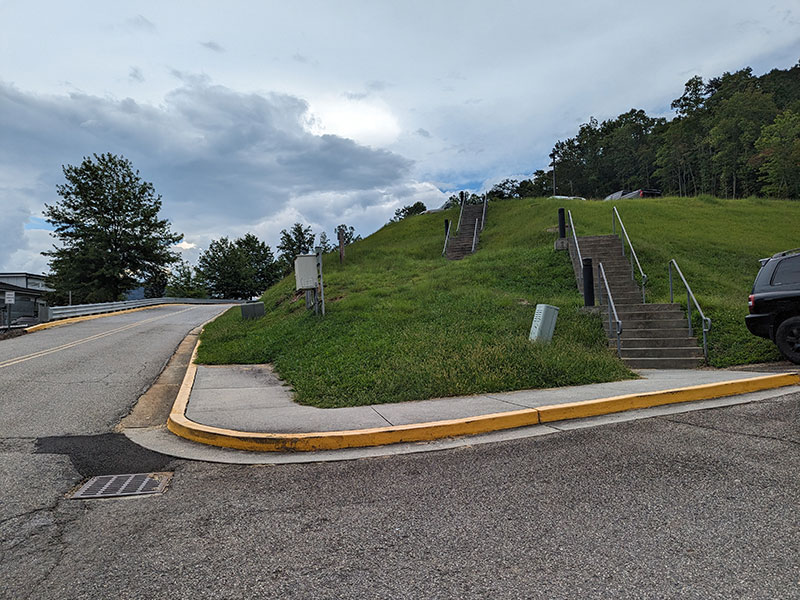 I'd love to know if this trail is active with the kind of history behind this route.
Has anyone taken it or is this used mostly by college students?
Jack's Knob Trail
Since writing this post, I also noticed another way up from Jack's Gap.  Jack's Knob Trail (purple track below) looks to be about 3 miles one-way and less than 2,000 feet of elevation gain.  Trail descriptions mention the dread of 40 switchbacks, but I think that's what makes it sound interesting!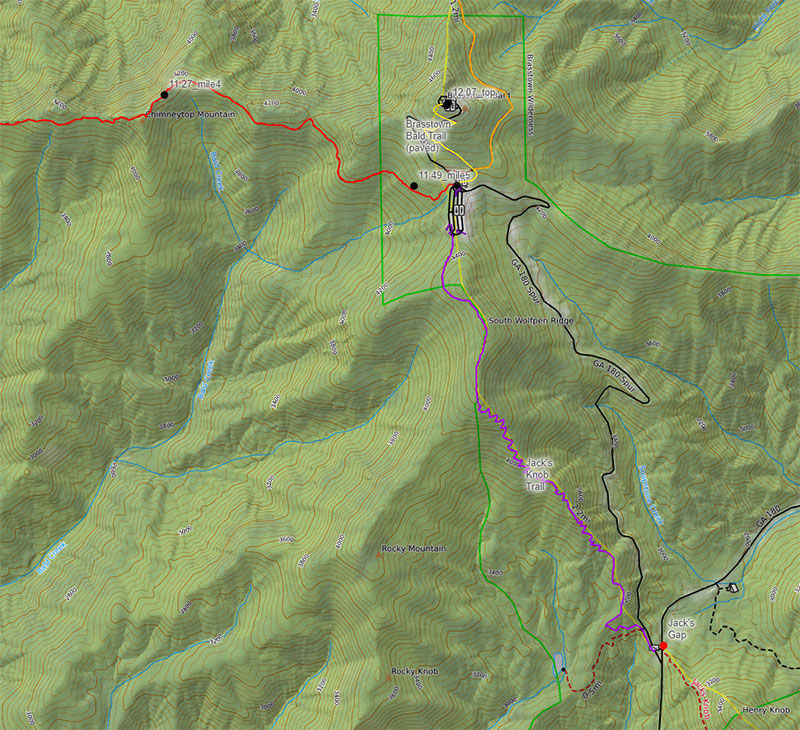 Georgia was my favorite state highpoint of the three I did last week.  If I came back for Brasstown Bald again, my trails of choice would most likely be Jack's Knob up with Wagon Train down.  I think I'd park the car in Young Harris and catch a 15-mile/30-minute Uber ride to Jack's Gap and start from there.