South Carolina was the next state to get on this year's End Of Summer East Coast Highpointing Tour.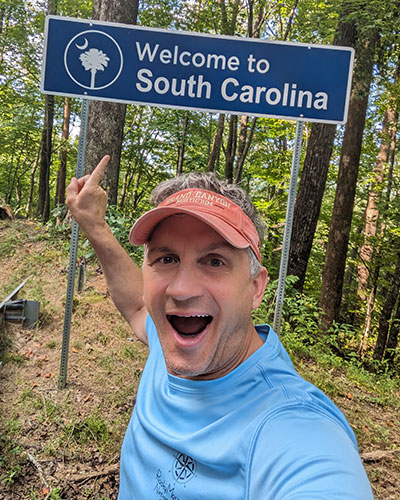 We remained in Asheville for both Carolina's since Sassafras Mountain is close enough to Mt. Mitchell that it didn't make sense to relocate between these two states.  We also liked the idea of Asheville as our "basecamp" with so many great eateries in the area and other attractions to see nearby.
In keeping with my preferences to hike to every state's highest point, Foothills Trail Access A4 is where I chose to start.  Google Maps shows this location as the Foothills Trail – Laurel Valley Trailhead, just north of Rocky Bottom off US 178.
Without seeing too many other choices, this felt like a good enough place to make this a decent walk through the woods of South Carolina.
When I pulled into the parking area at 10:30am, no other cars were present on that Thursday after Labor Day.  I have admit, it was a bit eerie to be alone and completely unfamiliar with my surroundings.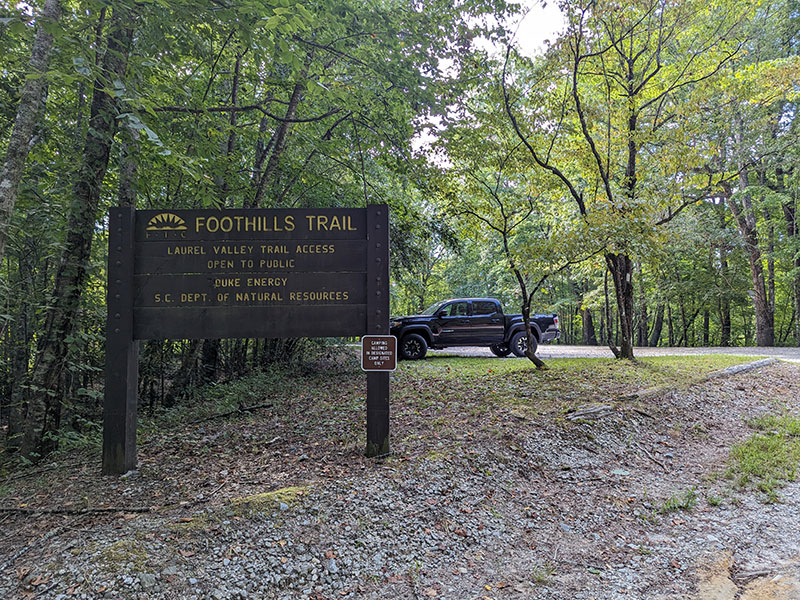 Backtracking a bit from the parking area down to the road, the trail starts on the other side of US 178.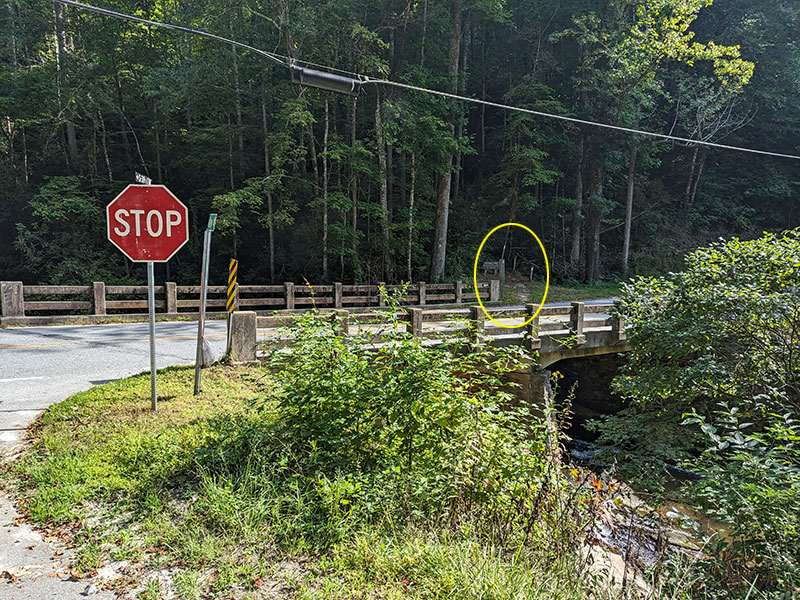 4.5 miles to the summit… I estimated it to take about 2 hours.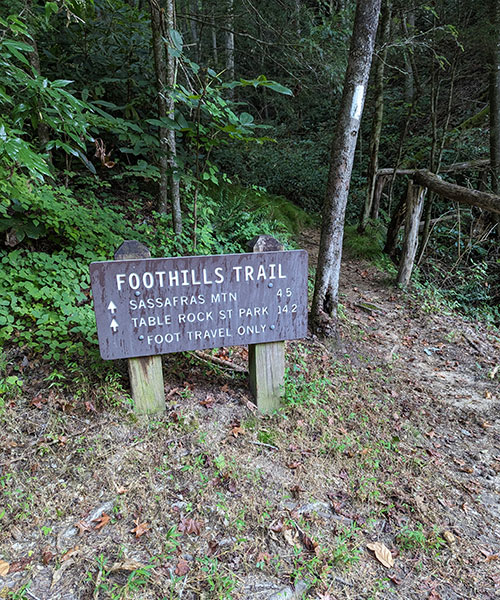 This trail is marked by white blazes… and let me tell you, I don't think anyone had walked it for days!  Spider web strands crossed the path every 100 feet.  It got so frequent that I started waving a stick in front of me to keep my face from catching 'em.  I even ducked under a few really big ones.  It would have made me feel bad to destroy all that work with one quick swipe.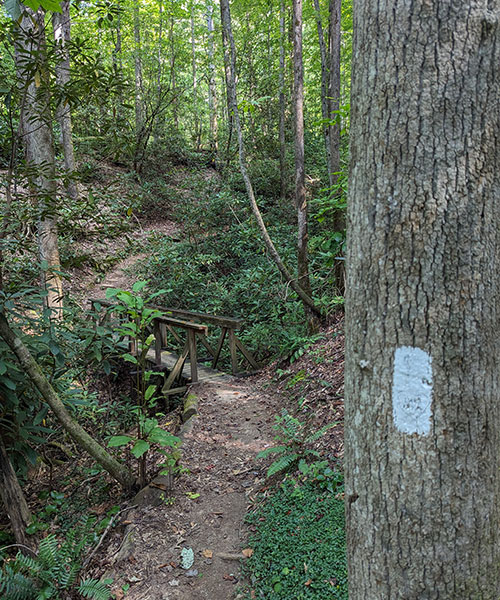 Half-way There
The first road crossing at Chimneytop Gap is about the half-way point along this trail.  According to my GPS, I had gone 2.2 miles and only 830 feet of elevation… pretty easy so far!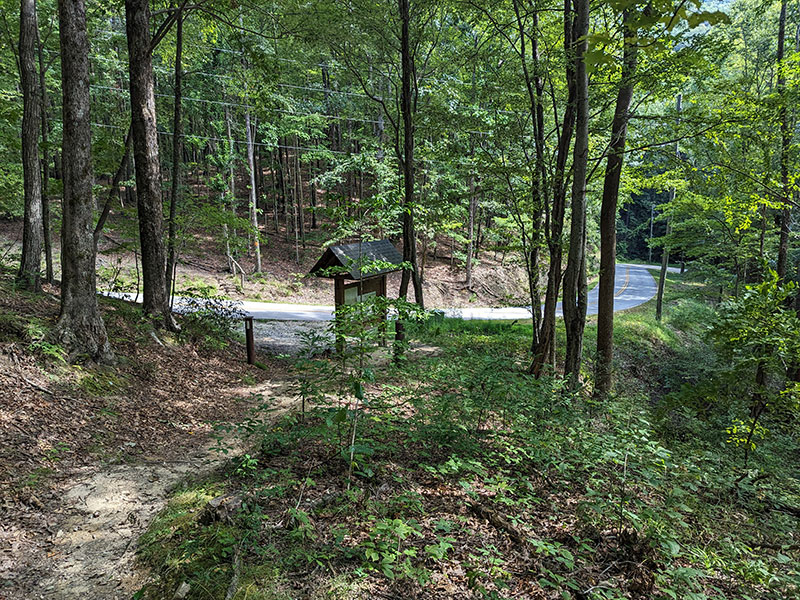 Another lush green forest lends no need for sunglasses nor sunscreen.  Hiking in the East is nothing like it is in the West!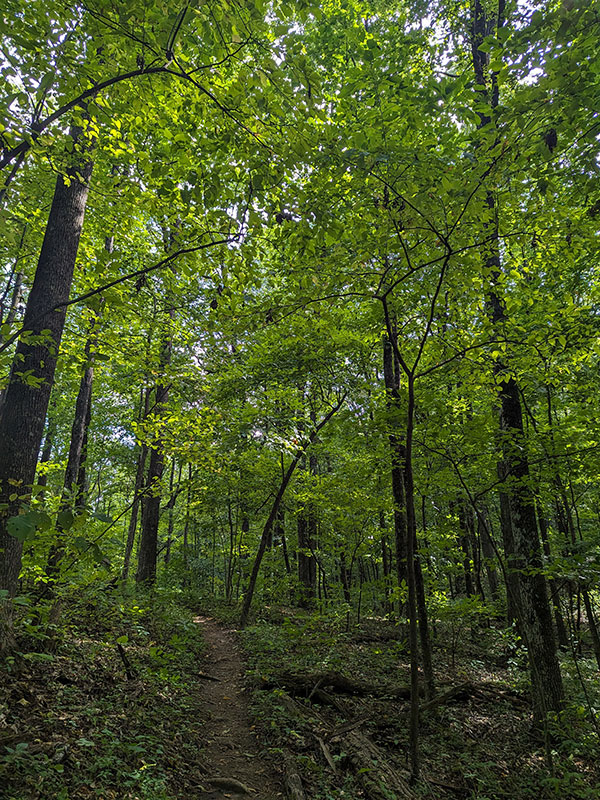 The second road crossing is not far from the summit.  You emerge from the green and look across for the staircase nearly hidden by more green.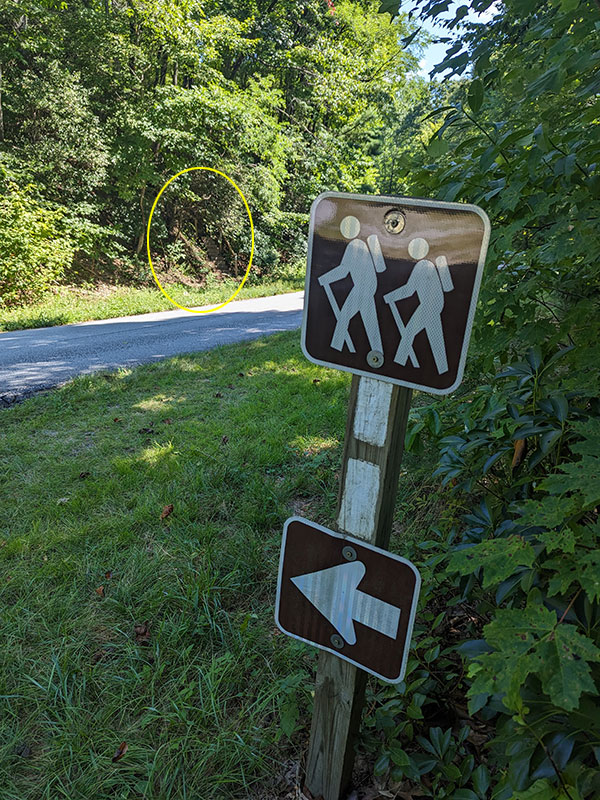 I love coming across projects like this.  Good job Liam Gabriel Durham from Troop 235!  I hope you gained some valuable experience by organizing and accomplishing this advancement requirement.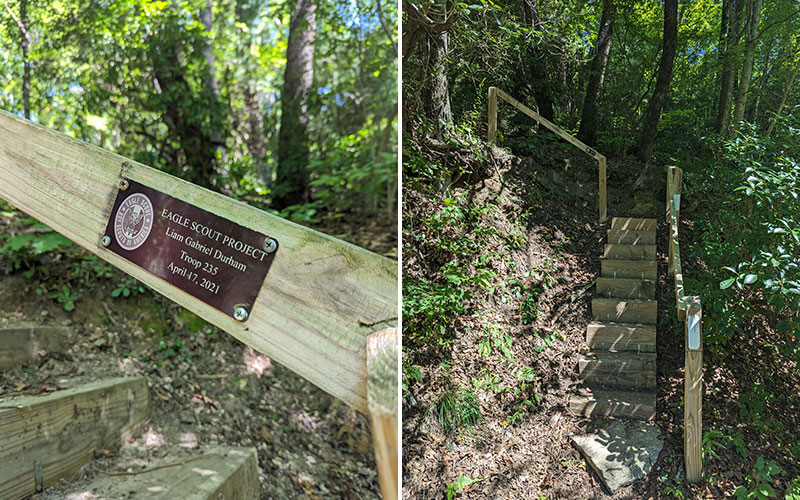 Sassafras Summit
The lookout platform comes into view as you finally emerge from the forest.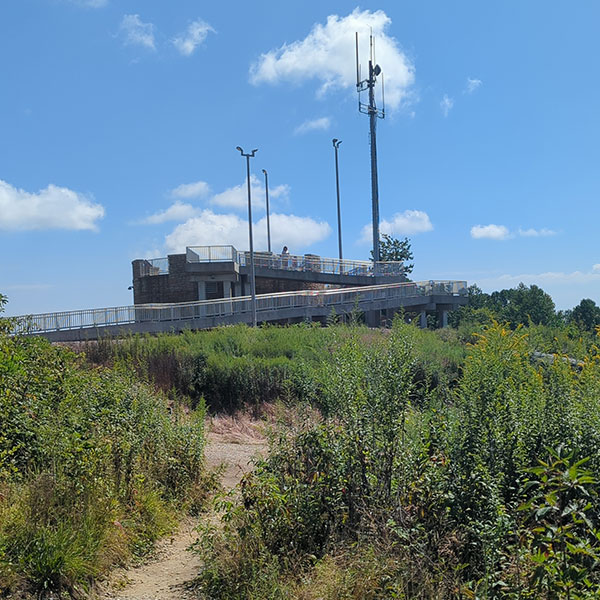 The adjacent cell tower doesn't exactly add to the beauty of this summit, but the cell signal was sure was strong here… it kinda made my one eye twitch.
I reached the top with 20 minutes to spare from my estimate.  One-way distance came in at 4.6 miles but only 2,000 feet as I stood on the state line of these Carolina's.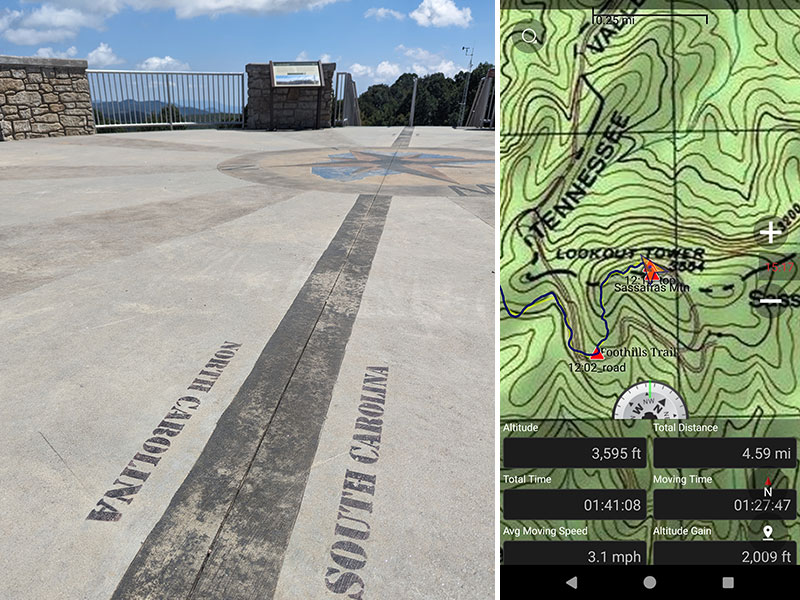 The view looks like this in every direction… which doesn't give you a whole lot to look at.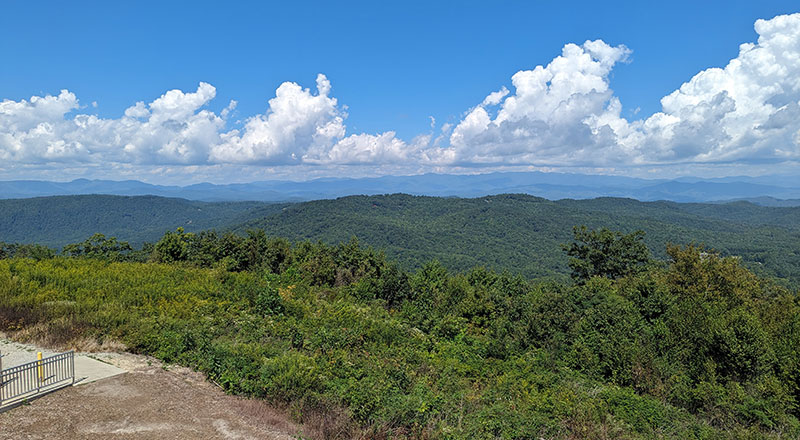 The weather couldn't have been better that day.  However, the forecast did call for a stormy afternoon, so I didn't dilly dally around too much up there.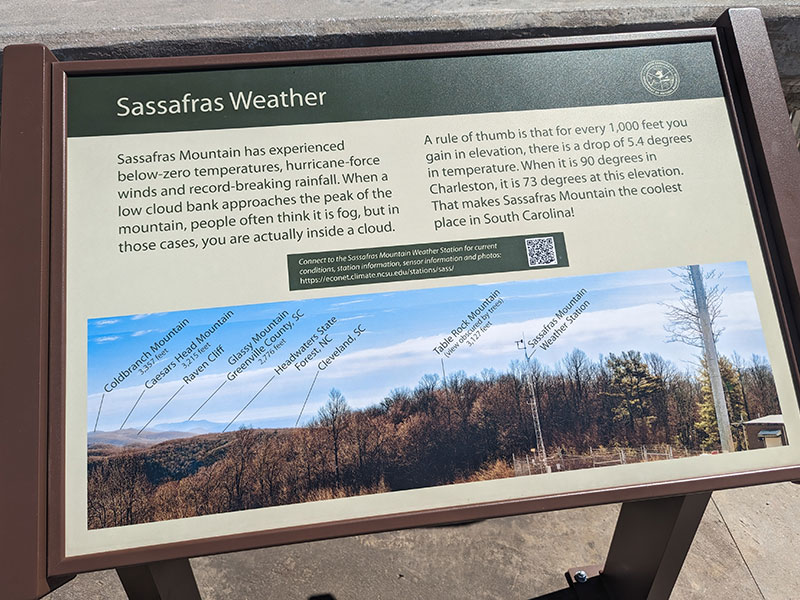 Back to Laurel Valley
Apparently this Foothills Trail can be traveled as a 76-mile thru-hike between Oconee and Table Rock State Parks.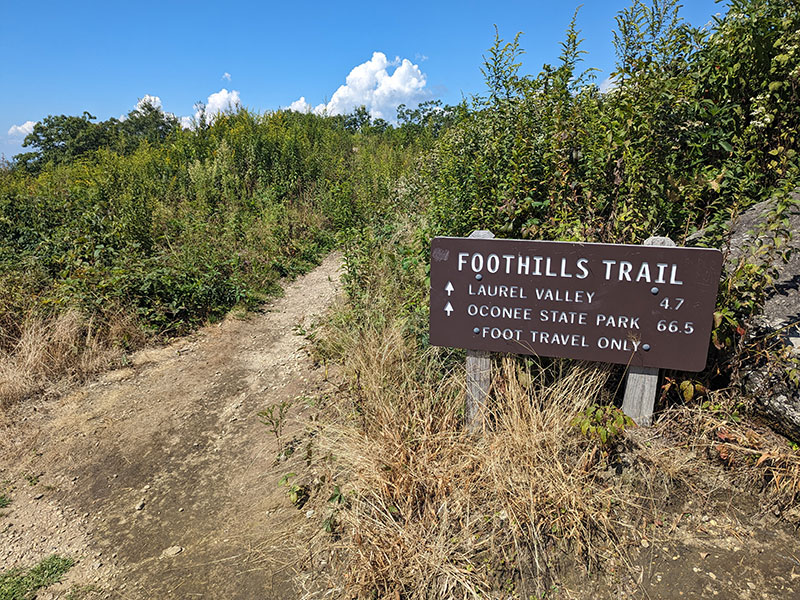 I didn't see any other paths intersecting with this section of Foothills, so maybe the blazes are more useful along other parts of this extended trail.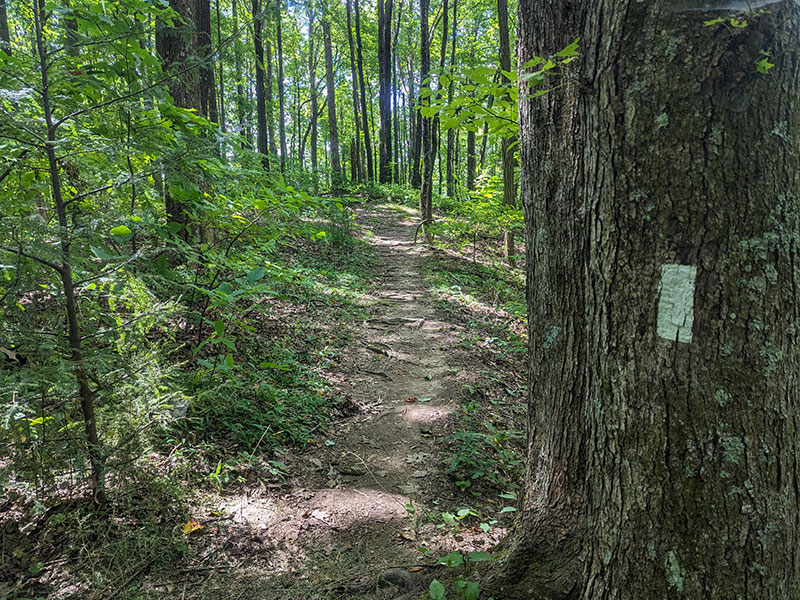 Final stats for the day turned out to be 9 miles and 2,200′ feet of elevation.  A map of this route can be found at this CalTopo link.  I also thought the survey to collect feedback from trail users was a pretty cool idea too!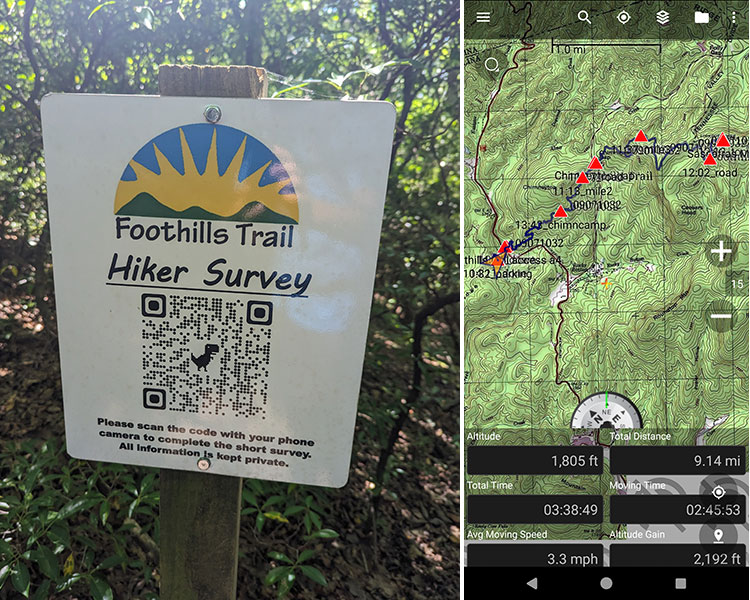 Grabbing good food after a good hike is always part of my agenda.  As I drove back along the Asheville Highway, I found the perfect place!  It's called Corky's Dawg House in Brevard.  It was the Vienna Beef umbrellas on the patio that caught my eye.  I knew exactly what that meant – Chicago Hotdogs – I couldn't resist!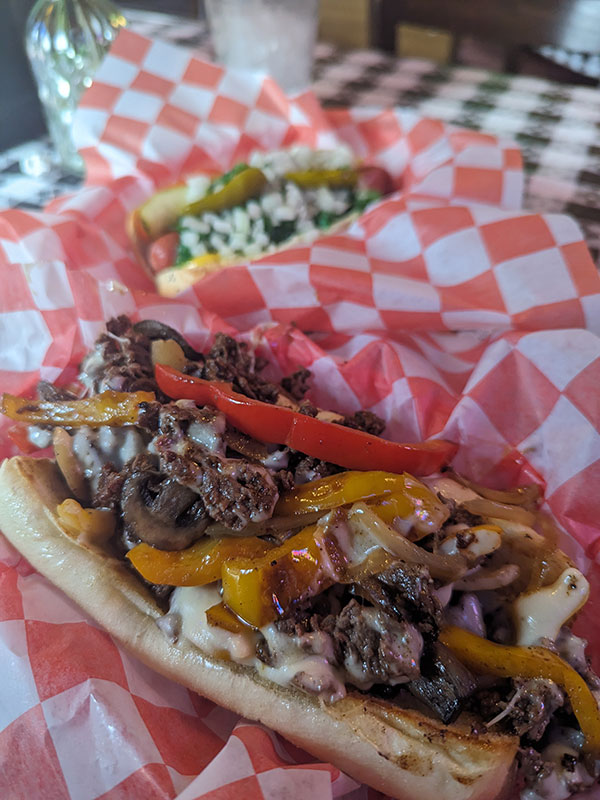 Too bad I didn't see the Chicago-style Italian Beef on their menu before being told their best sandwich was a Philly Cheesesteak.  Originally from Chicago, I would have ordered that and a Chicago Dawg without a second thought!  Either way, this marked complete success for South Carolina in my mind.
Next up: Brasstown Bald, Georgia