It's time to hit the east now that I'm done with all the state high points west of the 100th meridian!
After a fun Labor Day weekend in Charlotte, we drove west to Asheville and began my End Of Summer East Coast Highpointing Tour with North Carolina's Mt. Mitchell.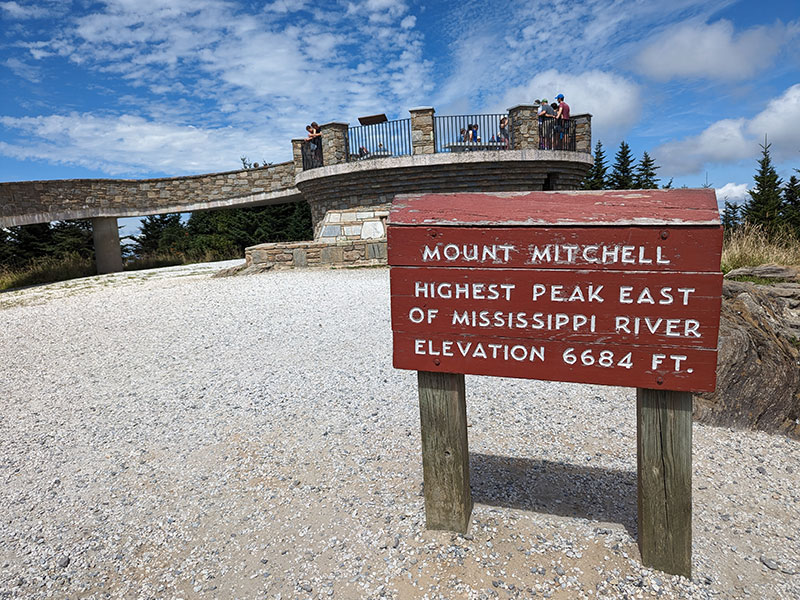 This summit is accessible by car but I will always opt to hike when a more challenging trail is available.
That said, there are two primary hiking routes to Mt. Mitchell from the south:
Old Mitchell Trail: 2ish miles and almost 800 feet of elevation (one way) from the Mt. Mitchell Information Center
Mt. Mitchell Trail: 5.5ish miles and over 3,600 feet up (one way) from Black Mountain Campground
I chose the latter since it was longer and harder.
The Mt. Mitchell Trailhead is about an hour north of Interstate 40 from Old Fort (33 miles).  The road is paved and curves through the Pisgah National Forest from Lake Tahoma on up.  The road turns to gravel shortly after you veer left off NC-80 on to S Toe River Road.  At that point, you are about 2 miles from the South Toe Trailhead (Google Maps shows this as the Mt. Mitchell Trailhead).  Either way, it's right across from Black Mountain Campground where the picture below was taken.  That's where I parked since it cost to enter the campground by car and South Toe looked like the best place to park anyway.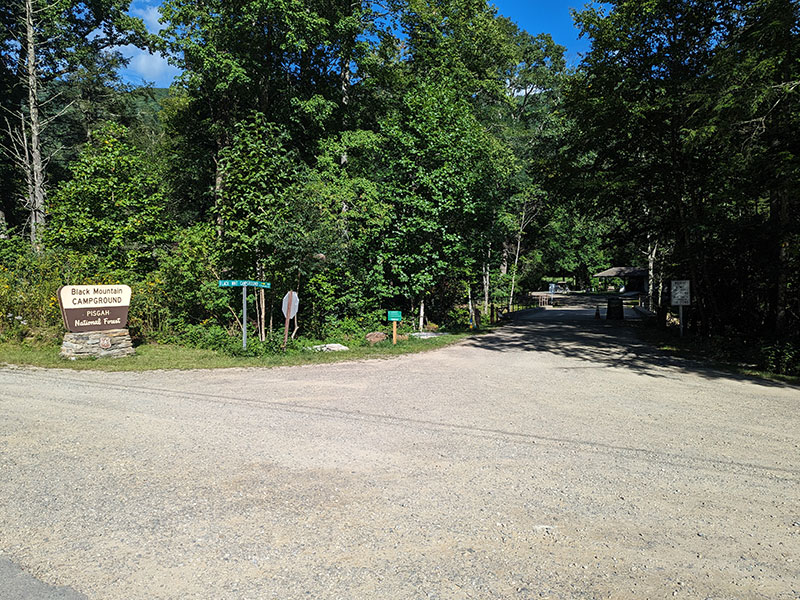 Mt. Mitchell Trail
Once across the river and heading into the campground, look left for the start of this trail.  It passes through the Briar Bottom Group Area.  Stay left again just before the sign that says "TENTS ONLY".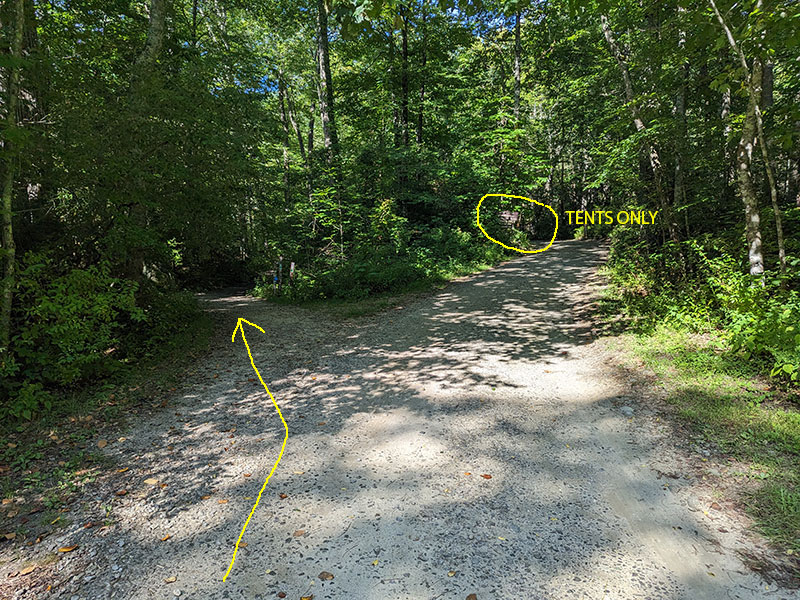 At a quarter mile in, the trail splits again.  Take a right to start your ascent.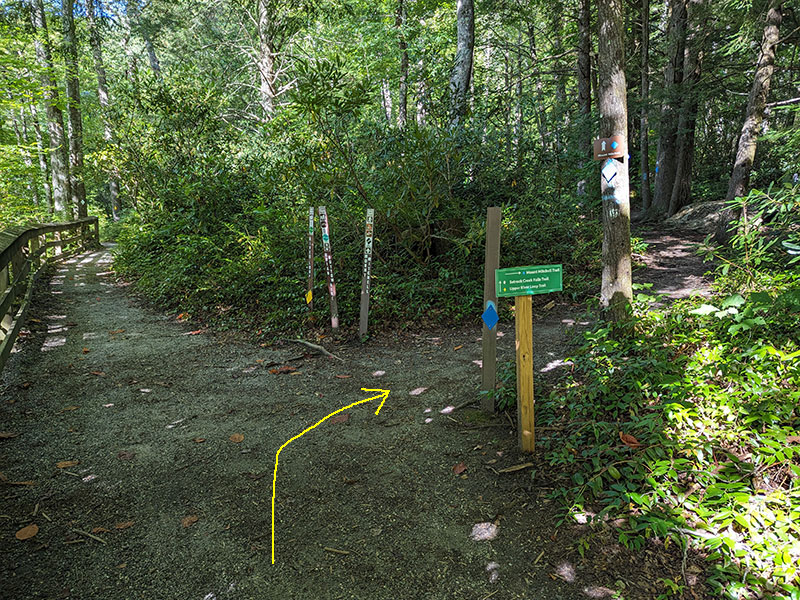 A warning of bears in the area put my senses on high alert.  This was not something I had prepared for, so I picked up a big walking stick that someone had left behind and decided it would be better than nothing.  I also remembered two other cars in the parking lot and hoped we'd all be on the same trail.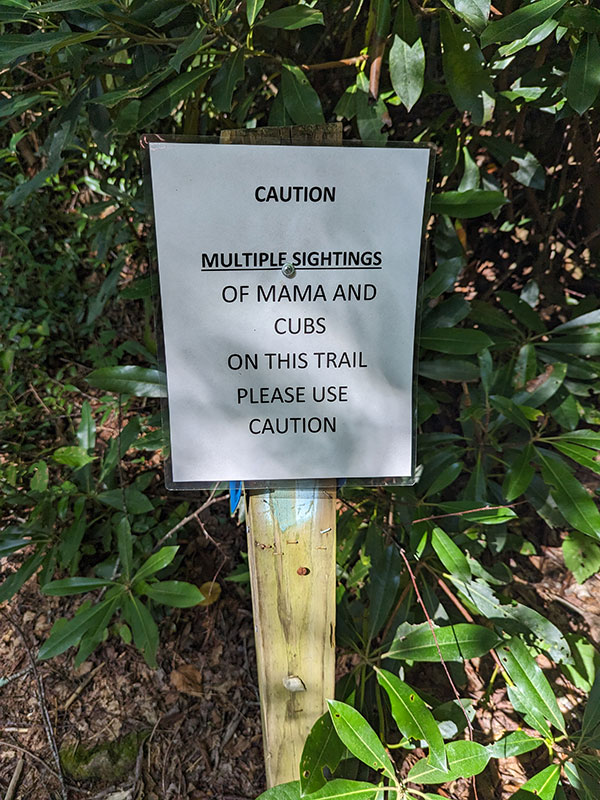 Right before the 2-mile mark, the trail splits once again for two different routes to the summit.  I continued along the "standard" way up but knew I'd have to explore the Higgins route down.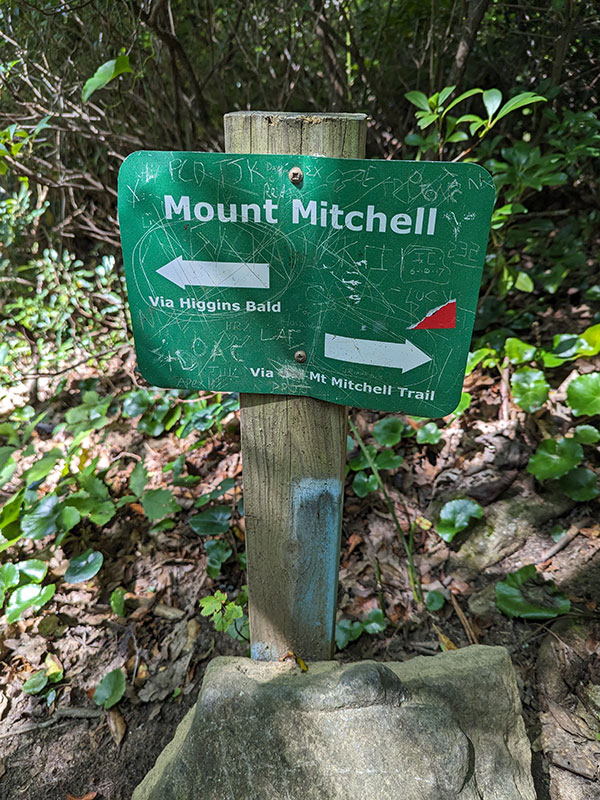 In typical Appalachian-style hiking, the trail was like walking through a tunnel.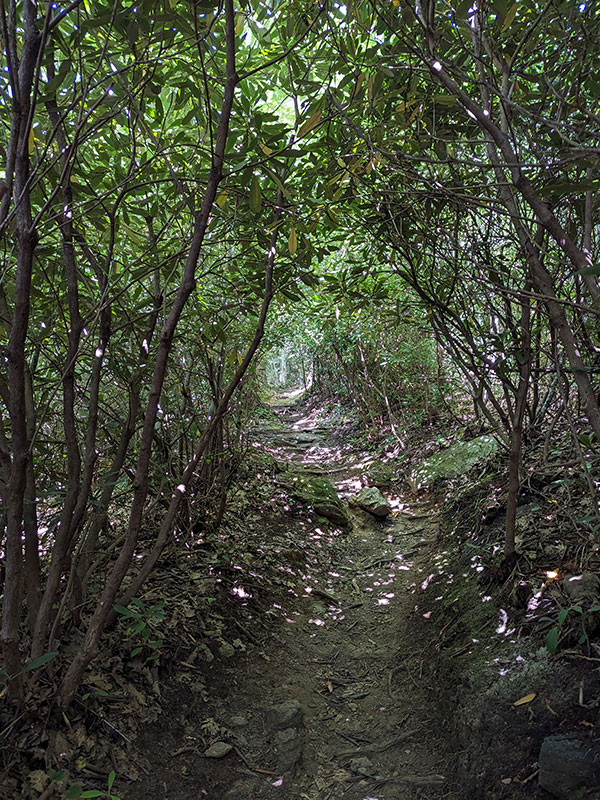 There is basically no view of anything other than dense forest under a tall thick canopy.  A few fighter jets blew overhead but there was no way I could see any more than just flickers of black flashing by.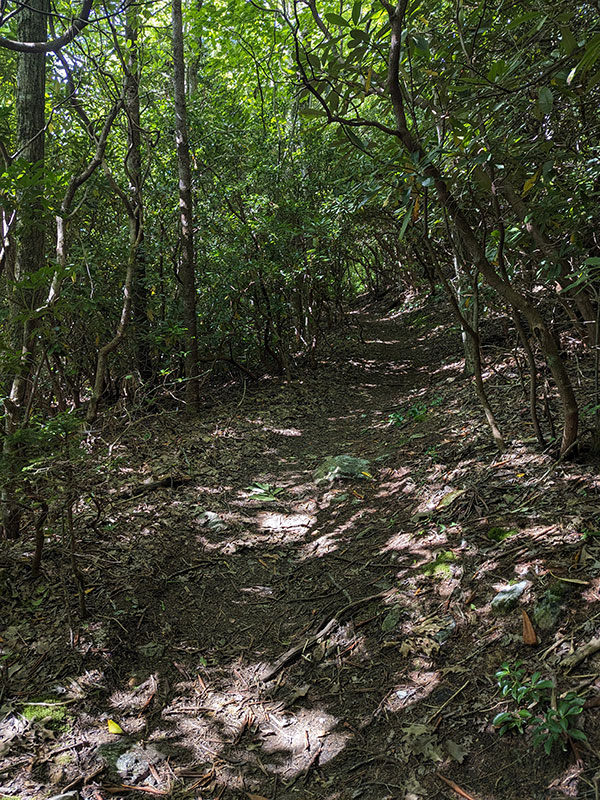 Mt. Mitchell Summit
When I reached the top, it was no wonder why a lookout platform is necessary.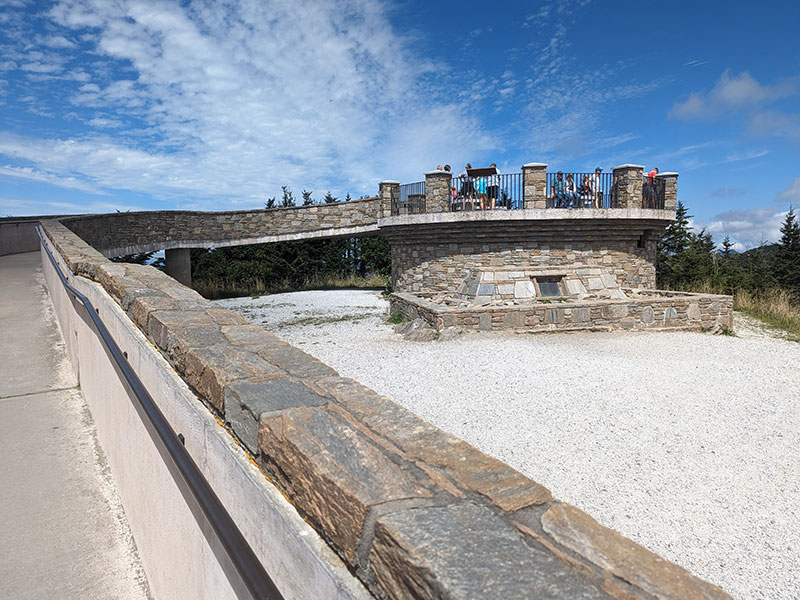 Standing above the treeline is the only way to see anything here.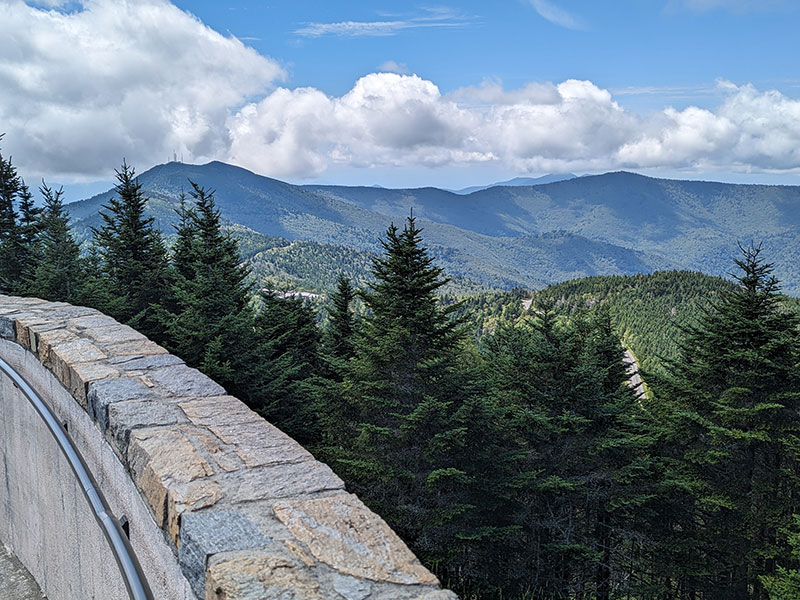 Even then, the view in every direction is deep green mountain slopes for as far as the eye can see!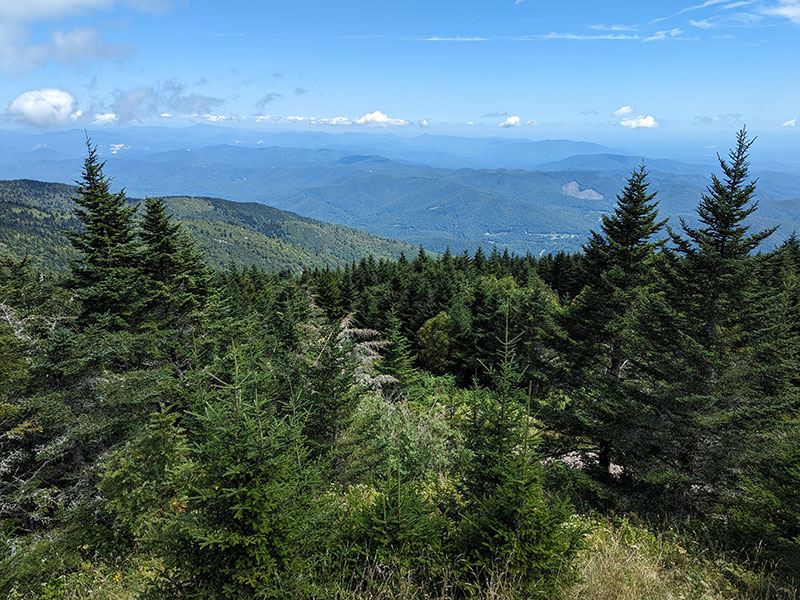 This trail is a good five and a half miles to the top with 3,600 feel of elevation.  That's a pretty typical day for me but the humid climate of the East also made me soaking wet from it.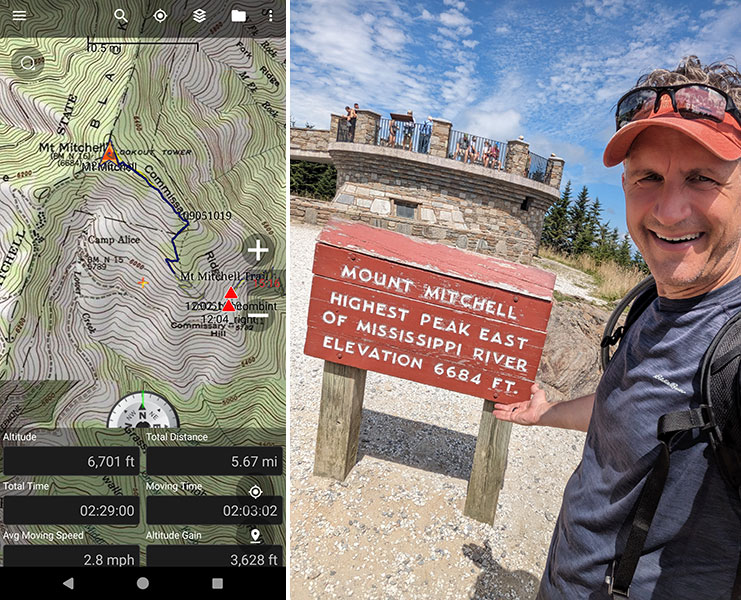 Searching for this grave site was considered, but then thought it likely wouldn't be all that worthwhile.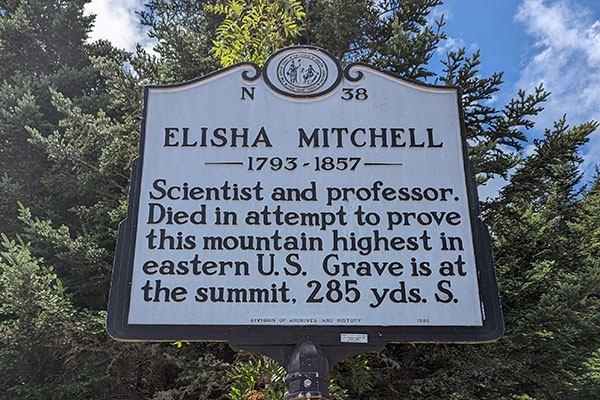 I did see the top of Old Mitchell and was happy to have hiked the trail less traveled.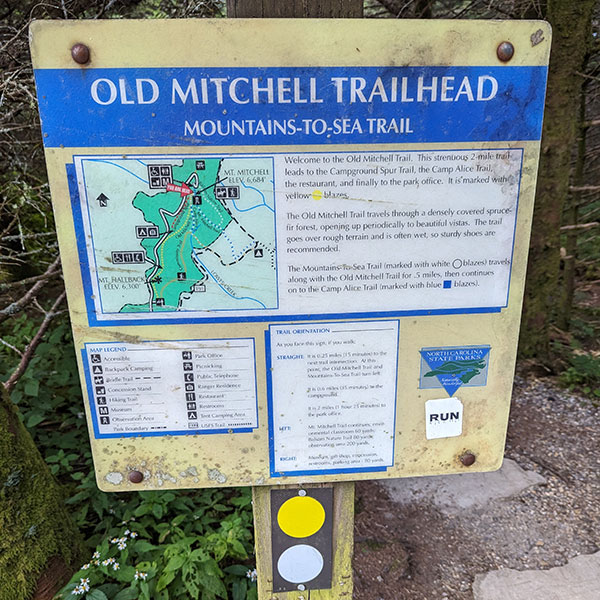 Higgins Bald Return
My return to Black Mountain Campground was quiet and peaceful.  I did come across the hikers that also parked at South Toe, but we had passed by each other much earlier in the day.  They were already headed down when I was only 3 miles in.  So I knew I probably wouldn't see anyone else again on the trail for the rest of the day… and I didn't.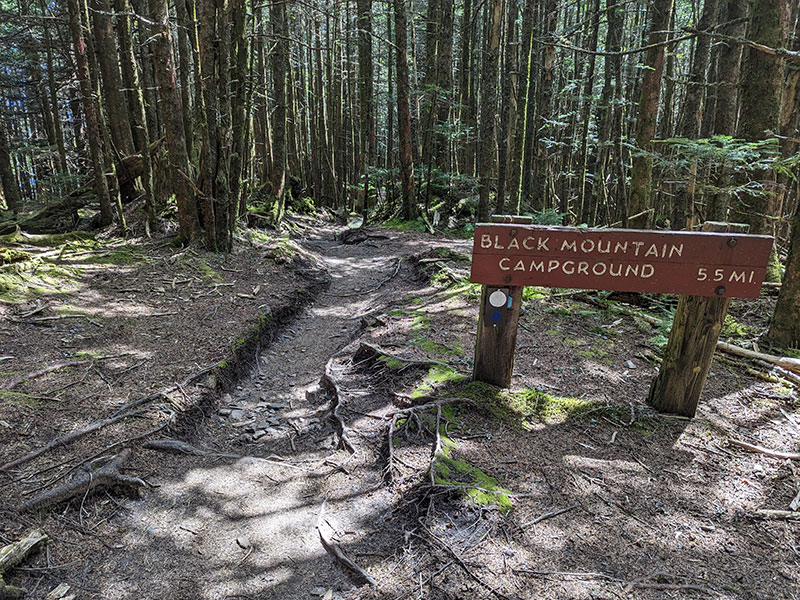 I did stick to my idea of going back by way of Higgins Bald.  The trail marker here indicates "most difficult" but didn't see how that could be possible.  Why would it be tougher from the TOP of this split when no similar mention of this was made on the sign down near the bottom of it??  It didn't make sense and went for it anyway.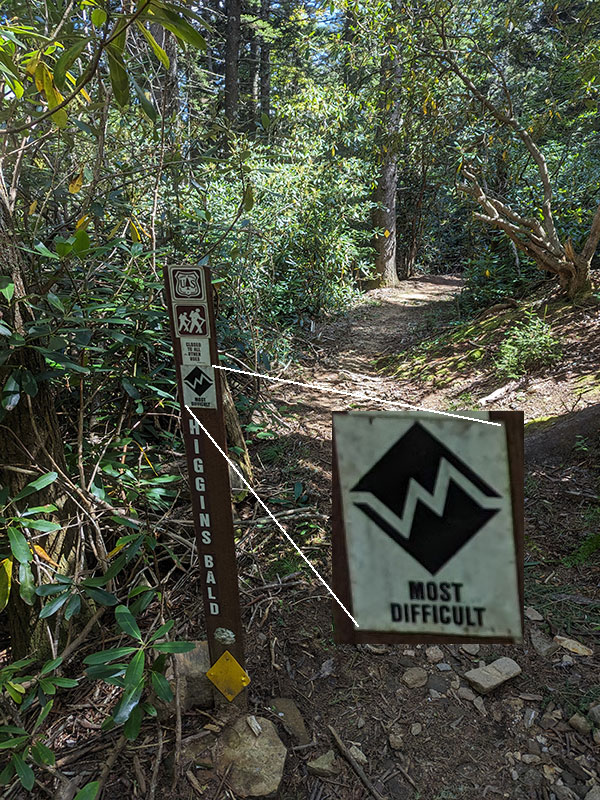 I don't know why this alternate trail is called Higgins Bald since there is nothing "bald" about it… just more of the same but slightly longer than the main route.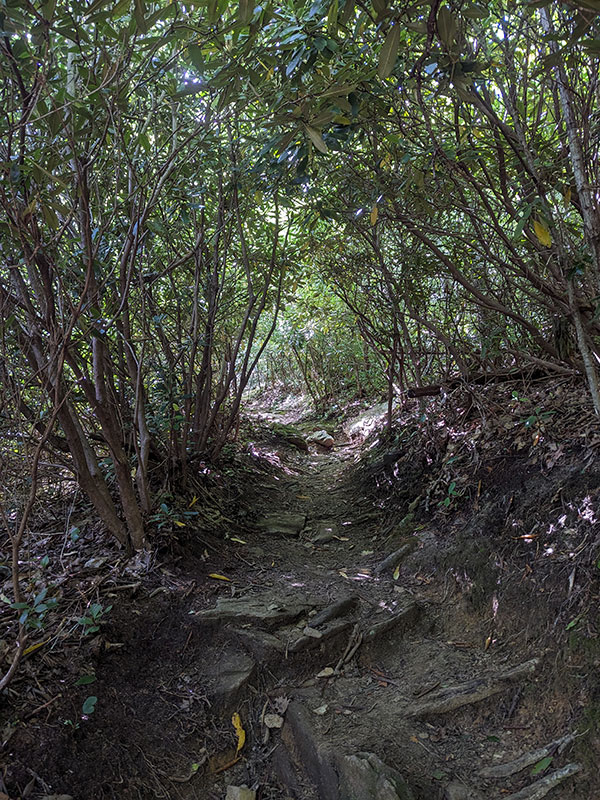 Five hours from the start, I was back at my car.  Final stats for the day: 12 miles and 3,658′ of elevation.
All in all, it was a great afternoon in North Carolina and I enjoyed every minute of it!  Would I do this one again?  Probably not.  Although I might consider what another guy at the top told me he was doing.  He basically drove up for a loop hike along Deep Gap Trail to the north and then back around on the Buncombe Horse Trail (yellow line shown below).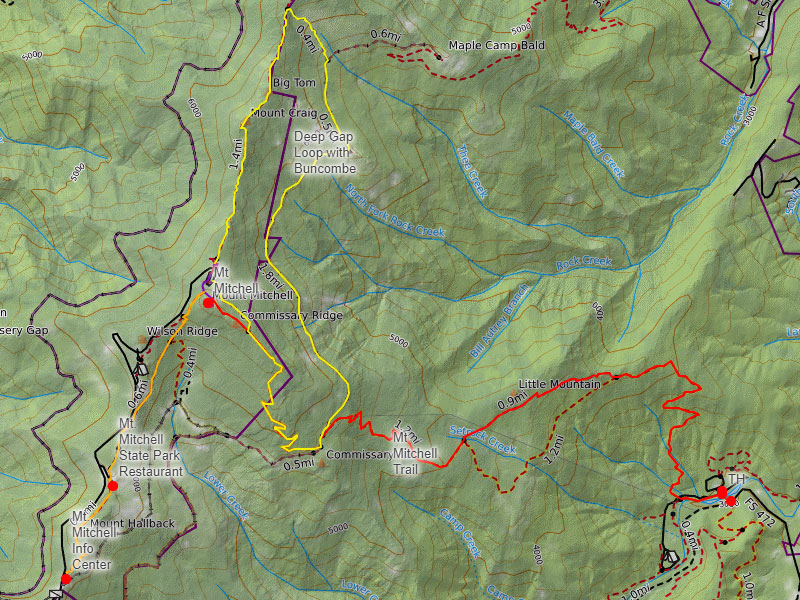 You can view or download any of the tracks mentioned here from this CalTopo link.
Next stop: Sassafras Mountain, South Carolina