I know the West Rim Trail can be done as a day hike from Lava Point, but we chose to spread it out and slow it down by starting at Wildcat.  That made it a 3-day, 2-night trip which turned out great!  Here's our itinerary:
DAY 1: Travel + Hike to Wildcat Camp
Our first day involved the typical drive from Salt Lake to Springdale – nothing special, no speeding tickets.  After jumping through all the hoops at the Zion Wilderness Desk, we were off to catch a late afternoon shuttle from the Zion Adventure Company.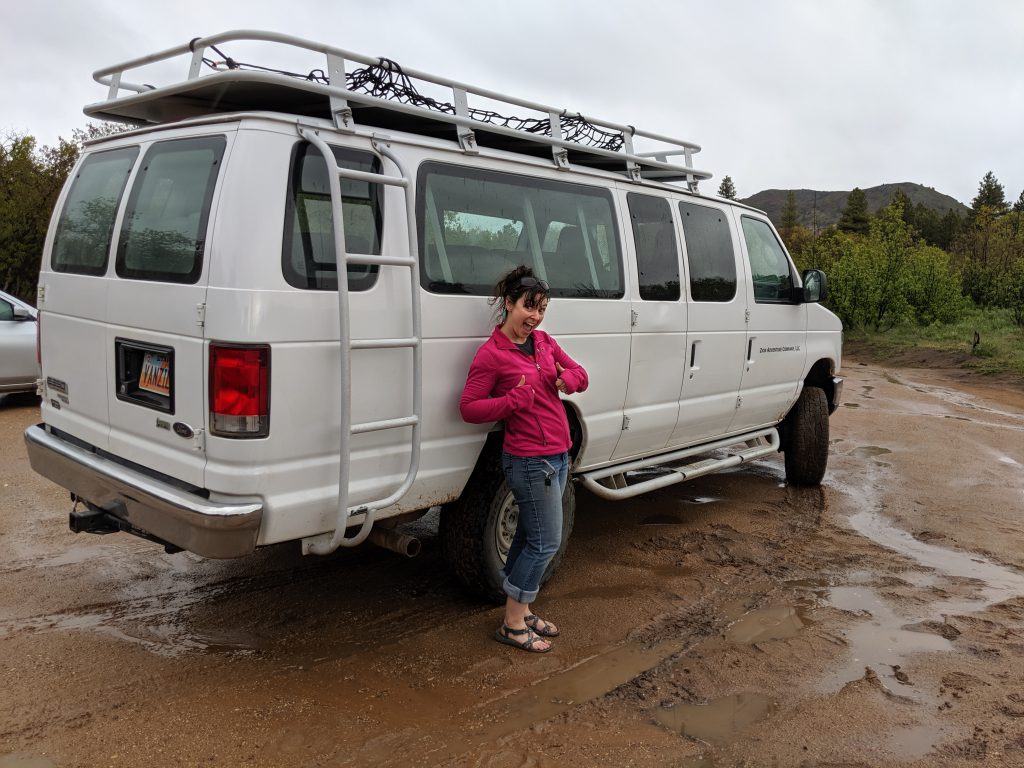 Not long after leaving Springdale, we were at the Wildcat Canyon trailhead for our first leg of this hike.  This is the same spot you start the infamous Subway route that is much more difficult to get a permit for these days.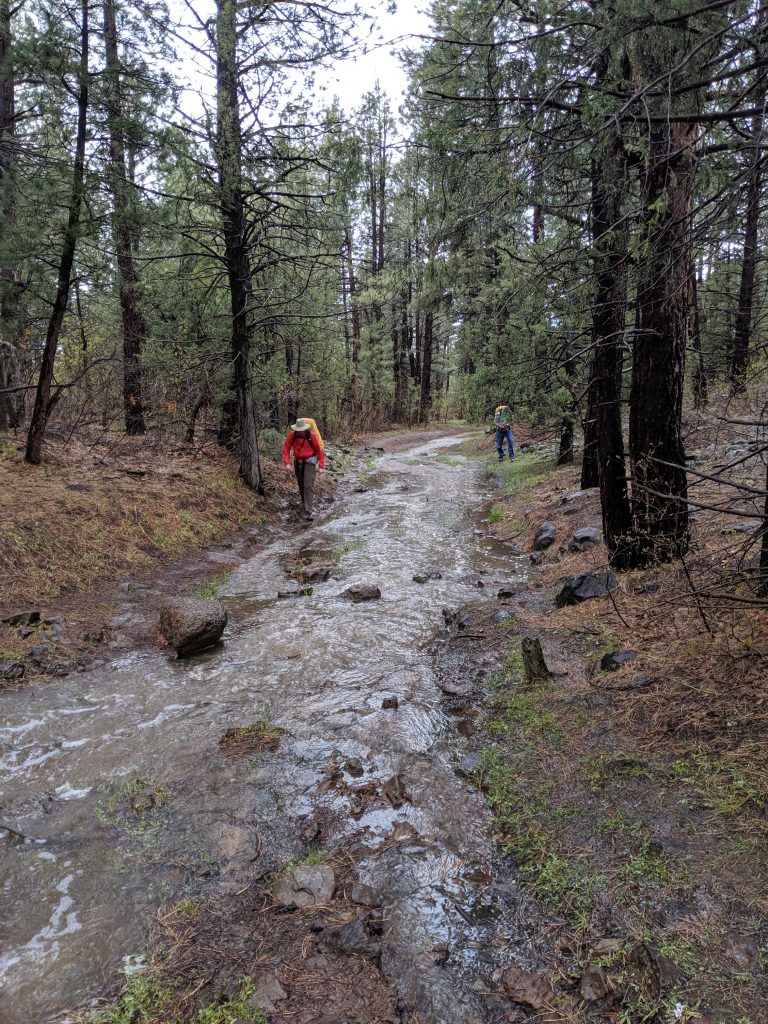 The trail was fun to navigate on this trip with water flowing down it like a river in places.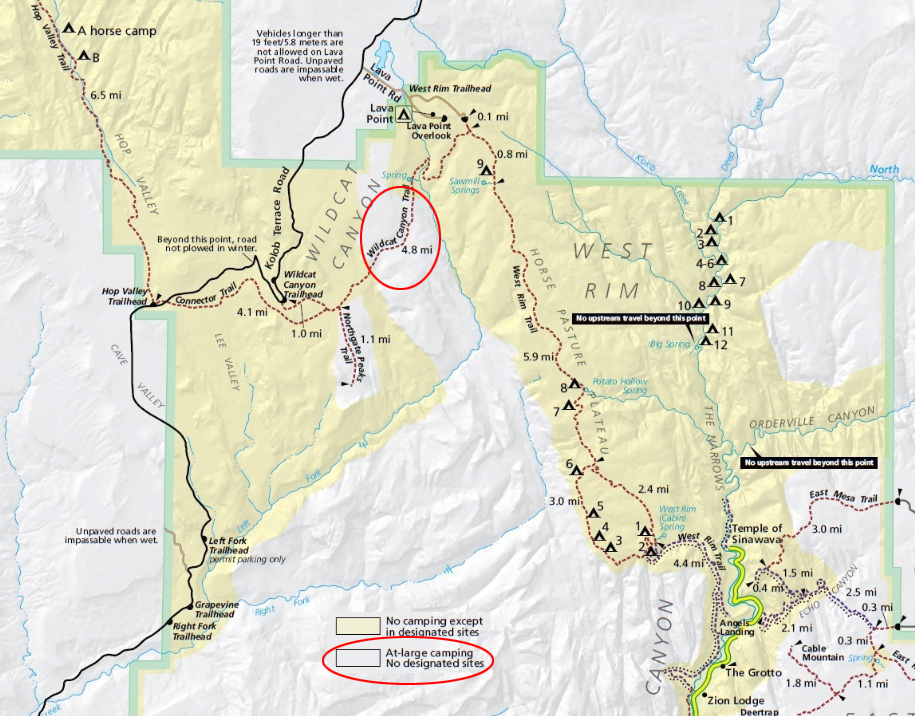 We continued along the Wildcat Canyon Trail for about 3 miles to an area the Park Service calls "At-large" camping – an area with no designated campsites but still requires a reservation with limited availability.  Here's the official map for wilderness camping in Zion NP.
DAY 2: Wildcat Camp to West Rim Camp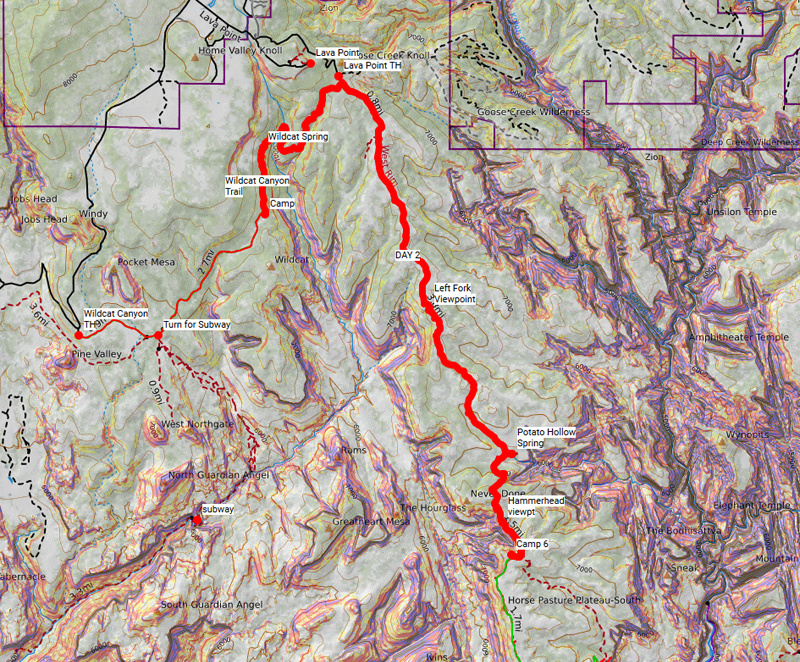 The only focus for Day 2 was to reach camp near the half-way point of this West Rim trail.  That meant 3 more miles along the Wildcat Canyon Trail to where it crosses over and intersects with the West Rim Trail, less than a quarter mile from the actual West Rim trailhead at Lava Point.  This is where we ran into a few groups as they started their trip for the typical single-night experience.  From there, we hiked another 7 miles to campsite #6.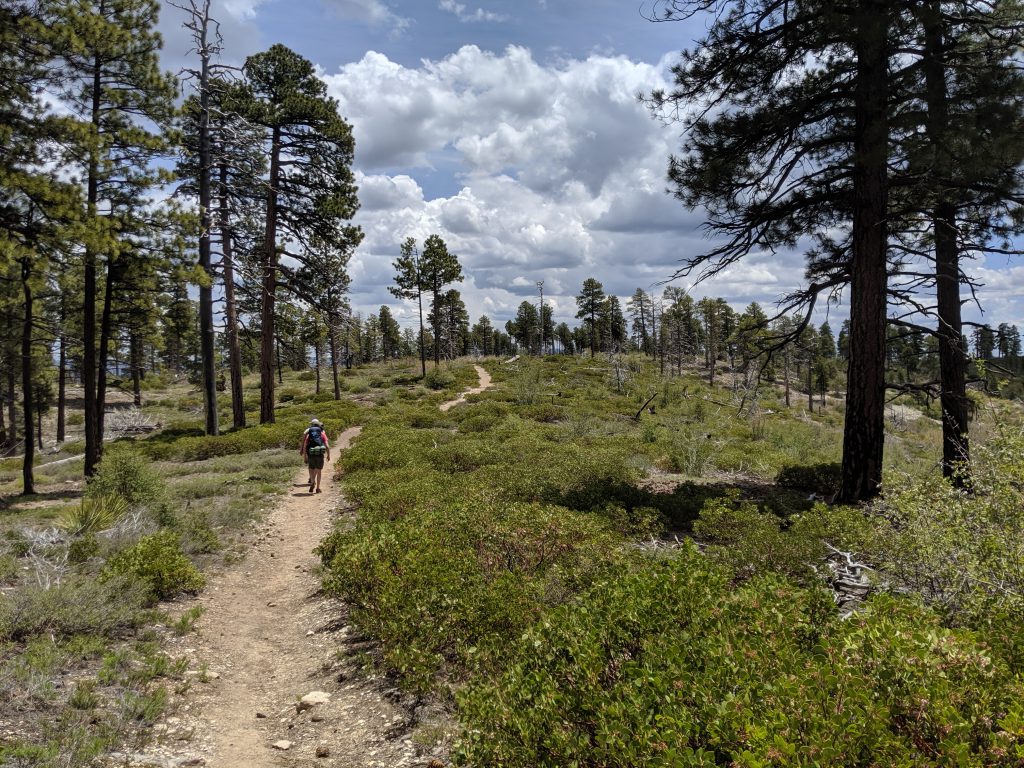 The first half of the West Rim Trail from the north was, honestly, a little uneventful and not super interesting.  The pine forest at 7,000 feet was pretty but I kept thinking, "where's the RIM of the West RIM trail"??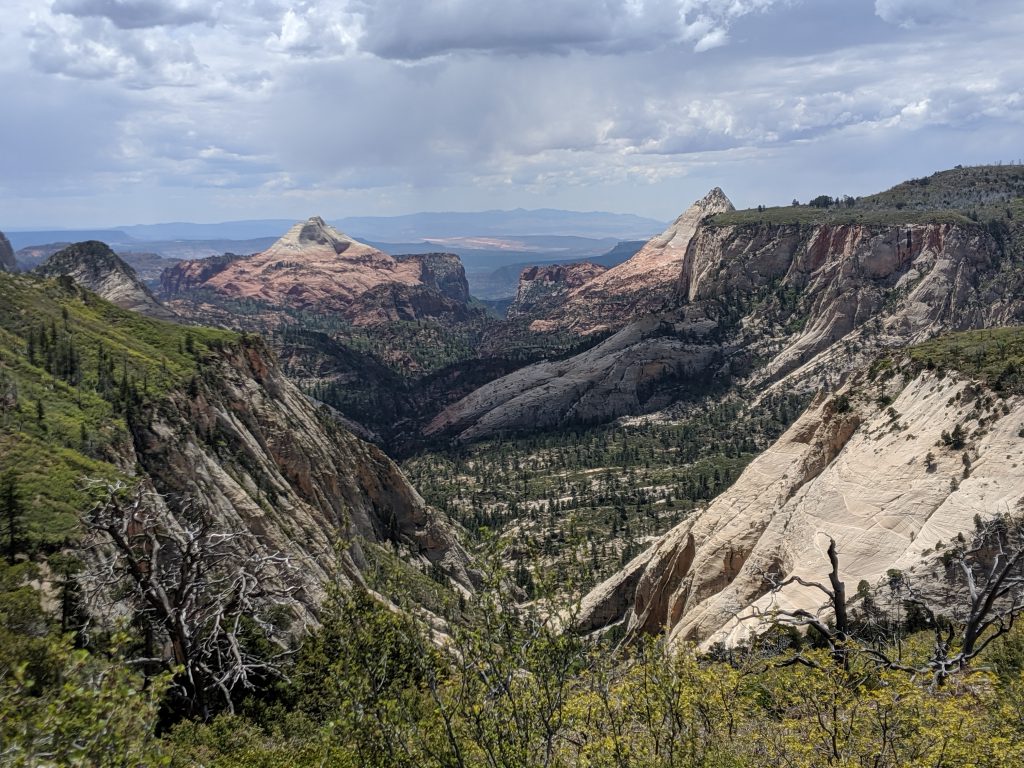 The first spot where the trail got close to "the rim" offered the best view of the day – it is where you can look down the Left Fork of North Creek.  This route, otherwise known as the Subway, flows between South Guardian Angel (left peak in the distance) and North Guardian Angel (right peak).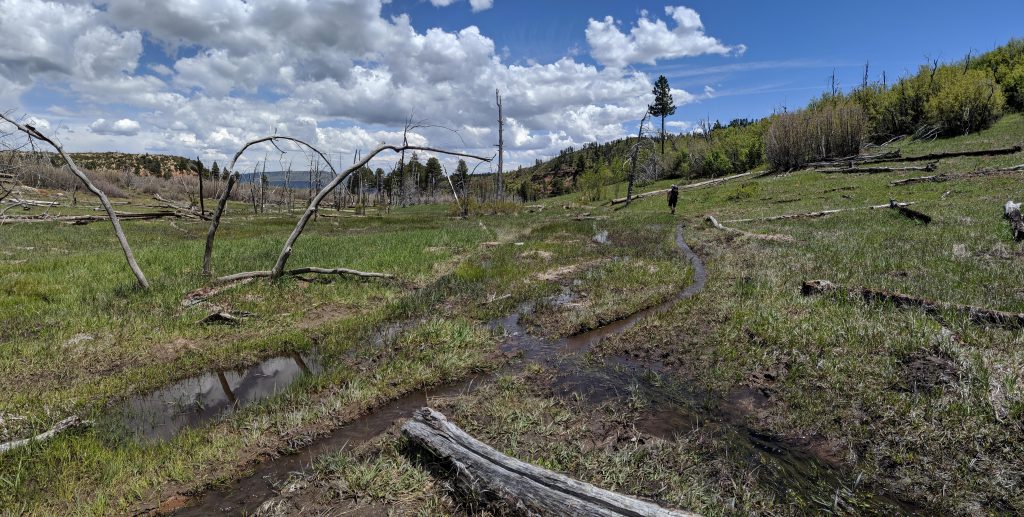 The trail then drops down into a terrain feature called Potato Hollow, which had a LOT of water flowing through here.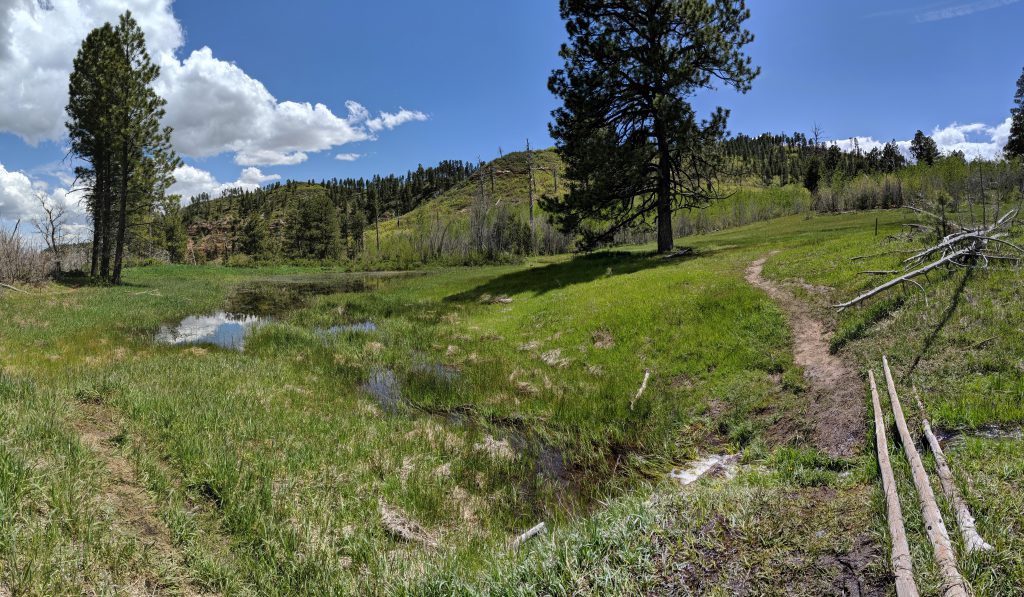 This was a good time to refill our water from the local spring.  Looking at a map afterwards, this water does eventually drop into the Zion Narrows through Imlay Canyon that falls just north of Orderville Canyon.

Patayto, Potahto… either way, the climb out was fun and offered a nice view of that valley below.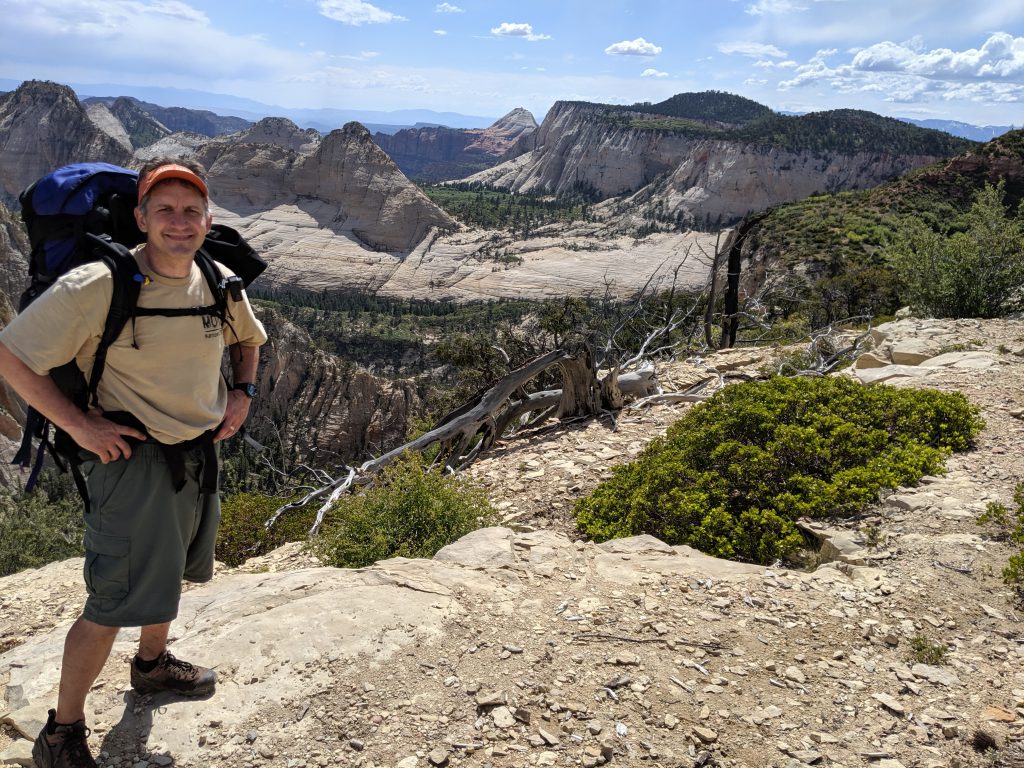 The second spot of the day that felt like an actual rim route was at the Hammerhead, another canyon view that was very cool!
After a short climb up to the top of the adjacent ridge, we arrive at campsite 6 after 10.5 miles and about 1,200 feet of elevation change over the day.  Nothing too hard, but we were ready to take a load off our backs and have a good dinner.  We were also surprised to have cell coverage at this point and were able to make some calls home and post a pic or two on social media before watching the sun go down.
DAY 3: Grand Finale + Travel home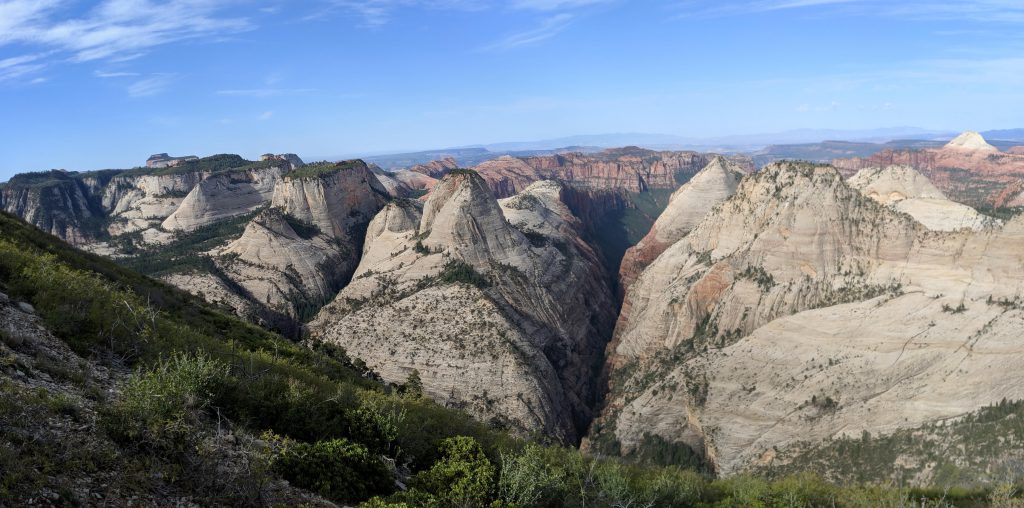 Further along Zion's West Rim is the top of the Right Fork of North Creek. Knowing what lies down the Left Fork, I might have another slot canyon to add to my bucket list!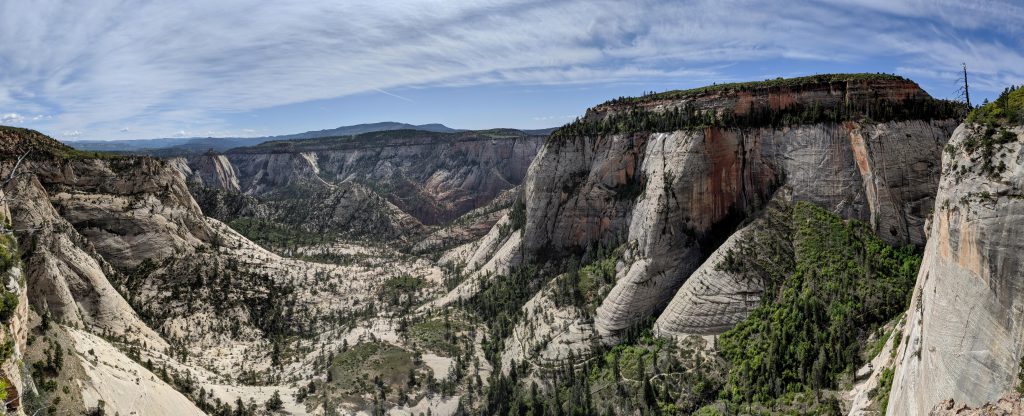 The highlight of this trail was definitely at the edge of the West Rim where you can look down into Telephone Canyon.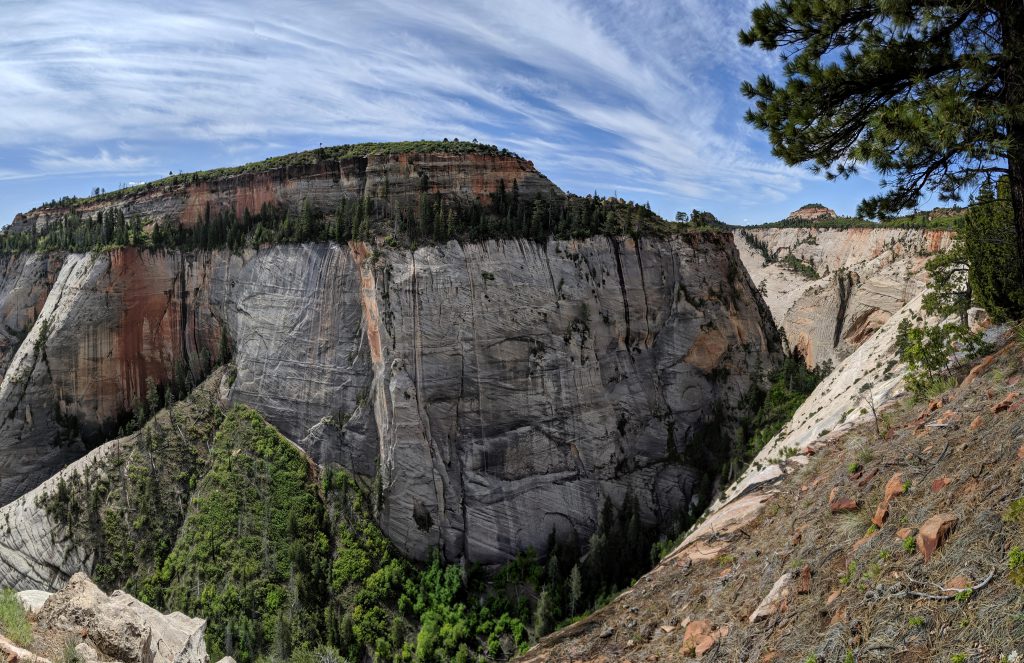 We were like kids at Christmas to find out the trail follows along this side canyon to the bottom! I would discover later that this is called Behunin Pass.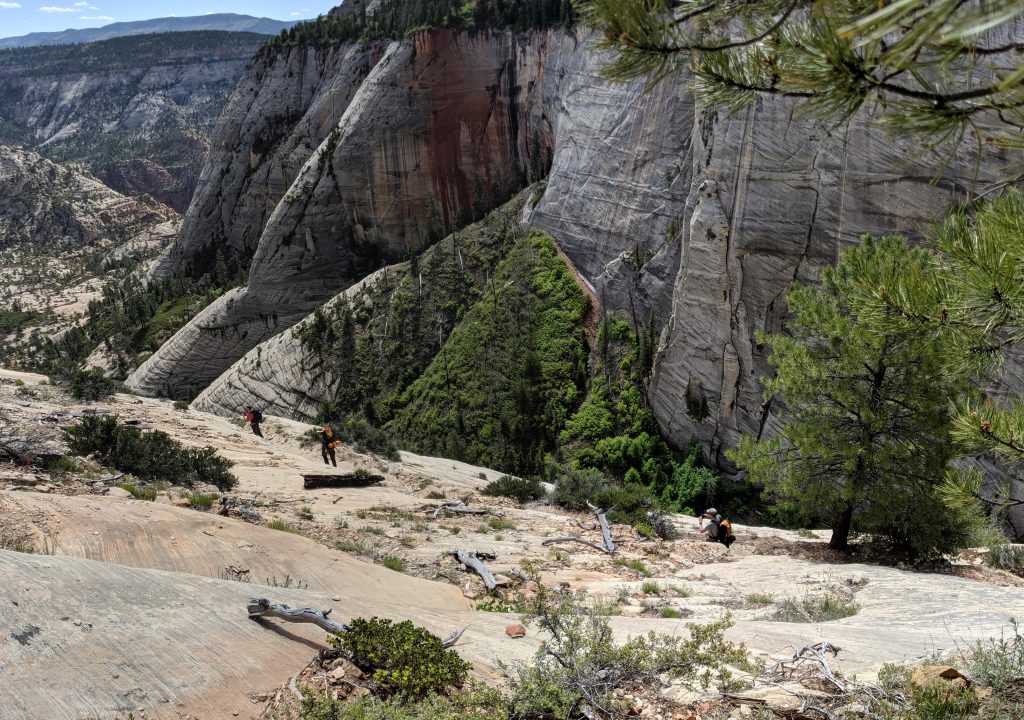 A series of switchbacks carved into the cliff face leads down.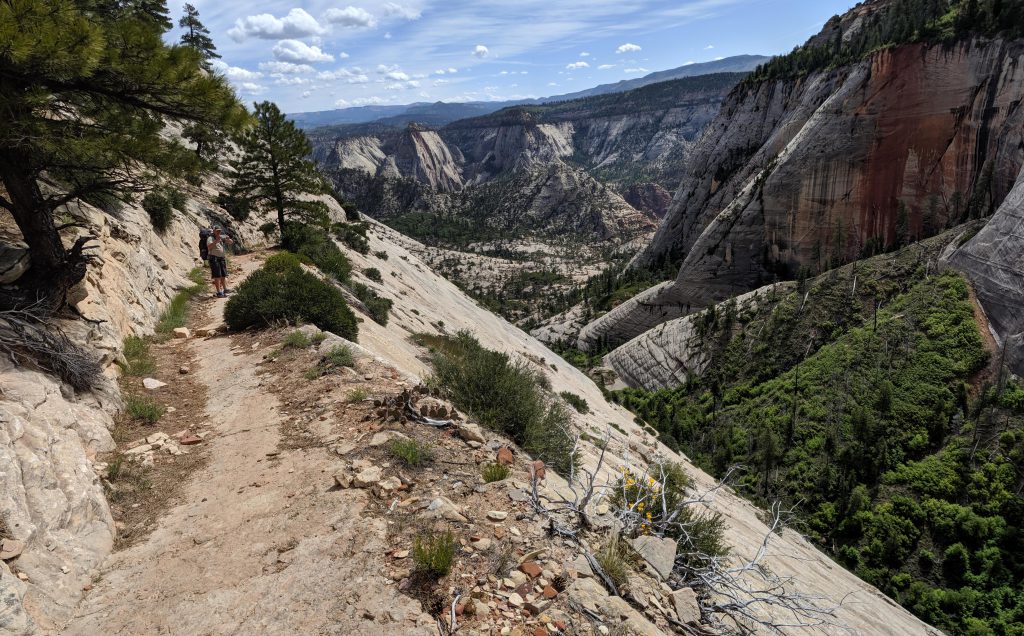 It's crazy to think someone carved a path here to traverse this canyon.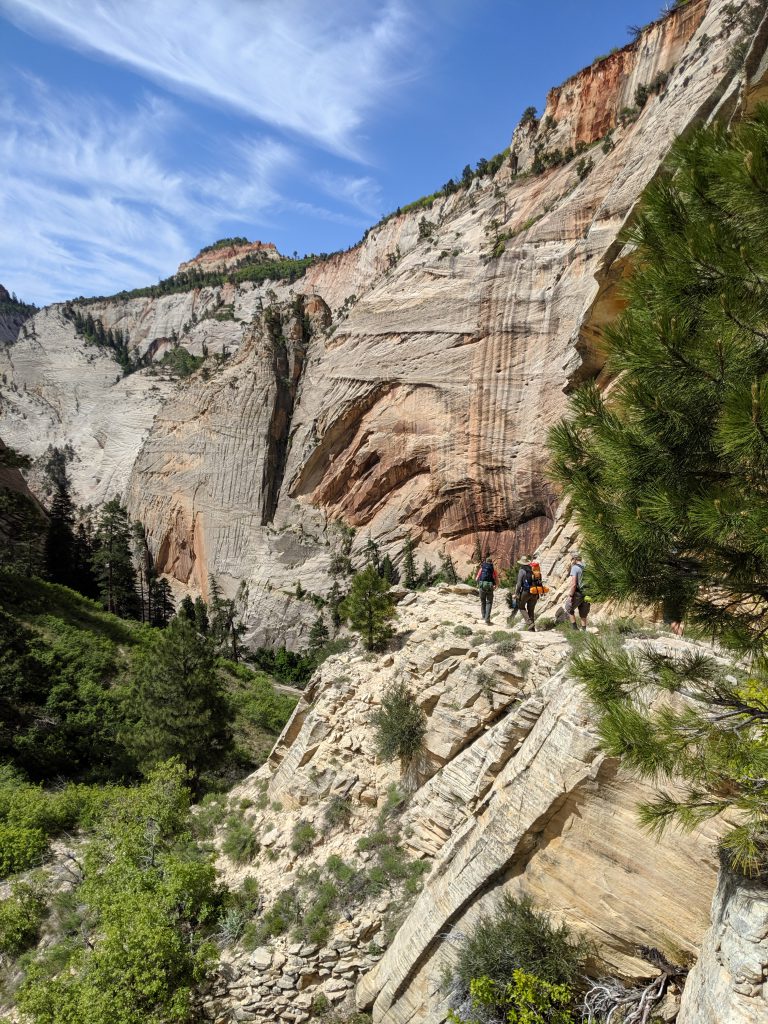 The trail off the West Rim completely made this trip… a grand finale of sorts!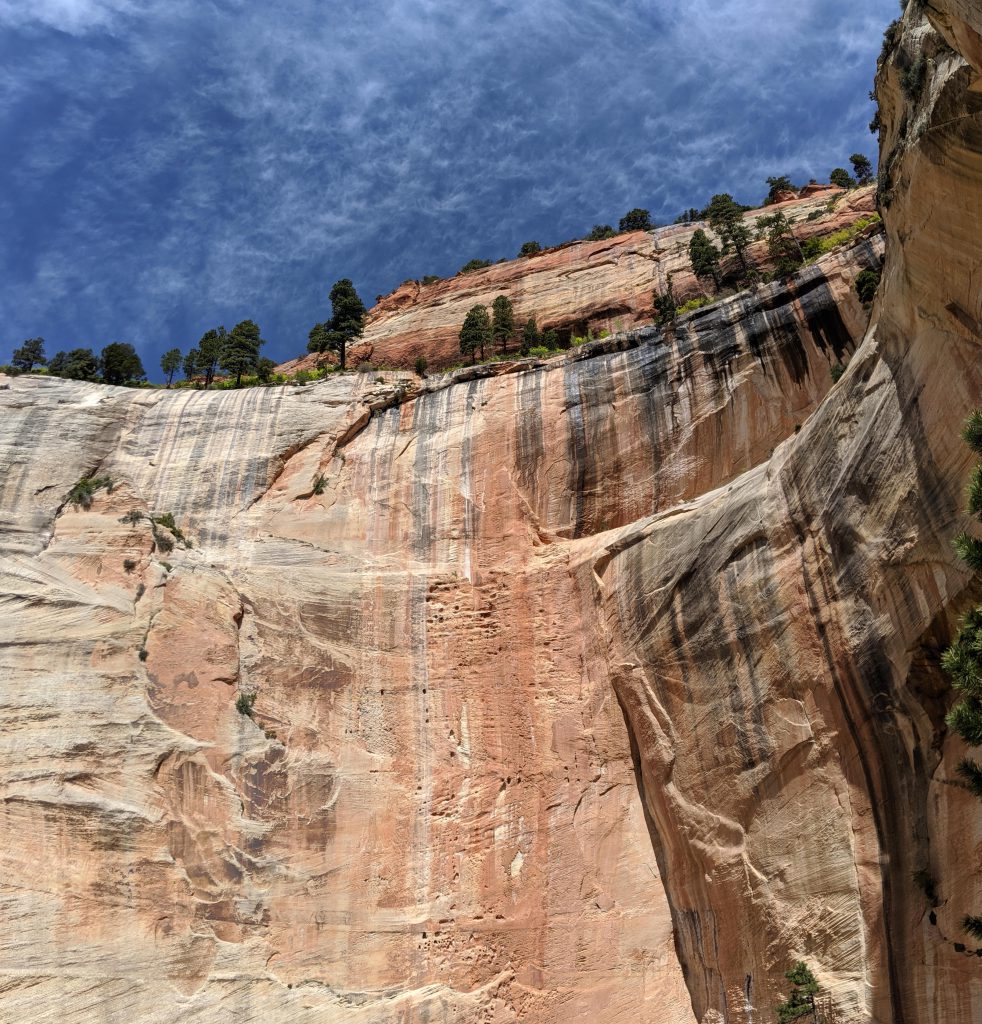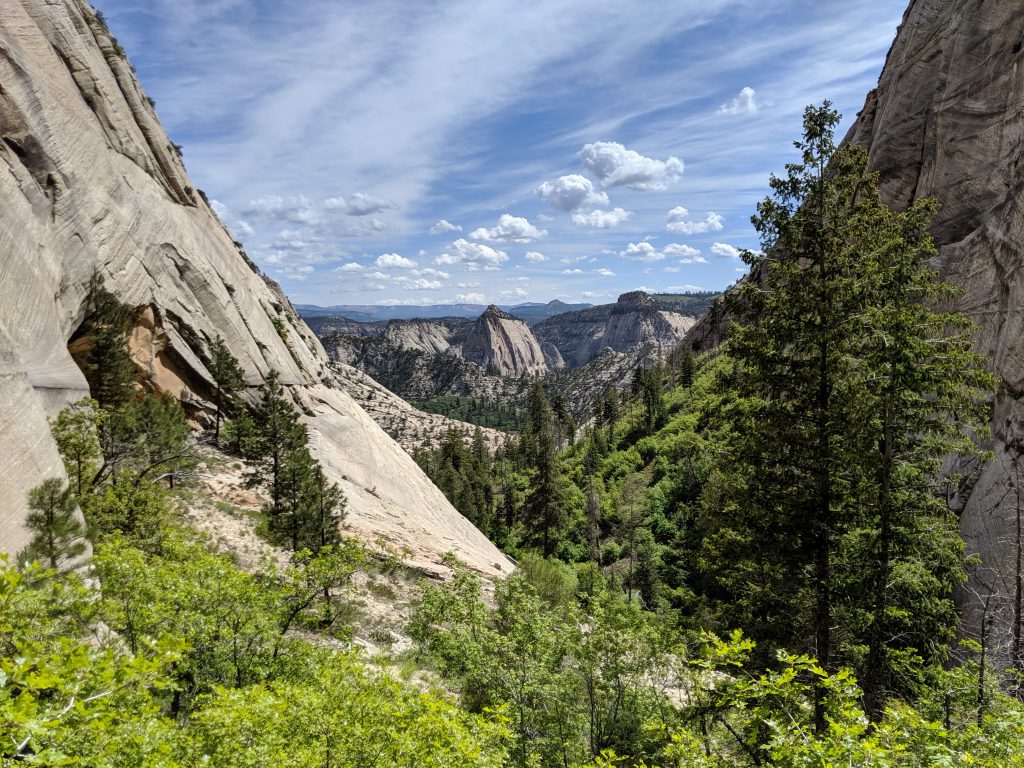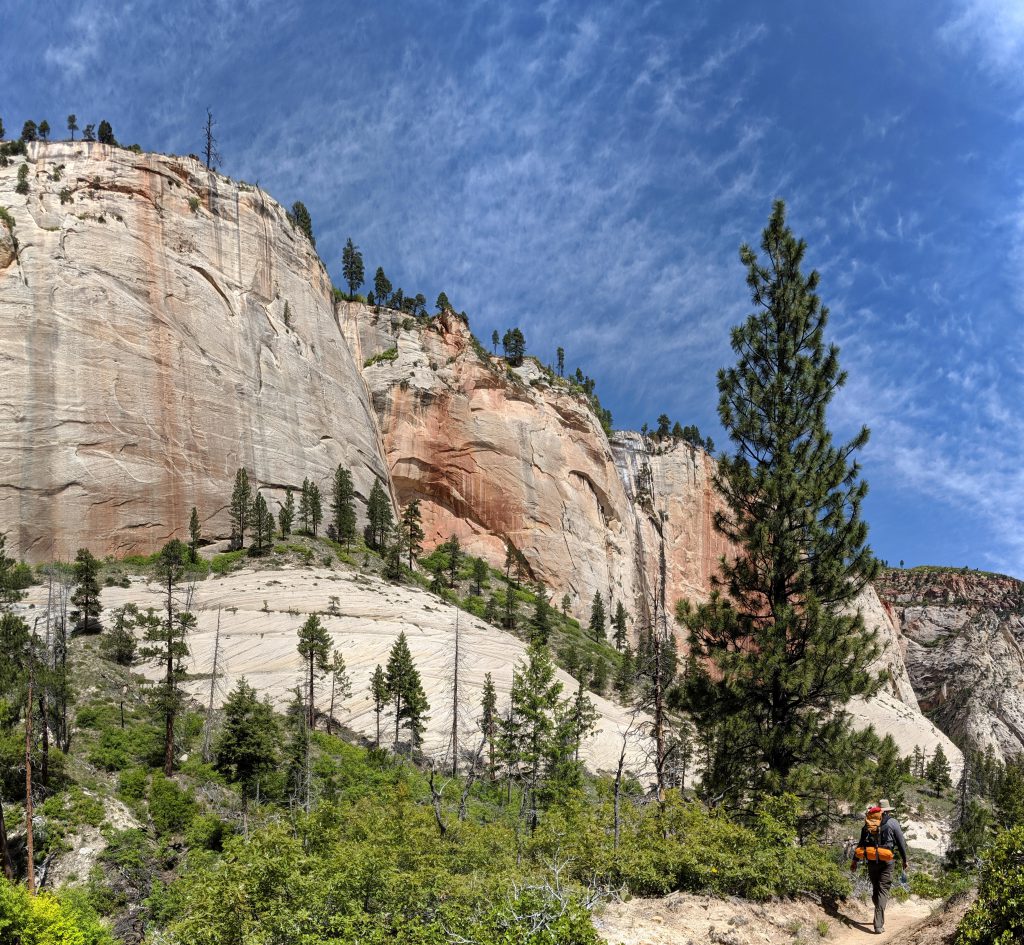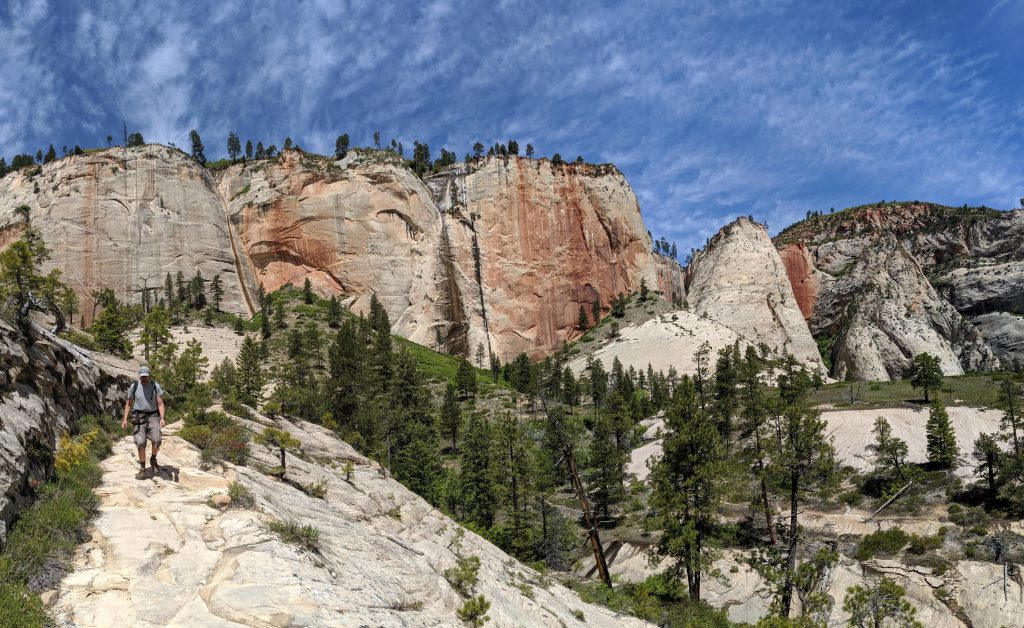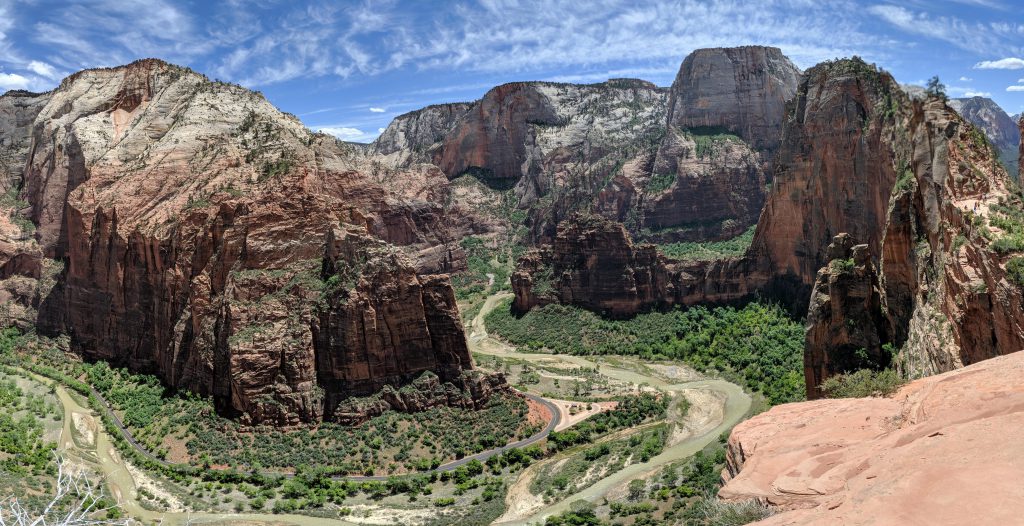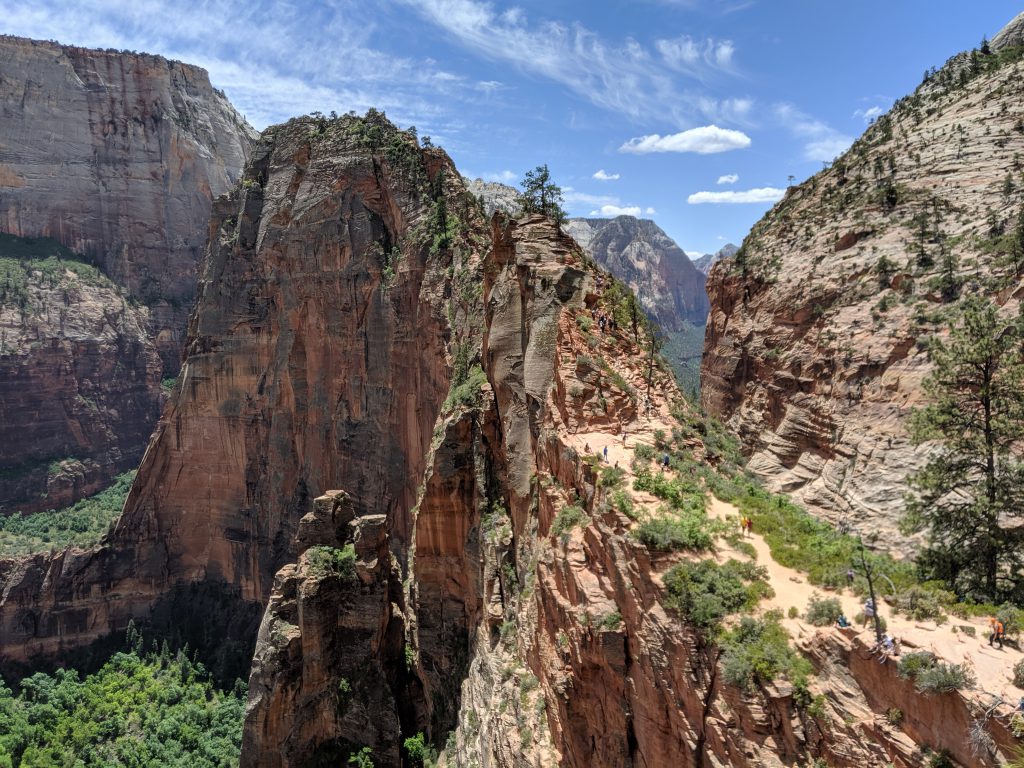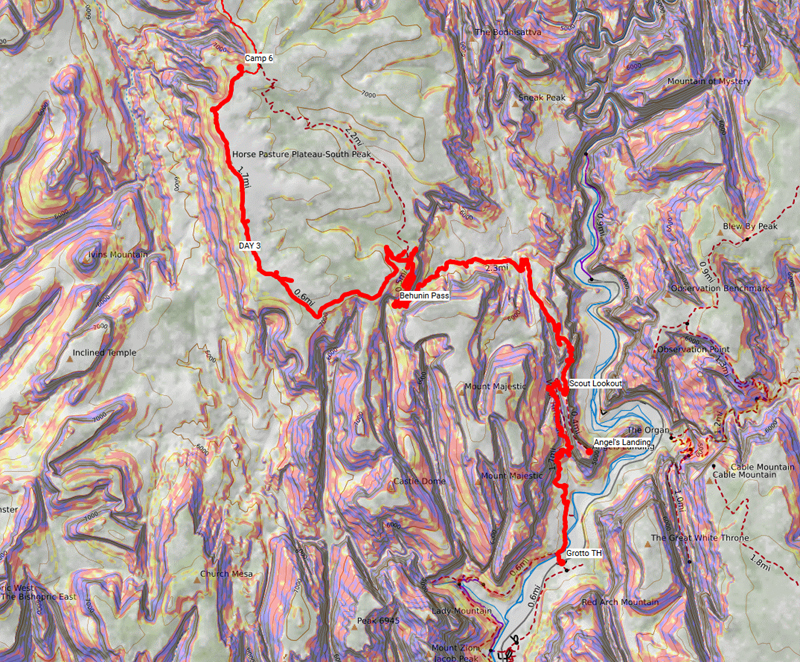 Day 3 turned out to be 9 miles from campsite 6 to The Grotto with this final leg making the whole thing completely worth it!
Total trip mileage: 22ish with about 2,200 feet of elevation change after all the ups and downs.
If I were to do this again, I would do it in reverse up to the rim and skip the rest. That might be 3,000 feet of elevation in 5 miles, but it wouldn't be any tougher than doing a Grand Canyon hike. I would make it a 1-night trip, with a reservation at campsite 1. The second day might be a loop up the Telephone Canyon Trail to the West Rim and then back down the same way we did on our Day 3.