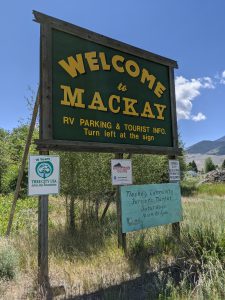 An annual family reunion on my wife's side leads me to the second in my COVID Summer Series of State Highpoints.
On the 3rd weekend in July, for as long as she can remember, families from her mother's lineage gather together for the Armstrong Reunion in the remote community of Mackay, Idaho (pronounced Mackie; pop. 520).
When I realized how close Mackay was to Idaho's tallest peak, I saw the opportunity to bag this one with significant convenience!  All of a sudden, I became super excited about attending this annual family gathering!
Idaho's tallest peak is a little tougher than Arizona's with over 5,100′ of elevation in 4 miles, half of which is accomplished in the first half of this hike (see map stats).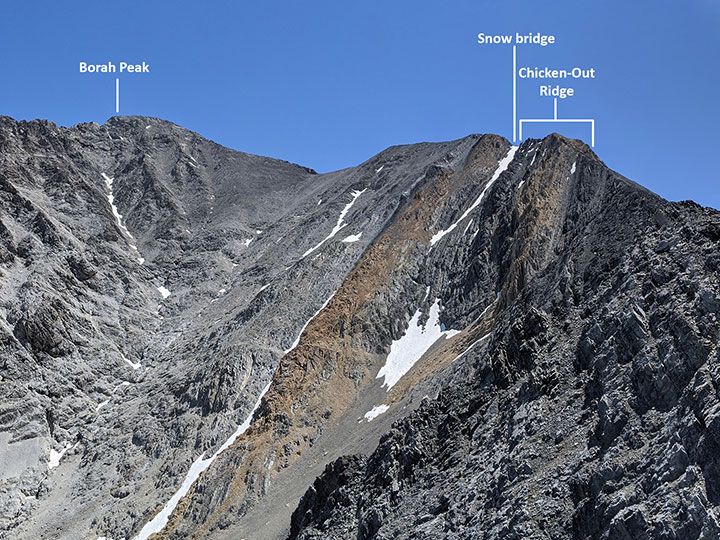 Not long after you get out of the treeline, the real adventure starts coming into view. Here is a zoomed in shot I took on the way down so it was better to see with the sun directly above.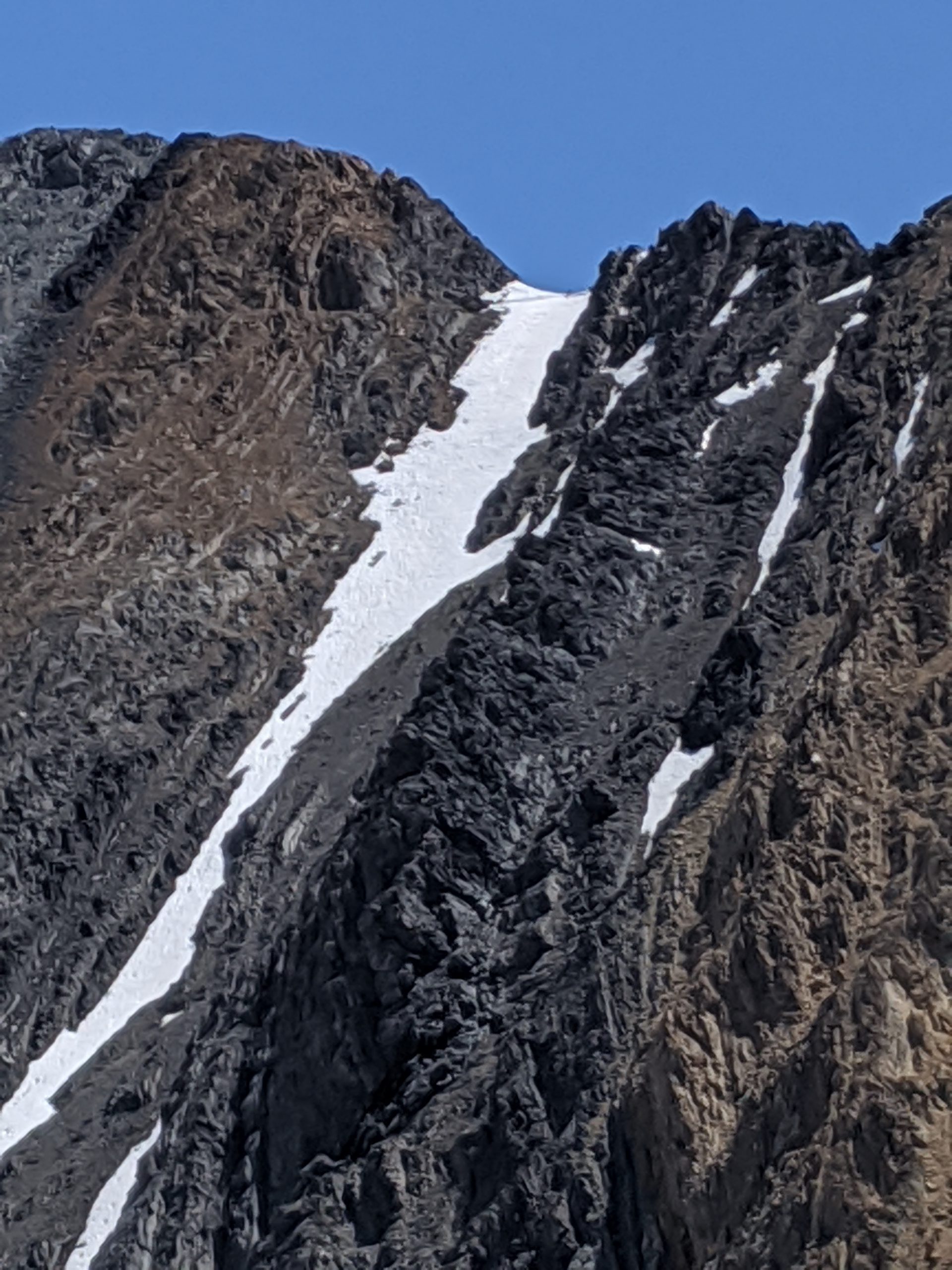 You gain another 1,400′ of elevation between miles 2 and 3.  At that point, you scramble up to begin finding your own way across Chicken-Out Ridge.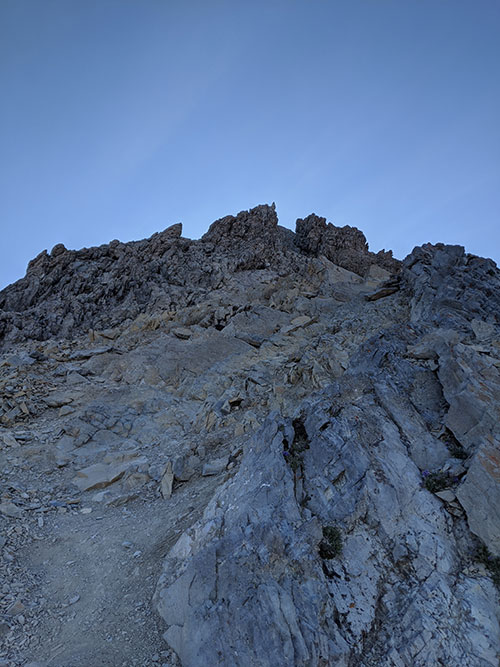 My favorite part is traversing this ridge. That section is only 1/4 of a mile long, but could be real easy or super sketchy depending on which route you pick.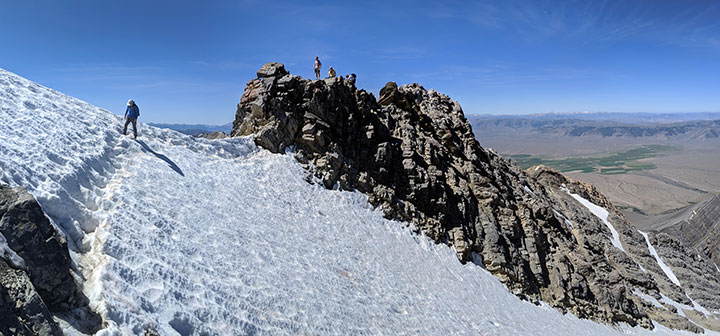 Alas, a snow bridge at the end of the ridge is a short but fun obstacle as well… just be sure to put your foot in the bowl of the previous footstep. This is solid ice at 9 o'clock in the morning and could be fatal if you slipped and took the steep speed ride down.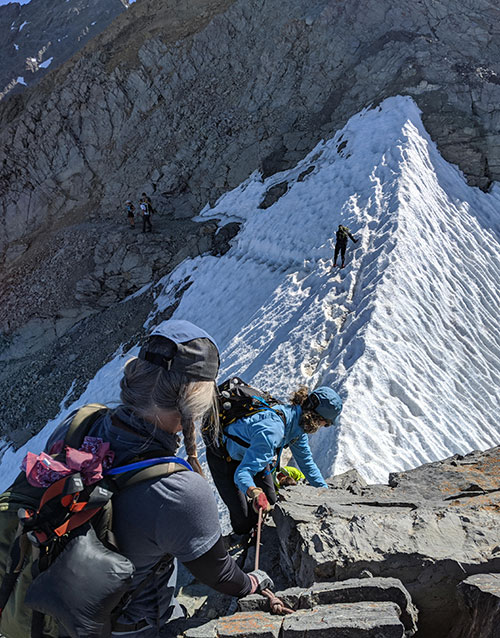 Getting off the ridge and taking that first step on to this icy drift should be done with some caution (this was the first time a rope was present).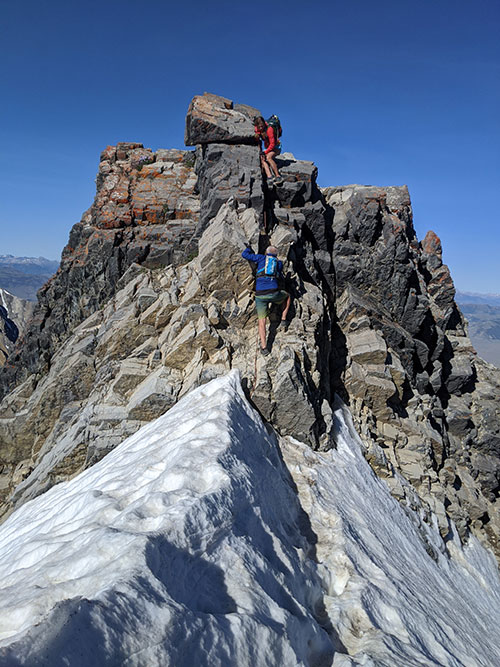 Finally, the last push to the peak. You can see the trail to the top here for the last 1/2 mile but it's all loose and gravely the higher you get. So I prefer to cut right about half-way up (immediately after the snow drift that blocks the trail) and follow the "mountaineers route" to the top.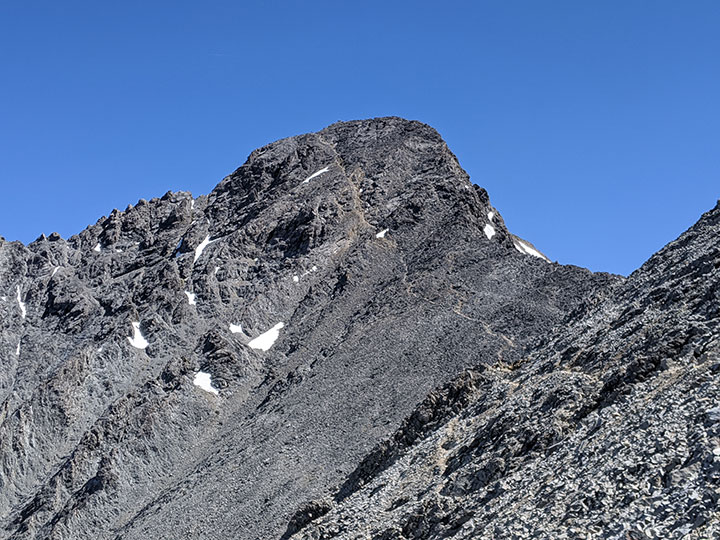 5100+ feet of elevation in 4 miles and a new personal best!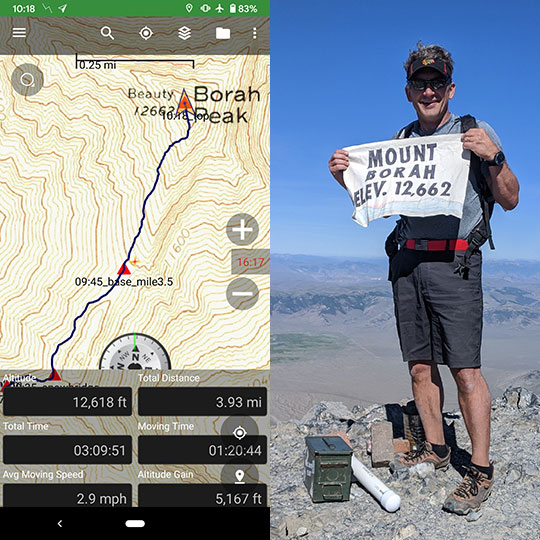 This was my 3rd time summiting Mt. Borah with much improvement over the years:
2014: 5 hours up, 3 hours down
2019: 3:33 hours up, 2:32 hours down
2020: 3:10 up, 2:16 down
I bet I can get up there in under 3 next time!
As a side note, I left the trailhead at 7:08a and reached the peak at 10:18.  After hanging out at the top for a 1/2 hour, I started down at 10:50 and was back to the car at 1:06p.  With that much time still left in the day, here are a few things one might do on the way home if you are interested in some side trips:
Leatherman Peak is Idaho's second tallest peak and right down the road
Sun Valley is just an hour away via the Trail Creek Road out of Chilly
Craters of the Moon could be a detour on the way home
Atomic City might also be an interesting stop with the crazy story behind that town
Lastly, if you're not one to sleep in the car the night before nor plan on camping at the trailhead, the Wagon Wheel Motel looks like a nice place to stay or even the White Knob.