Accomplishing state highpoints wasn't a serious goal for me until COVID killed all kinds of other plans I had this year.  A few of these have already been on my bucket list for a while now, but not with any kind of serious effort to git'em done.  So with COVID making the door clear and wide open, the new goal for what's left of 2020 is to tackle a state highpoint every month with a mission I'm calling my COVID Summer Series of State Highpoints.  The strategy is to start from the West, since those are easier to get to from Utah and won't require too much advanced planning nor high travel costs for me to get started.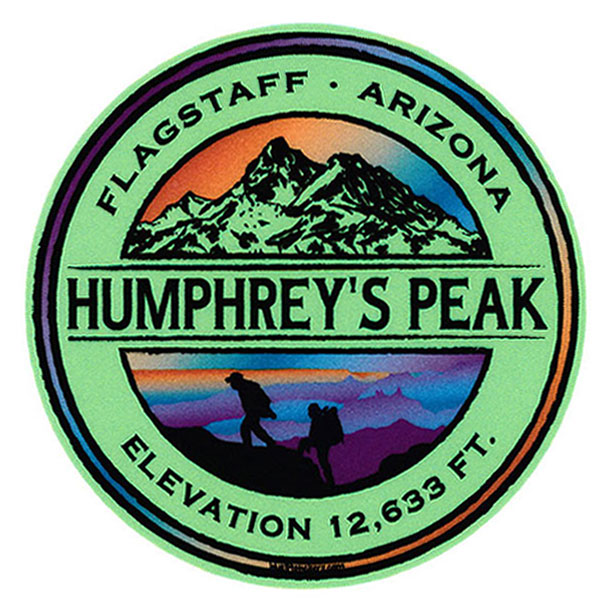 Kicking off this summer series with Arizona's tallest peak immediately came to mind as it was already half-way through June when I finally decided to get on it.  Many of the other western state highpoints still have a good amount amount of snow on them, so Flagstaff seemed like the logical first choice since it's close enough from Salt Lake to drive to in a day and heading south meant warm weather.  With that in mind, I asked my wife if she wanted to do a quick road trip knowing she'd never turn down an opportunity to get away for the weekend.  I also knew this trip wouldn't be all hiking because I expected Humphrey's to be super easy with only 3,550′ of elevation in 5 miles (one-way).  That would give us plenty of time to see a few other things down in that direction, including a last-minute reservation I scored on the South rim of the Grand Canyon for our 2nd night's stay.
DAY 1 – Travel Day, Meteor Crater, Bandera Tacos
Getting to Arizona was simple.  With an 8 hour drive ahead of us, we left Salt Lake first thing in the morning and beelined to Flagstaff.  The goal was to be there by dinner knowing we would do all the stop-n-go sightseeing on the way back.
When we got to Flagstaff, we realized there was a time change that gave us an extra hour.  That worked out perfect because I was already hoping to get their early enough to swing over to see Meteor Crater.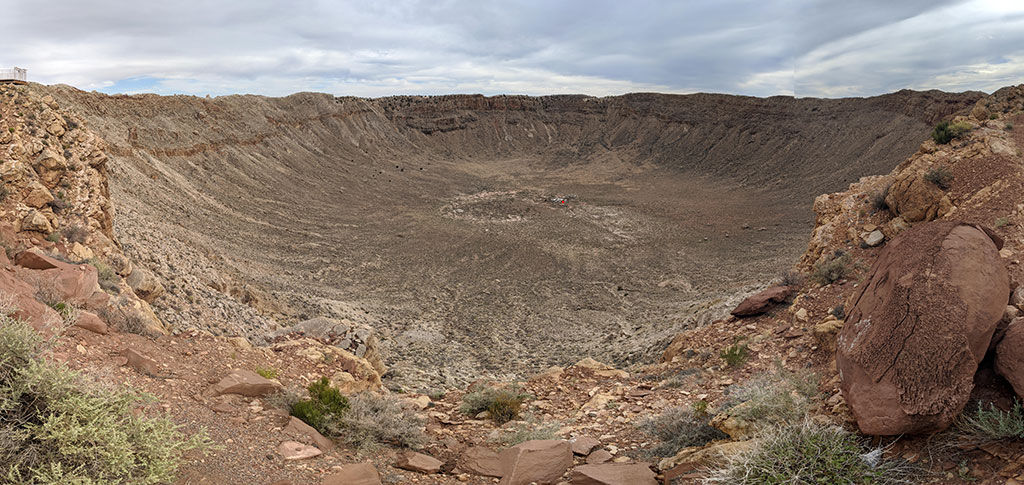 30 minutes east of Flagstaff, this dent in the Earth measures about 2.5 miles around, 3/4 of a mile across and and 500 feet deep.  To give it perspective as you stand on the various platforms along the north rim, the red dot on this picture is a 6′ tall Astronaut mannequin standing next to a 3×5′ American flag.  You'd never know it was there unless you looked through one of their fixed telescopes.
We were there for maybe a half an hour.  I'm not sure it was worth $20/adult (discounted price when purchased online), but we chalked it up as one of those things you do if you've never been to this area before.
Back in the historic downtown district of Flagstaff, we found this awesome place for dinner called Bandera Craft Tacos… their Three Taco Combo was sooo good, we ate their again for lunch the next day after my hike.  I did the Carne Asada, Al Pastro and Fried Fish as the combo with a Brussel Sprout taco on the side to try, which actually turned out to be my favorite!
DAY 2 – Hike, Banderas, Horseshoe Bend, Sego
I stayed on Utah time and got up at 5am according to the Arizona clock.  Since my watch said 6, it didn't feel all that early and was already light outside like it would have been at home.  I said goodbye to my wife as she rolled over to go back to sleep, grabbed a quick bite to eat and was off to the start at the Snowbowl Ski Resort.  I was on the trail at 6:11a Arizona time.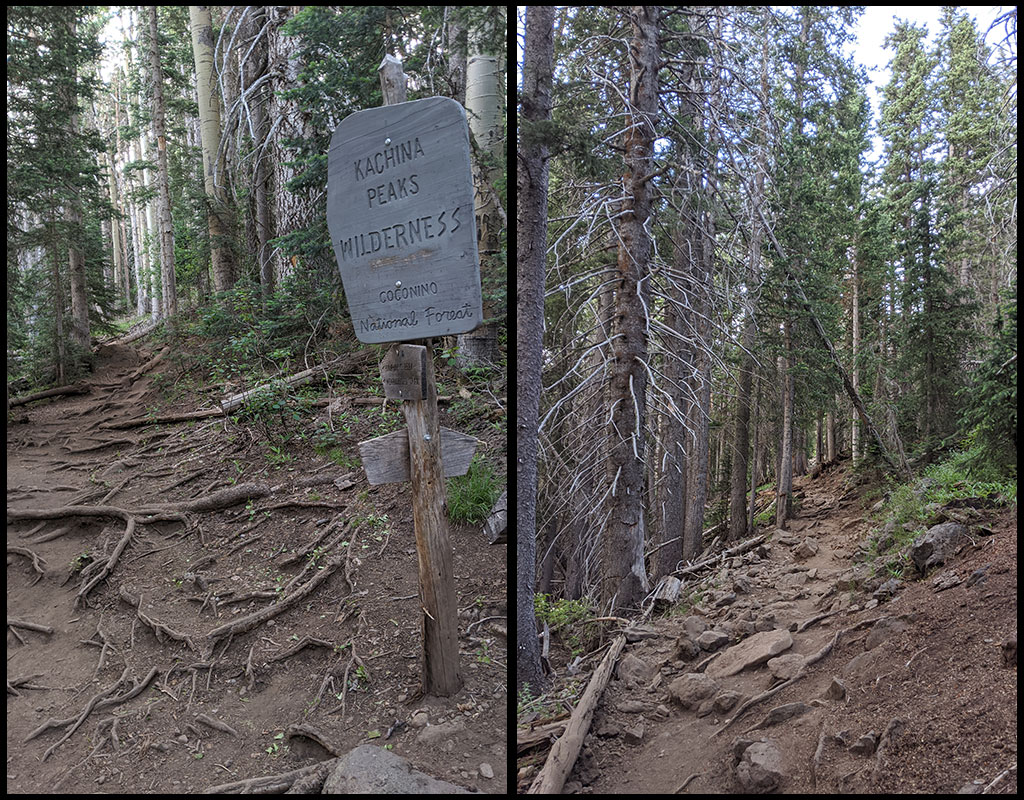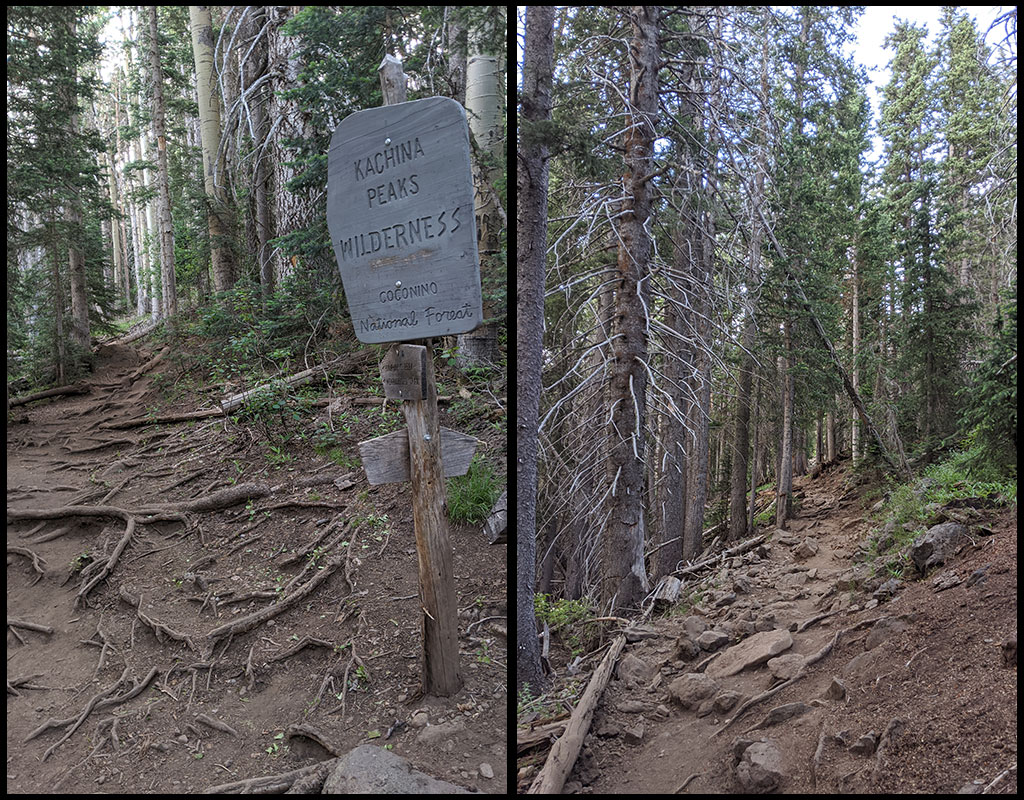 The trail below the treeline is full of roots and rocks.  You really have to watch your footing to avoid the possibility of rolling an ankle!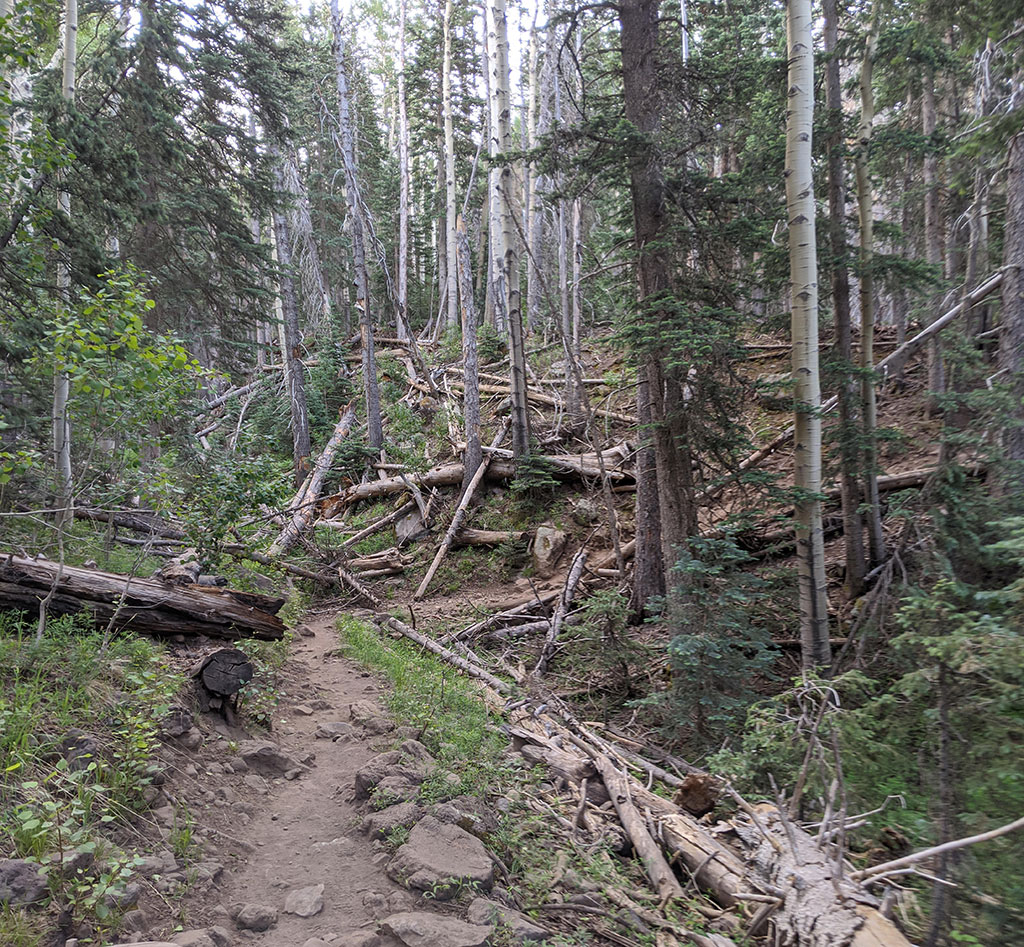 There is also a TON of deadfall along the way…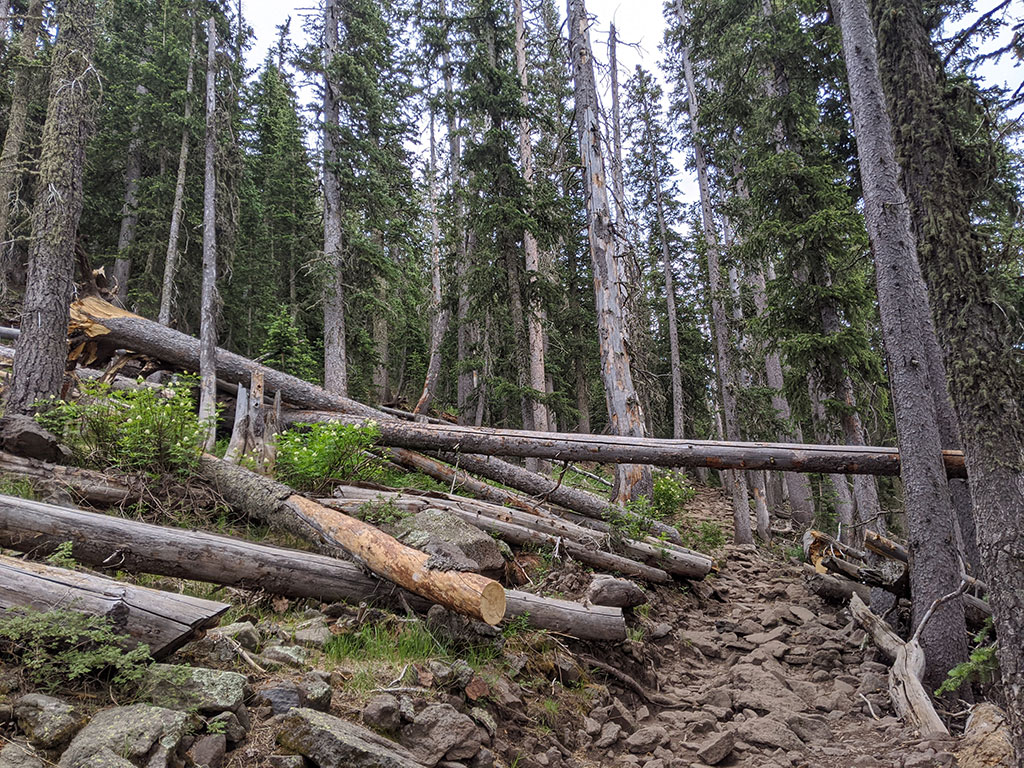 …and downed trees.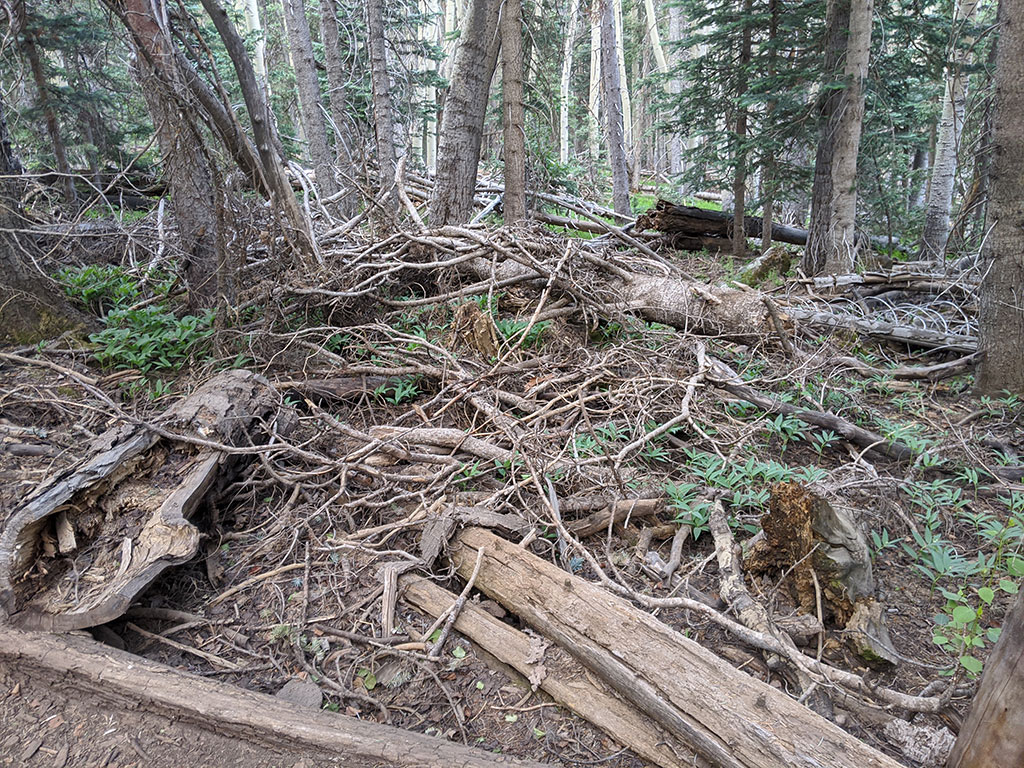 In fact, there is so much dry wood all over the forest floor that I'm surprised this isn't a high risk area for serious fire danger like you'd find in California.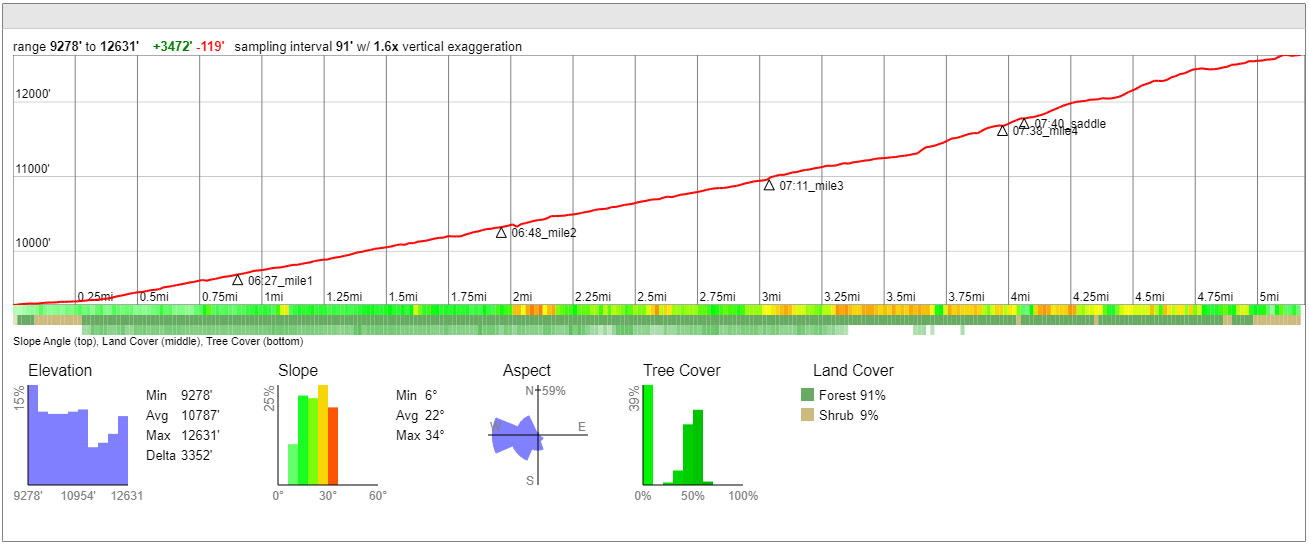 There is really nothing hard about Humphrey's, unless you are coming from a place that doesn't offer you this kind of elevation on a regular basis (like Utah does)…or you're coming right off the couch.
Referencing the elevation profile above, the overall breakdown looks like this:
the trail start at 9,280′ and makes 7 sweeping switchbacks for the first 3 miles only to gain 1,660′ over that distance
you gain another 750′ between miles 3 and 4 with a slight "staircase" section right before that 4th mile
the saddle is another 1/10 of a mile after that with 90 more feet of gain

that puts you 2,500′ up at 4.1 miles in for an average of 625′ per mile so far

 then you have 850′ more to go for the last mile

you might be tired by this point, but the end is in sight and all you should be thinking about here in reaching that finish line.  (It'll be all downhill from there!)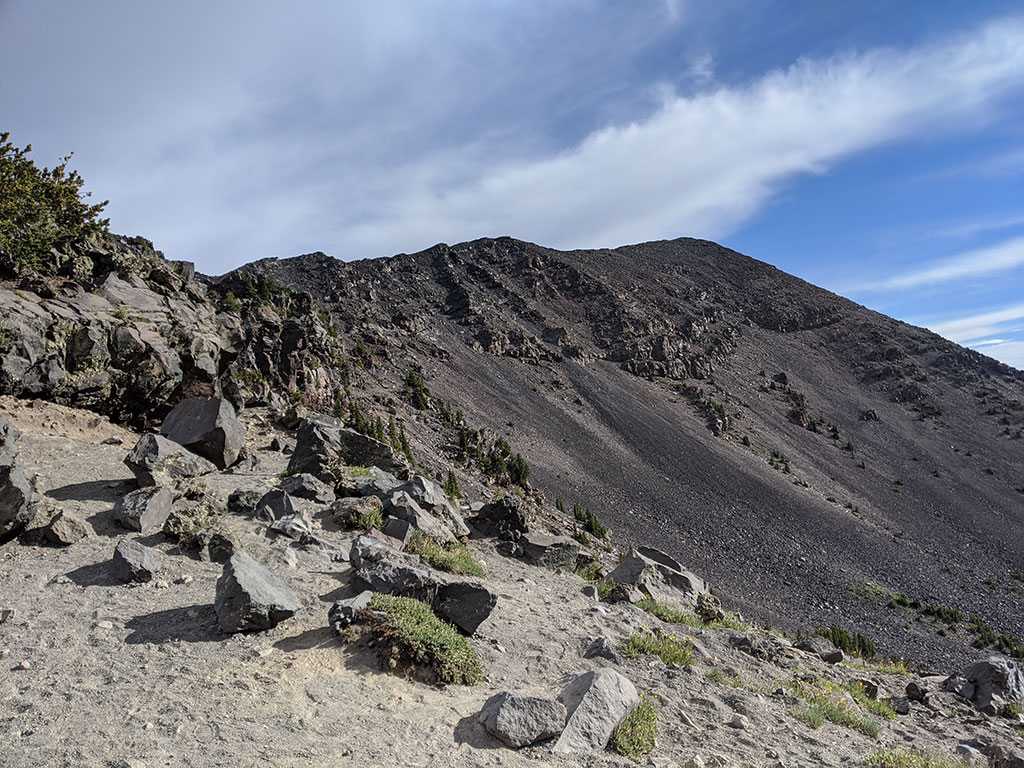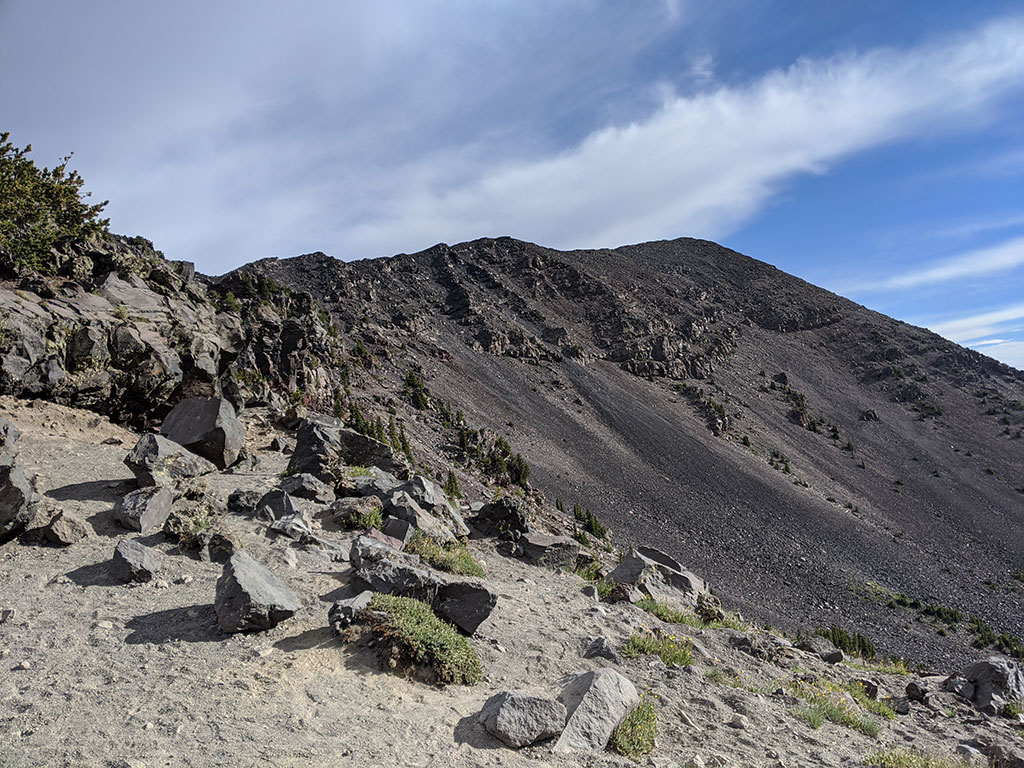 Here's a view from the saddle at 4.1 miles up.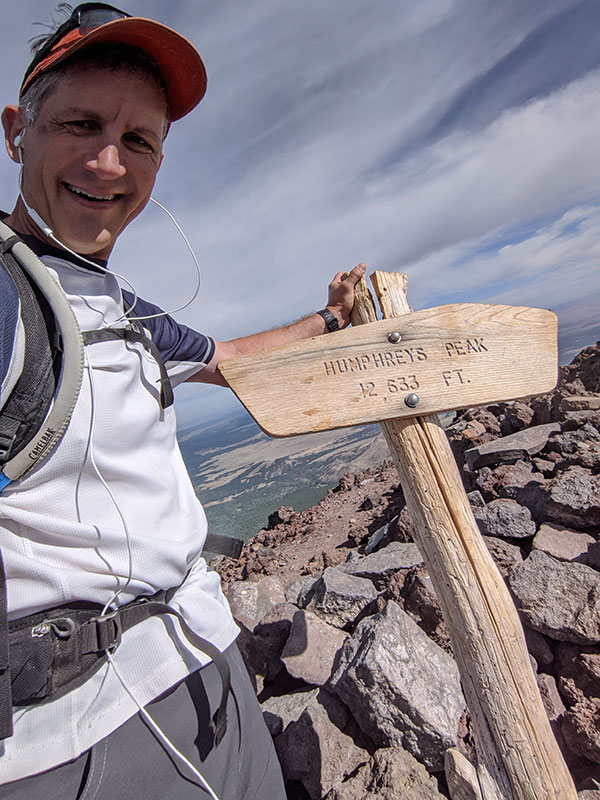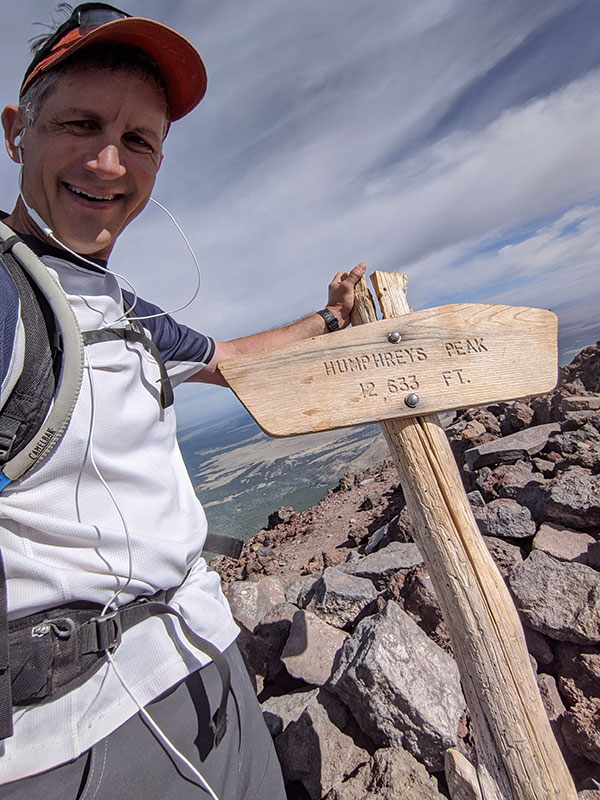 I was at the top in 2 hours 15 minutes.  Not in any hurry, but just kept moving at my own solo pace thinking how eeeeeeasy this highpoint was to start the West off with.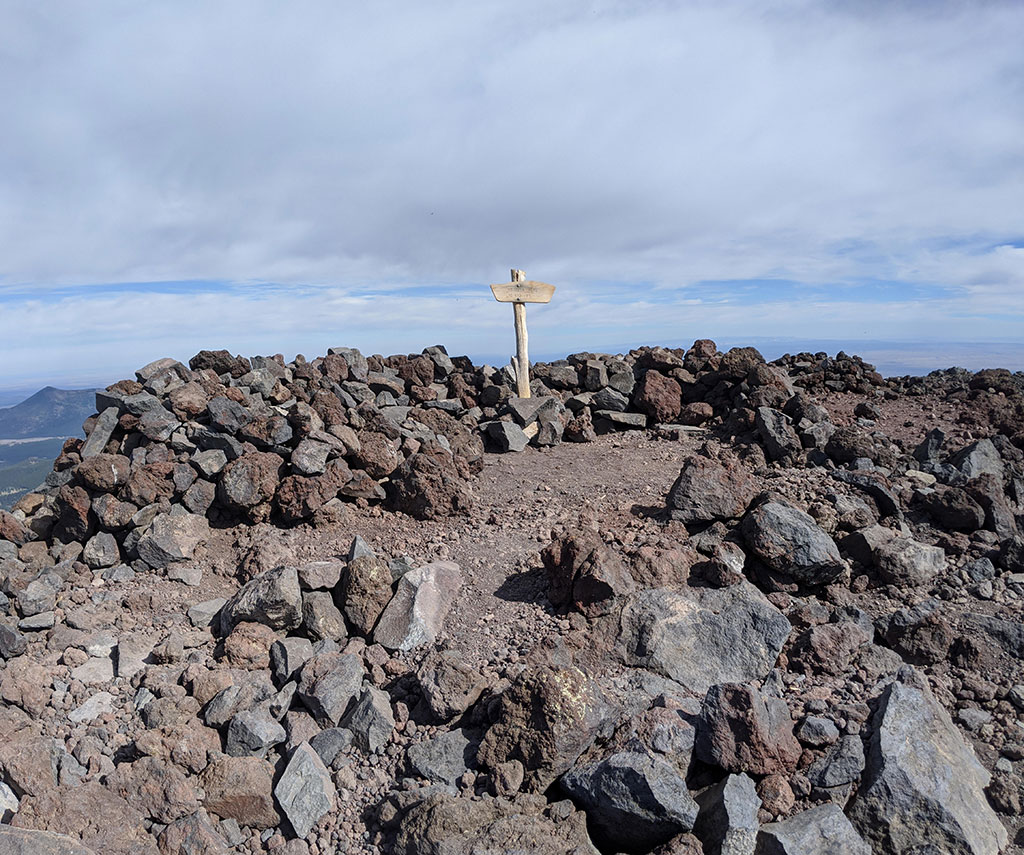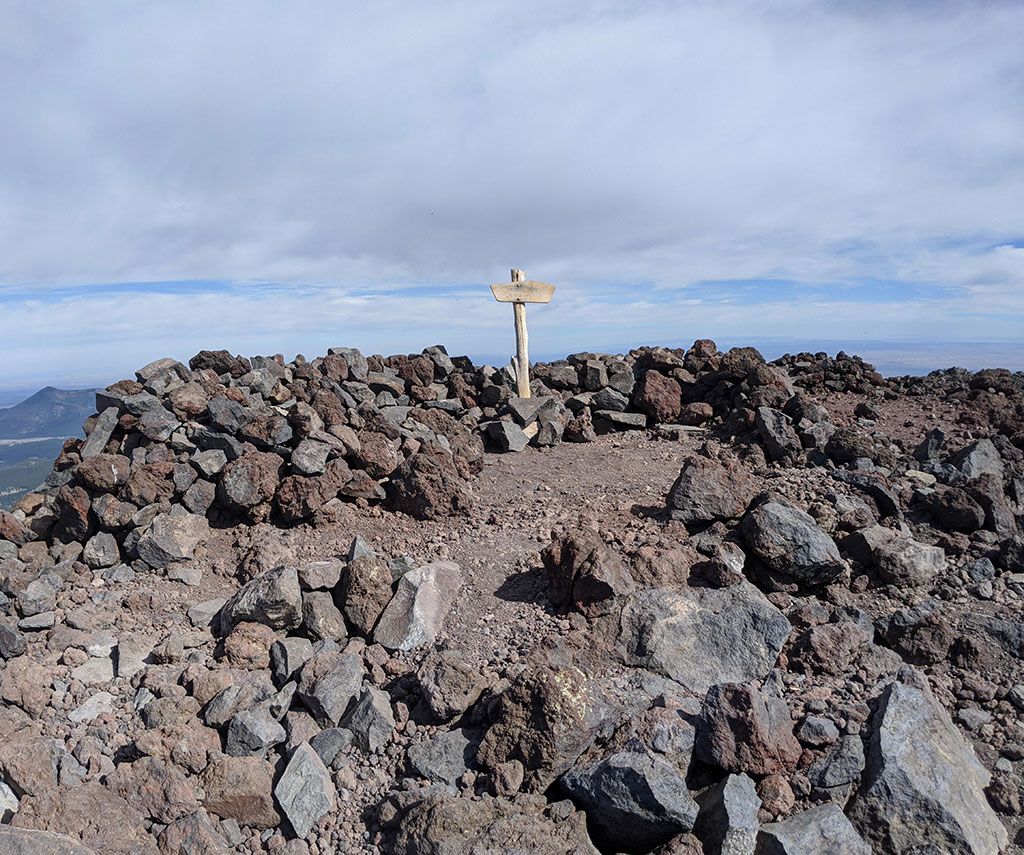 The best part was having the whole peak to myself!  That may have happened as a result of how early I started by Arizona time, or maybe because of how many people I passed on the way up.  Either way, it was like my own private rental.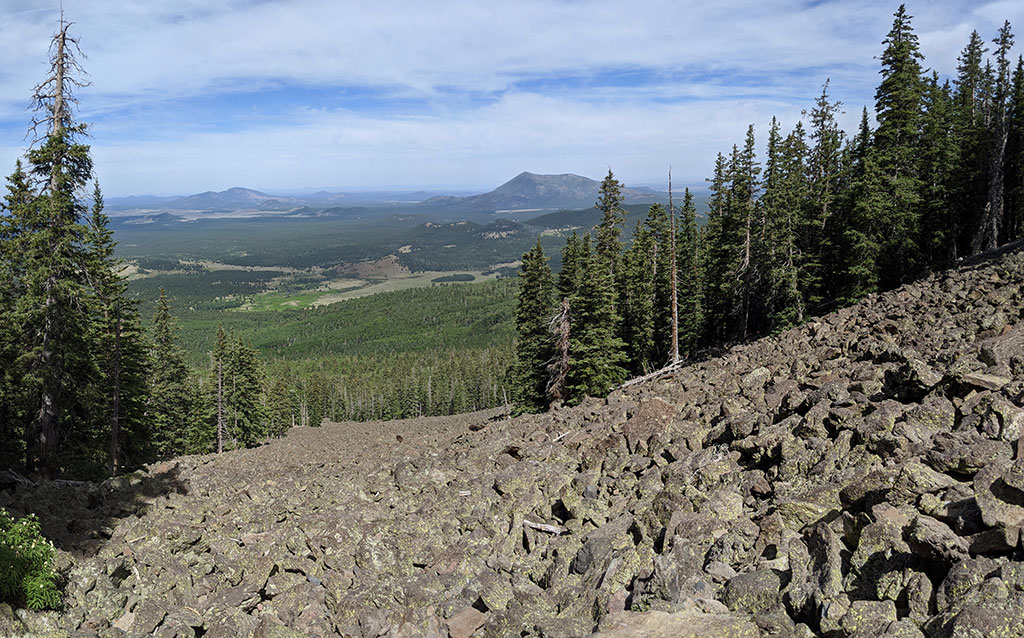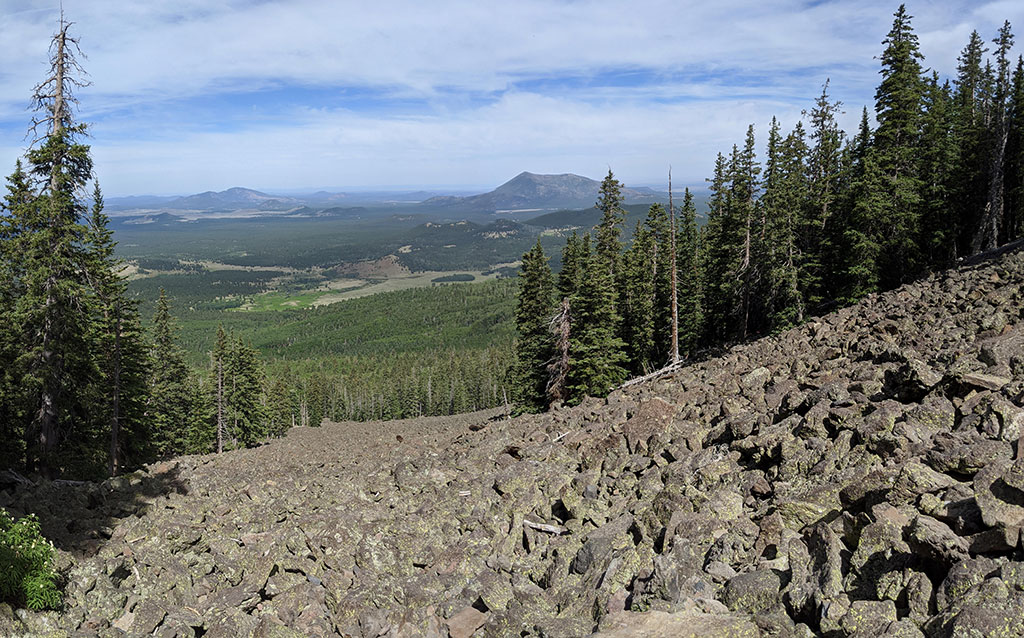 This is a view in the direction of the Grand Canyon.  Maybe you can see it from the top on a clear day.  I know you can see Humphrey's looking back this way from the North Rim.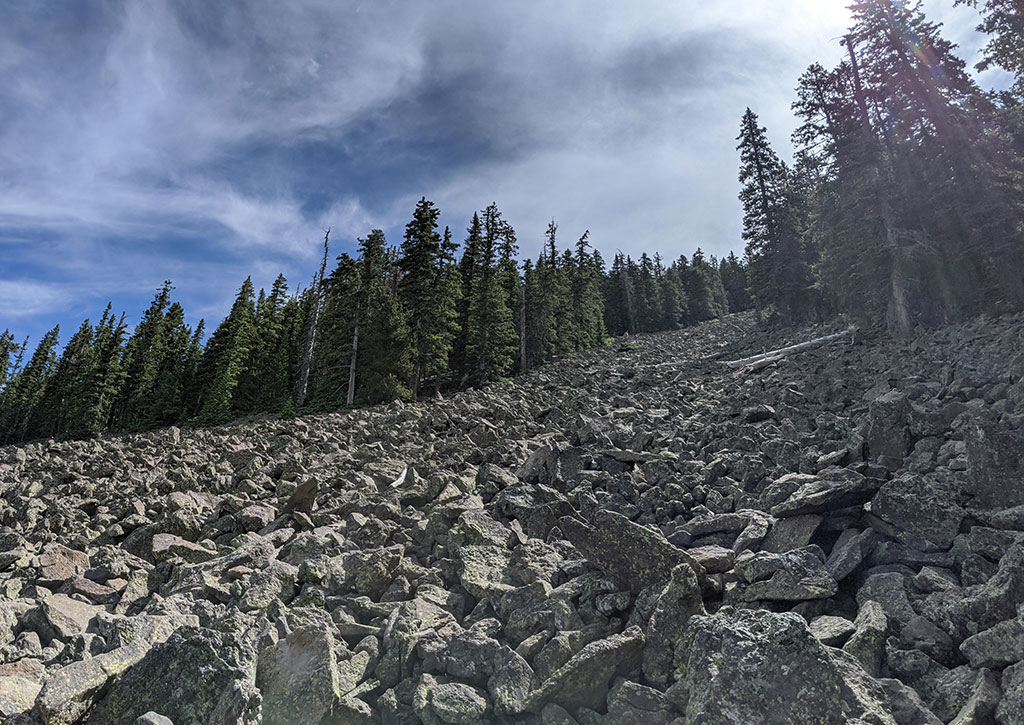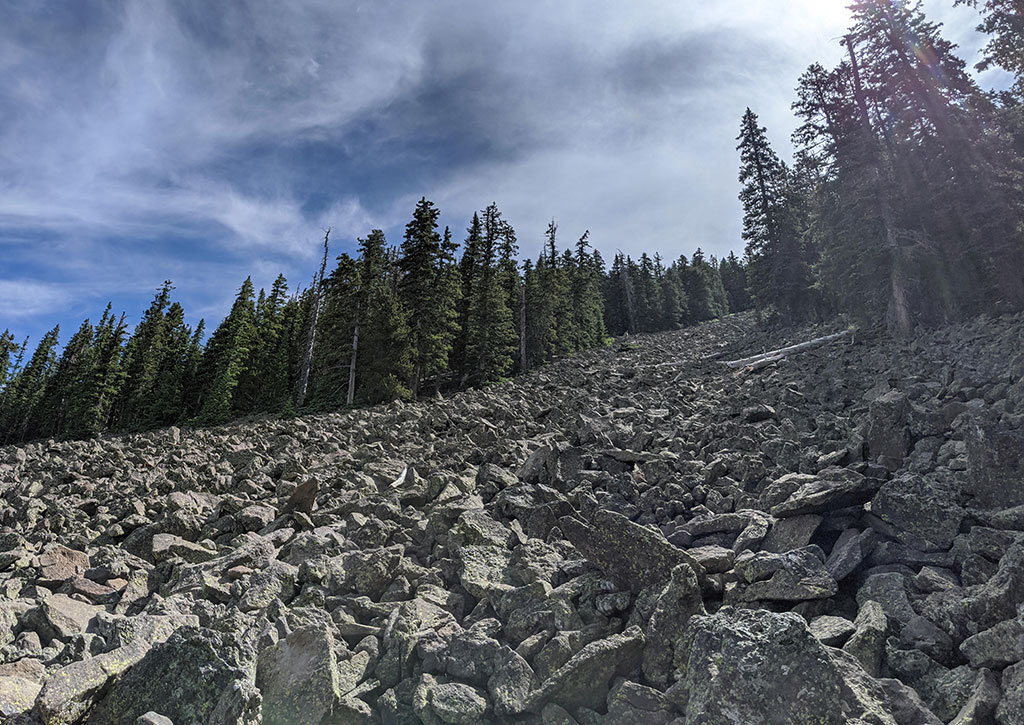 I think it'd be fun to snowshoe up Humphrey's in the winter, although this looks like it'd be a pretty wicked avalanche slide path.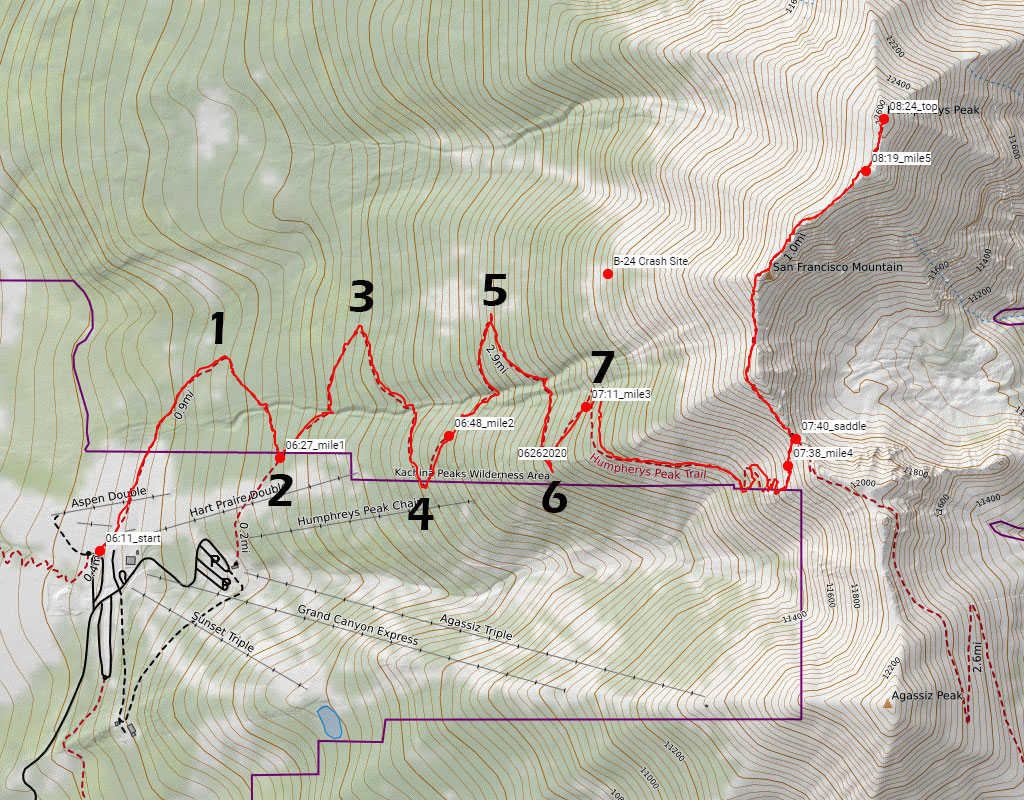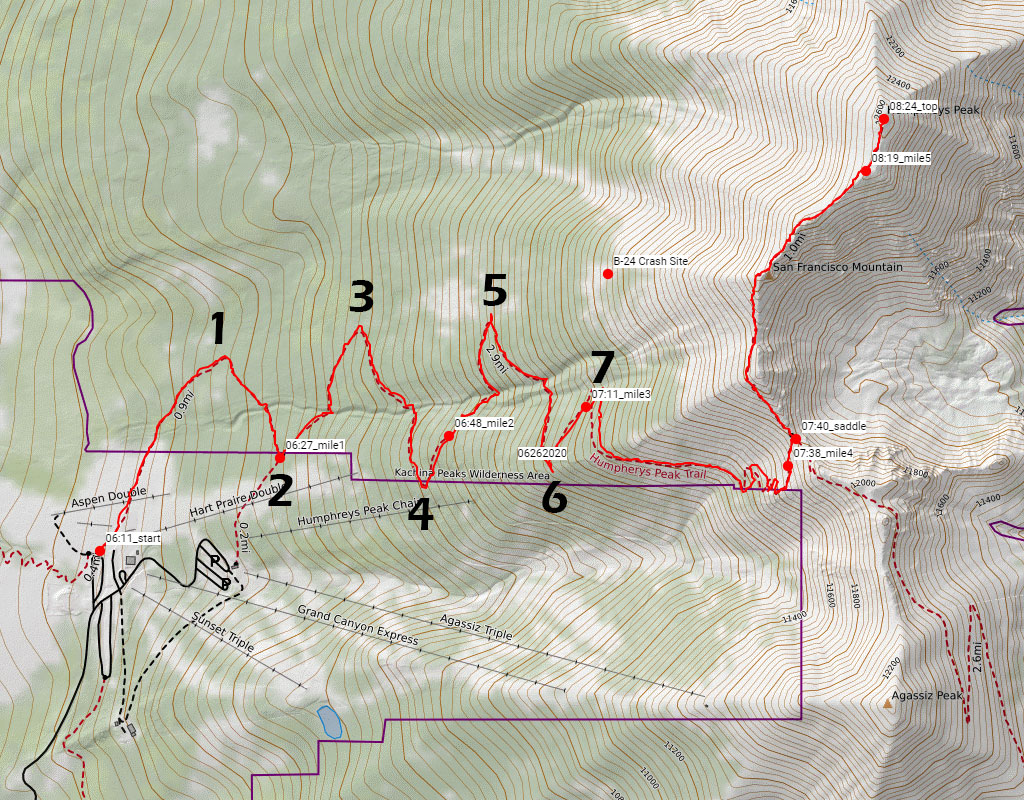 Speaking of slide path, it wasn't until I was coming down that someone asked in passing, "did you see the crash site?".  Of course, I had no idea what they were talking about.  Apparently there was a B-24 that slammed into the side of this mountain back in 1944.  You can research more about that on your own but later learned you get to this crash site off the 7th switchback as shown here (which is same location as the pic taken above of that rocky slope).  Looks like I have a reason now to go back and do this peak again!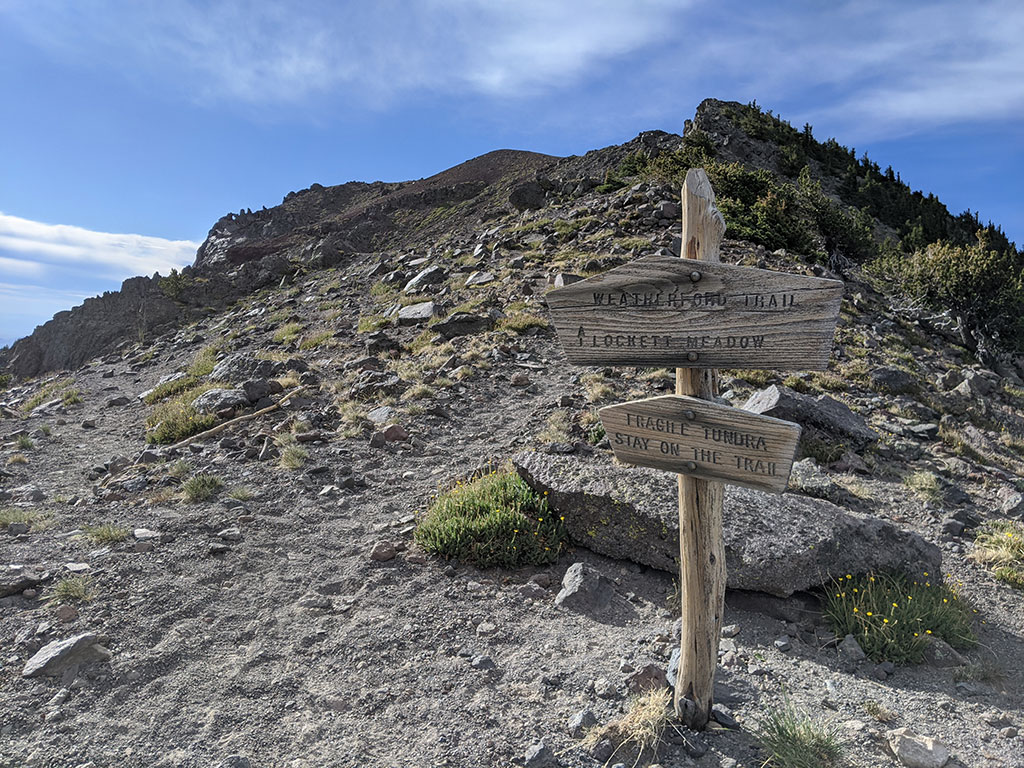 If I were to do this peak again, I think I'd try to make it a little harder by making it a little longer.  I would still go up the standard way to tag the peak, but then come down the Weatherford Trail that splits off at the saddle towards Agassiz Peak and around Fremont Peak…then catch the Kachina Trail to complete a loop back to the trailhead for 14ish extra miles.  Here's a map of this route idea if you're looking to make it a longer hike too.
When it was all said and done, I left the peak around 8:40a and was back to the car just before 10:30 after rolling my ankle 5 minutes from the parking lot.  Those damn roots…I only took my eyes off the trail for a second!
Anyway, I made it back to the hotel for a quick shower and to check out on time.  My wife was ready and waiting to have another round of awesome tacos at Banderas before we hit the road again!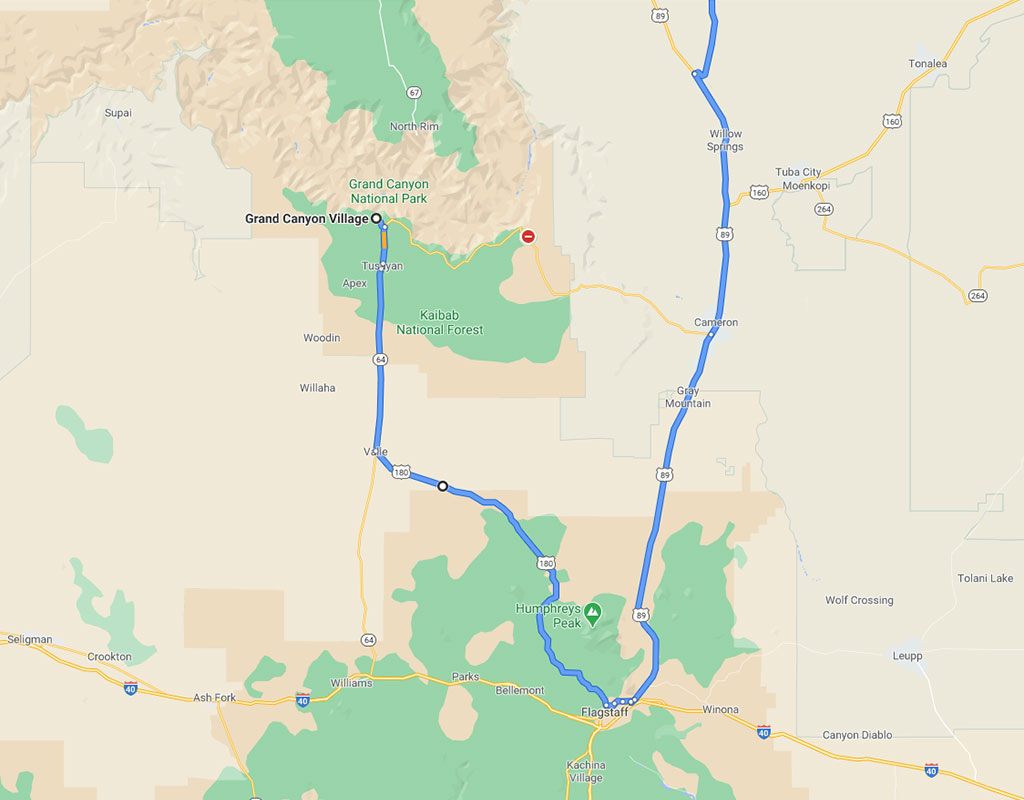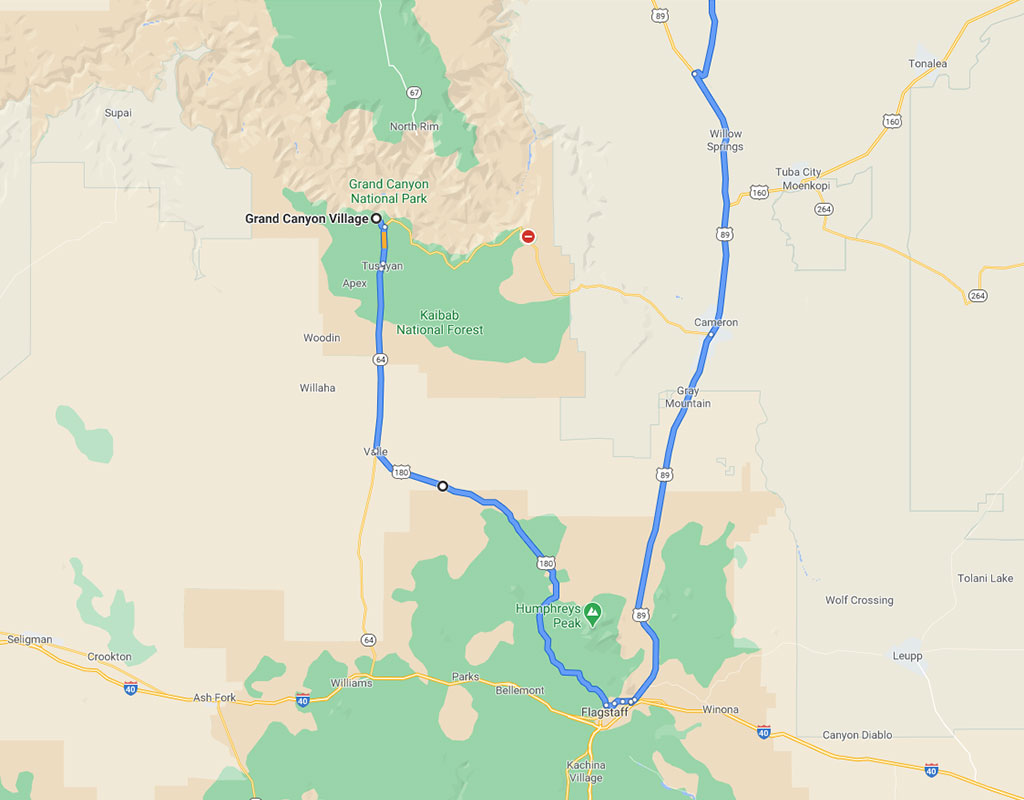 Remember I mentioned scoring a last-minute reservation to spend our 2nd night on the South rim of the Grand Canyon??  Yeah, well… due to COVID, the East entrance was closed!  That meant we'd have to backtrack down through Flagstaff again the next day for a super long drive home.  Ummm, no.  It then became very clear to me why I was still able to book a room so easily just the week before.  I changed the reservation to a room in Kanab and that's where we spent our second night, much closer to home.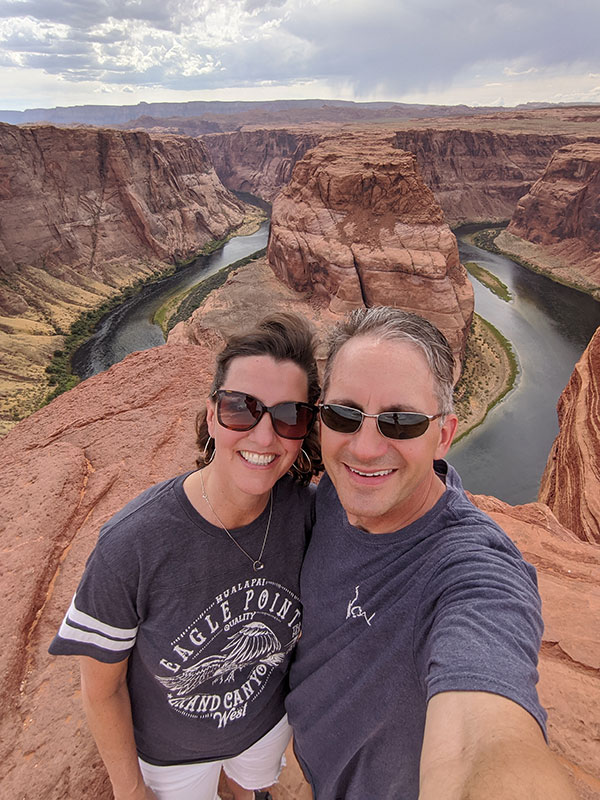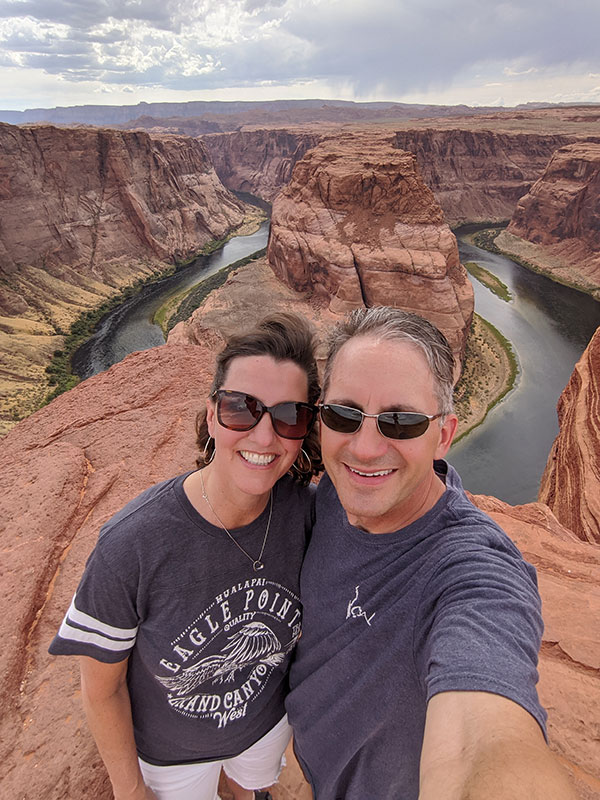 We did stop in Page so that my wife could see Horseshoe Bend.  I had already been here once before, around this same time last year, when my daughter and I took the long way home from Havasupai.  They had made some nice improvements to the trail since then with a few added shade stations along the new route to the canyon's edge.
I also wanted to make a quick stop to see the Toadstools but my ankle swelled up pretty good from the walk at Horseshoe, the weather had turned cold and we just wanted to get to Kanab for dinner.  I was also excited to finally take my wife to Sego, something that's been on my list to do with her since I first saw it on my way home from Buckskin Gulch in 2016.
Dinner was amazing if you're info food like we are… and I didn't take pics, but should've.  As I said earlier, hiking Humphrey's was a very small part of this overall adventure.  Eating at Sego merits a post all of it's own on a some food blog (hint, hint, dear!).
DAY 3 – Forscher Bakery, Cedar Breaks, Home
My wife's a chef and so food is an important part of our lives.  When I remembered we'd be passing through Orderville again, I knew where I wanted to try a breakfast pastry… Forscher Bakery!  I don't recall when I first saw this place on the way to somewhere, but every time I passed by I'd think of who would appreciate a stop here more than anyone else I would ever travel with.  As luck would have it, THEY WERE CLOSED FOR COVID!  Let's hope this pandemic doesn't kill them too.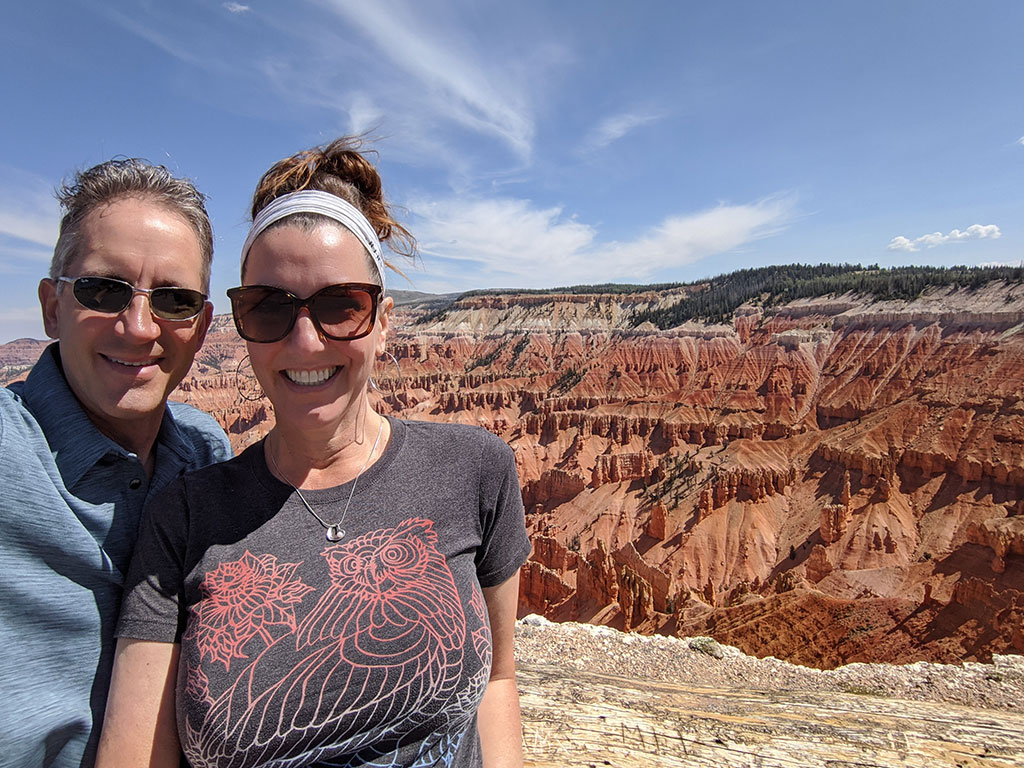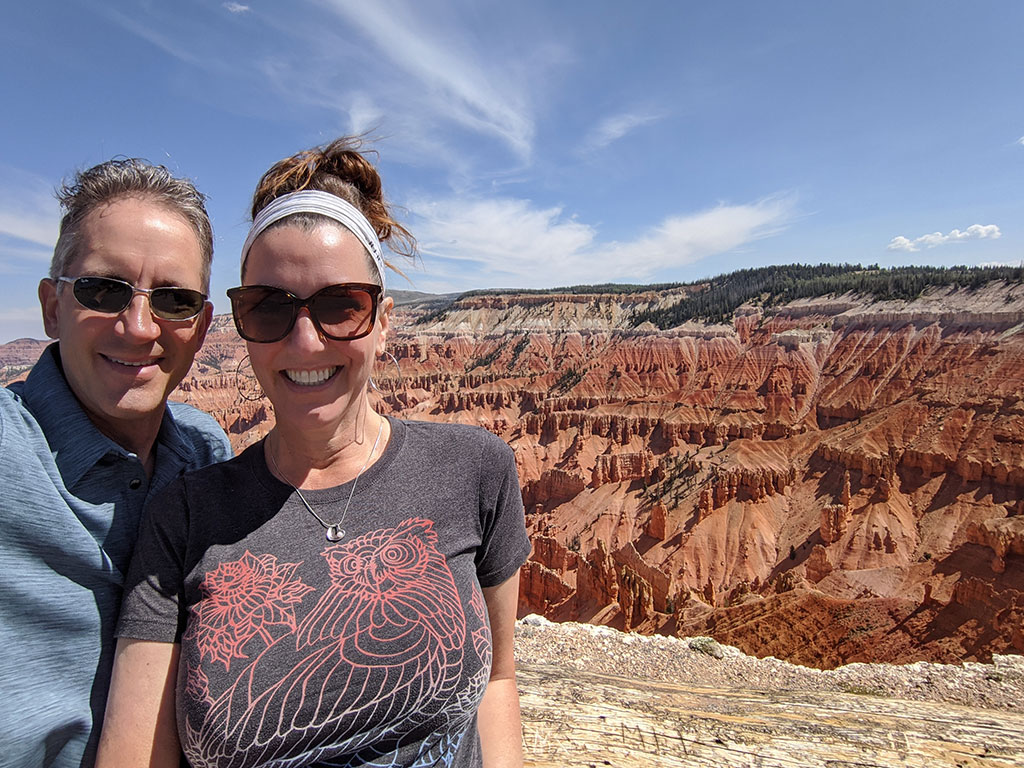 The last stop before catching I-15 and buzzing home was a detour over Highway 14 to show her Cedar Breaks.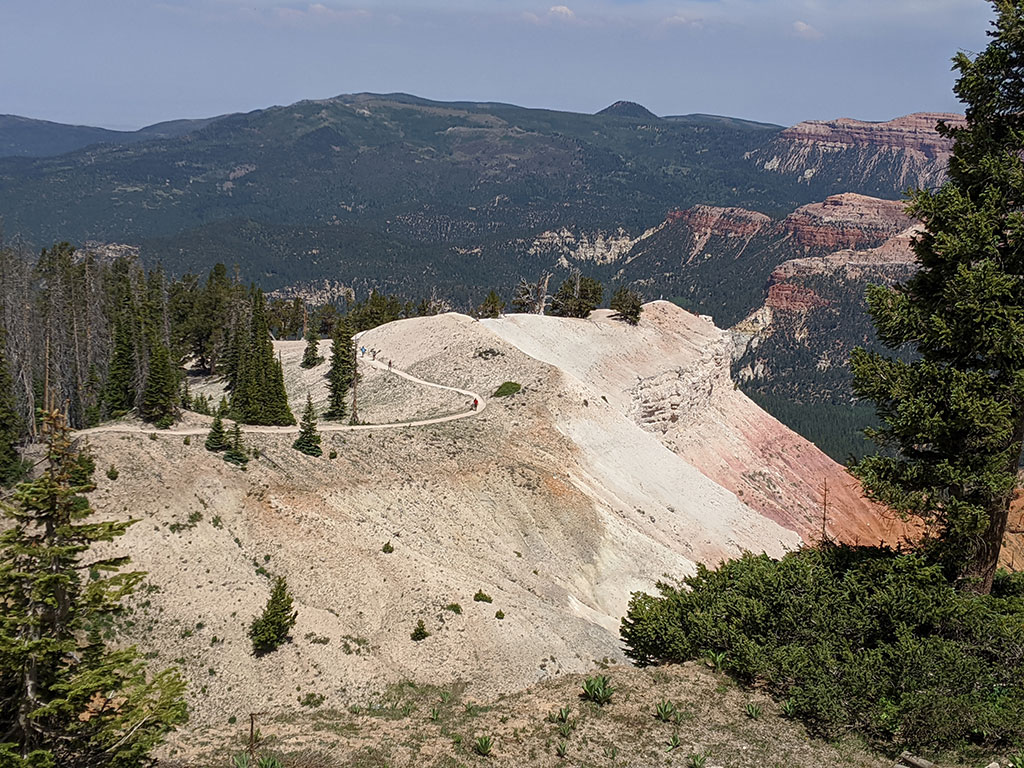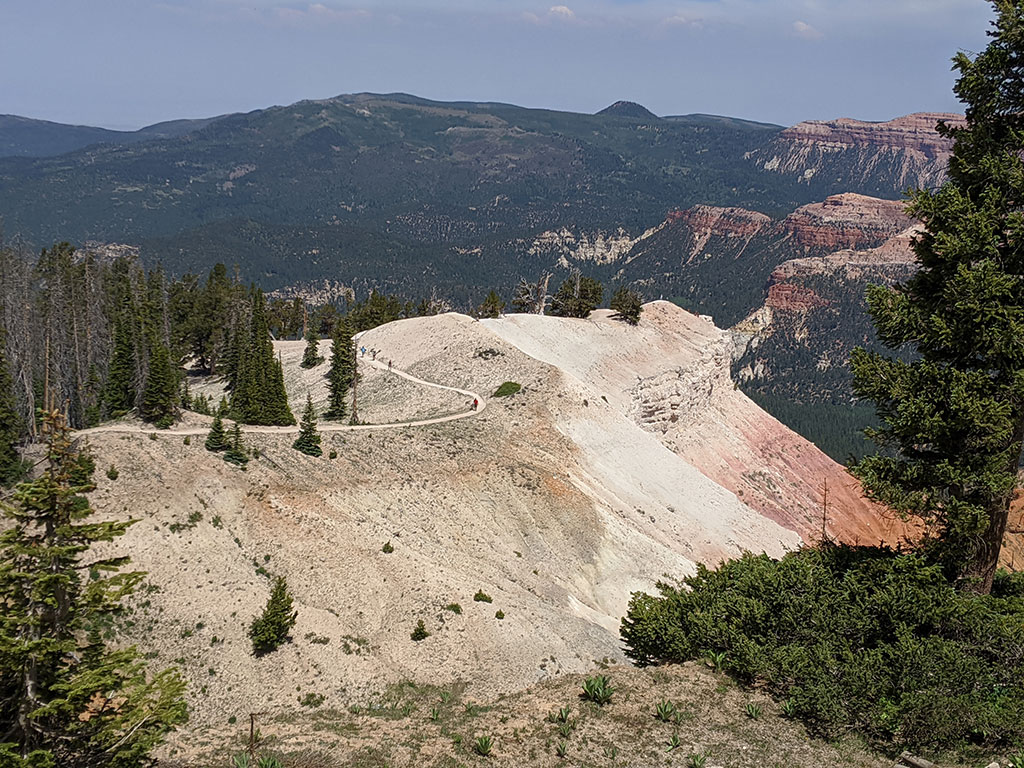 I wanted to hike out to the Rampart Overlook, but only made it to Spectra Point before my ankle had enough.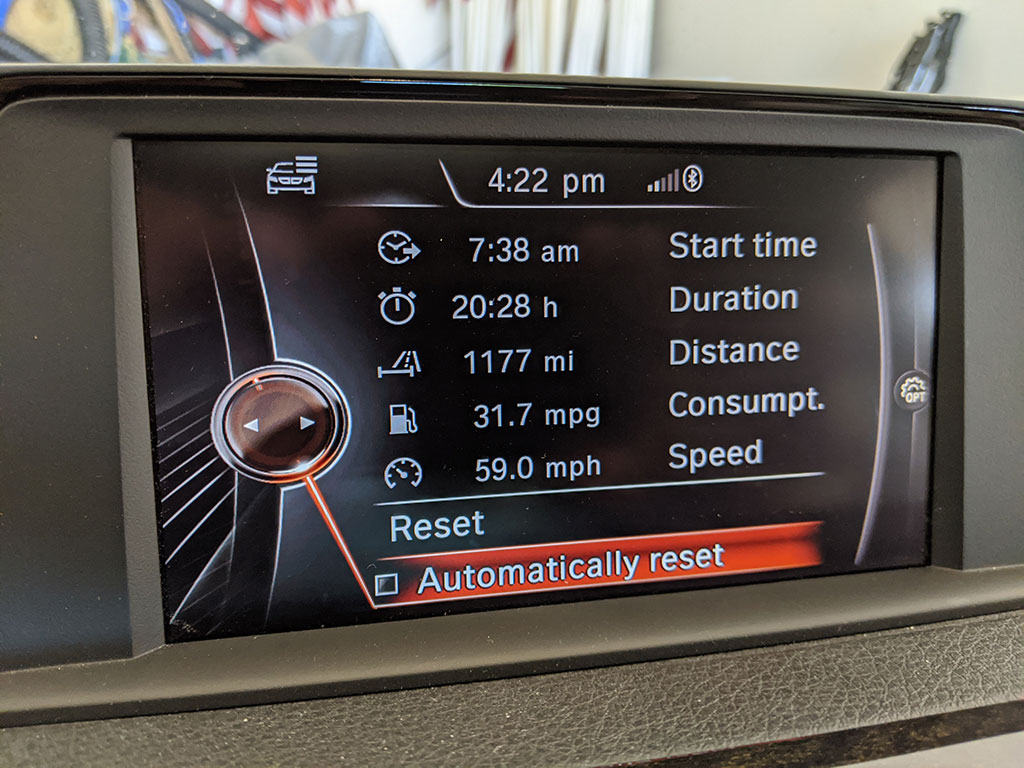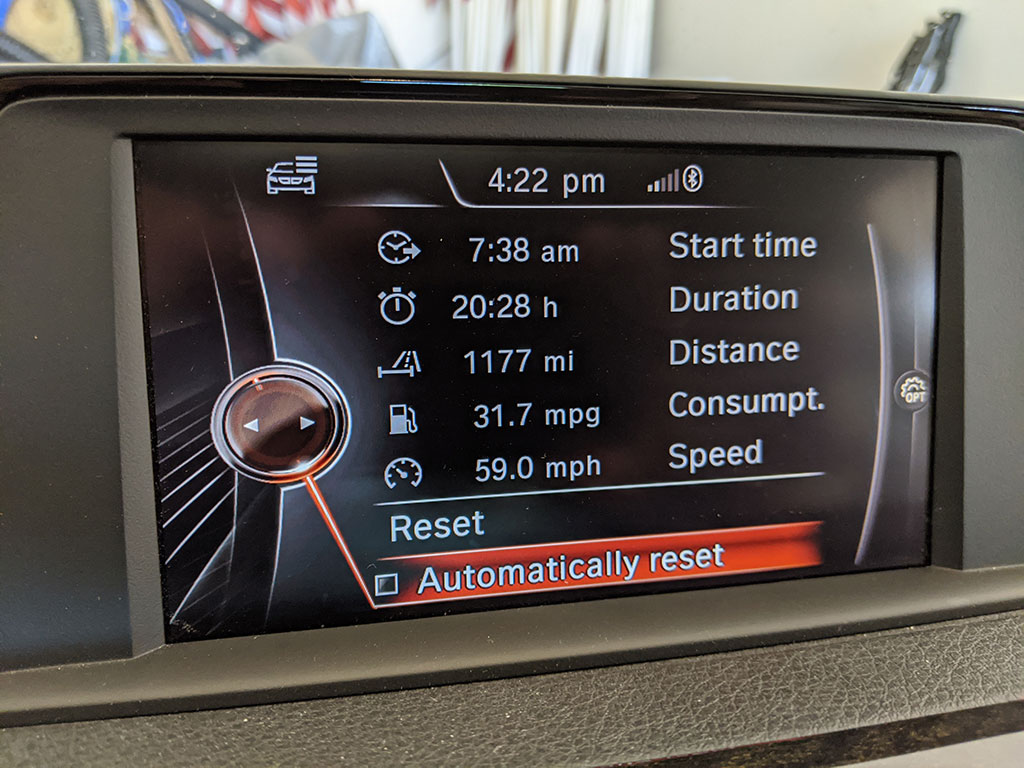 When we arrived back home, our trip stats showed 1100 miles of driving over 20 hours and a lot of great memories logged from this adventure… Let the good times roll!