I tagged Wheeeeeeeler, New Mexico's tallest peak! …and the second of my Summer Series of State Highpoints for 2021
Did a big loop for a total of 13 miles and 4,034′ of elevation.  So stoked!!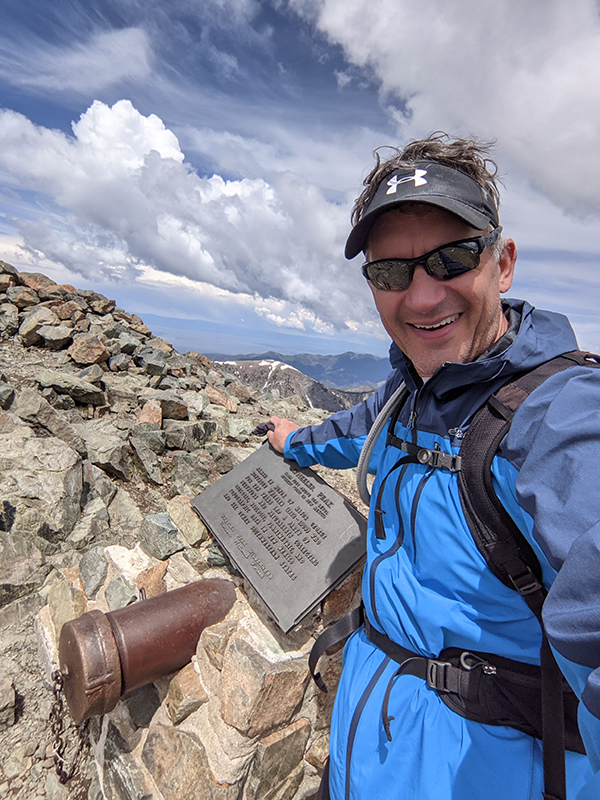 I wanted to see as much of this mountain as possible.  So instead of choosing between Bull of the Woods or Williams Lake, I decided to do both by making this a loop.  The trailhead for Bull of the Woods is near the Coyote Parking area of Taos Ski Valley.  Cut through the Twining Campground to find this sign at 9,500′.  The top is about 7 miles from here on Wheeler Peak Trail #90.  I started this hike at 7:35 am.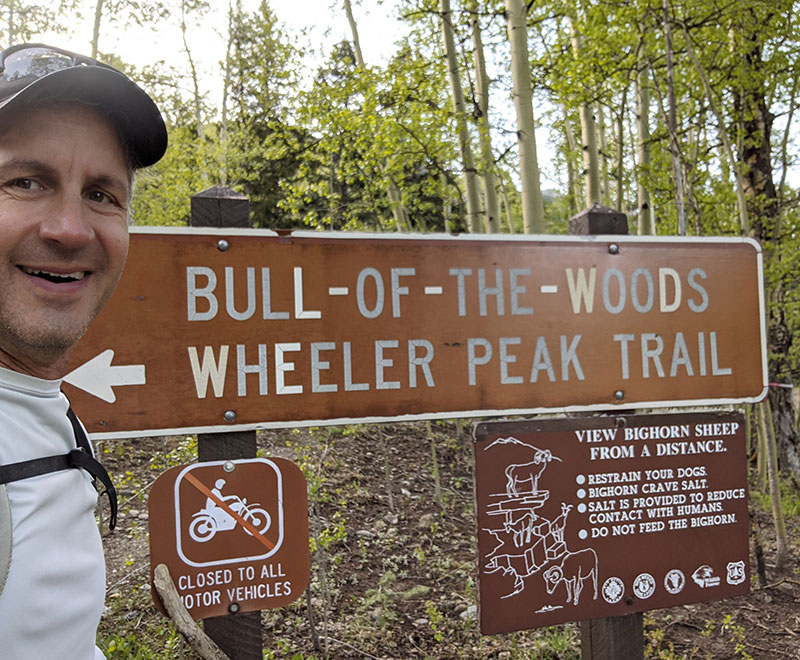 There were a few good patches of snow through the trees. But for the most part, it was clear and dry.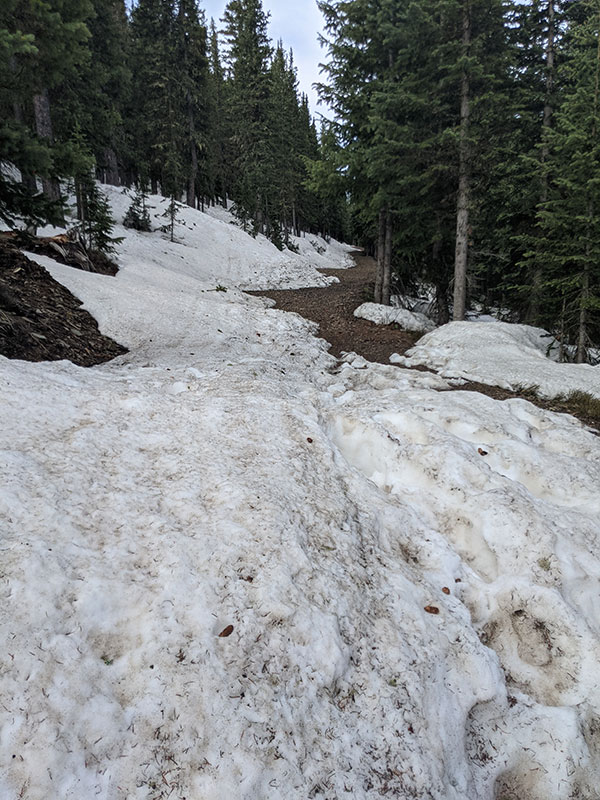 I stopped for a quick minute to peak at the Bull of the Woods Meadow at 10,800′ and 2 miles in.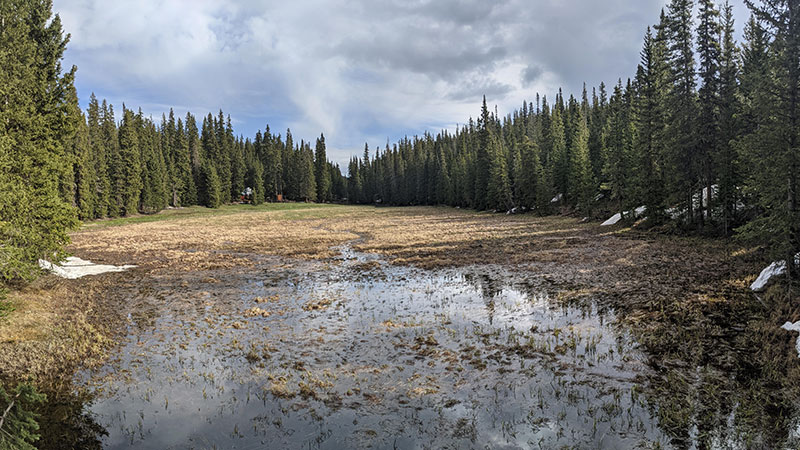 Another mile up and the trees begin to thin.  Elevation at the 3-mile mark is 11,300′, near the split for Bull of the Woods Mountain.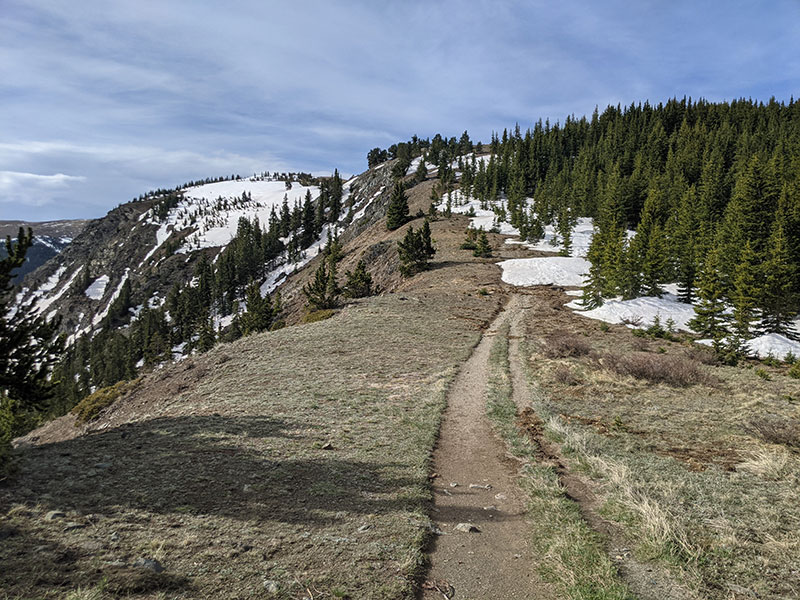 As I worked my way above the treeline, there were only two places I had to go off-trail to avoid trudging through deep snow.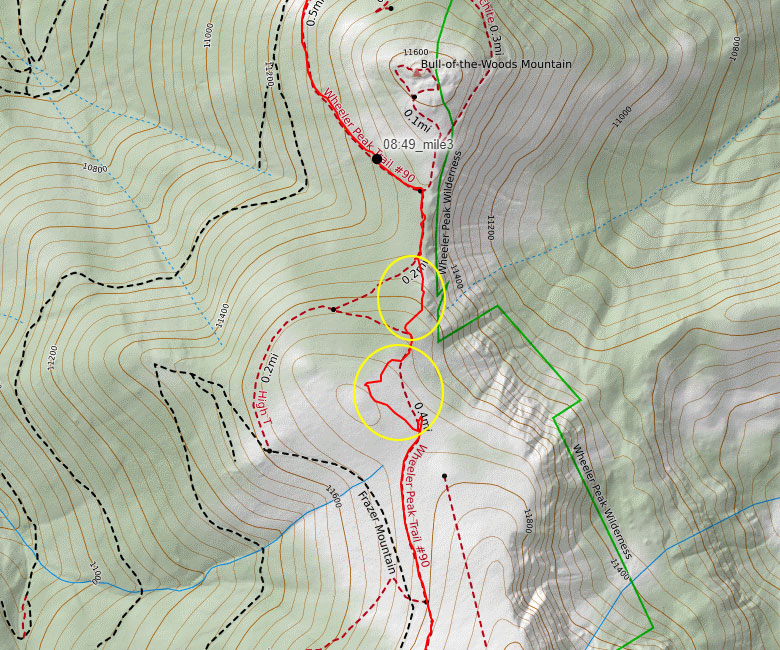 Standing atop Frazer Mountain allowed me to assess the route between me and where I needed to be.  Doesn't look too bad if I play those snow fields right.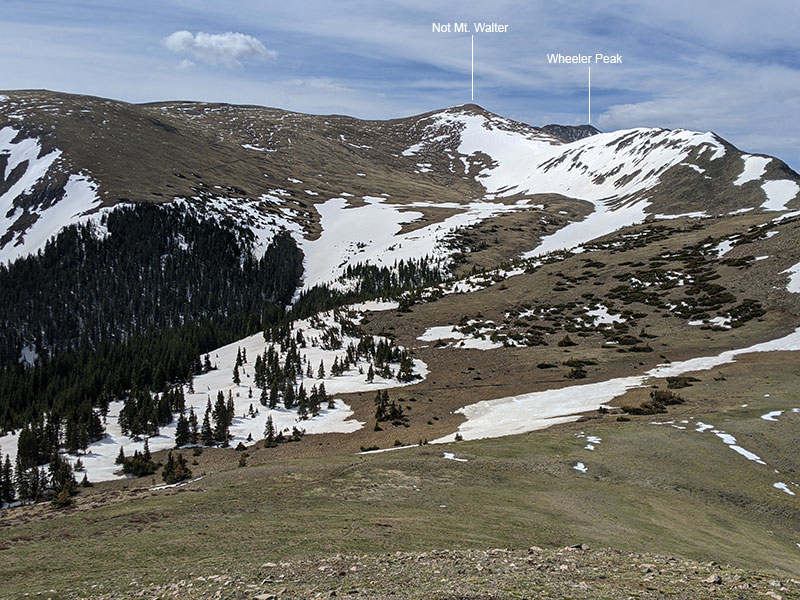 A family of Bighorn sheep watched from a distance, wondering why they hadn't seen anyone else up here today.  I wondered the same.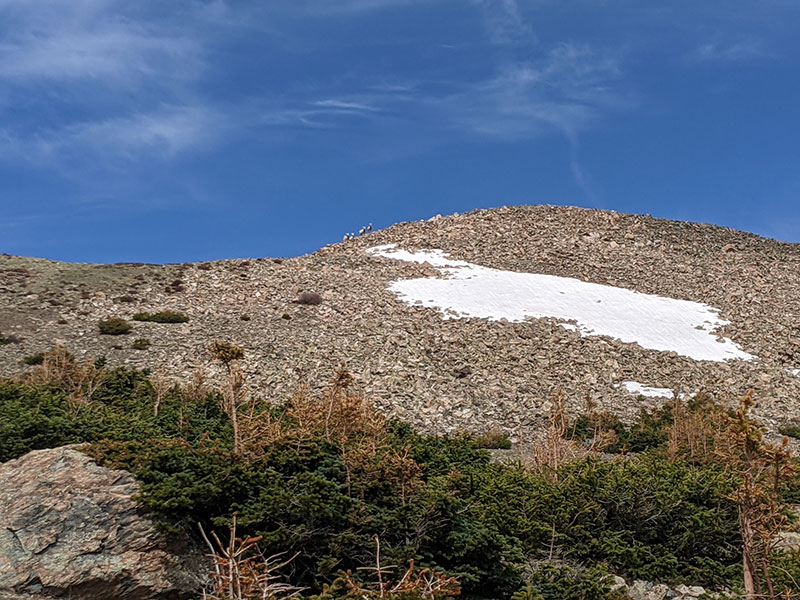 Not far after Frazer, I went off trail one more time to skip searching for the official trail buried by snow.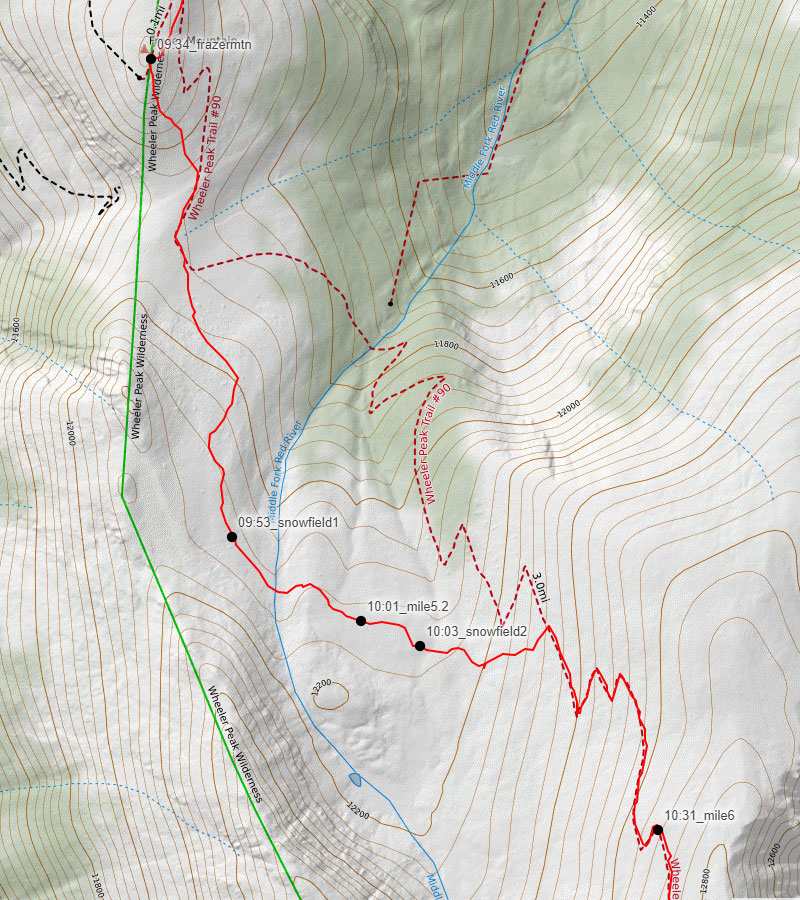 I could see the trail across the way and decided to pick my way over these two snow fields to get there.  This also allowed me to stay high as I crossed the La Cal Basin, 5ish miles up and 2 and 1/2 hours in.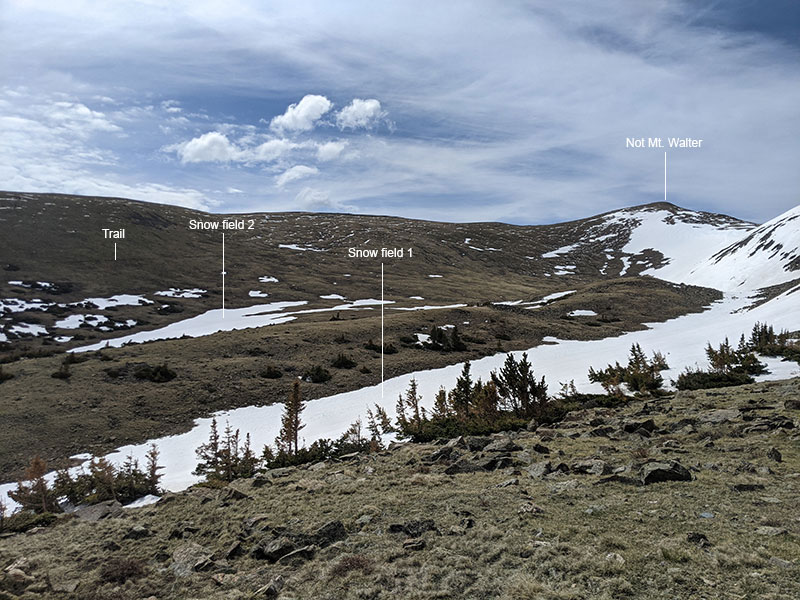 Back on the trail as I approach the 6-mile mark and a false summit before the ridgeline to Mt. Walter. Elevation here is 12,600′.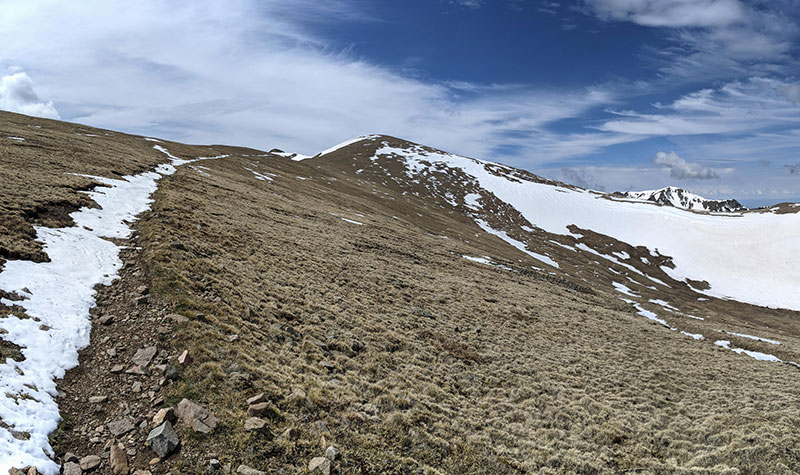 Standing on a summit that wasn't Mt. Walter, the ridgeline to Walter looks fun!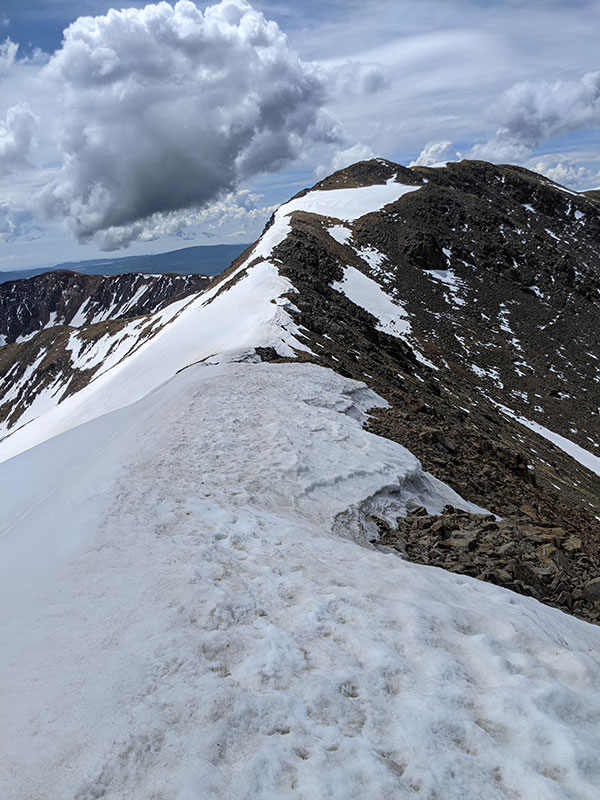 Wheeler Peak comes into view from Mt. Walter at 13,141′.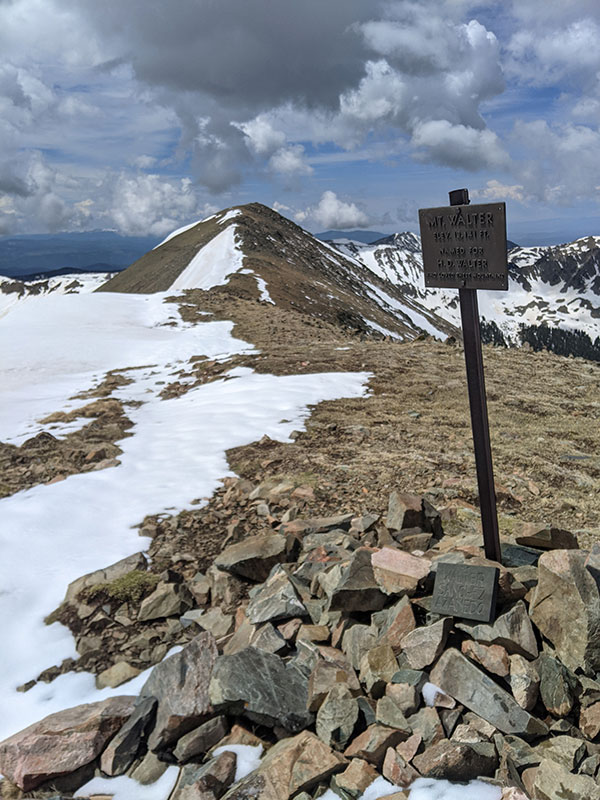 Tagged it at 11:26 a.m..  What a great route!  7.2 miles in 3 hours 50 minutes.  I was so happy with my decision to come up this way.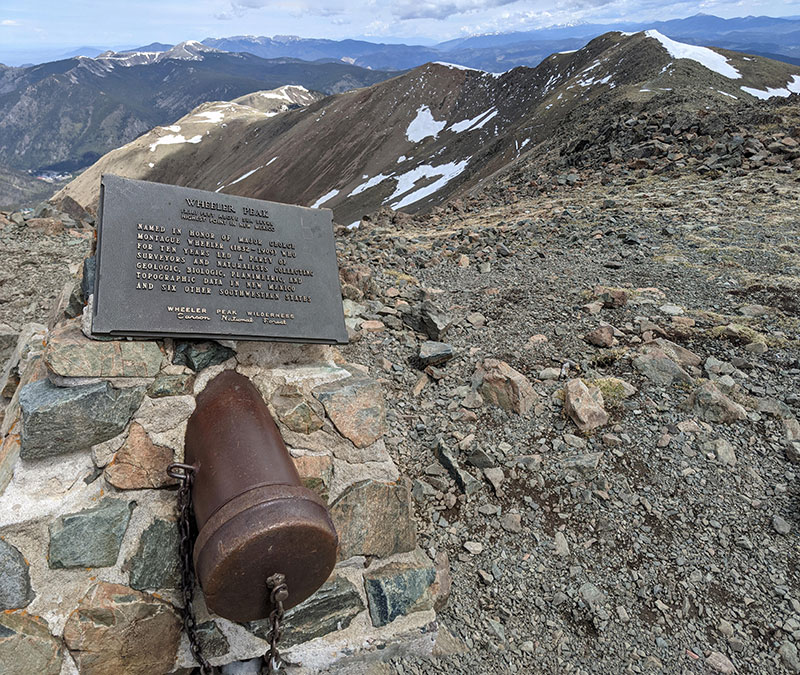 The view from the top was awesome!  That's Taos Ski Valley directly to the west with Williams Lake below.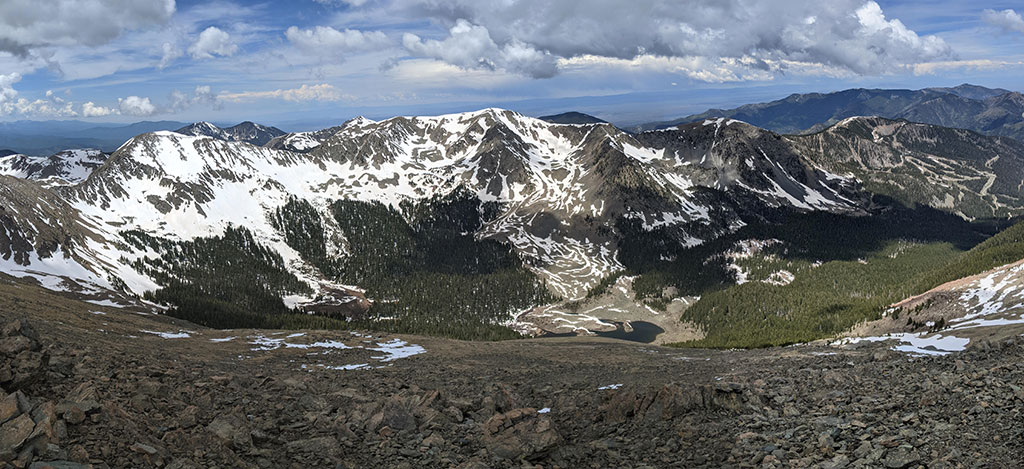 Views of Simpson Peak to the south are equally impressive.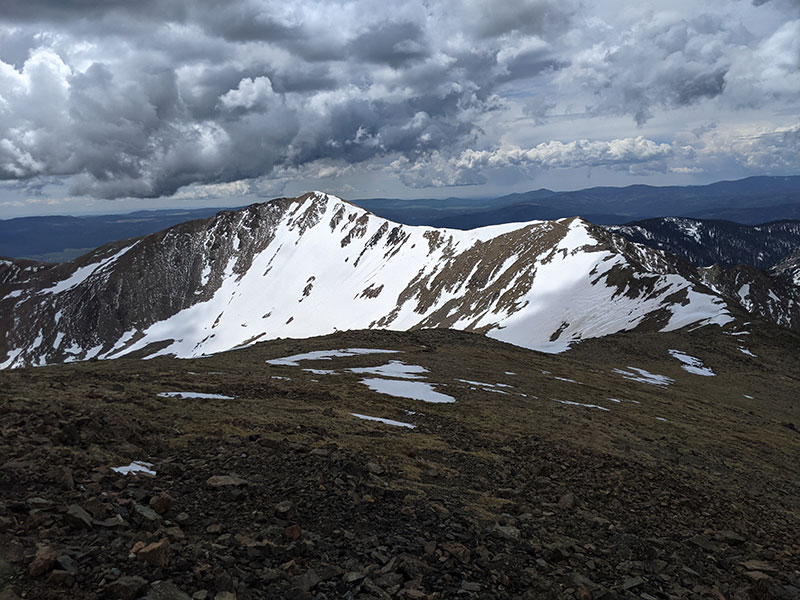 When it was time to go, I continued my loop down on Wheeler Peak Summit Trail #67 to Williams Lake.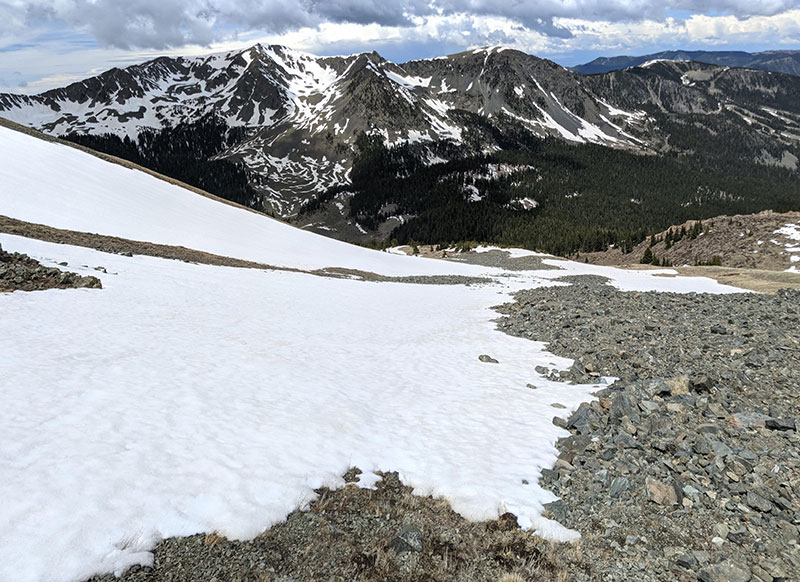 The snow on this slope did make my descent a tad bit quicker.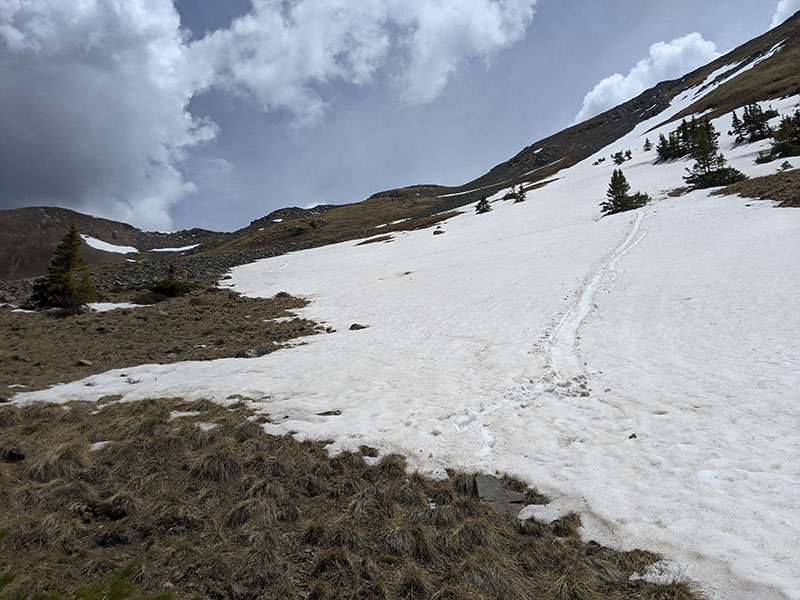 I slid a good part of the way down.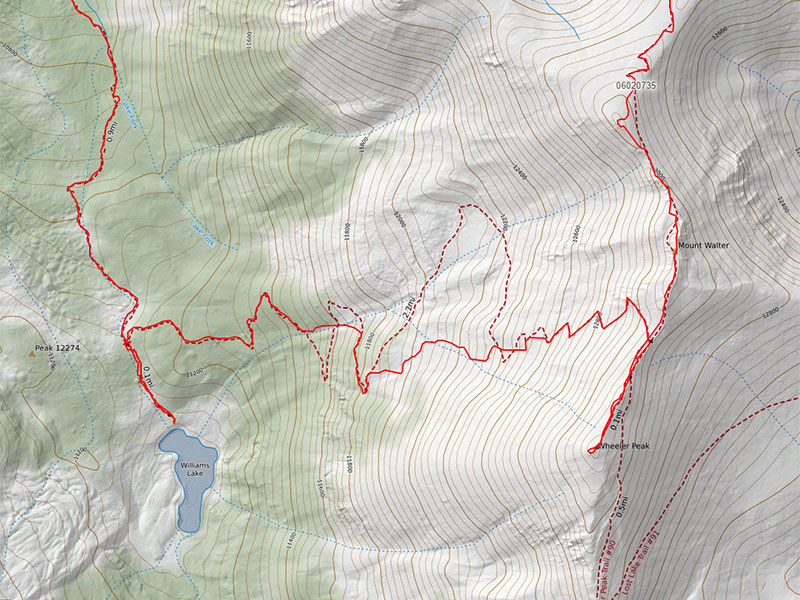 The trail faded in and out of soft snow patches above treeline…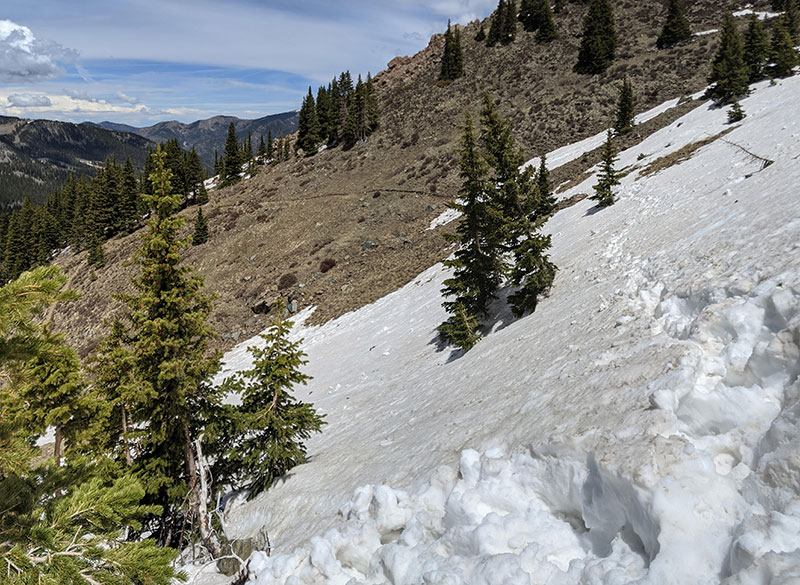 …and then found it completely covered by slushy snow below treeline.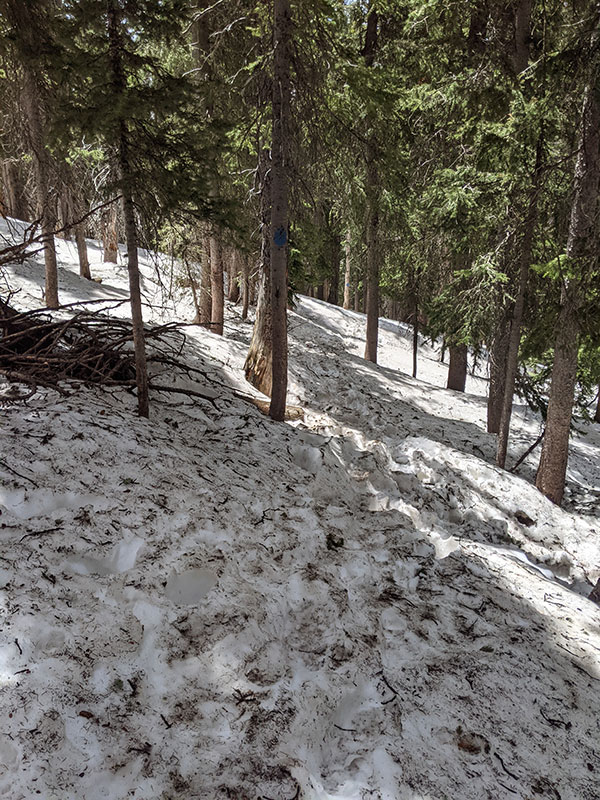 It was like that the whole way down to Williams Lake. My feet were soaked after this.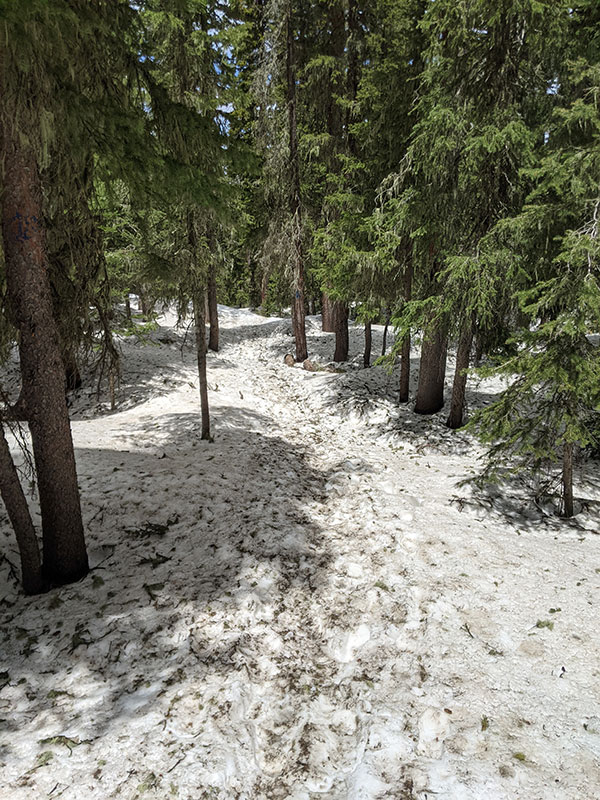 At the intersection of Williams Lake Trail #62, I hung a left to have a looksee.  The GPS reporting 9 miles.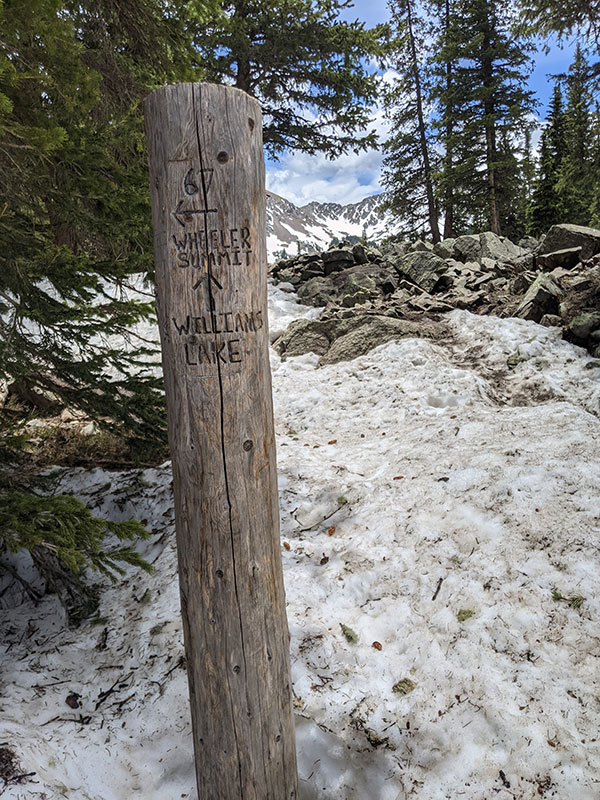 Such a beautiful place at an elevation of 11,040′.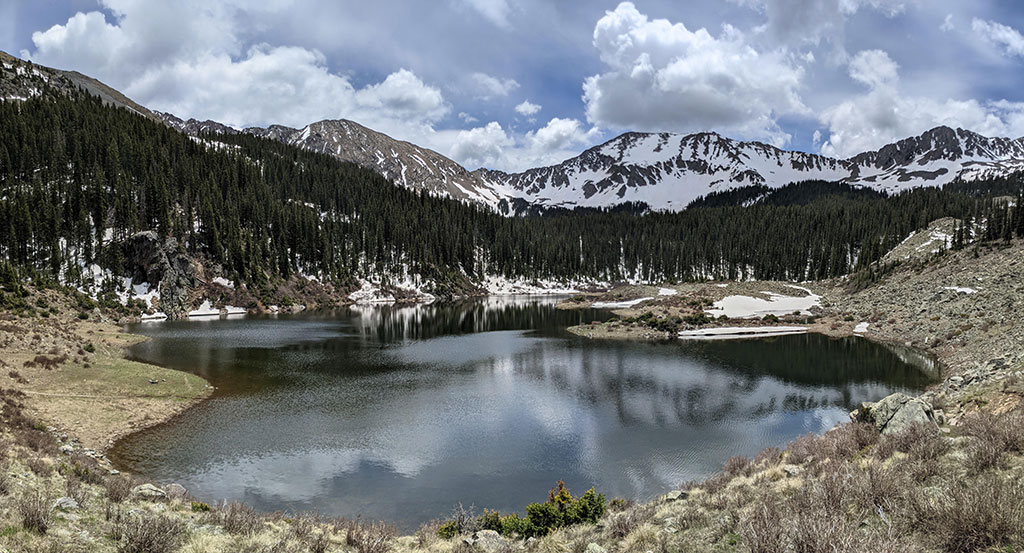 2 miles down from Williams Lake and you find yourself in the Taos Ski Valley at chair #4.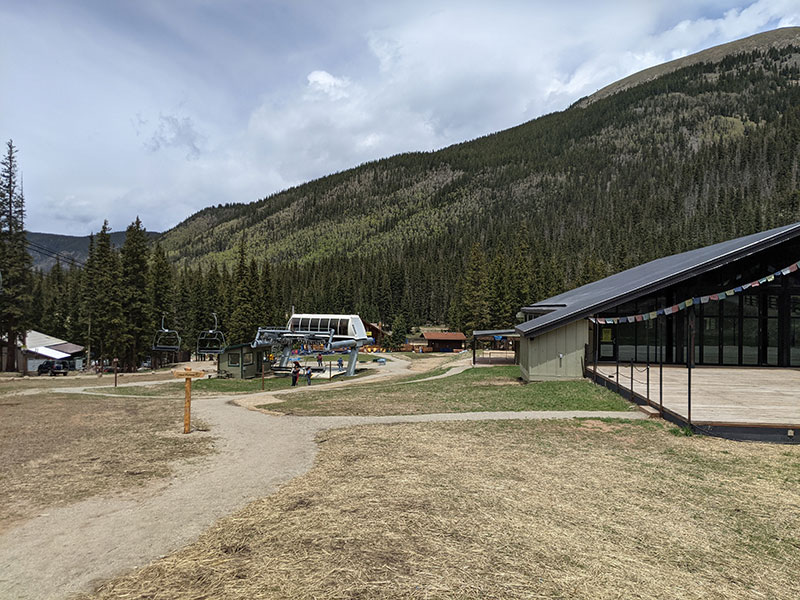 Hiker parking can be found a short distance up from the ski runs.  I hit 11 miles at this point.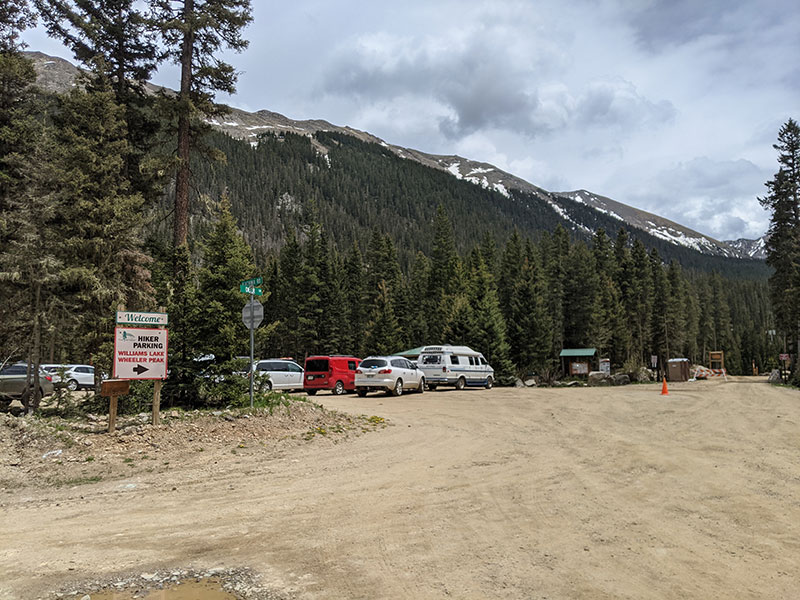 The only downside to this loop is walking the last 2 miles on Twining Road back to the lower parking area.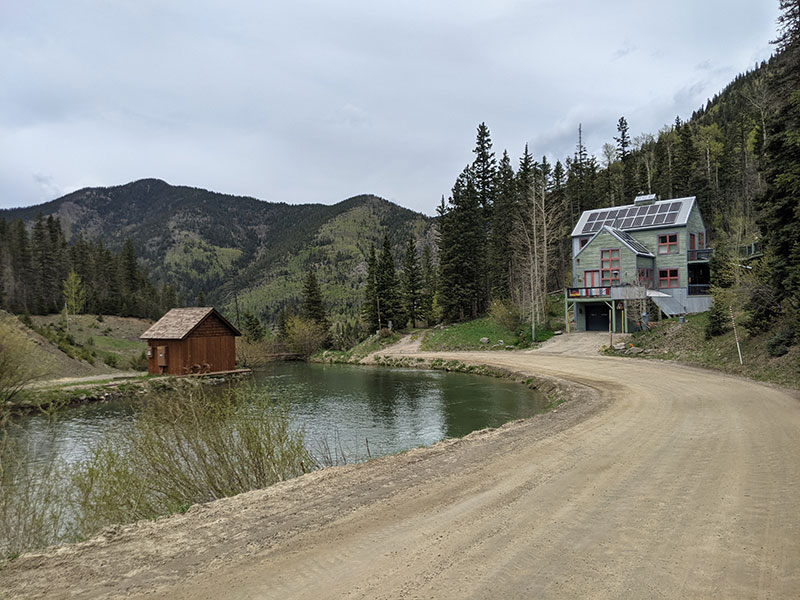 However, there are some pretty interesting homes along this road!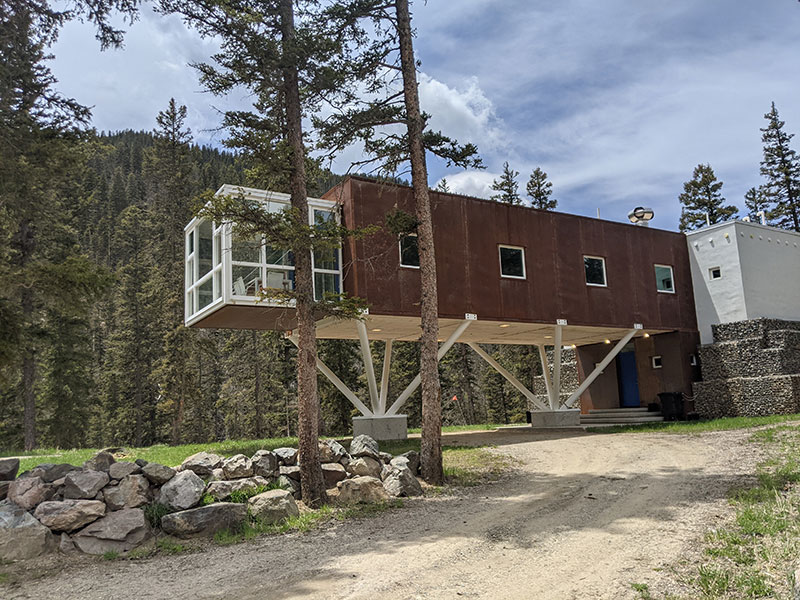 After seeing the previous house above, I wonder how high the snow comes up on this one.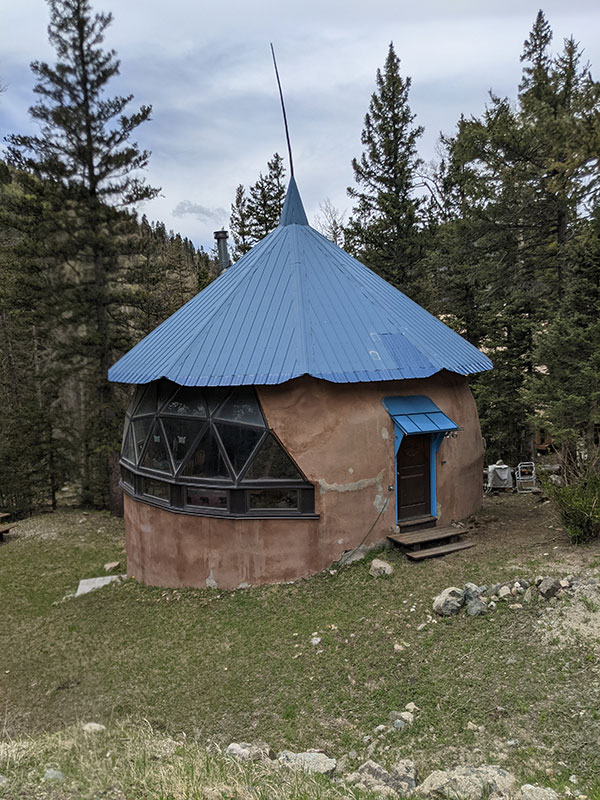 Final stats for the day: 13 miles in 6 and 1/2 hours with 4,034′ of elevation.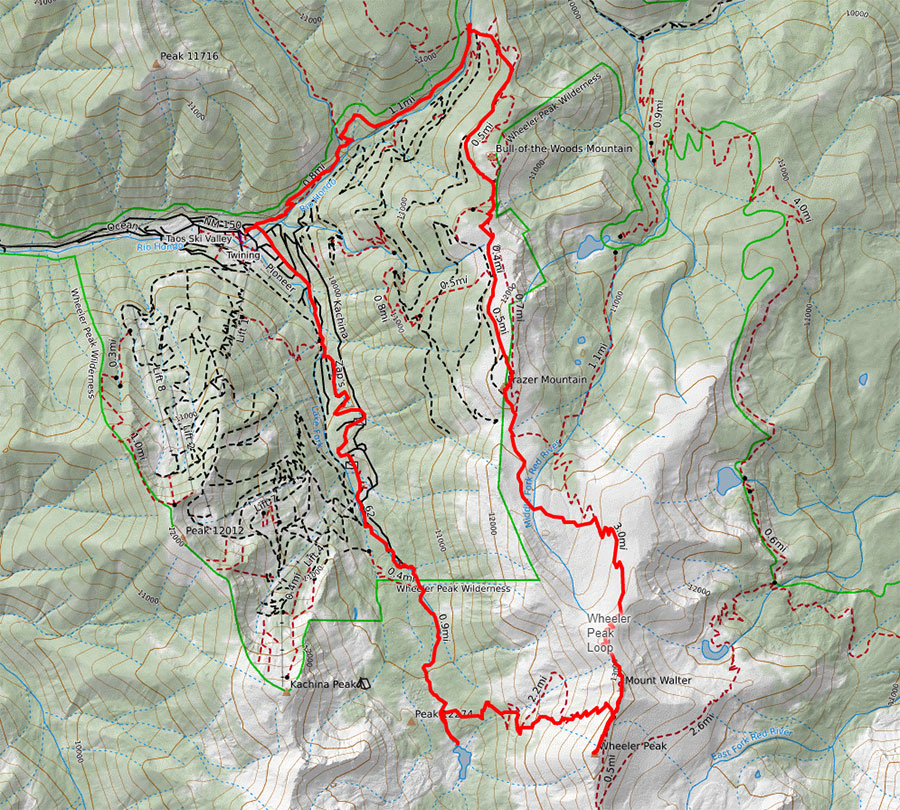 I was back at the hotel by 3pm to check in with work and to get ready for a nice dinner out with my wife.
Next up: Colorado's highpoint