After getting denied in Kansas, I found success on Oklahoma's Black Mesa, the official first of my 2021 Summer Series of State Highpoints.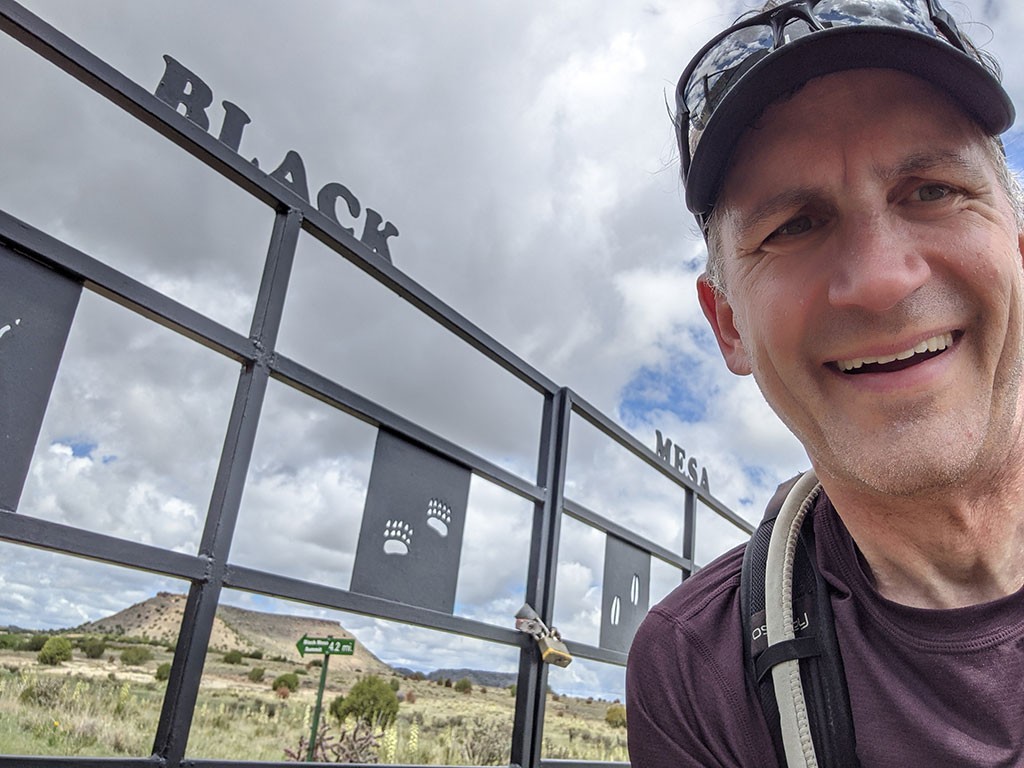 This hike is not hard, but getting to it could be.  More on that later.  The weather had finally cleared up after a several days of record rain.  In fact, the attendant at the gas station in Boise City told us their parking lot was full of Storm Chasers over the weekend.  Apparently a tornado whipped through this area knocking out power, causing people to take cover in storm shelters.  I'm glad we weren't here for that.  Although, it would have made for another interesting experience to compliment Kansas.
After breakfast and a short drive from the Black Mesa Bed & Breakfast, I arrived at the trailhead just after 8:30am to an empty parking lot.  Either the storm scared people away, or I got lucky following a long holiday weekend.

The trail had recently been under construction to make it wider for rescue vehicle to have better access.  For some reason, this state's highpoint is notorious for unprepared hikers needing help.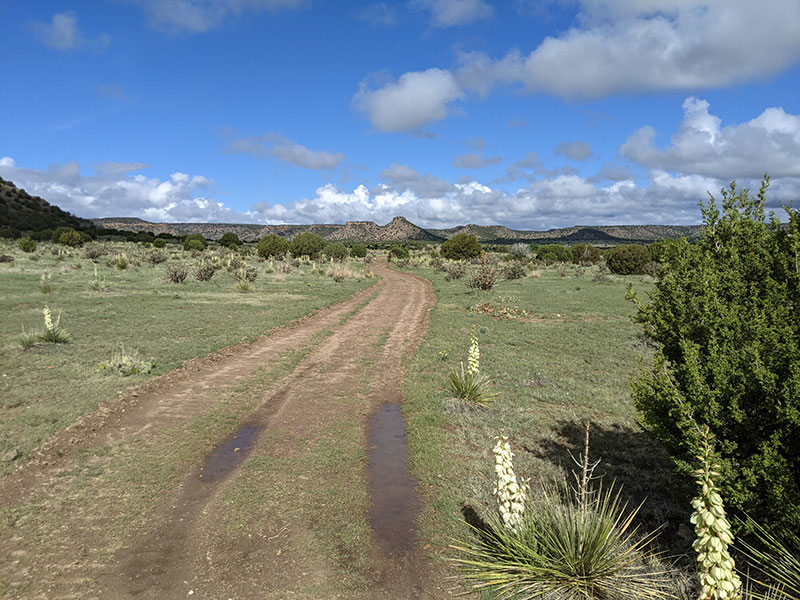 So the trail isn't a really "trail".  It's more like a dirt road.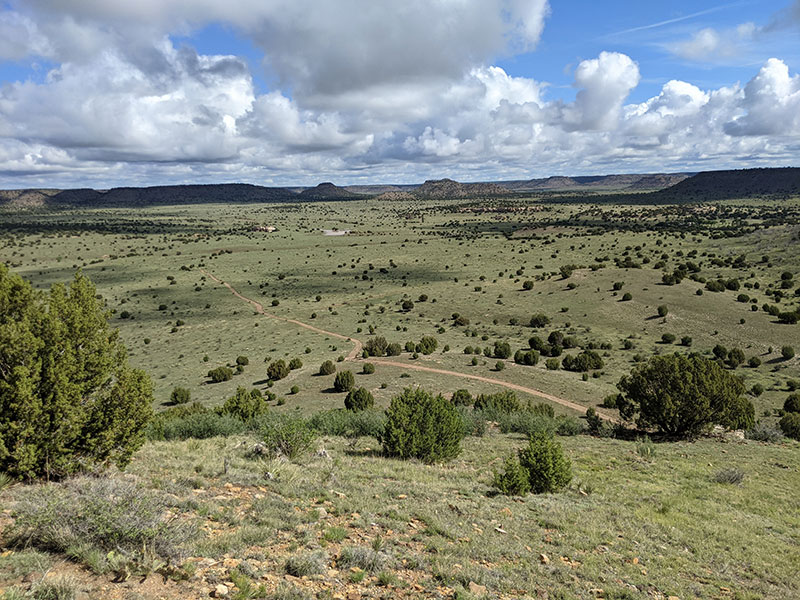 They did incorporate a rest stop at every mile with a nice bench to sit on if you need it…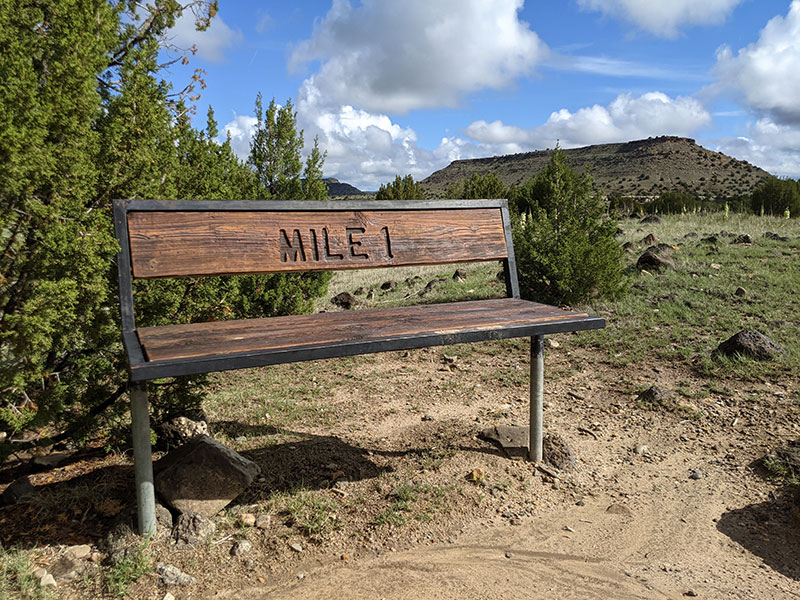 …but the first two miles is relatively flat.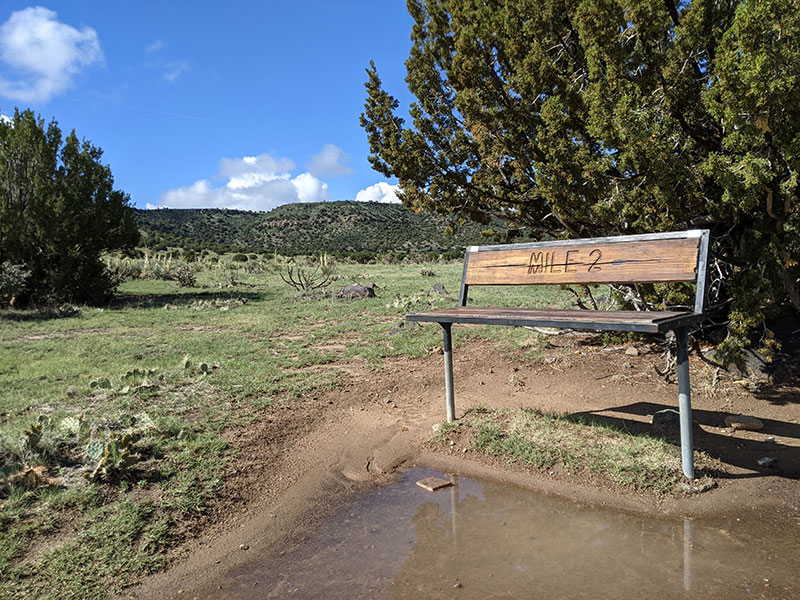 It's right after the second mile where the climb begins to reach the top of this Mesa.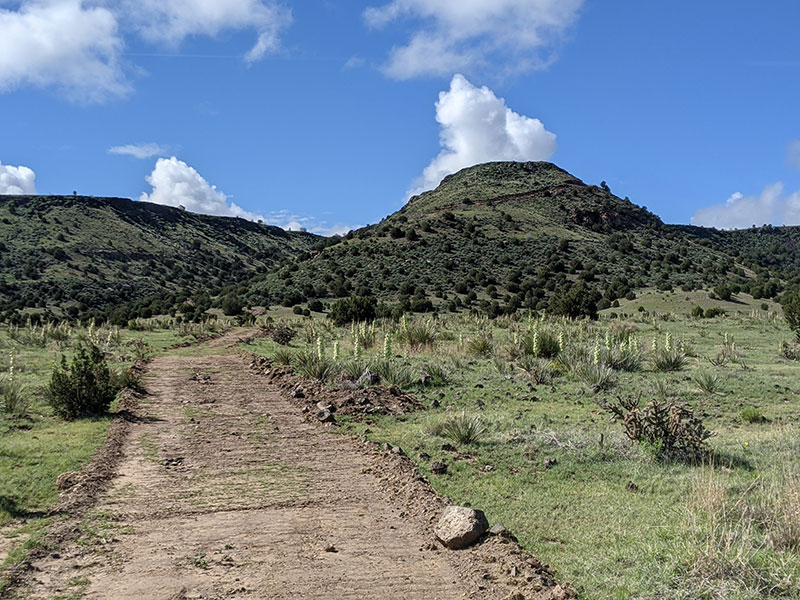 Even still, you have only gained 450 feet of elevation in the first 3 miles, with 270′ of it between miles 2 and 3.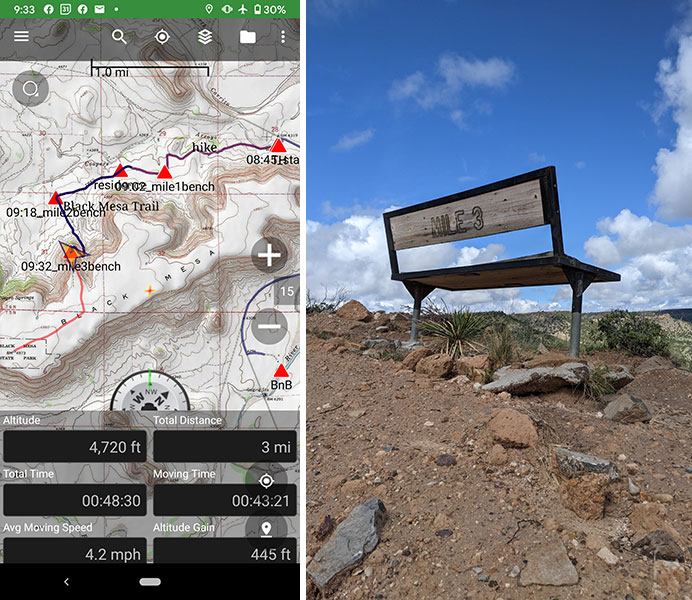 Here's a look back at the road coming up at the 3-mile rest stop.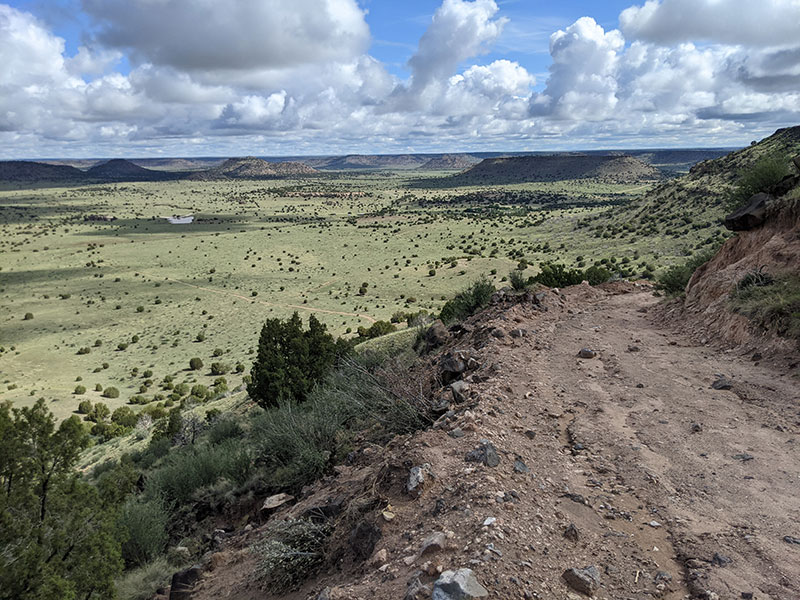 The last push to the top from the 3rd bench is short but steady.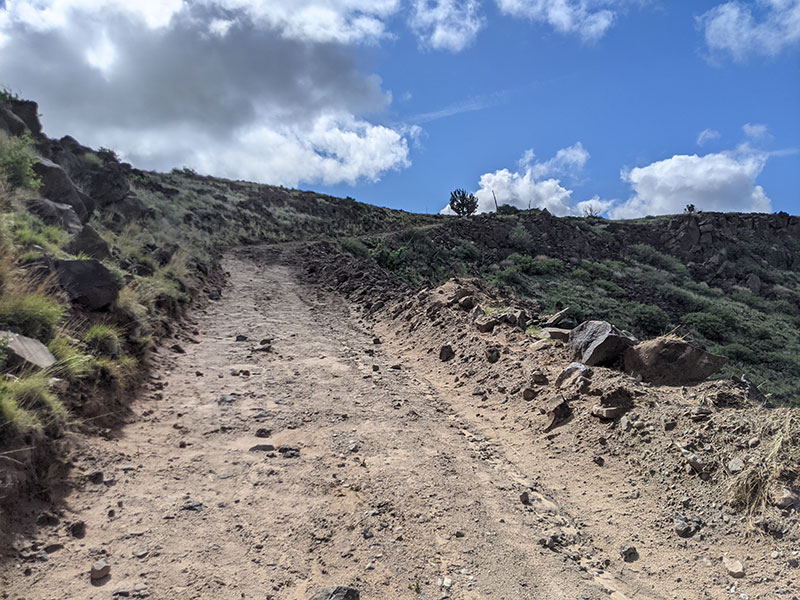 Once on top of the mesa, the final stretch to the monument is less than a mile.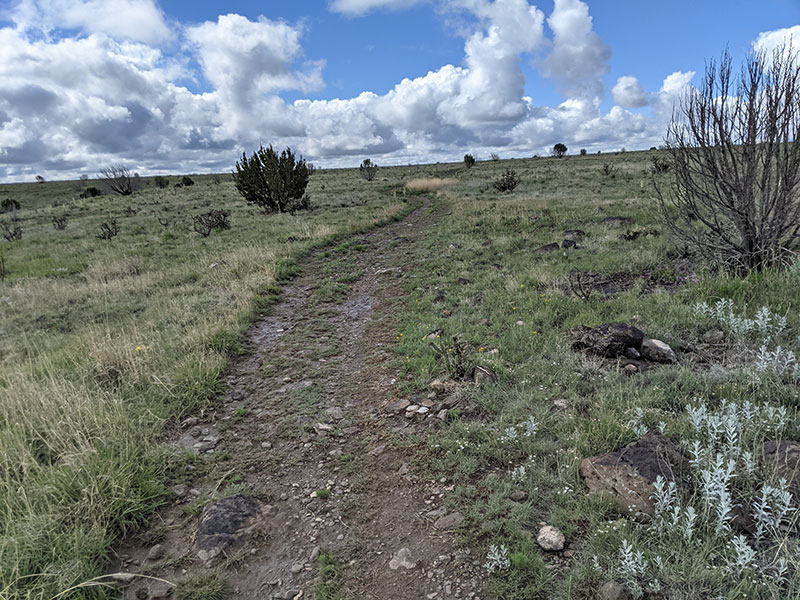 At 4.27 miles, you will have arrived!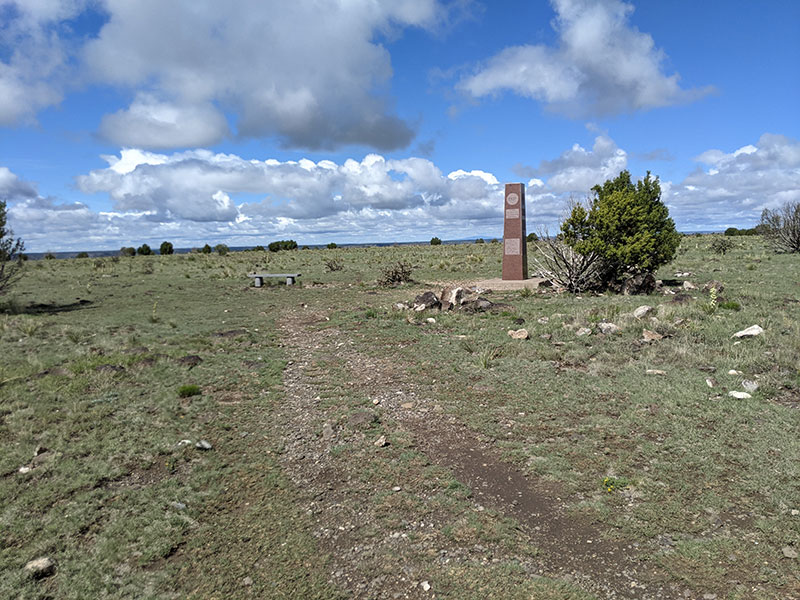 I made it to the top in an hour and ten minutes.
It was great to be up here all by myself with the summit monument.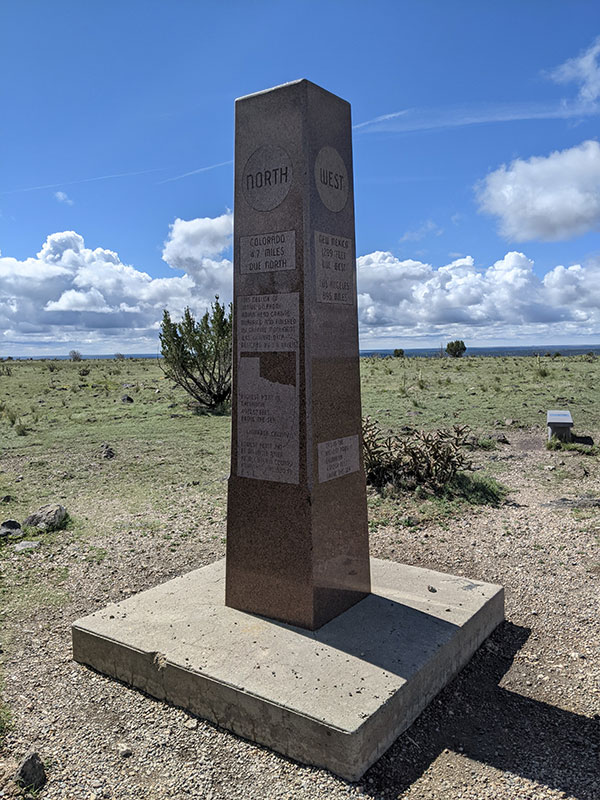 I then wandered over to the edge of the mesa for a view to the south.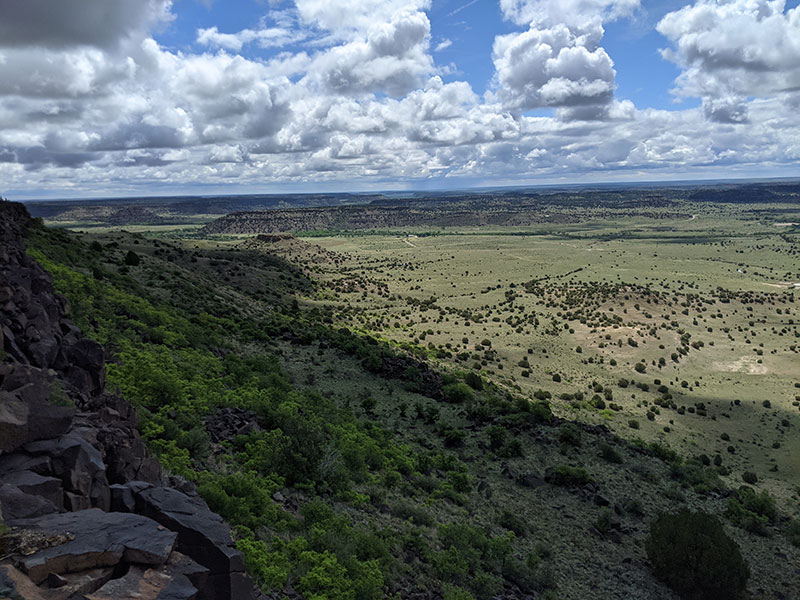 Proposed Black Mesa Rim Trail
As I considered my route back to the car, I wanted to wander along that southern edge of the mesa.  The hesitation came from me not being sure it was OK to go "off trail" since this is an official State Park and all.  However, before the main trail turned north and started its way down off the mesa, I carefully (out of regard for the vegetation) took a short detour over to the northeast edge as you can see below.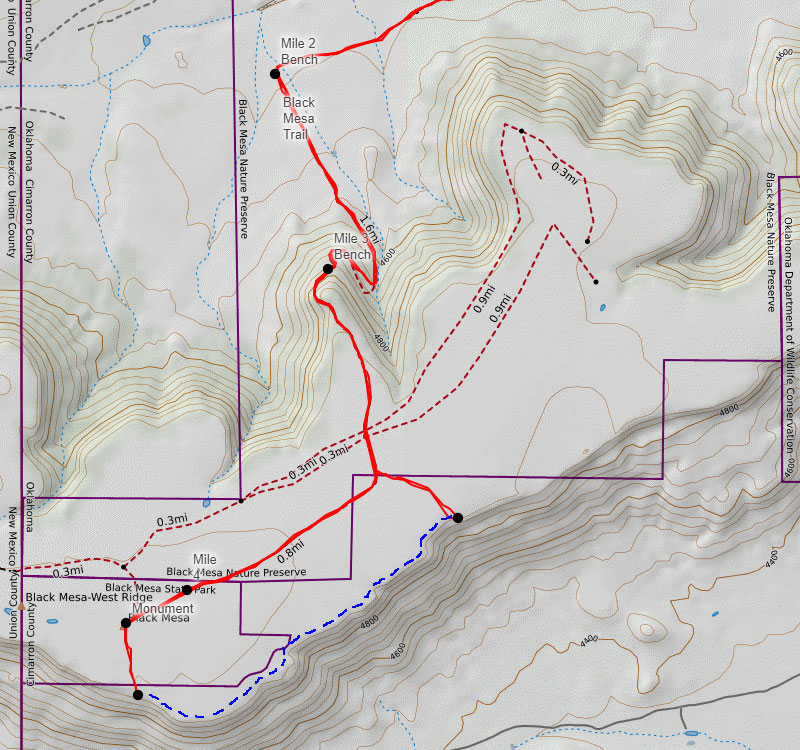 Afterwards, I thought the State Park should add an official "loop connector" trail that follows along the rim of this mesa.  Call it the Black Mesa Rim Trail and let it enhance the experience while up on top.
Death by GPS
Are you familiar with this phenomena, death by GPS?  You know, the stories we hear of people blindly following their GPS into situations that find themselves lost, stuck or otherwise stranded?  We almost found ourselves in such a predicament.  Death was definitely not something we were worried about.  Getting stuck again was.  Spending the night in the car on a backroad in the boonies was too.
This is the route Google Maps suggests for driving to Black Mesa from the north.  At first glance, coming down this way doesn't seem that big of a deal.  We knew it was a 30-mile stretch between Hwy 160 and where we had reservations to stay that night.  As County Road 10 turned to dirt, we agreed to travel this road only as long as it didn't show signs of what we narrowly escaped in Kansas.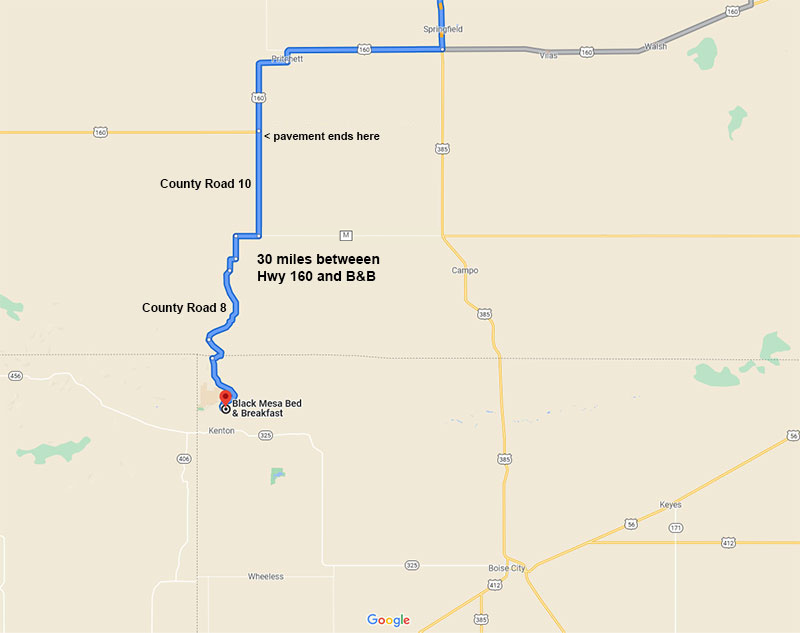 County Road 10 is flanked by flat fields on both sides for 9 miles.  After a quick jog west on CR M for another 2 miles, CR 8 heads south into much more dramatic landscape.  Mud wasn't too much to worry about this time–although there were plenty of soft spots along the way–the new road hazards were rocks, ruts and washouts as we drove closer in to the Carrizo Creek area.
Google Maps was still leading the way on CR 8 when we came to an unexpected river crossing.  There was no way we could continue so I swung the car around in a spot that was a lot more mushy than it looked.  Good thing for momentum and acceleration, the tires spun fast enough to find some decent traction and back on solid ground.  I also now knew where to turn off the car's traction control!   Still determined to make this work, we backtracked a bit to try another possible approach from County Road 5.  Our destination was so close–only 5 miles away–and it was already 8:30 at night.  It was a long day and we were ready for it to be over.
County Road 5 didn't pan out either.  The bridge on CR C that crossed over to CR 5 looked pretty sketch.  My wife didn't want to take it but I still held out hope that we were only 20 minutes away.  So I got out of the car and walked across to make sure the car would make it safely to the other side.  We could and we did.  Unfortunately, not far after getting on CR 5, the next washout was even worse.  I finally accepted defeat.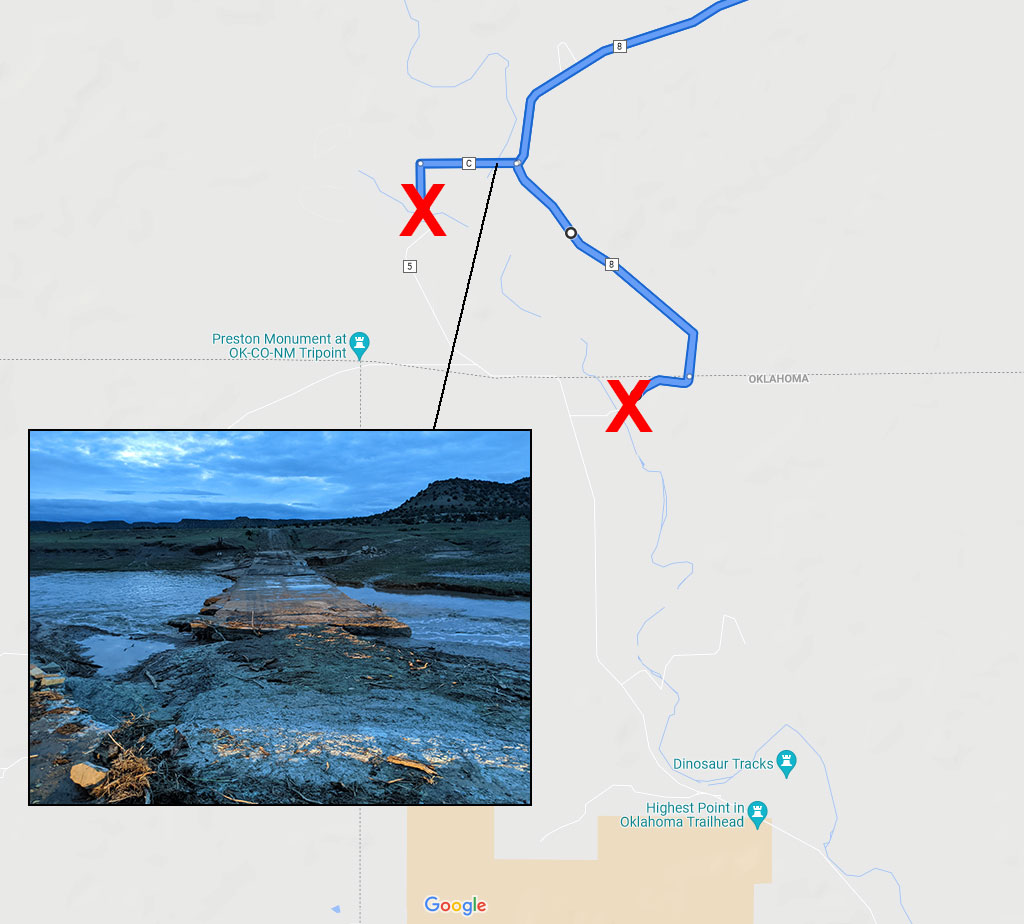 Driving back the way we came was our only option…and from that point, we had no choice but to go around through Boise City.  County Road M would be the shortest way to pavement.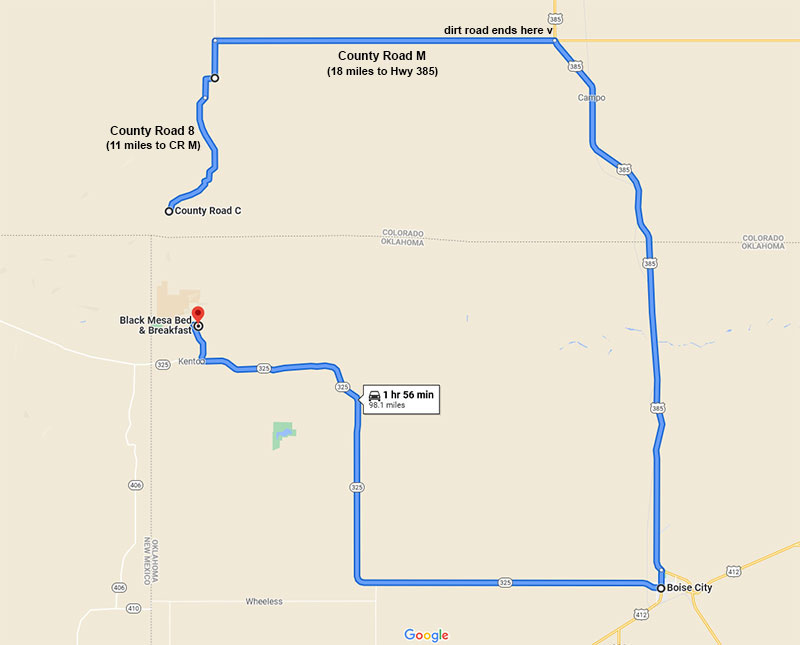 Straight as a arrow, M was a muddy mess that felt like it went on forever.  It was midnight by the time we finally got to the B&B after 2 more hours of driving and a time zone change.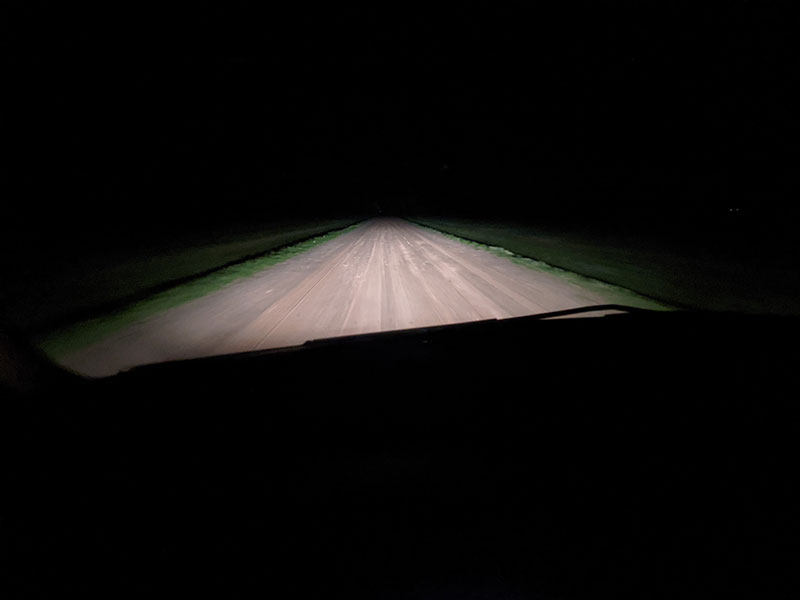 Black Mesa Bed & Breakfast
Black Mesa B&B is a very nice place to stay.  The Sunrise Cabin was clean, quite and comfortable.  Our sleep was so sound, we hardly remember hearing the rain hitting our rooftop throughout the night.  Whatever rain we got was gone by morning and the sun was already starting to warm up the day.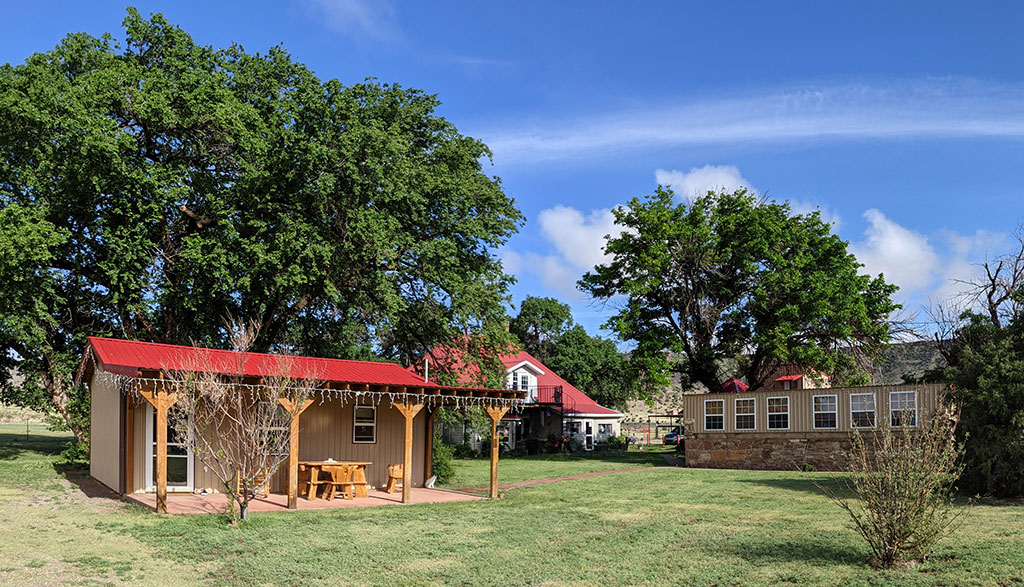 We laughed at the breakfast table that morning as another couple shared a very similar story.  Google had sent them down the same set of roads but from Colorado Springs for them!
Next up: New Mexico's tallest peak