I got to do one of my favorite hikes last week for the 3rd time, a crossing of the Grand Canyon from rim to rim!  This is an epic adventure that every hiker should do at least once.  The views are like none other, the challenge is definitely noteworthy and the fact that one can walk across this natural wonder is something to marvel at in and of itself.

My first rim to rim experience was in 2016 with a strong group who moved pretty fast.  We basically did the whole trip, including the drive to/from Salt Lake, in under 48 hours.  That was fun, but I wanted to slow it waaaay down for this group and not feel as rushed.  Most had never been to the Grand Canyon before and wanted to see a few things along the way.  Everyone also had the means to eat and sleep well along the way.  So instead of 48 hours, we took 4 days and this is how it all went down.
DAY 1: Get to Kanab for Dinner
This group consisted of my wife, her five brothers, a nephew and a couple slightly older than any of us who affectionately became "mom and dad" on this trip.  We rented a 15-passsenger van so all could drive together and relive the childhood memory of big families and long road trips.  Good thing we didn't have any squabbles between these siblings while we made our way down to Kanab for dinner.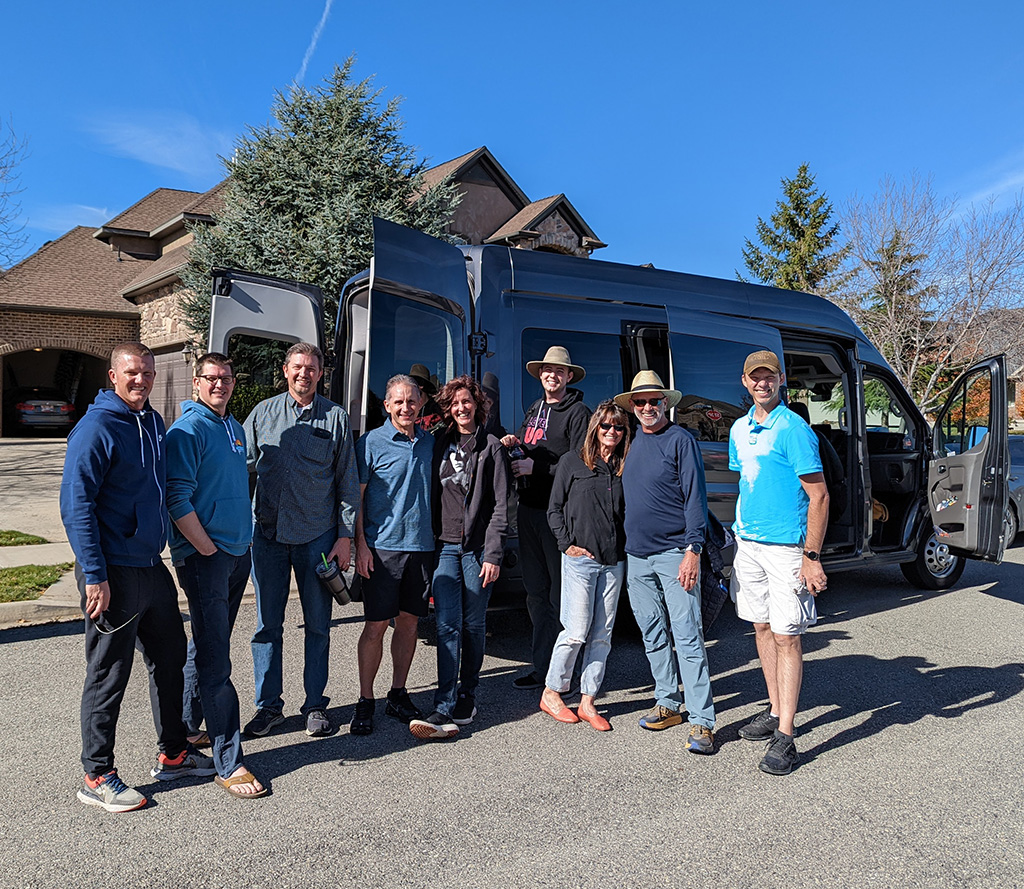 DAY 2: Get to the South Rim
Our second day was spent doing the second half of the long drive around to the South rim.  That leg required a stop in Page to grab a few forgotten items.  From there, we swung into Horseshoe Bend for those who had never been followed by lunch at the Trading Post in Cameron, AZ.  We got into the park by mid-afternoon and made another stop at the Desert View Watchtower.  Someone in the group then suggested we go check out the first mile of the South Kaibab Trail… the part we will be doing in the dark tomorrow morning.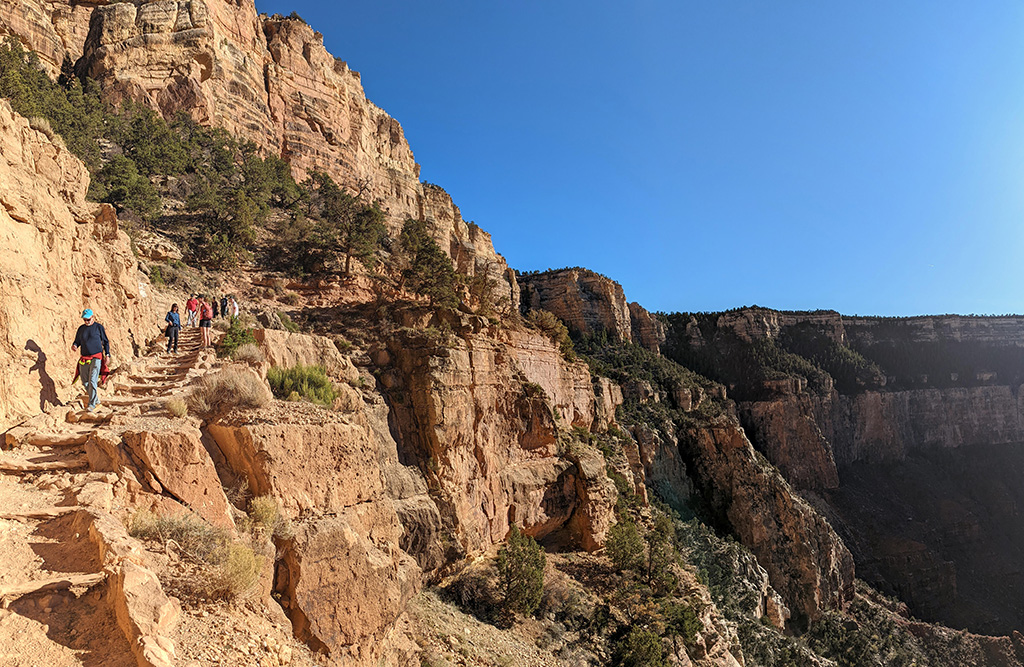 The best part of Day 2 was the short hike to OOH AAH Point that gave everyone an opportunity to see this canyon up close and personal.  That was especially true for my wife since she wouldn't be hiking with us tomorrow.  Instead, she volunteered to drive the van around to pick us up on the North rim when we were done.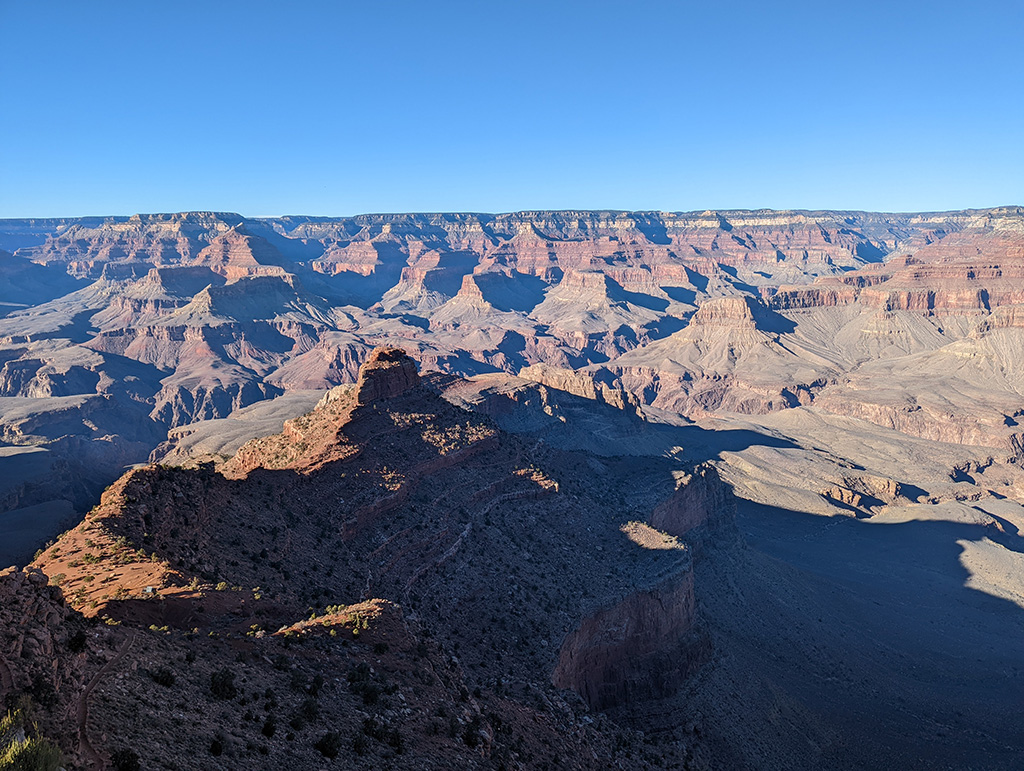 The primary discussion at dinner that night was trying to decide what time to start in the morning.  The first bus on the Orange route left the Visitor's Center at 5am.  We knew it would be a long day and getting out early would be wise.  However, starting that early means you descend too far down in the dark with a sunrise at 6:55.  If you have ideal weather, you really don't want to miss those upper panoramic views as the canyon gradually lights up from the sun!  I think those vistas are the main reason you go from south to north.  It's spectacular!  So we split the difference and agreed to catch the 5:30 bus that would put us on the trail just before 6.
DAY 3: The Grand Crossing from South to North
Morning came quickly but all went according to plan.  We were at the Visitor's Center by 5:15 for the 5:30 bus.  Ten minutes later we were at the trailhead and intentionally stalled for another ten minutes to avoid getting ahead of the sunrise.  In hindsight, catching the bus at 6 would have worked out good too.  Either way, doing that first mile in the dark is pretty cool with the string of headlamps along the trail below.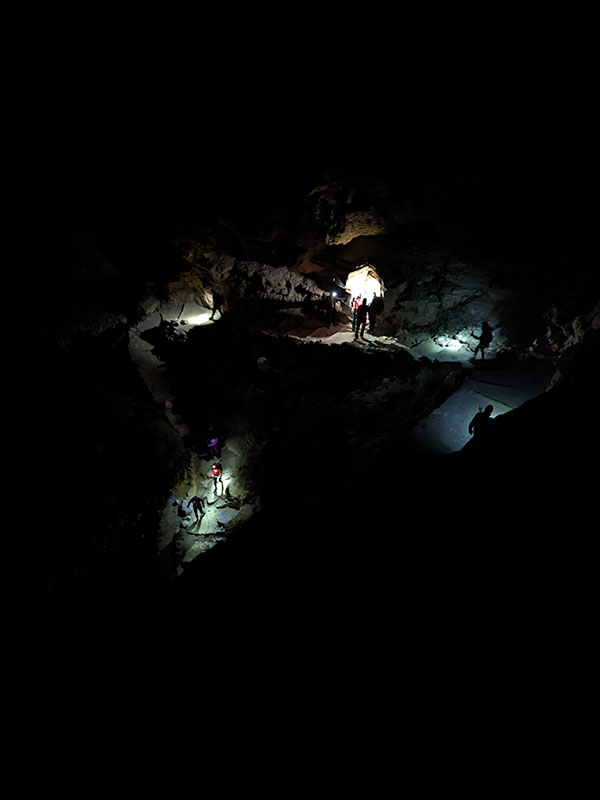 Arriving at OOH AHH Point as dawn approached, 1 mile in, seemed like great timing.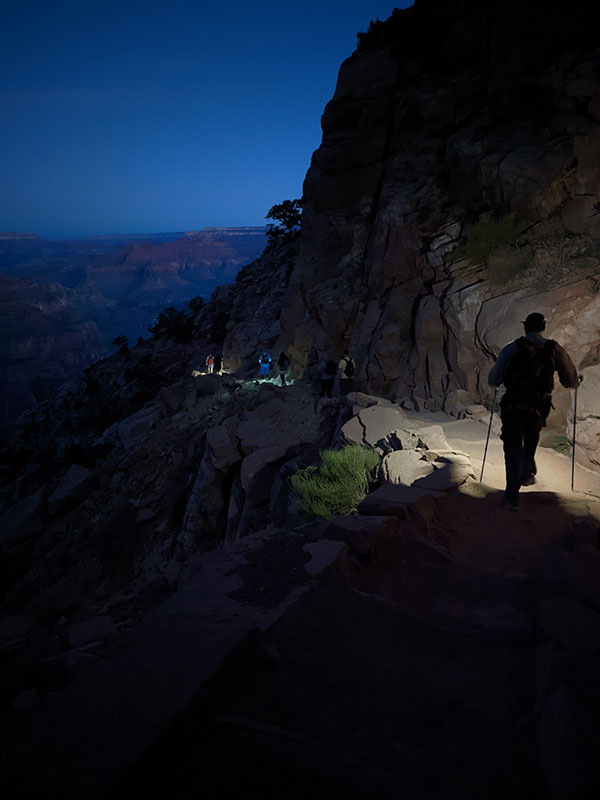 A large group of trail runners passed us on the way down towards O'Neill Butte.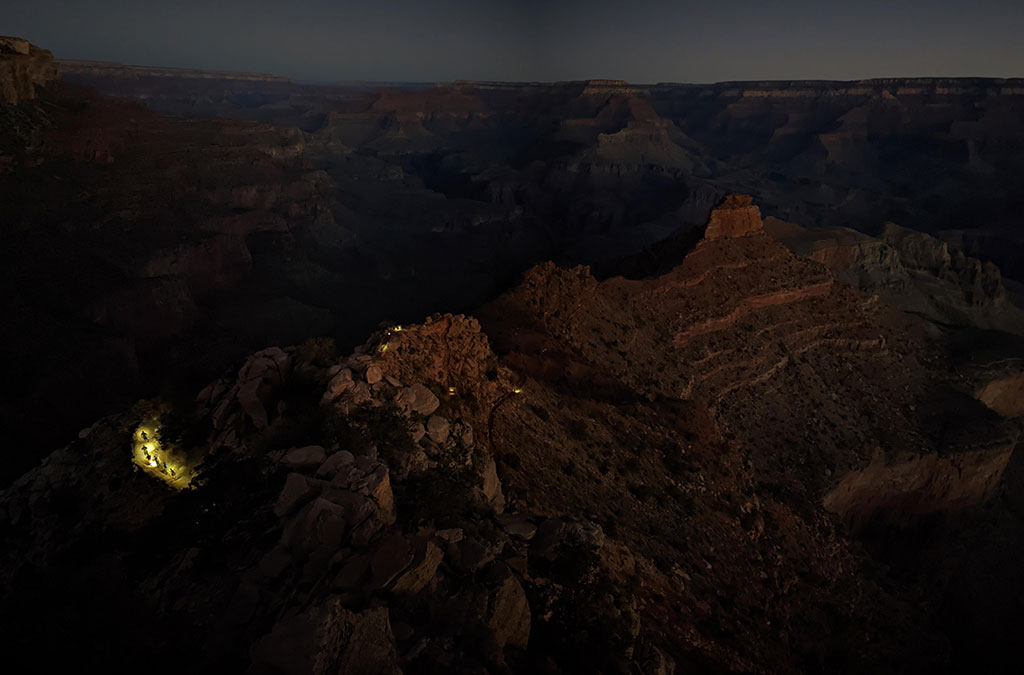 Such a different view from the afternoon before.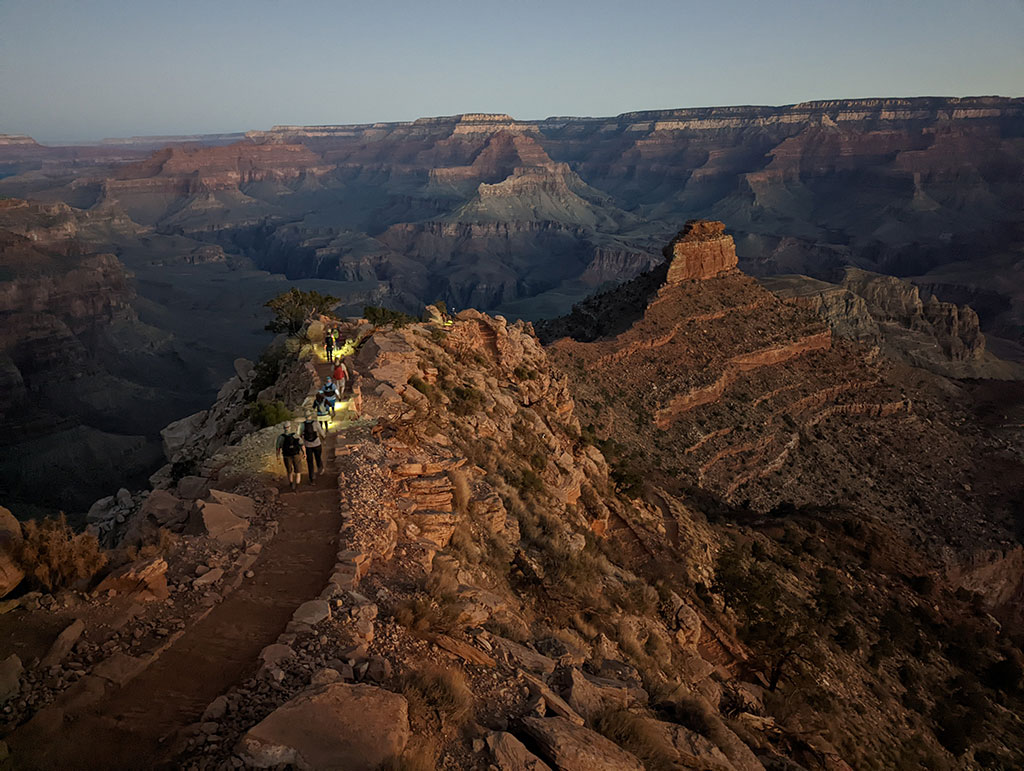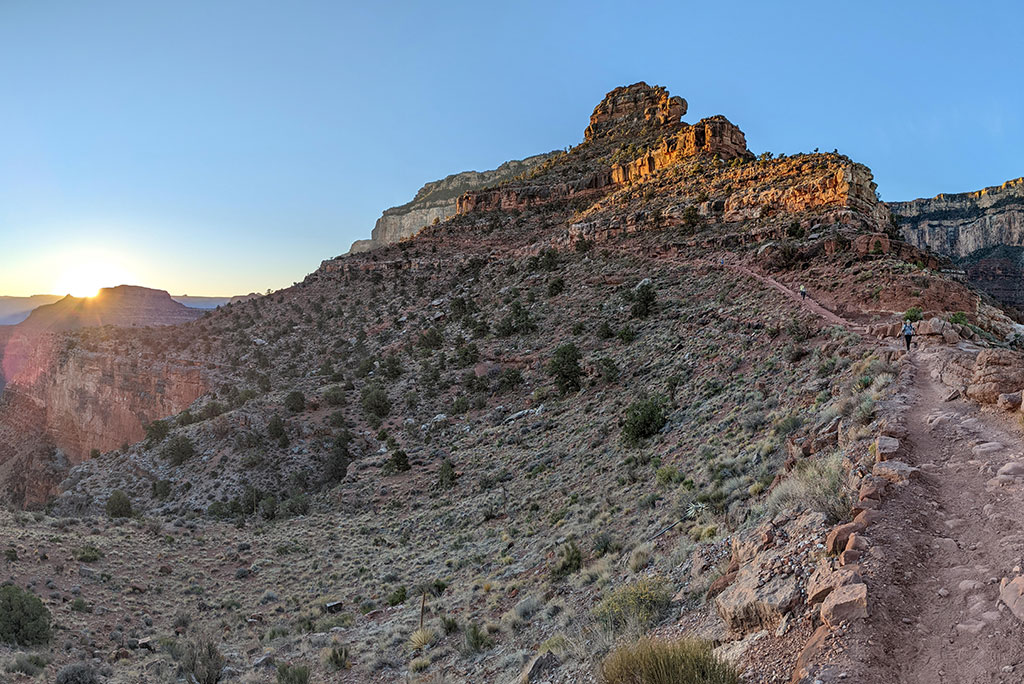 Skeleton Point is 3 miles in.  We got here at 7:20a, an hour and a half from when we started.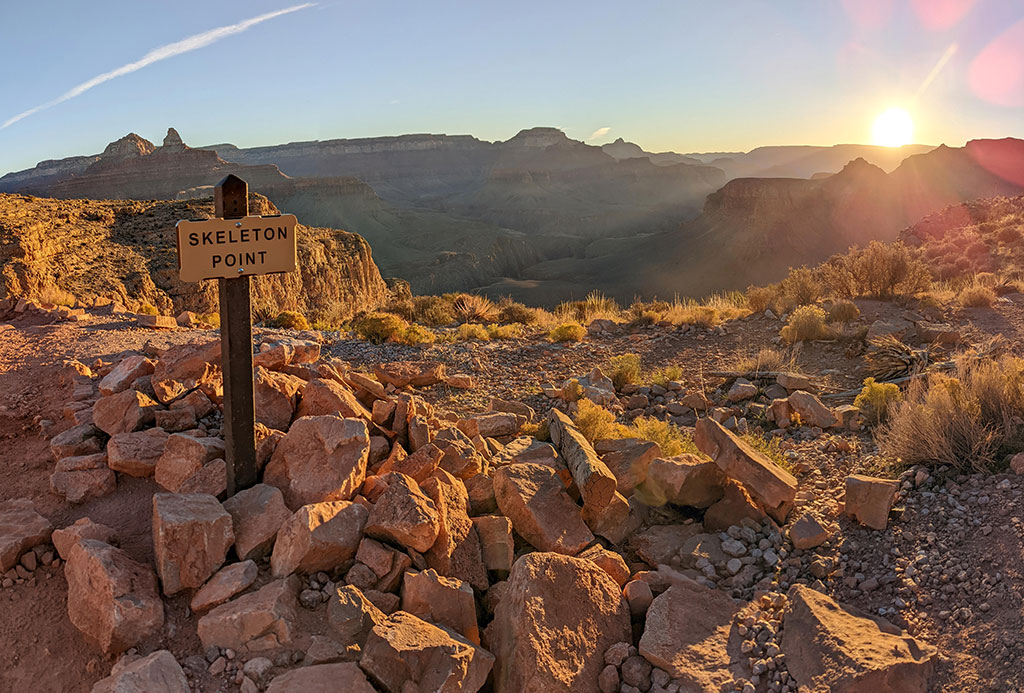 This section of sunny switchbacks drops you another 1,200 feet closer to the bottom.  It's one of my favorite sections at this time of day.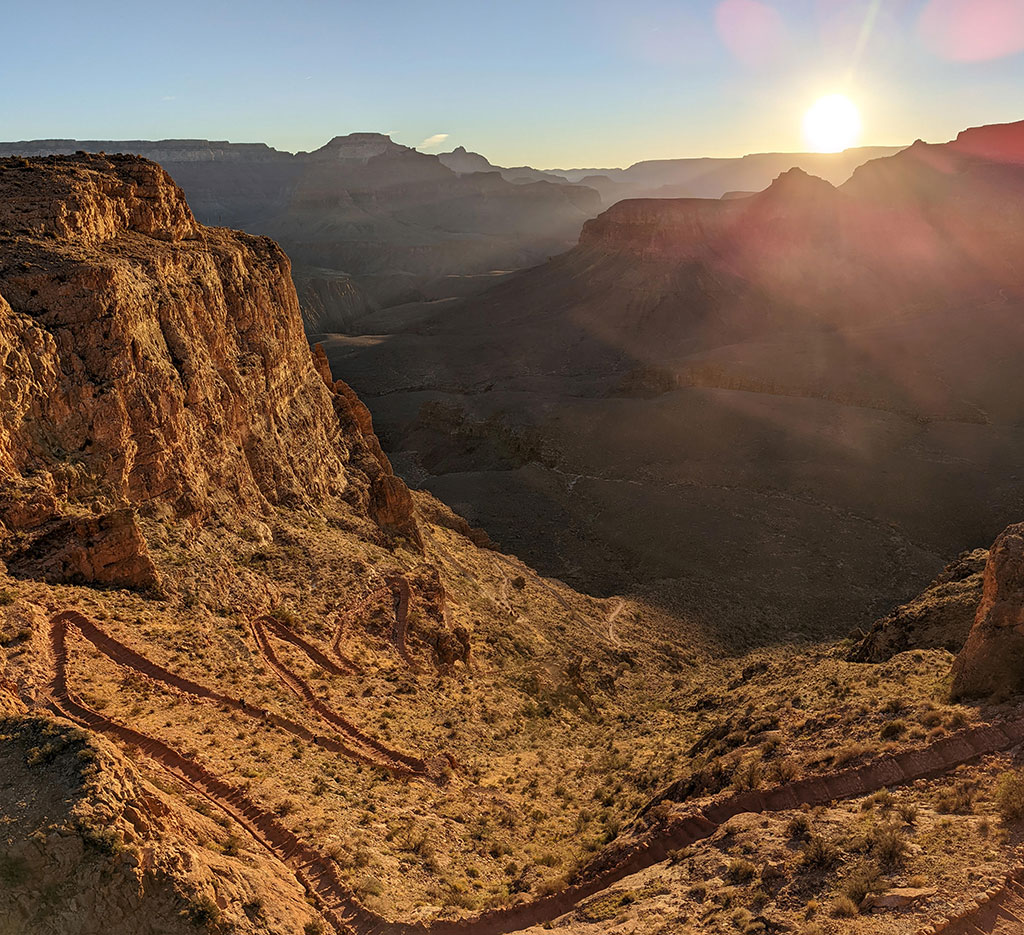 A few more views to the West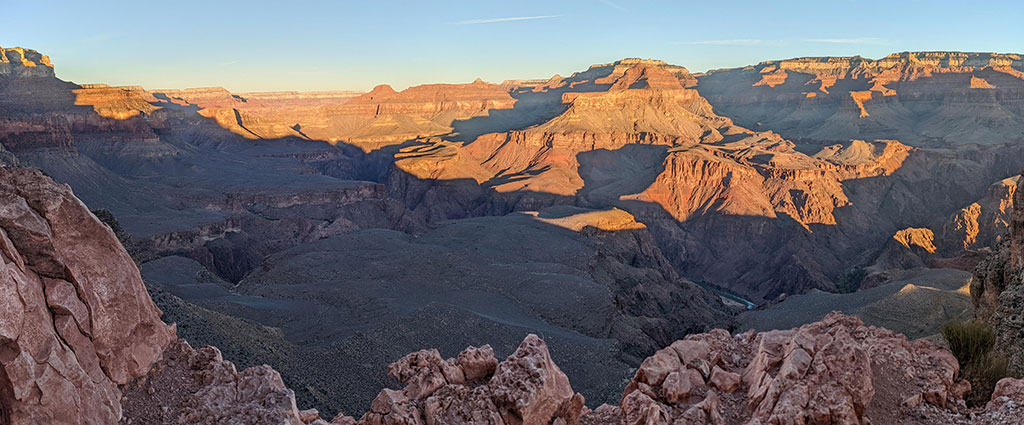 Not far after The Tipoff, about 5 miles down, Bright Angel Canyon comes into view…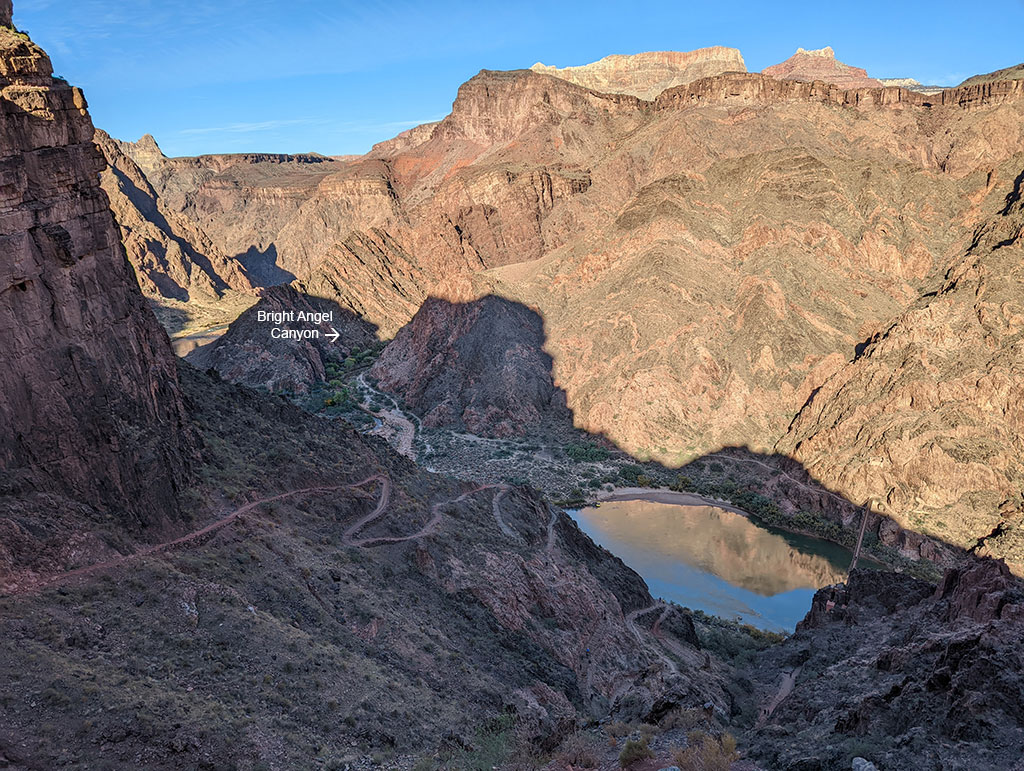 …and then the Black Bridge at 6 miles.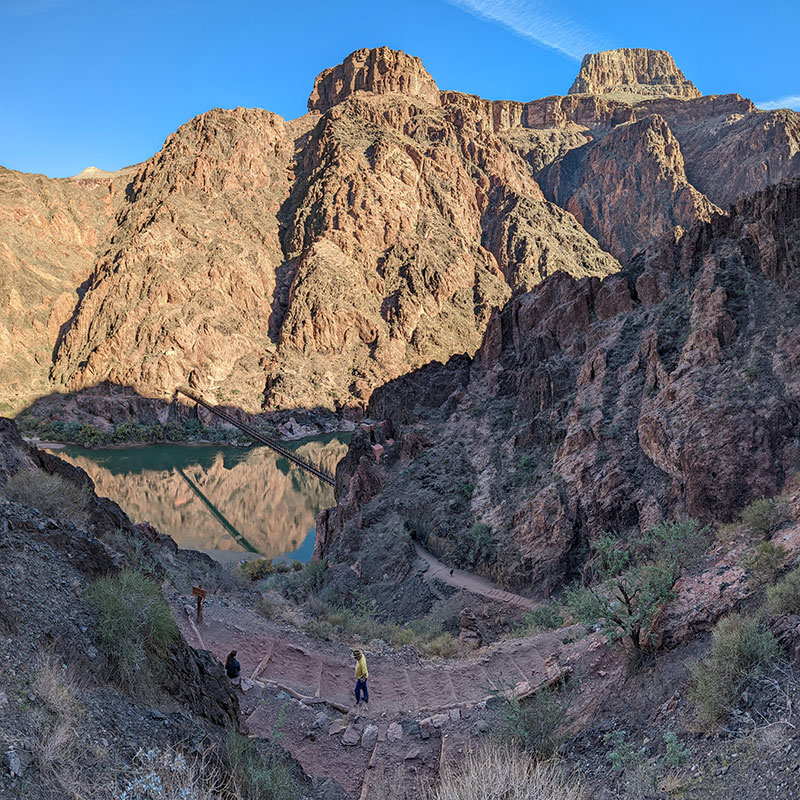 Someday, I'm going to travel this canyon from the river's perspective.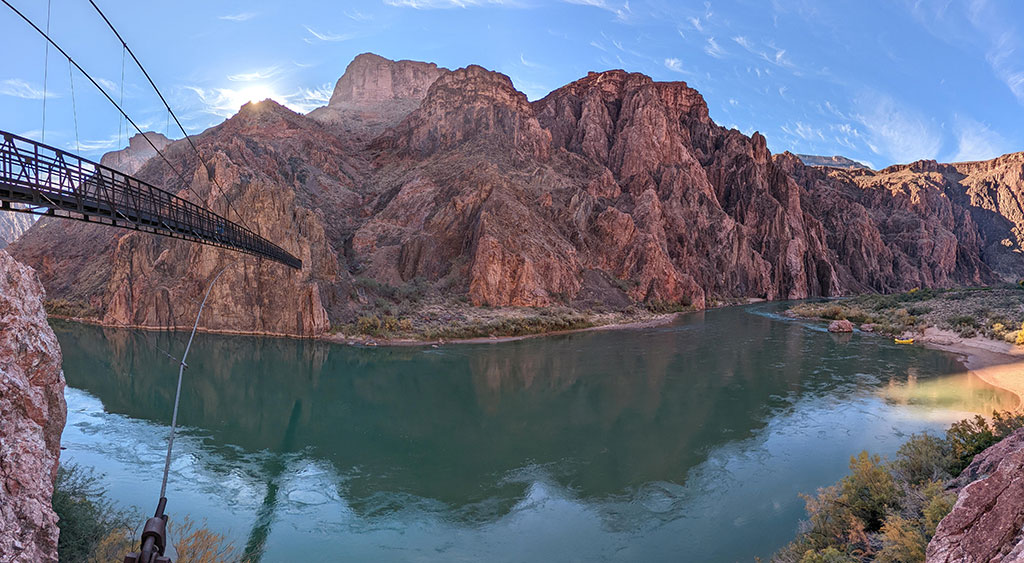 Phantom Ranch is only a short distance from here as you stroll in for a nice break and some local refreshments.  Mileage to this point was 7.25 in 3 hours and 45 minutes. We were about 30 minutes behind where I thought we'd be, but also didn't mind all the stop for pictures and various oooh's and aaah's.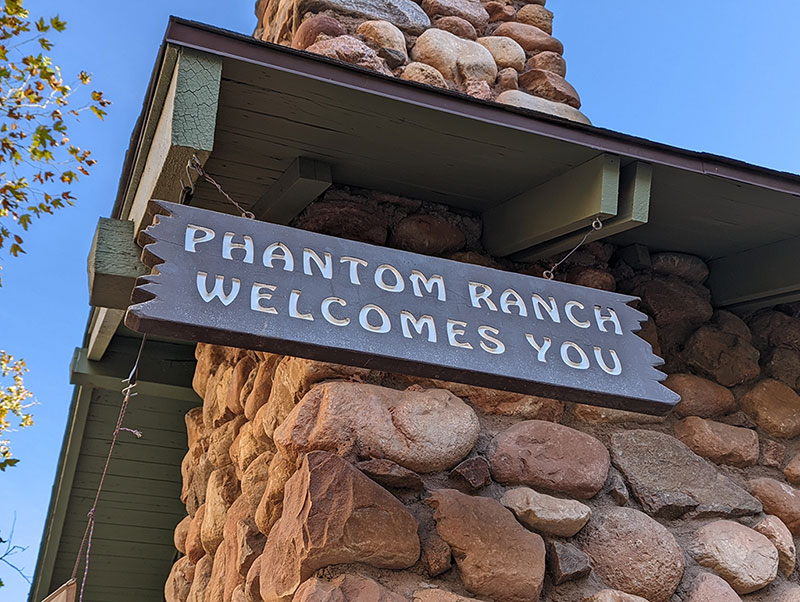 The tradition at Phantom is to grab an ice cold lemonade (or two) as you make this your first good rest stop.  Eh, so what if the first cup is $5.  Refills are only $1, so enjoy as many as you need!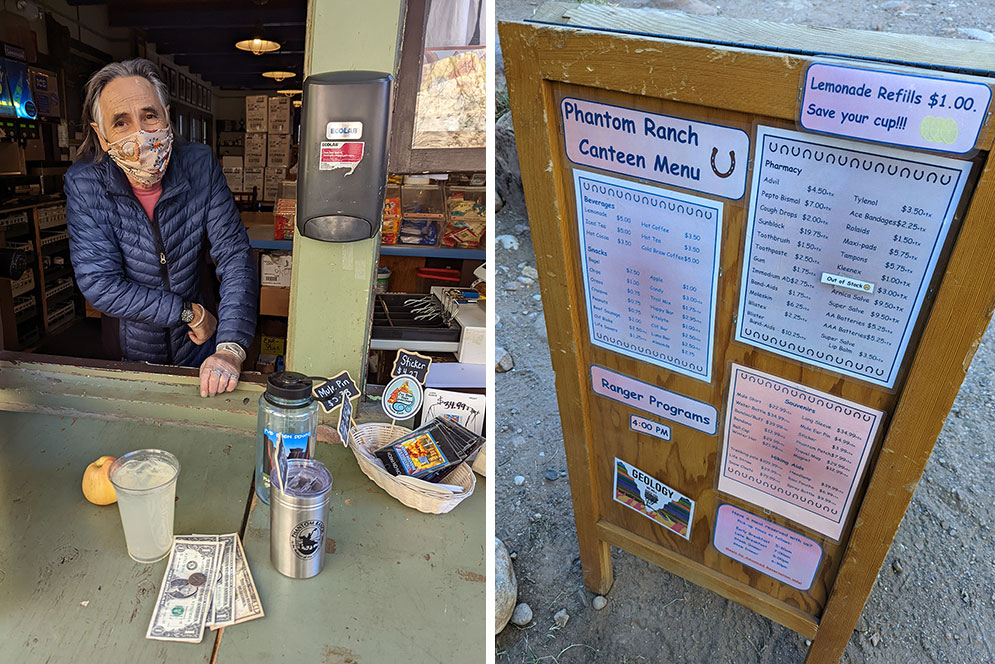 With the easiest part behind us, we continue on through the next section called "The Box".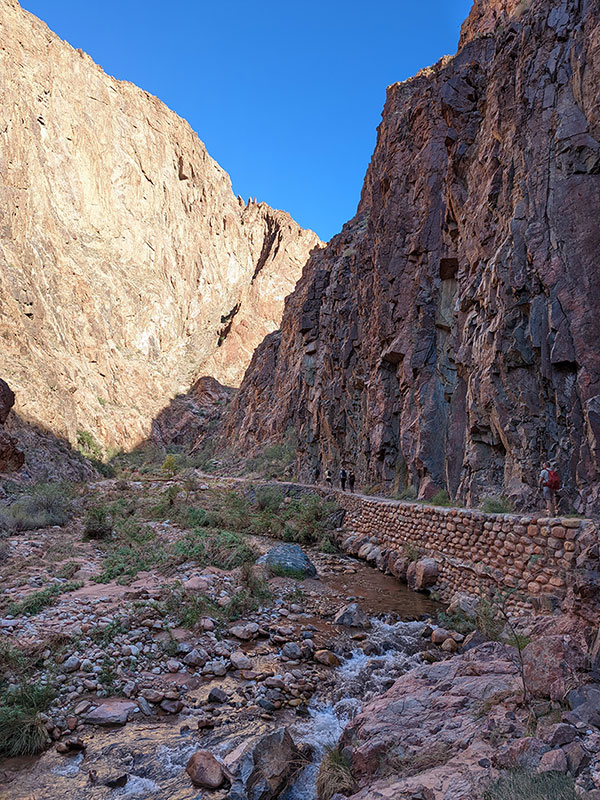 Nine miles of trail follows Bright Angel Creek as it flows through the bottom of this giant slot canyon.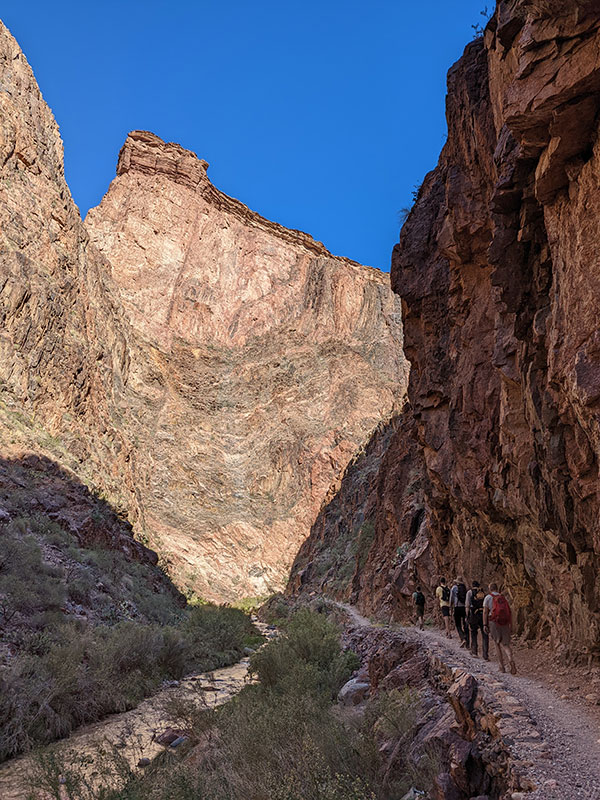 There are several creek crossings like this one ahead.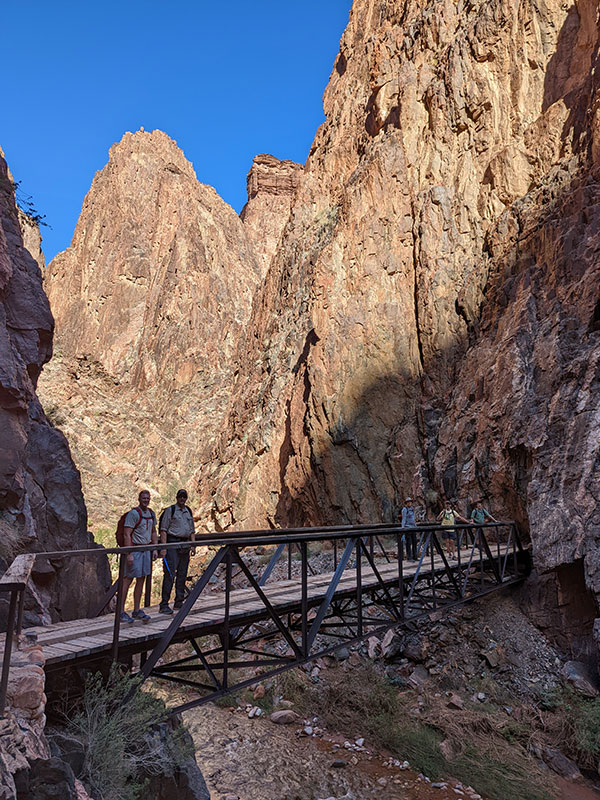 Eventually, the canyon opens up and you begin to feel more of this trail's incline.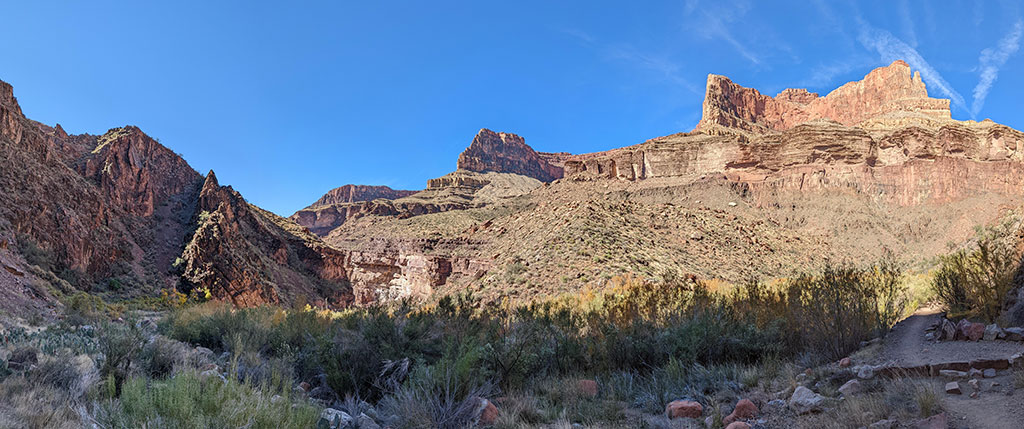 If you have time, the next best place to take a break is at Ribbon Falls.  I like stopping here for a quick snack and to cool off my feet in preparation for the hardest part to come.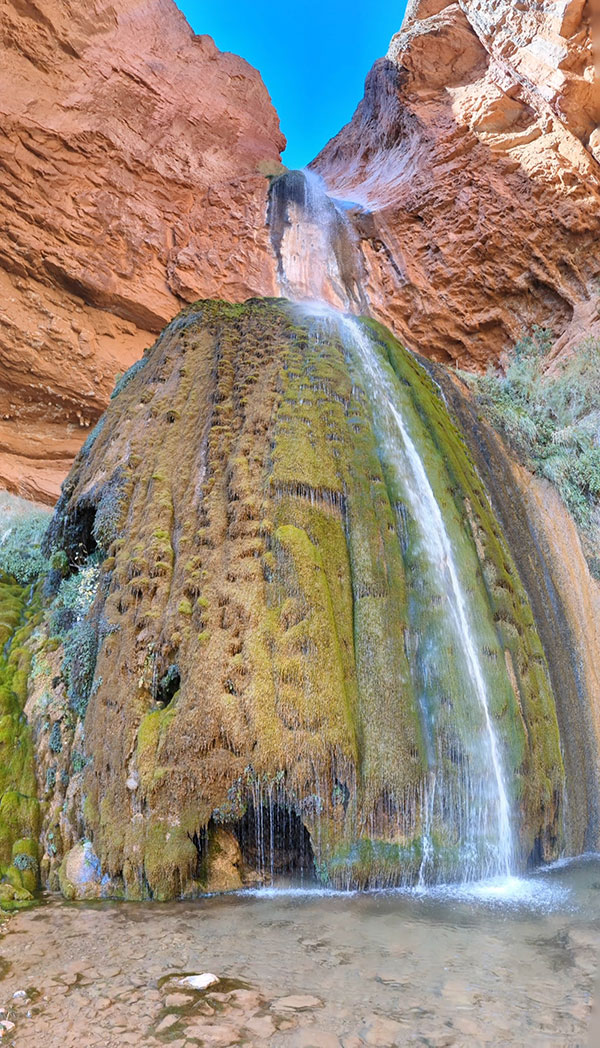 Those who ride a chopper out do what's called a "Rim to Ranger Station" hike.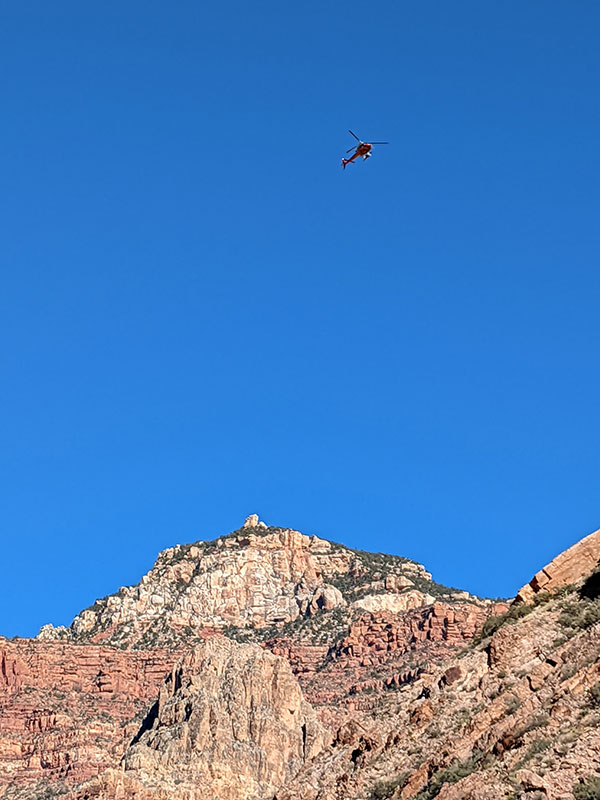 The last 5 miles, from Manzanita to the top pf the North rim, are definitely the most difficult.  The Park Ranger at Manzanita told us that everything in the Grand Canyon is backwards: what should be down is up, what should be cold is hot and what should be junk food is good.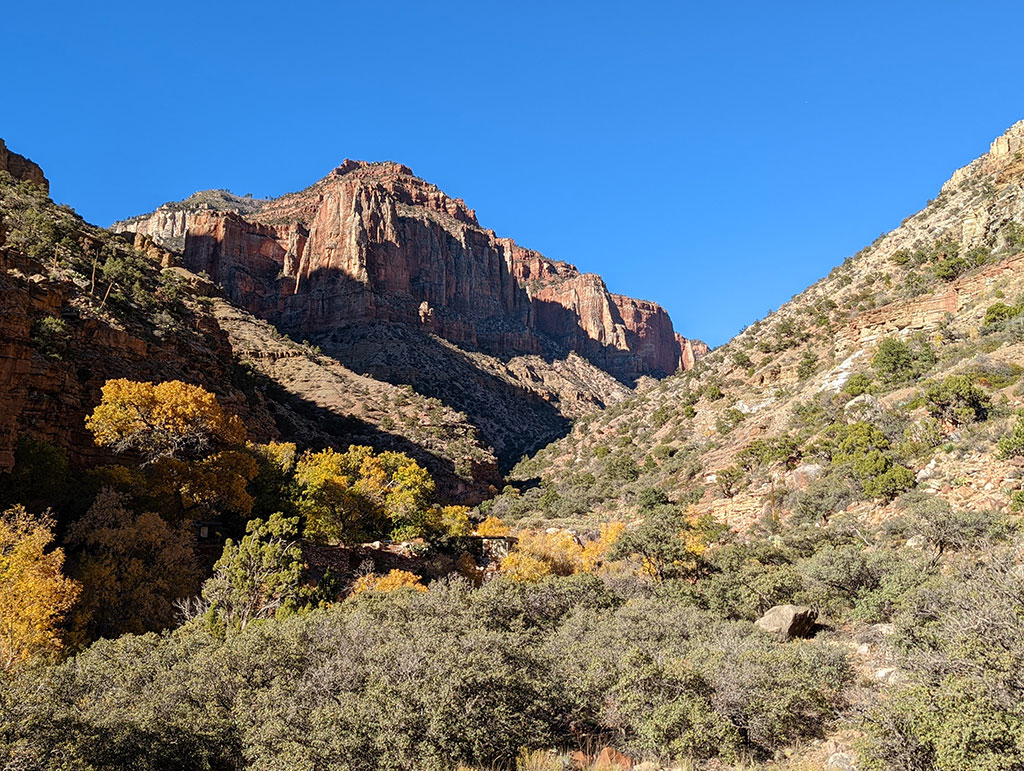 I love how the colors of this canyon change as the sun passes over. This shot is looking back towards Manzanita near Roaring Springs as you head up North Kaibab.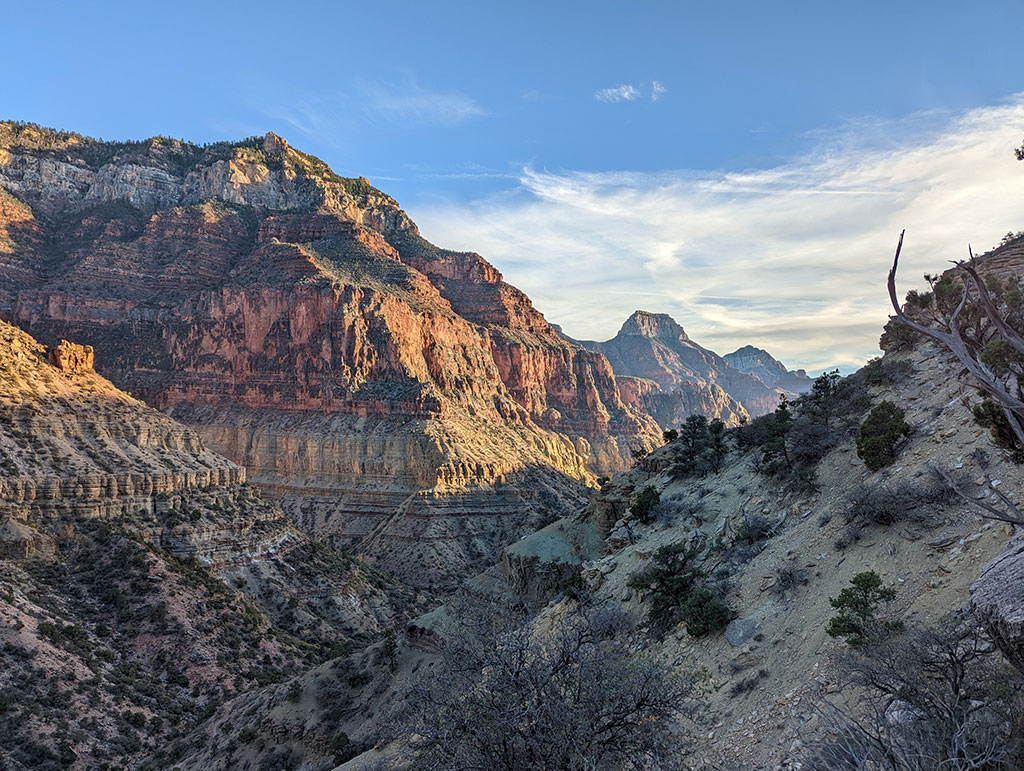 The trail weaves in and out of corner canyons along the east-facing cliff wall.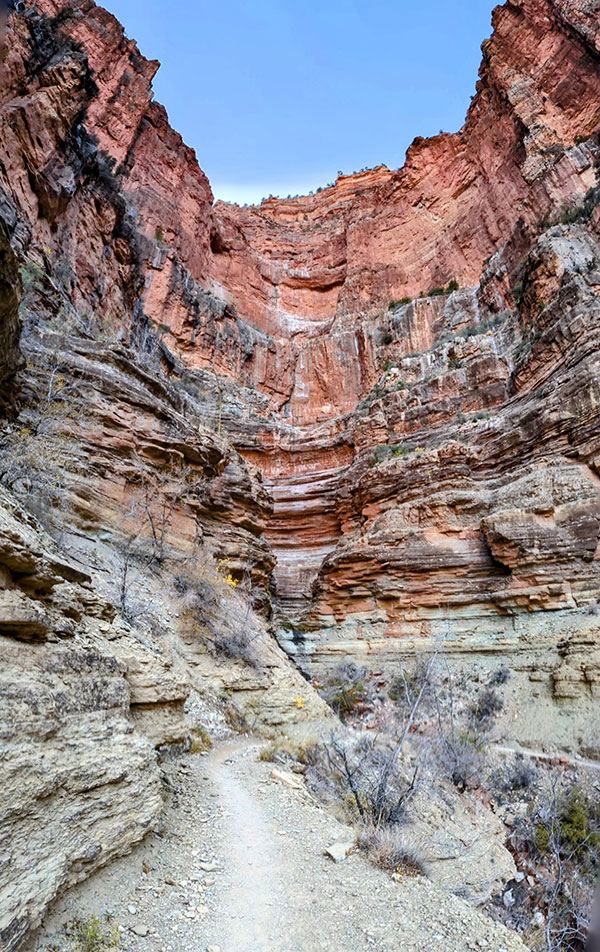 There's a lot of elevation to gain when it's already been a long day and you're wanting to be done.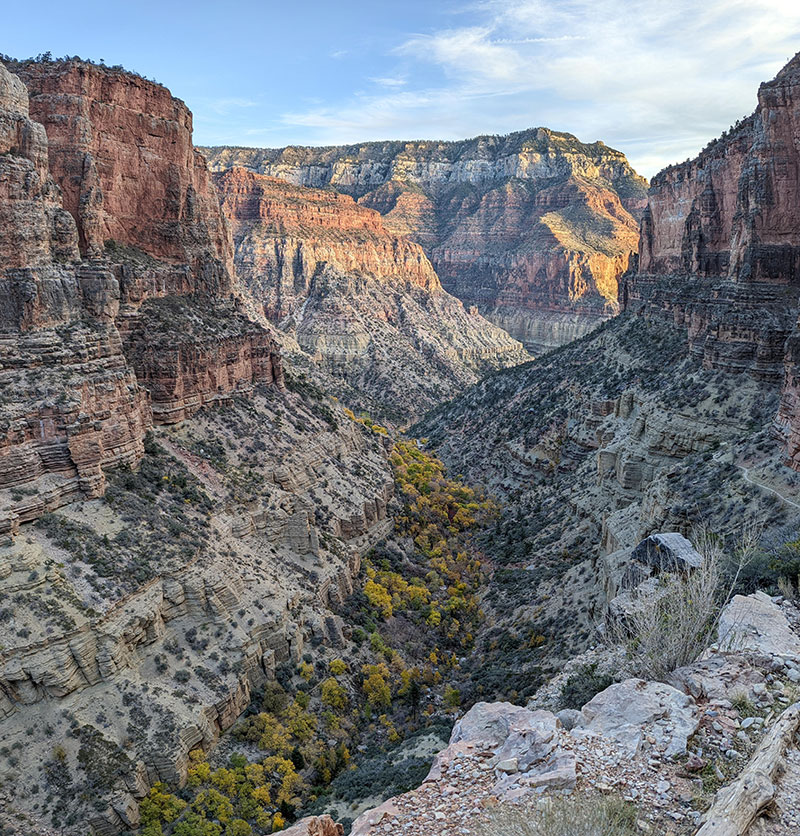 Looking back again at where you've just come from, the trail hugs the side wall and continues to climb at a pretty consistent rate.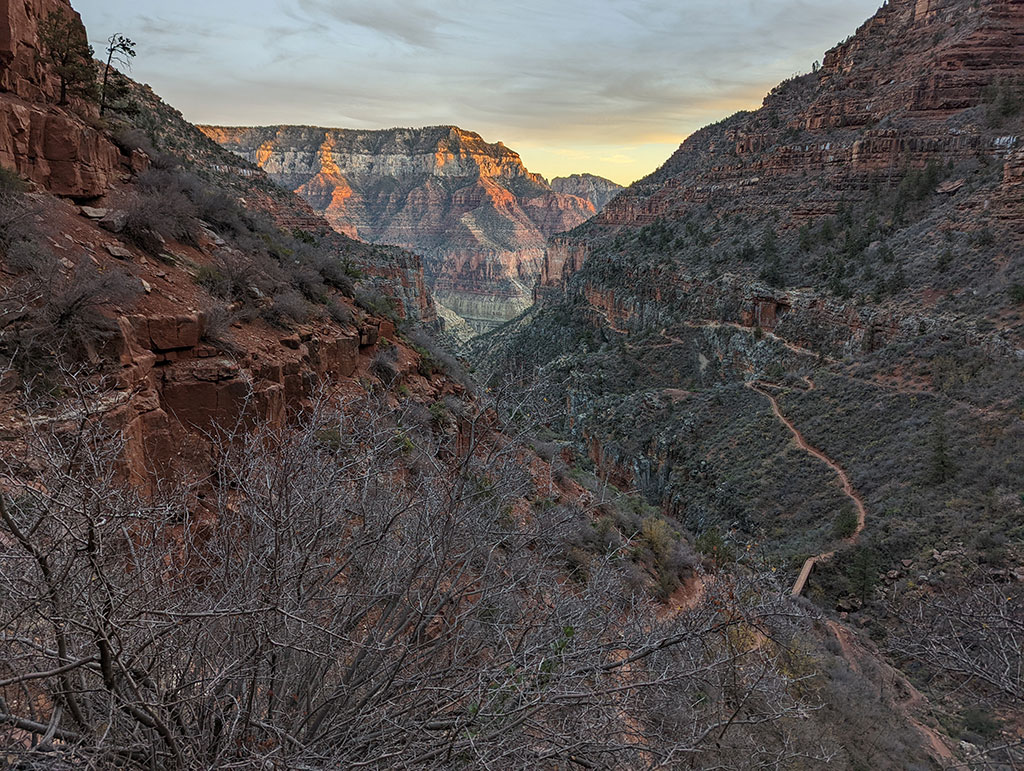 When you reach the Supai Tunnel, you know you only have less than 2 miles to go!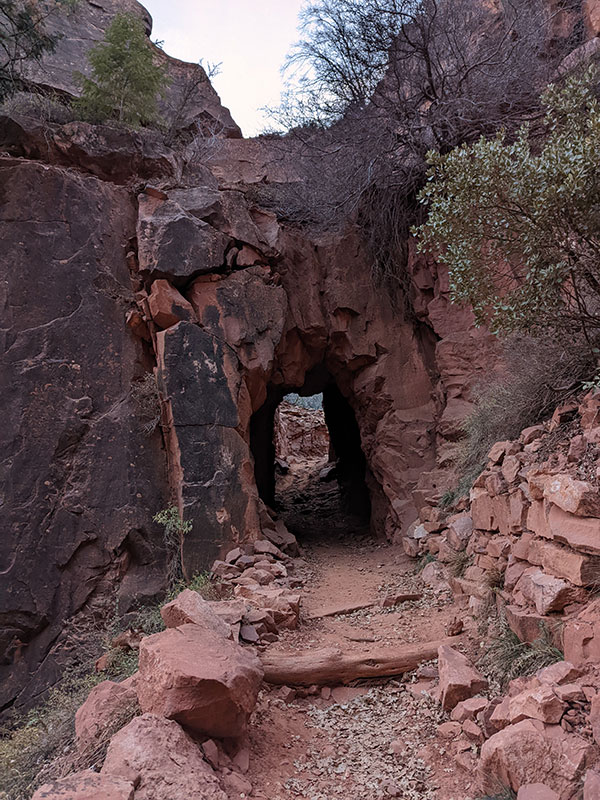 The best time in our group completed this just under 12 hours.  We told them to go on ahead and to not wait or worry about staying together.  I was next, at almost 13 hours, after a fair amount of waiting throughout the day (80 min at Ribbon, 60 at Manzanita).  The last of our group reached the north rim trailhead at 10:30p, some 4 hours after I did.  They were having a rough time on the final leg of this adventure.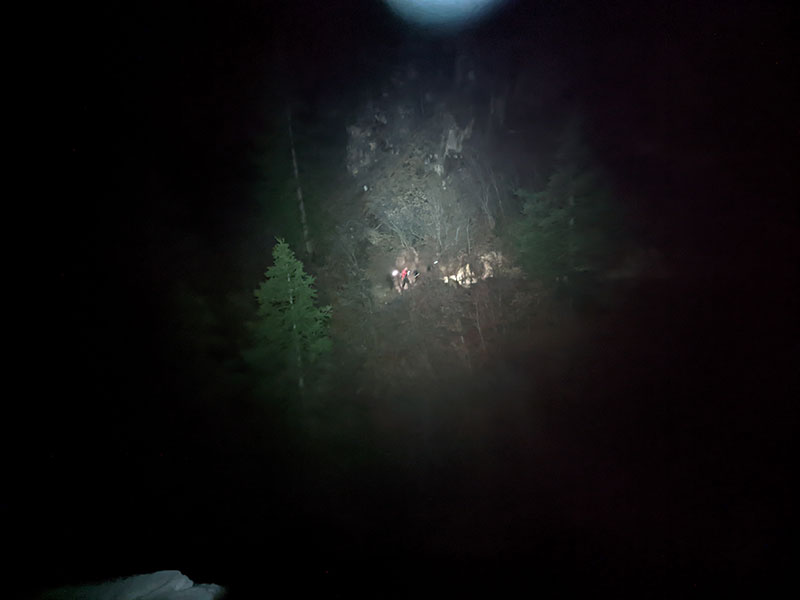 According to Fitbit, this hike is more than 65,000 steps from rim to rim.  That amounts to roughly 22 miles with 5,900′ of elevation over that distance (with some small margin of error for typical GPS issues in narrow canyons).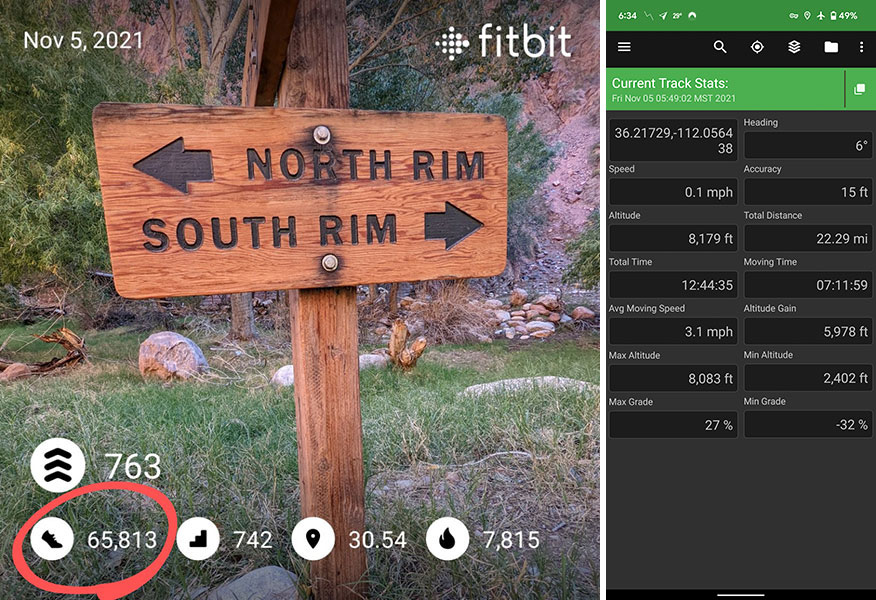 Fitbit went nuts with achievement badges as I got back into cell service on the North rim.  I was immediately congratulated with a:
Ruby Slippers badge for 65,000 steps in a day
Rainbow badge for 700 floors in a day
Italy badge for walking 736 lifetime miles (the entire length of Italy)
Cloud badge for lifetime floors numbering 8,000
I guess if you have no one to congratulate you upon reaching the other side, Fitbit can make you feel good about what you just accomplished!  Happily, I had both.
DAY 4: Return Home
We got back into Kanab pretty late after that big day of hiking.  I believe it was 1am after driving for an hour and a half from the trailhead, plus the added hour for the time zone change.  So not everyone was bouncing out of bed the next morning.  However, a few of us had recovered quickly and wandered over to Kanab Creek Bakery for some French pastries and dark hot chocolate.  The rest of the crew eventually rolled themselves into the van for a 4-hour drive home that would be quiet and uneventful.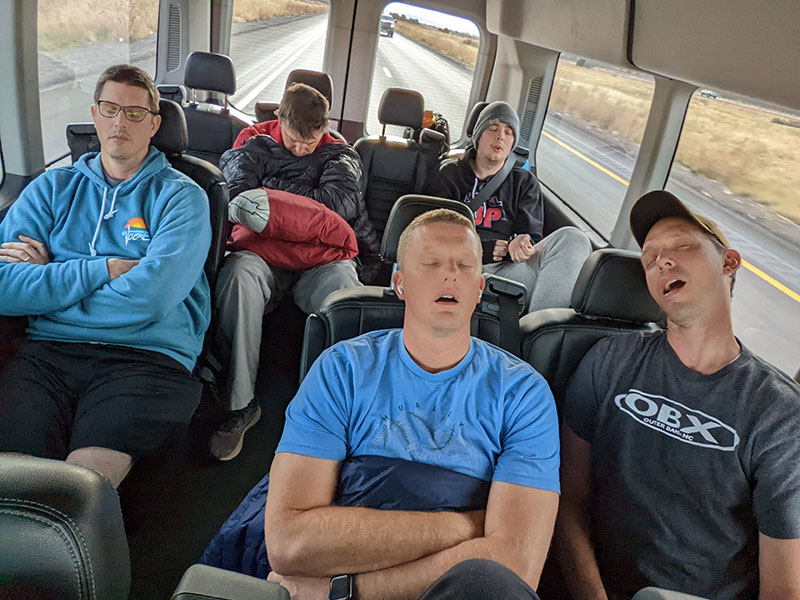 The only other stop we made was for gas and lunch at The Creamery in Beaver.  I was surprised to hear the group already talking about doing it again next year and what they would do differently.