Hiking the Grand Canyon is one of those experiences where once just isn't enough.  I'm not sure you can take it all in even after doing it twice.  How many times does it take?  Not sure yet.  This past weekend, I hiked across for the 4th and 5th time and still loved every minute of it.  This time was different though.  Weather was warmer.  Daylight was longer.  All services were in full operation.  May is way different than doing this hike in September (my 2nd in 2018) or November (my 1st in 2016 and 3rd in 2021).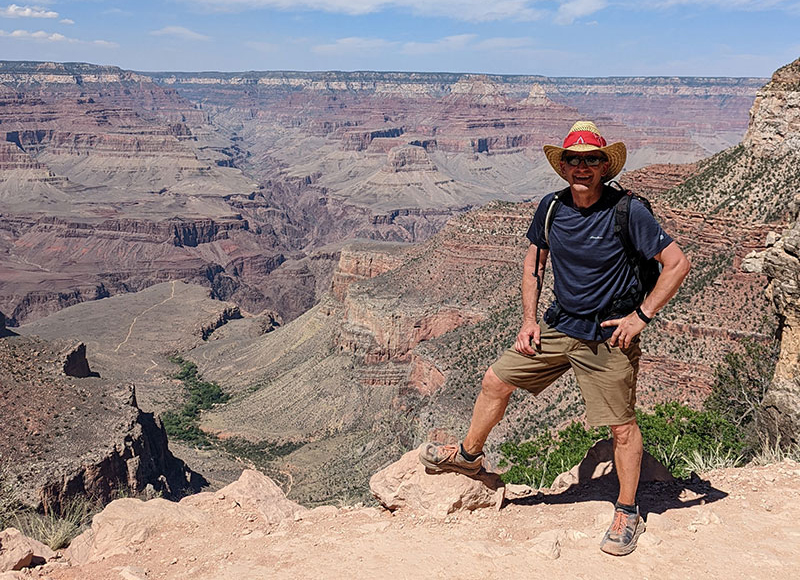 I began planning this adventure right after we got home from last year's trip.  At the time, I already knew I would kick it up a notch and try a rim to rim to rim.  Not all in the same day just yet, but that desire will come next I'm sure.  I first wanted to see how I'd do with a double rim to rim, back to back.
DAY 1: Meet in Kanab for Dinner
The logistics for this trip were a bit more complex since I had some hikers going R2R, others doing R2R2R and a few just along to support and to see the canyon from no further than the the rim's edge.  Most traveled together from Utah in the same 15-passenger van as last time.  A brother-in-law also joined us again from California for a 2nd try and some friends from Colorado for their first.  We all left our respective states to meet in Kanab for dinner.  Afterwards, four of us would separate from the group in Kanab to stay at the Kaibab Lodge in order to be closer to the North rim that next morning.
DAY 2: Ten Drive, Four Hike
Our main party took the day to drive around from Kanab to the South rim.  They essentially repeated what we did last November:  a stop in Page for whatever anyone forgot, Horseshoe Bend for those who hadn't seen it yet and the Cameron Trading Post for lunch.  Meanwhile, the four who stayed at Kaibab Lodge began the first leg of our double rim to rim hike, from North to South.  It was going to be a fantastic day with clear skies and temps in the mid 30's as we approached the North Kaibab Trailhead.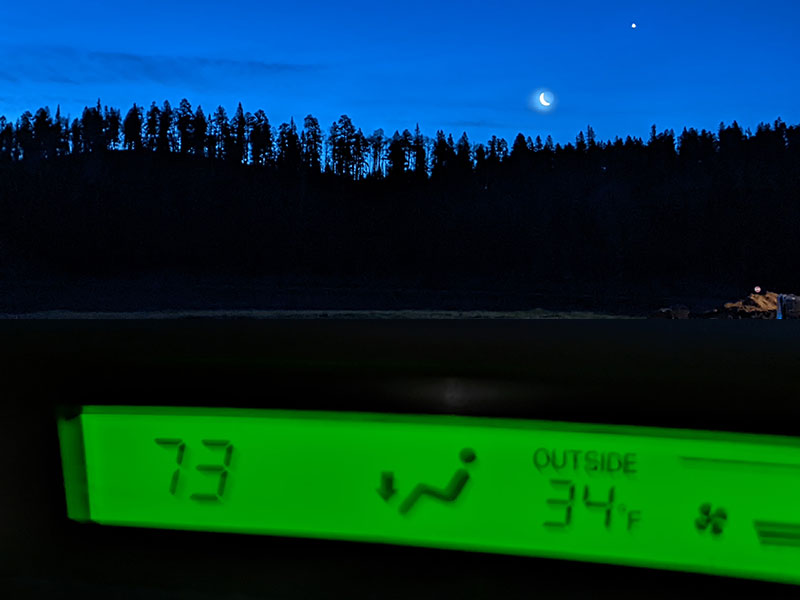 Down North Kaibab Trail
After a 20 minute drive from Kaibab Lodge, Dave, Steve, Chris and I were on the trail by 5am.  40 minutes later and we reach the Supai Tunnel at 1.65 miles in.  The Redwall Bridge then comes into view, the first/last of seven bridge crossings between the North rim and Phantom Ranch.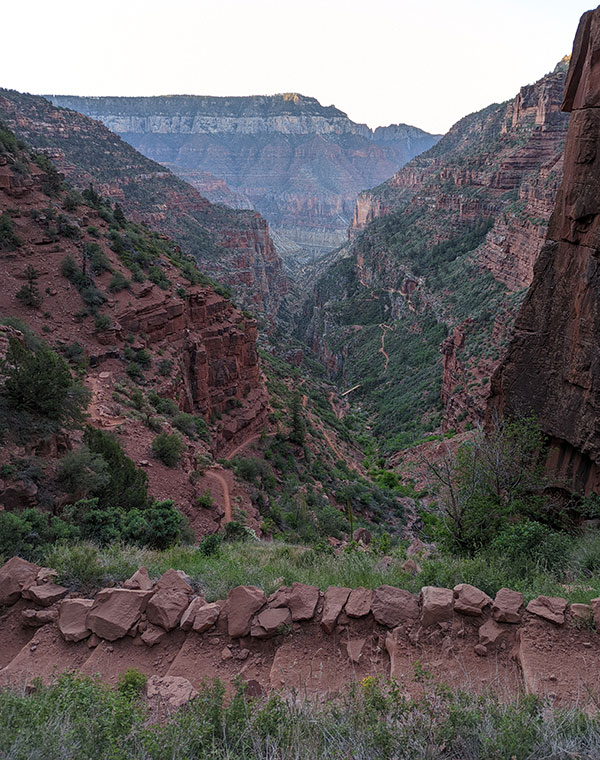 Looking back at where we came from after crossing Redwall Bridge. (yes, there's a slight uphill climb after the bridge)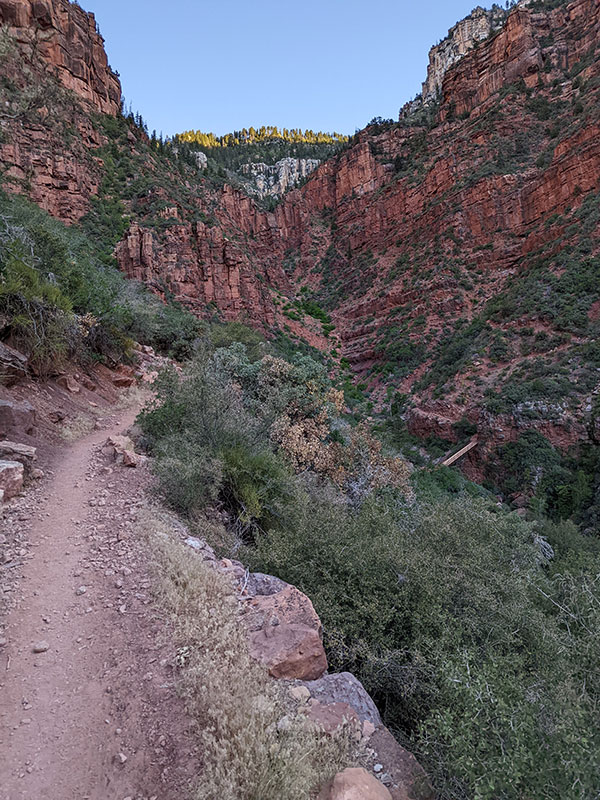 My favorite part are the sections of trail that hug the steep walls of Roaring Springs Canyon.  Dave and Steve had fallen behind by about 15 minutes.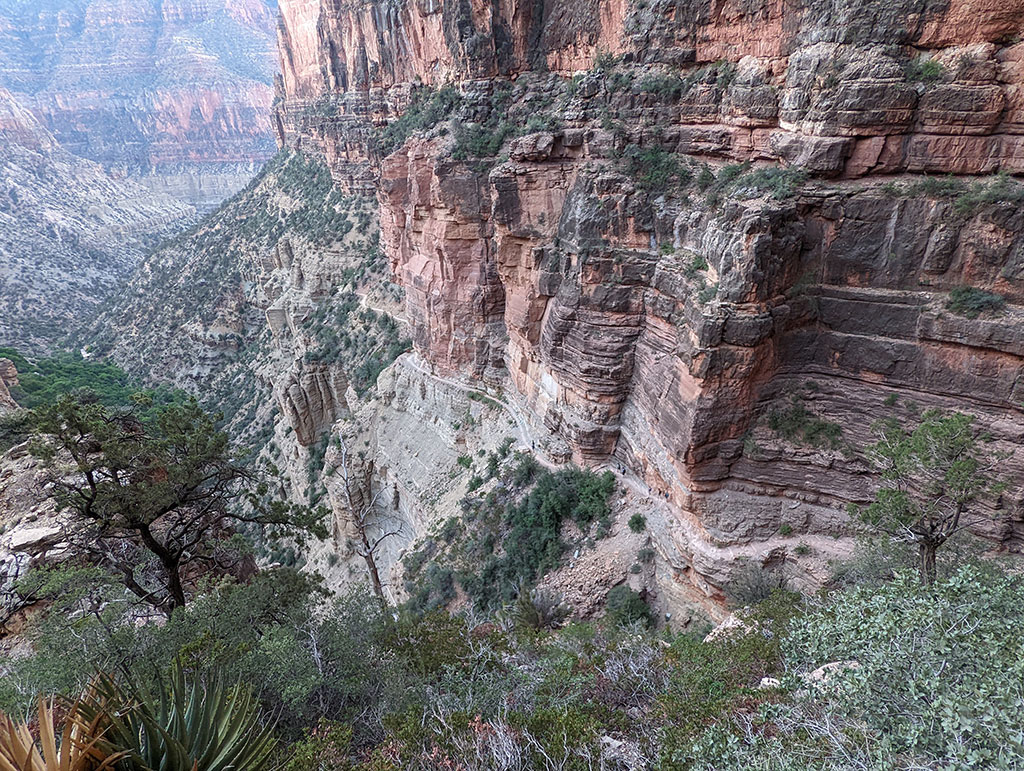 Chris and I  took our first stop at Manzanita for food, water and foot repair as needed.  My feet were doing good with the KT tape strategically placed where I already knew my sweaty feet like to rub.  I took a minute to check on them anyway and empty the sand I had collected up to this point. We were at 5.5 miles, 1 hour and 50 minutes in.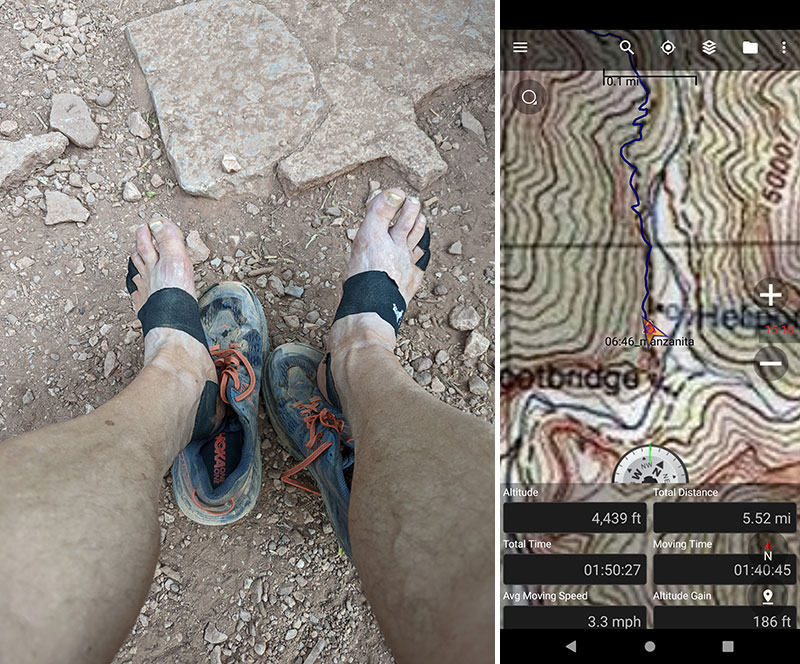 Temps were pretty comfortable as we got further down into the canyon by 7:30 in the morning.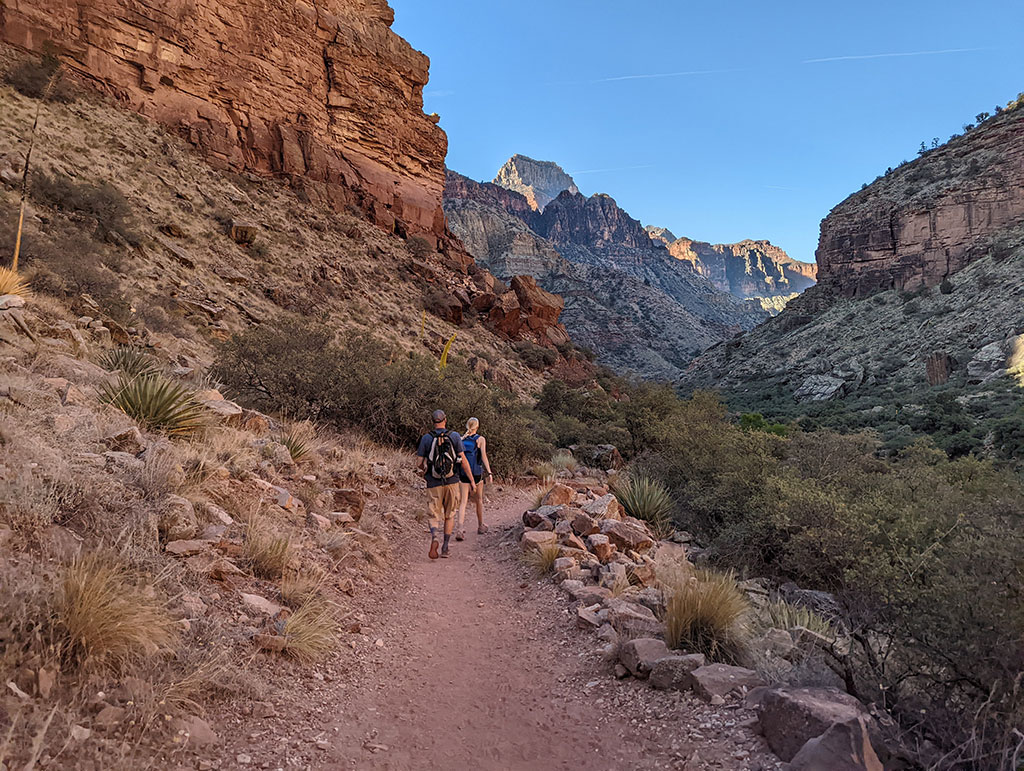 The 8.5 miles between Manzanita and Phantom Ranch is relatively flat.  Chris kept up the strong pace as we cruised through this middle section of the canyon.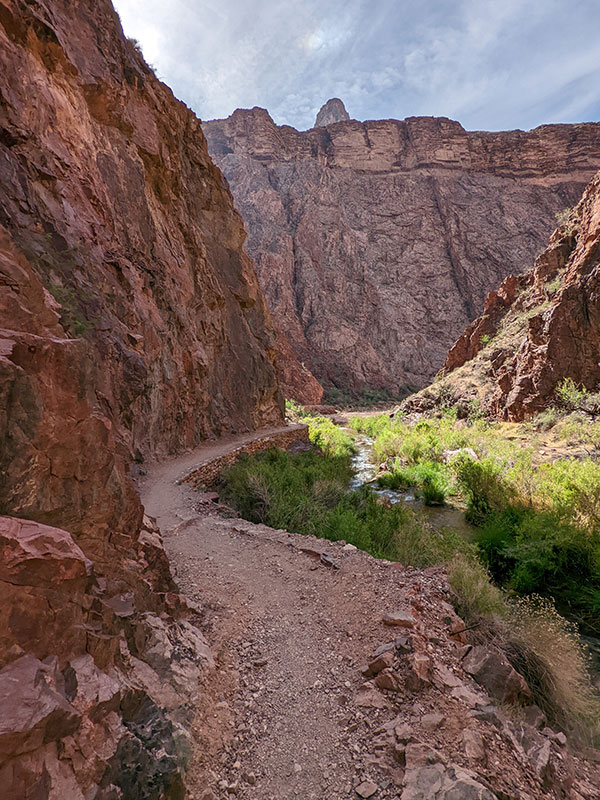 The corridor gets narrow for a section called "The Box" with several crossings like this over Bright Angel Creek.
It was already in the upper 90s by the time we got to Phantom Ranch at 9:40am.  I typically get a lemonade from the store here.  This time I opted to drink a liter of electrolyte water I had carried for those first 14 miles.  This was another good time to check in on the feet again.  I cooled them off a bit and added tape to any new hotspots developing.  Dave and Steve pulled in about 30 minutes later, right as we were about to leave.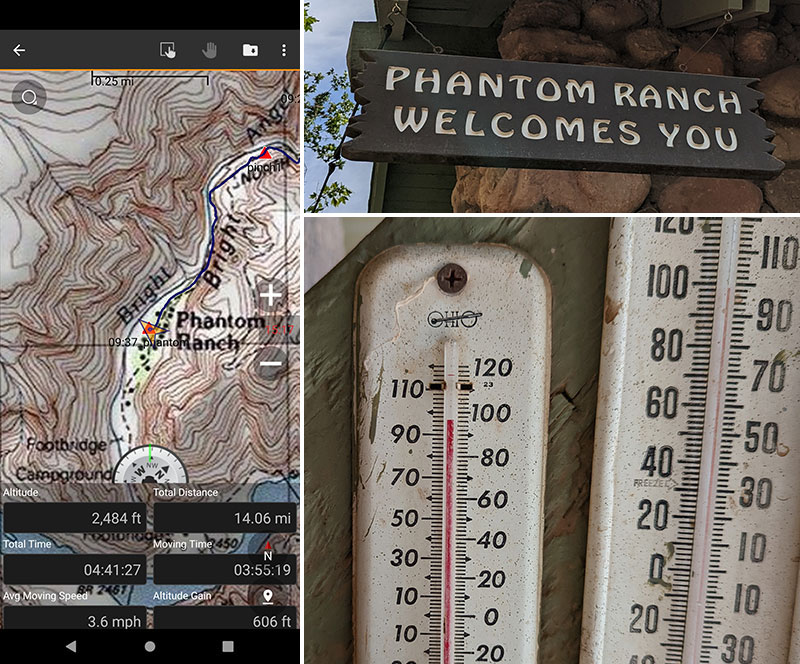 Up Bright Angel Trail
Back on the trail after a nice break at Phantom, Chris and I crossed the Colorado on the silver bridge and over to Bright Angel.  Along this stretch is where I pulled away from Chris and maintained my own pace for the remainder of the hike.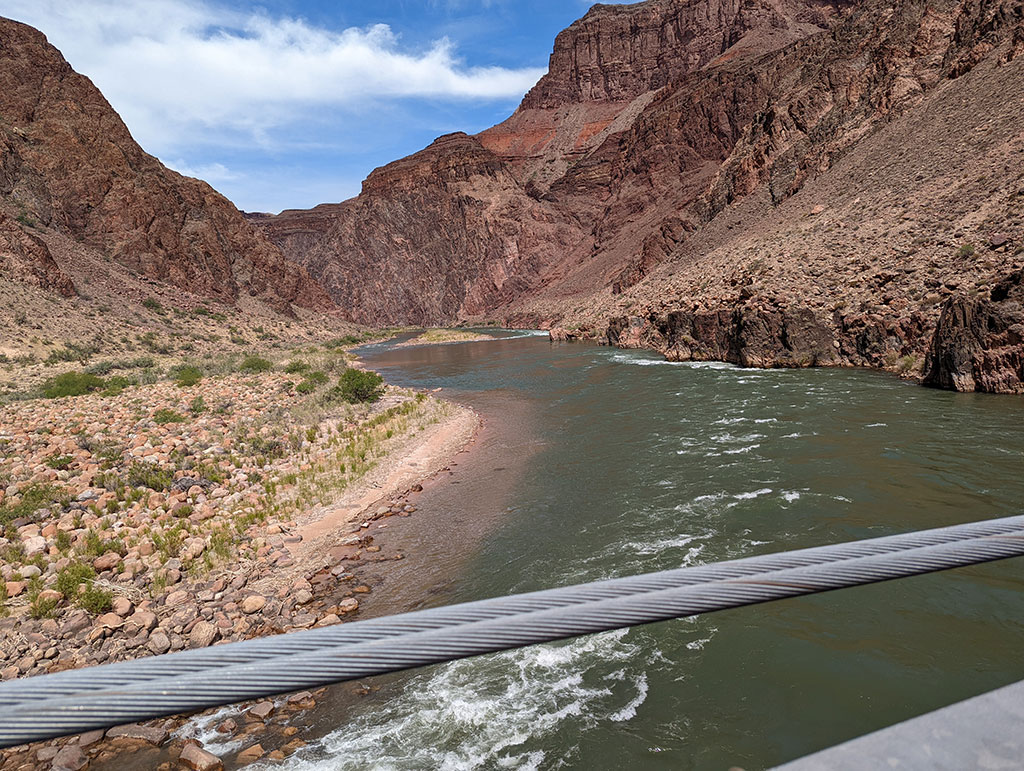 Heading up Bright Angel Trail would be the toughest part of the day.  Not only because it's all up hill from here, but also with little shade and in the heat of the day.  I knew there would be plenty of water stops along the way.  So I wasn't too worried and just broke it down into chunks.  The first chunk was to get up through the Devil's Corkscrew.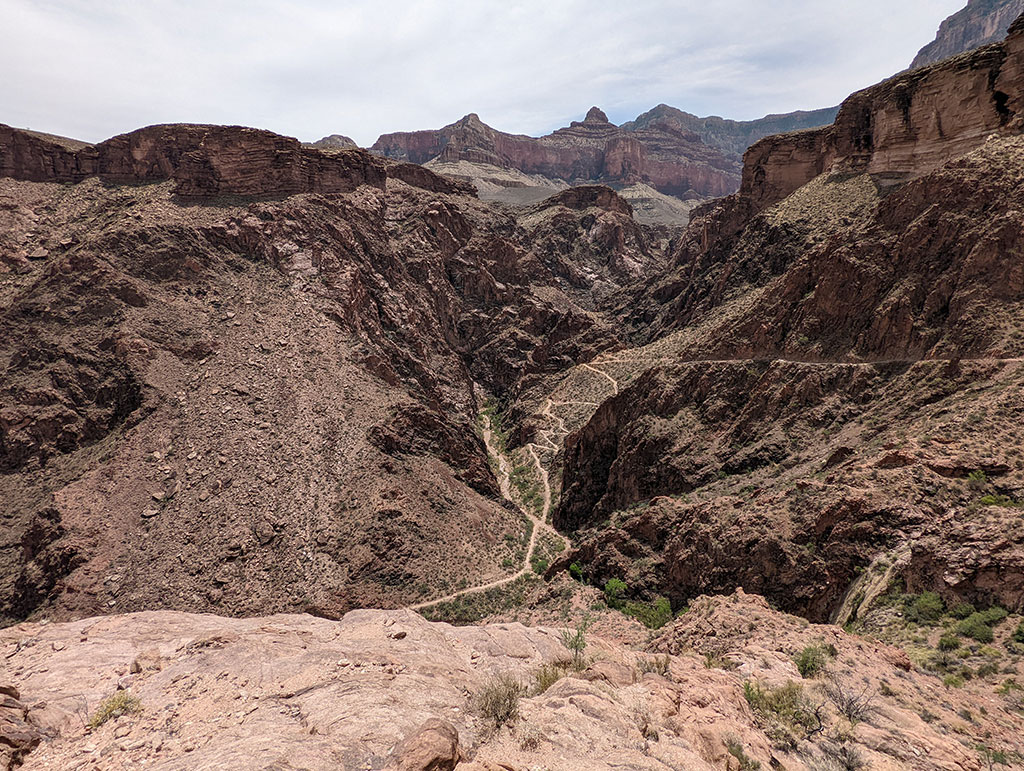 The next chunk of trail to tackle after Devil's Corkscrew was from there to Indian Garden.  It was 12:30pm when I reached this stop, 19 miles from where we started at 5am.  Even though I had gained good elevation up Bright Angel, the temp was close to hitting 100 when I took a break at Indian Garden.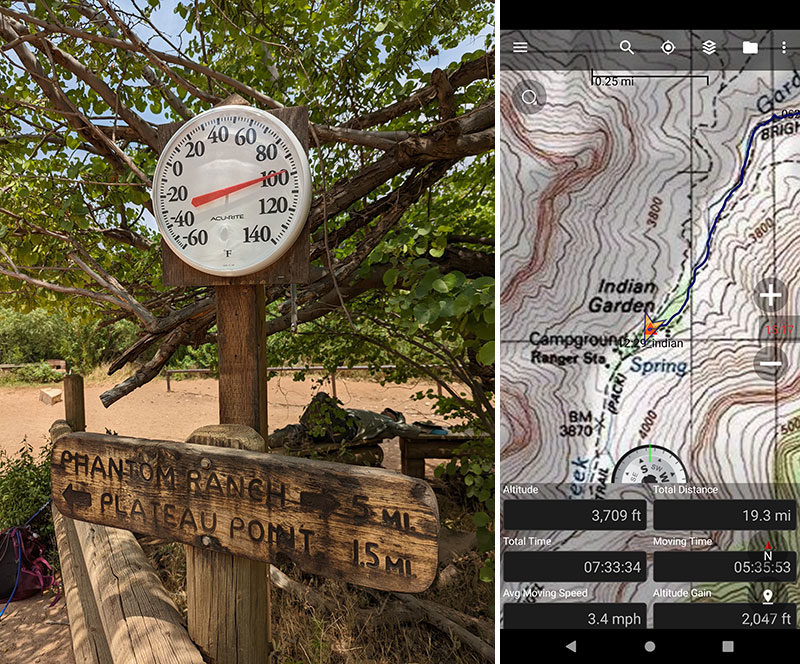 Today's Destination
I didn't stay long at Indian Garden.  Just long enough to eat some food, refill my water and drench my shirt.  I knew I was close with today's destination clearly in sight!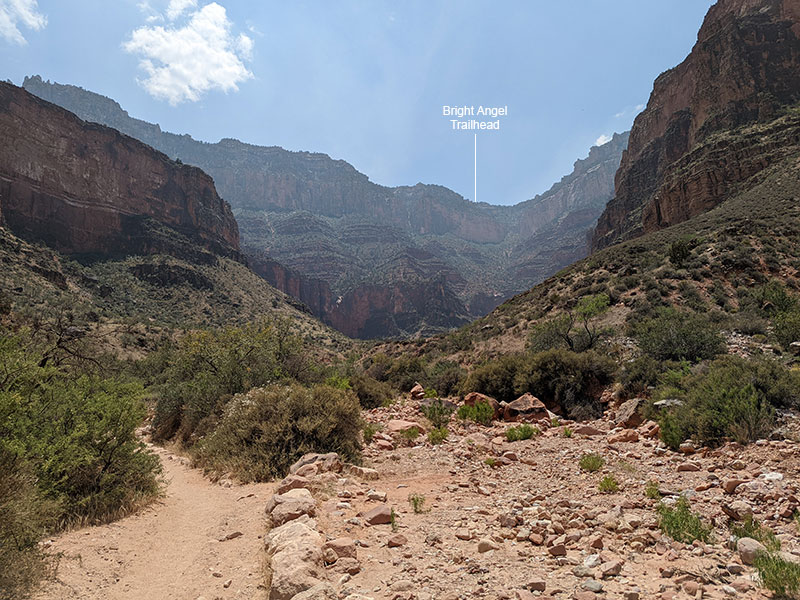 In my mind, the remainder of this hike was again broken up into 3 chunks:
1.5 miles from Indian Garden to Three-Mile Resthouse
1.5 miles from Three-Mile Resthouse to Mile-and-a-Half Resthouse
1.5 miles from Mile-and-a-Half Resthouse to the rim
Much of these last 4.5 miles were done in the heat of the afternoon sun.  Hydration was key and so was soaking your shirt at each of the rest stops along this route!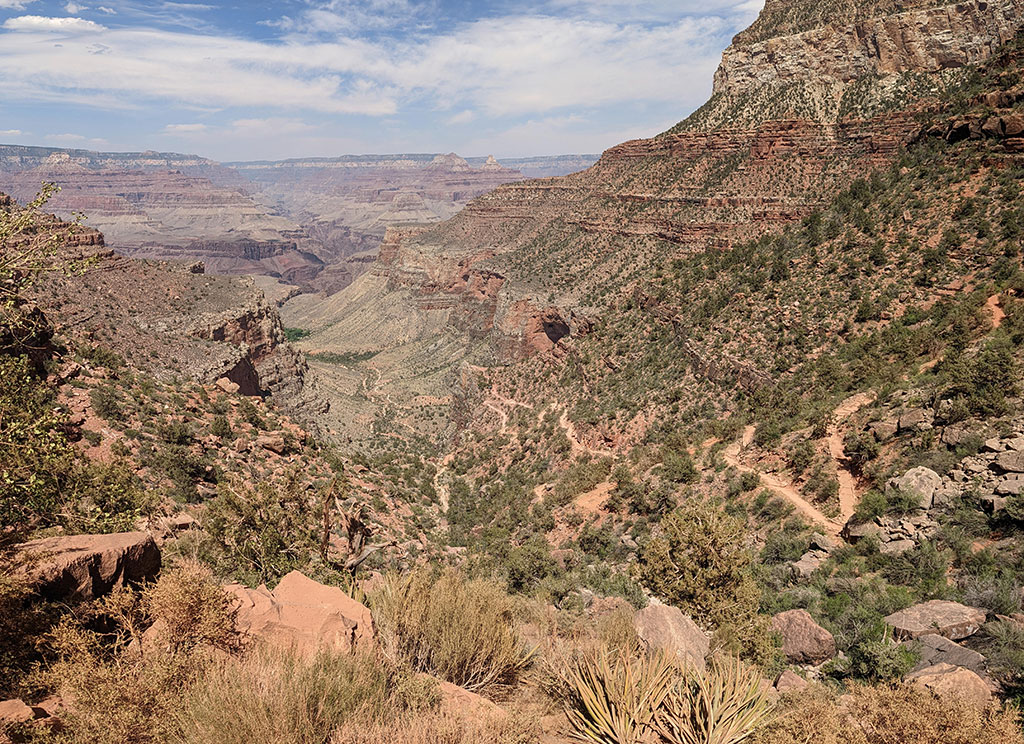 Leg 1 Done
Without any trouble, I made it to the south rim a little after 3pm.  10 hours, 15 minutes and 26 miles from the start.  My feet were sore but I was very happy to be done and felt a bit emotional for some reason.  The rest of my group, who had driven around by car, had just arrived and was there to greet me.  The timing couldn't have been more perfect.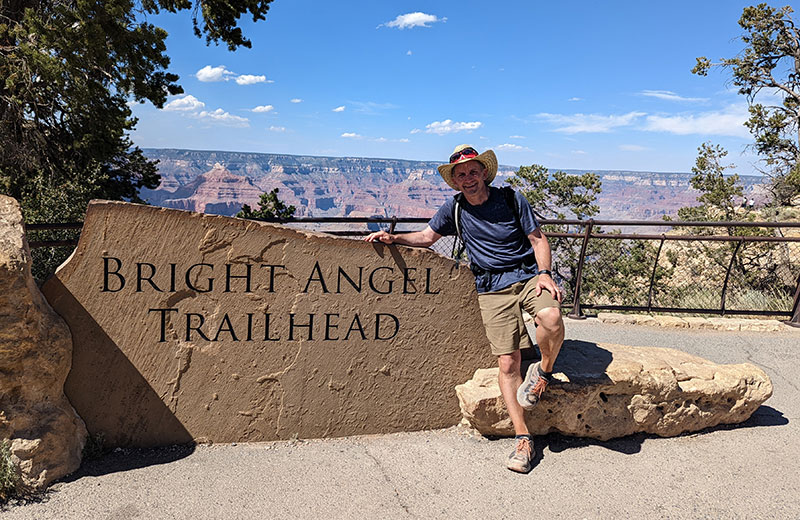 It would be hours later before Dave, Steve and Chris would reach the rim.  Dave was struggling with heat when he got to Indian Garden.  Steve was with him and spoke to a Ranger who suggested they not continue until after 4:30p, when the sun is low enough to shade the trail.  Chris was there too and used his Beartooth device to tell us what was going on.  They all eventually made it to the top in good spirits, but Dave and Chris were out for the second leg of this Double R2R and Steve was unsure he could recover by morning.