Everything was going according to plan as the group enjoyed an evening together on the South rim.  While the majority felt excitement about tomorrow, a few were contemplating their readiness for this Grand Challenge.  This is the opposite kind of hike in every way you can think of.  It reminds me of what the Park Ranger told us the last time we were in the canyon: "what should be down is up, what should be cold is hot and what should be junk food is good"…so true.
As we organized our needs for the morrow and got ready for bed, there was a lot of talk about when and where to start.  Our original itinerary had us catching the first shuttle on the Orange route at 4:30a to be on the South Kaibab Trail by 5.  However, two things played a factor in revisiting that plan: heat reports and shuttle times.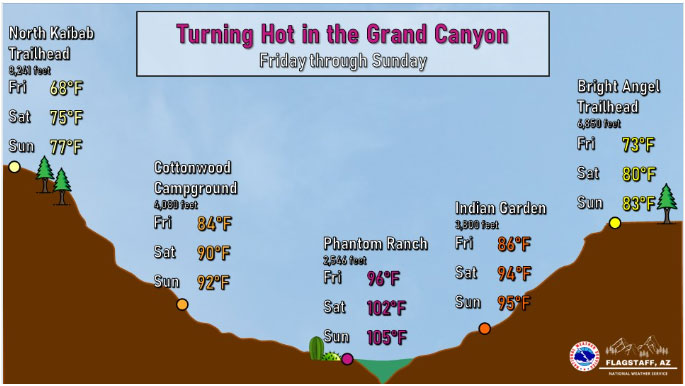 We learned the Orange route schedule had changed for May.  The first shuttle of the day departed at 5a.  Many in the group wanted to start much earlier than that to beat the heat at the bottom.  We thought about getting dropped off at the Visitors Center and walking the extra 2 miles to the SK trailhead… but if we were going to add 2 miles, then why not just keep it simple and start right where we were!  I know the views are better coming down South Kaibab, but we wouldn't catch the sunrise with a 3:30a start anyway.  So we all agreed to take Bright Angel down since heat avoidance was more important than a sunrise view this time around.
DAY 3: Half Hike, Half Drive
The final count was 7 to hike.  4 were doing their first-ever rim to rim, 1 for his second time across and 2 others to complete a Double R2R back to back. Unfortunately, 4 had to make the difficult decision to drop out and join the 3 supporting spouses who were driving back around to pick us up.  Their reasons for not hiking were wise given the difficulty and commitment levels involved.  For once our shuttle left to meet us on the opposite rim, there would be no turning back.
We got this!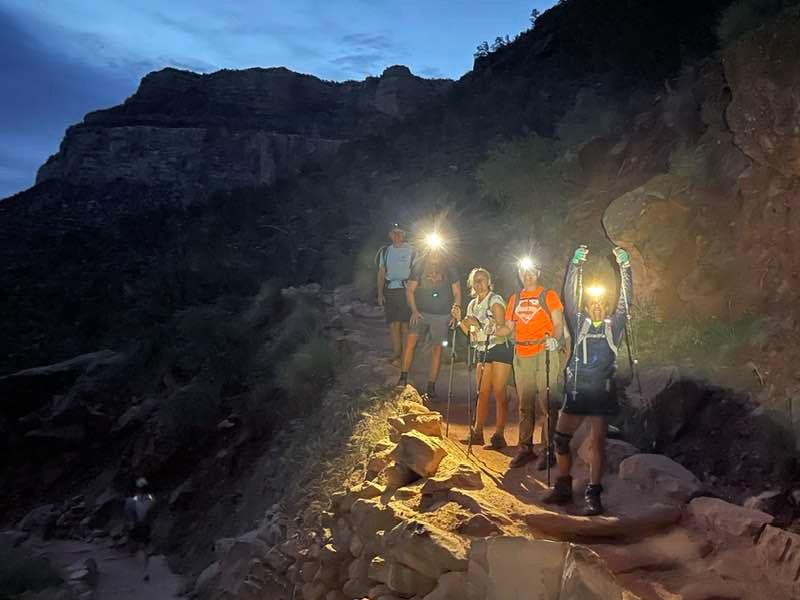 Overcast conditions made for a picturesque sky.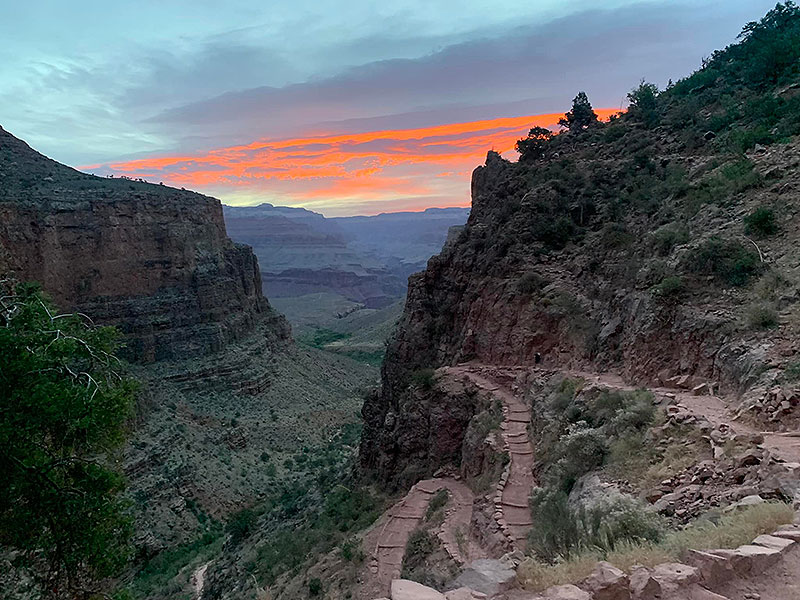 Indian Garden in the morning was nothing like the day before in the heat of the afternoon sun.  I forgot to snap a pic of the thermometer, but I think it was already 80-something at 5:40am.  I also didn't remember to snap a screenshot of our stats.  Looking back at my GPS tracks, it took us 2 hours to get to this point (4.7 miles from the rim).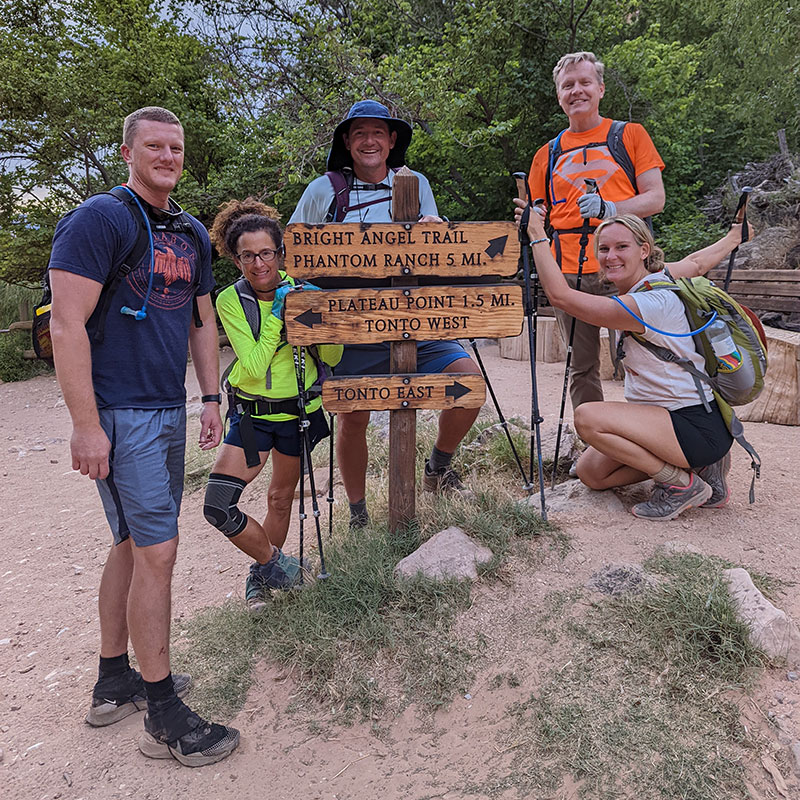 Gotta love the greenery around Indian Garden…and it stays this way from Garden Creek flowing through here.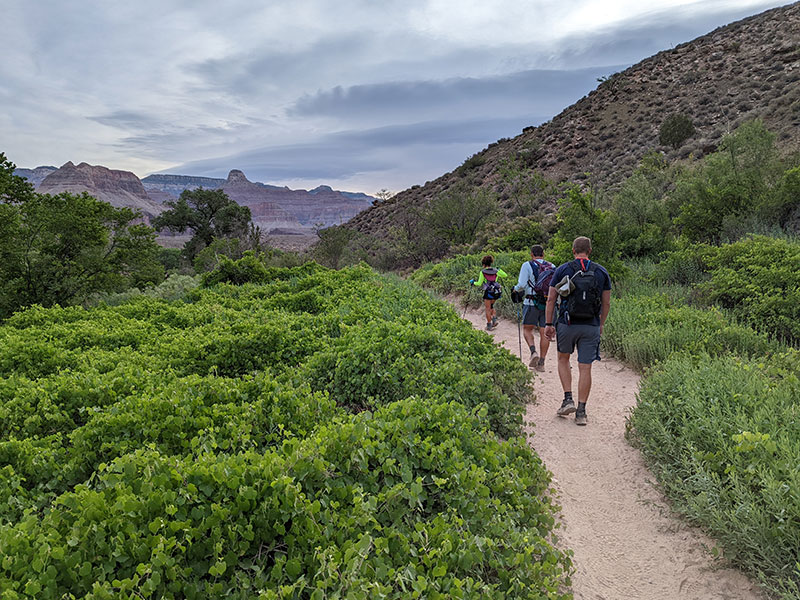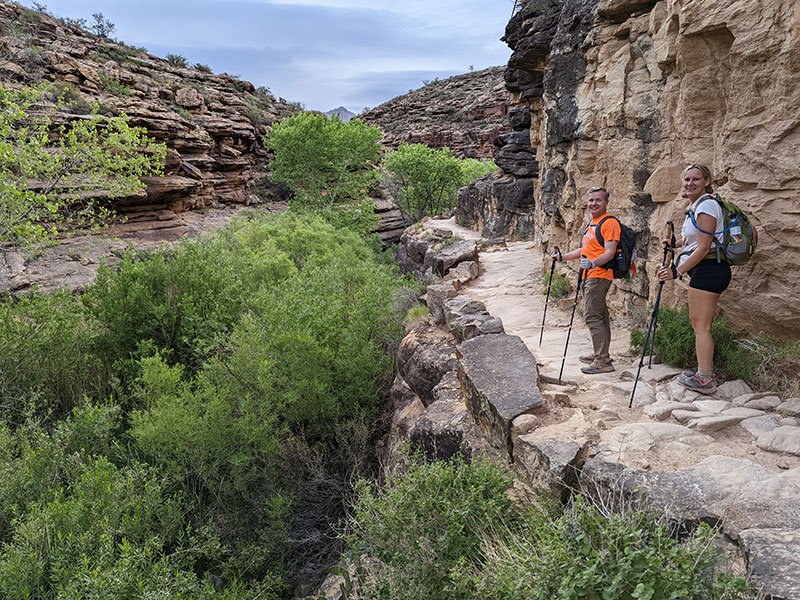 Devil's Corkscrew was MUCH more fun heading down
Scott was going strong and quickly pulled ahead here.  No one saw him again after this point.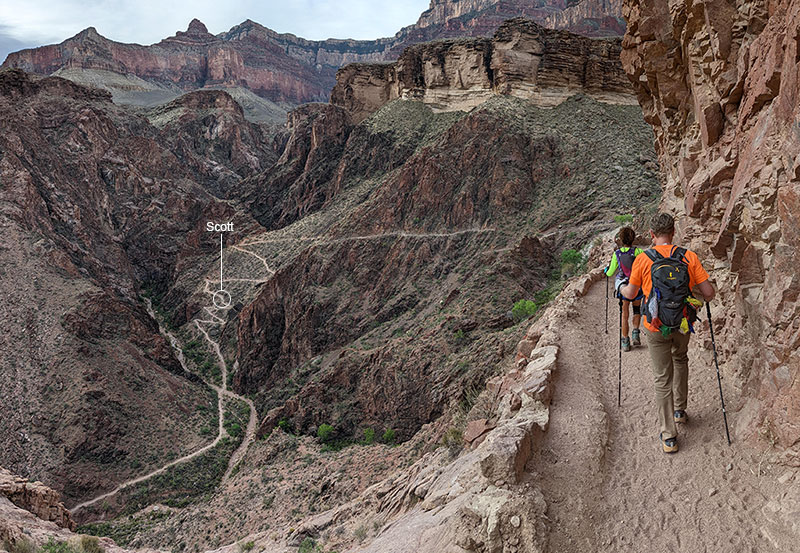 By 7a, I was down at the River Resthouse where rafters pulled off the Colorado at Pipe Creek Beach.  This was 8 miles in and 3.5 hours from when we started.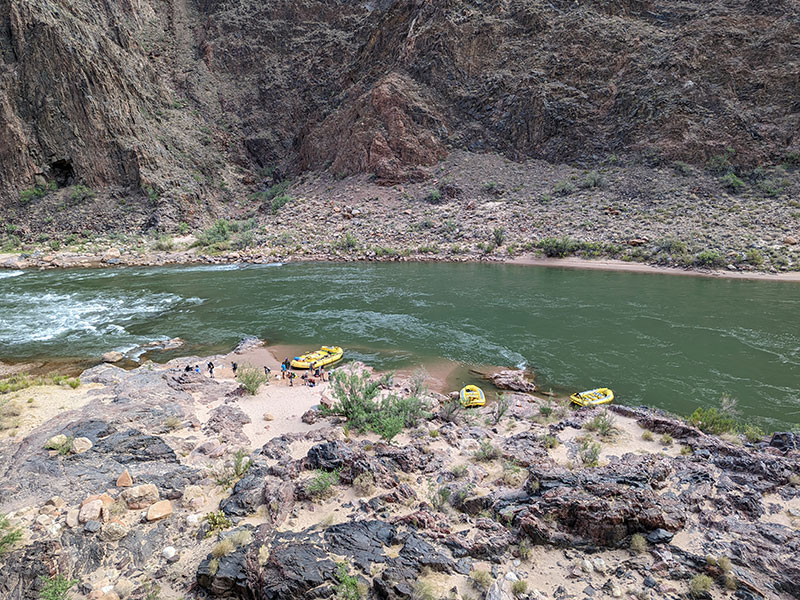 Still wanting  to float this mighty waterway from Lees Ferry to Lake Mead…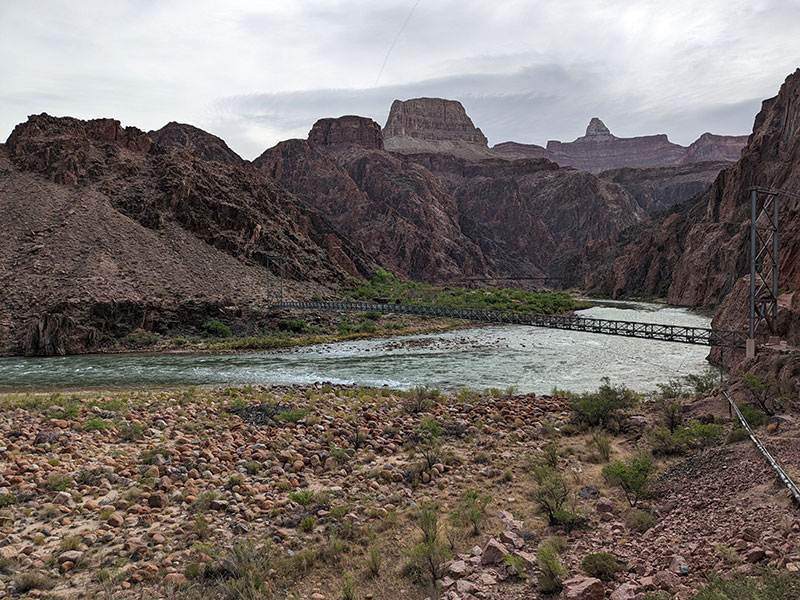 Half Way There
Phantom Ranch was already heating up by 8am.  My GPS tracked 10 miles to this point in a little over 4 hours.  Repeating what I had done the day before, I passed on buying a cold lemonade and drank my electrolytes instead.  I also added some tape to a few new hotspots.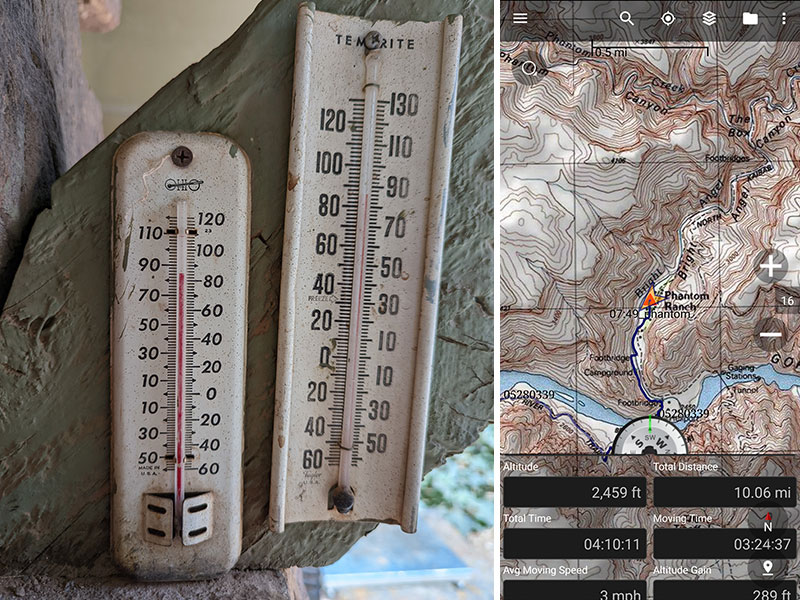 Coming up through "The Box" is always a fun experience.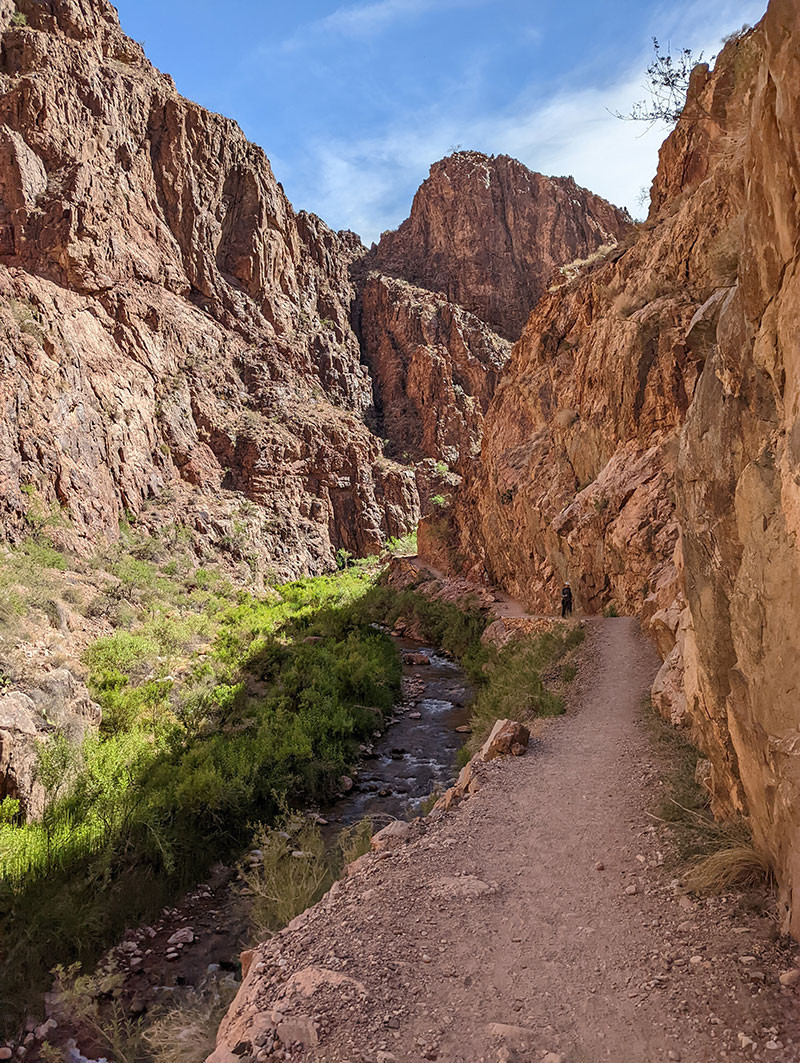 The Box is the 3-4 mile section north of Phantom where that corridor is the narrowest.  I paid special attention during this 5th time through and marked where the canyon walls closed in as indicated by these "pinch points".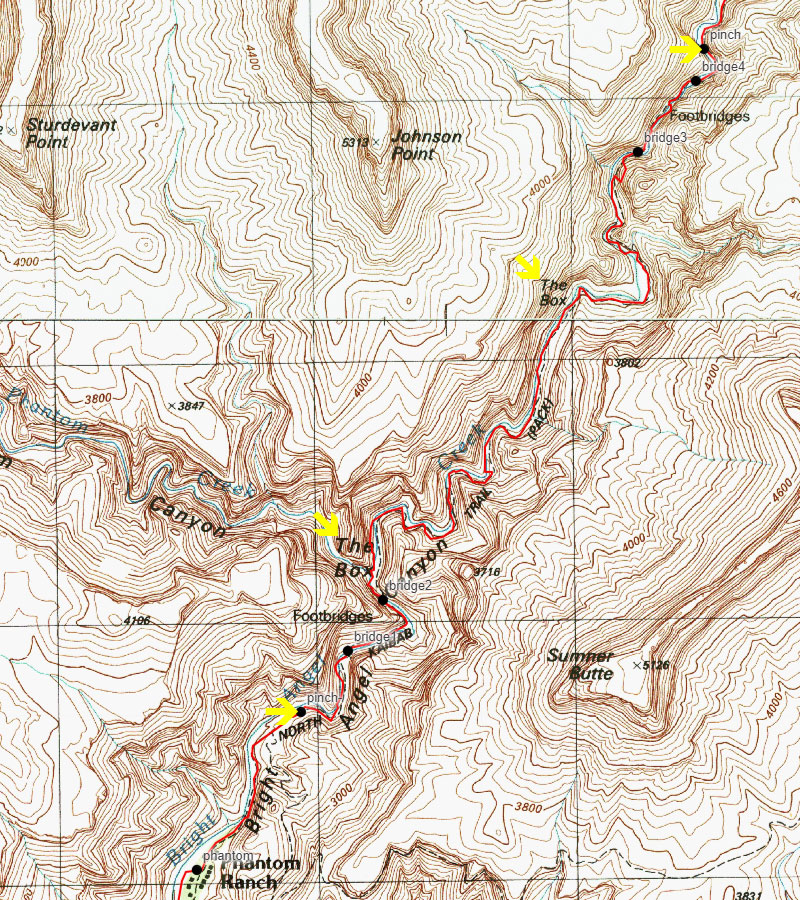 A zoomed out view shows The Box with respect to the distance from Cottonwood and the entire length of that bottom section.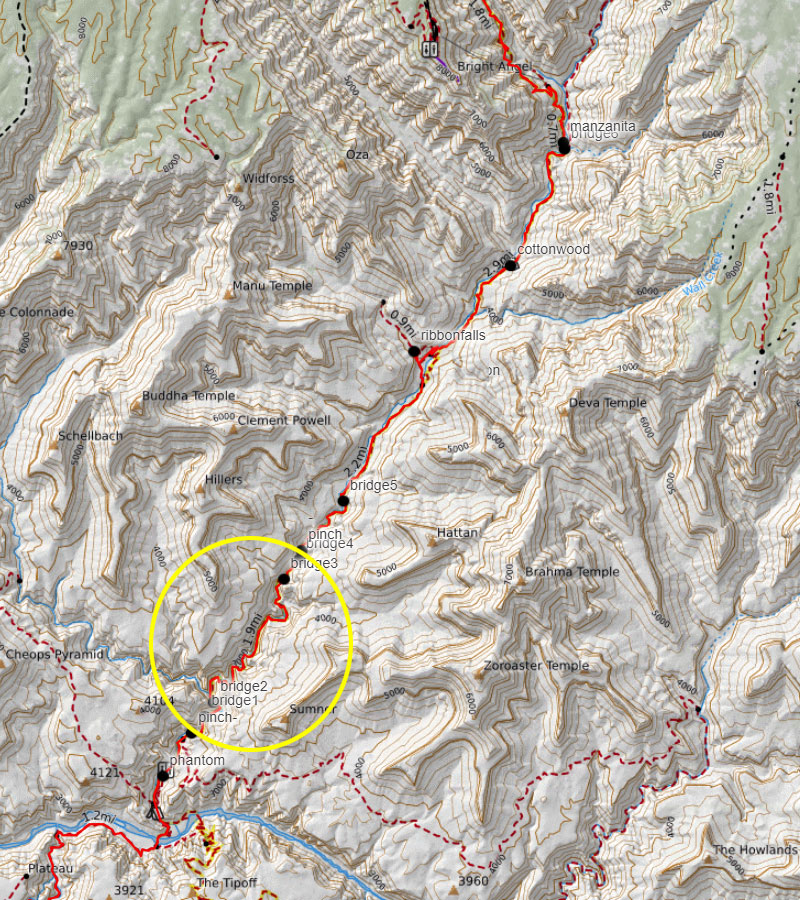 This is such a cool hike (not temperature wise).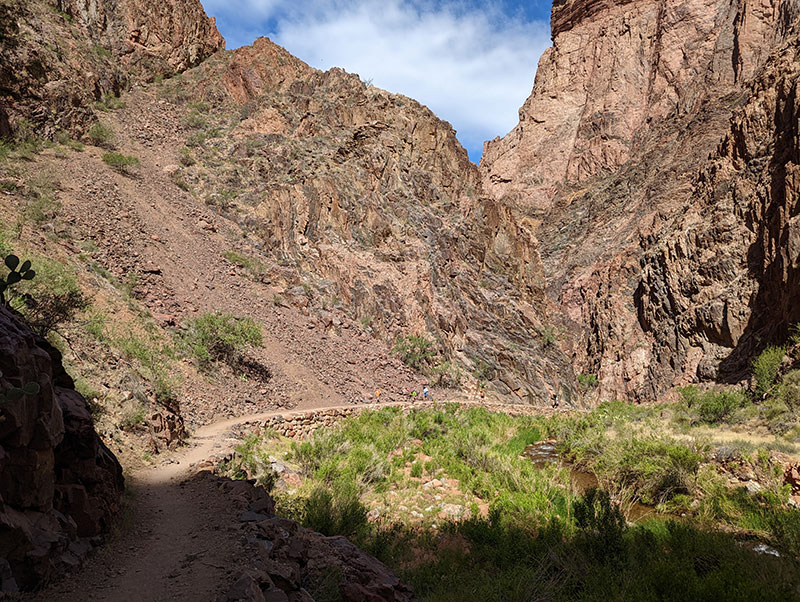 We have always taken a pitstop at Ribbon Falls to grab food and cool off.  I forgot to take a screenshot of our stats again here, but we arrived at 11:30a and 16 miles from the start.  It would be 45 minutes before we would get back on the trail feeling refreshed for the final push.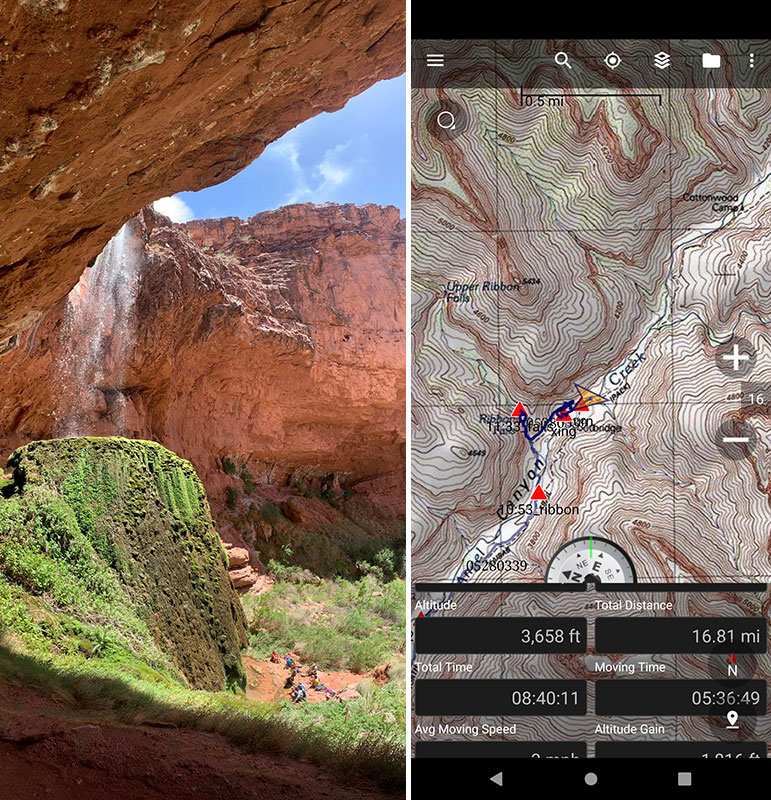 The cacti along the trail were blooming this time as well.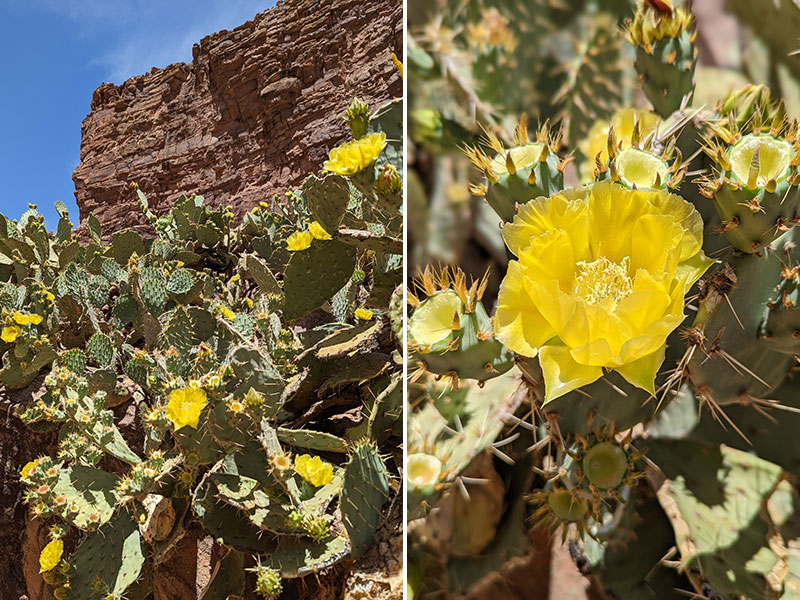 The End is Near
We arrived at Manzanita at 1:30p, 19 miles across and 10 hours in.  This would be our last opportunity to refill water, drench shirts and gear up for the home stretch.  5.5 miles to end…but those would be the hardest of them all!  The words of the Park Ranger ran through my mind: "what should be down is up."  Yep, 3,600 more feet of up!  It helps when you get to Roaring Springs and the end comes into view.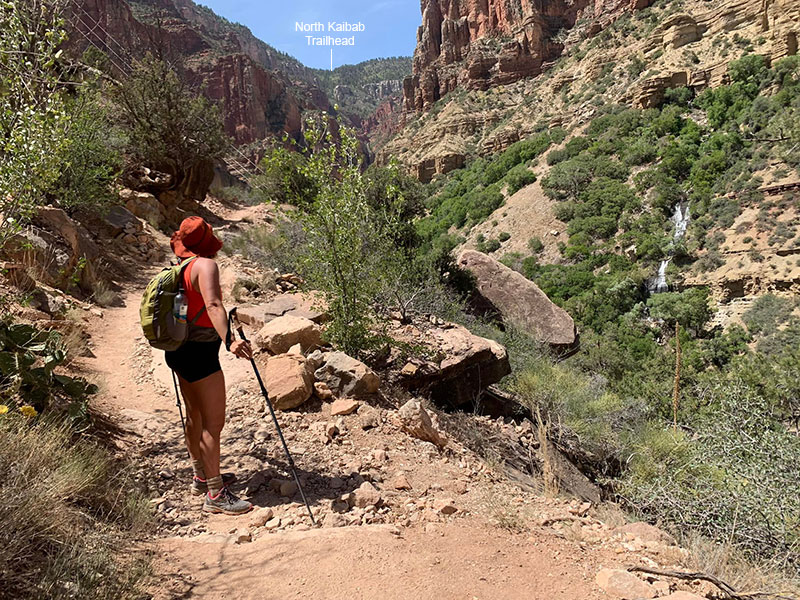 My absolute favorite section of trail is up North Kaibab where it weaves along the steep canyon walls.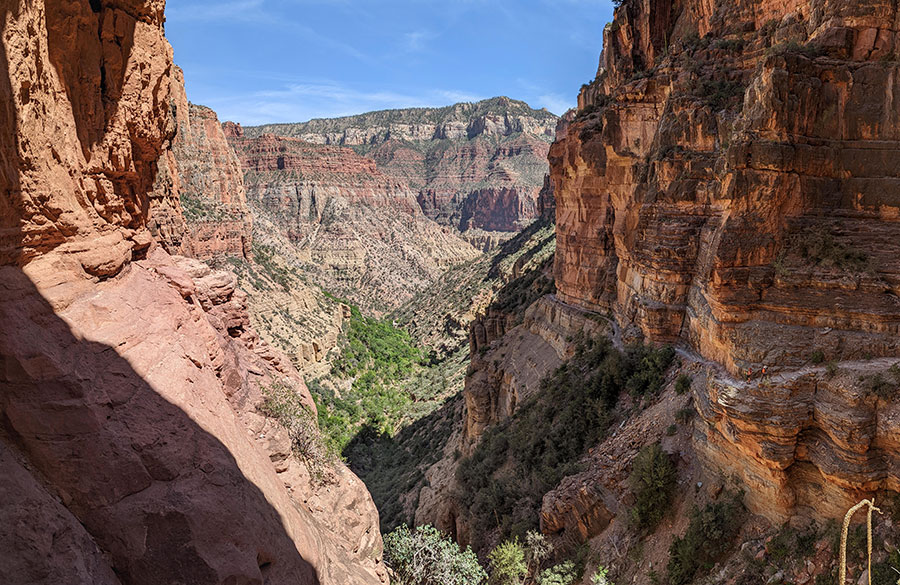 Supai Tunnel means you are very close to the end of a loooong day.  Like, only a mile and a half to go!  WooHoo!!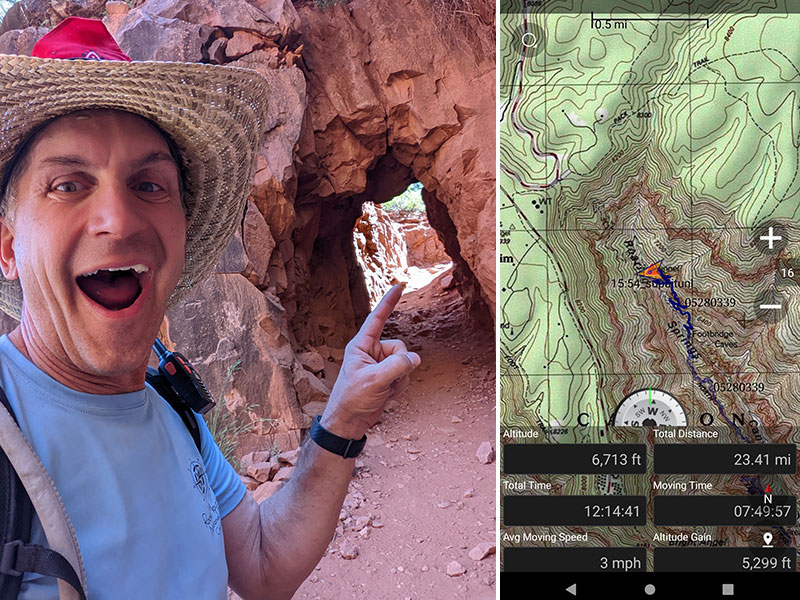 The end is up there somewhere.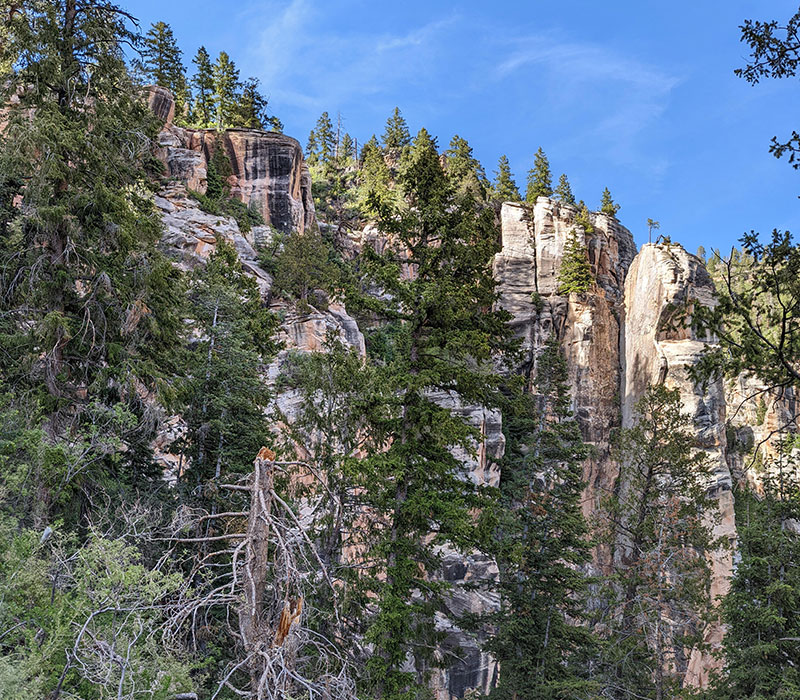 DONE!! 25 more miles with 5,825 feet of elevation, took me 13 hrs and 18 min. My feet were DONE too!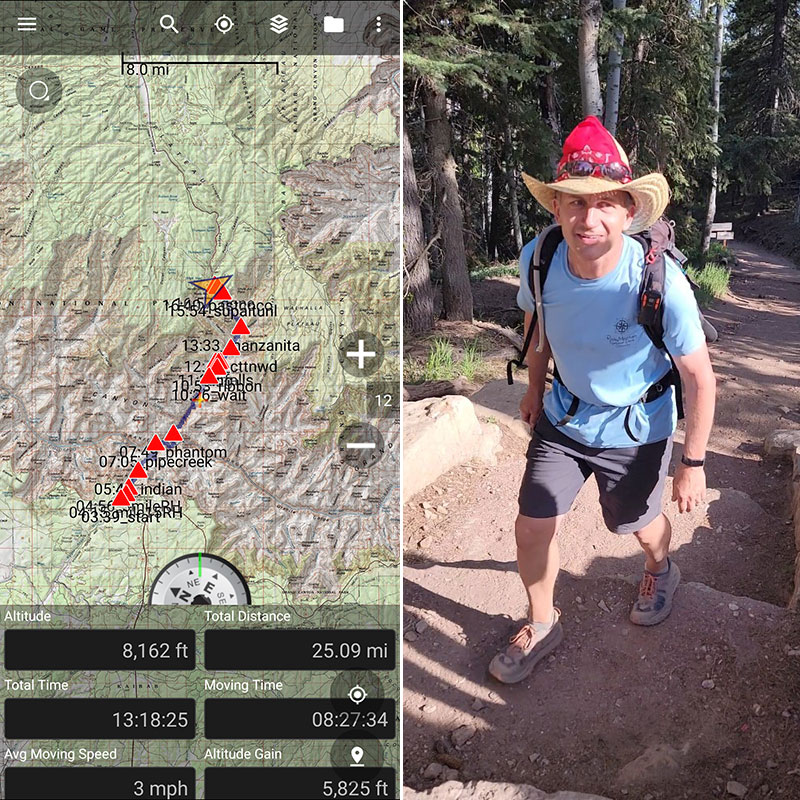 Brandi and Jared (top) came in strong about 45 minutes later.  Greg (left) at 15 hours exactly!  Steve (right), who just turned 70 earlier that week, also made great time with his Double Rim-to-Rim after starting and hour or so after us.  But it was Scott who blew us all away at 11h 15m – remember, he was nowhere in sight after Devil's Corkscrew.  Michele, Greg's wife, also shifted into a high gear at Manzanita and pressed on like a machine.  There was no catching her either!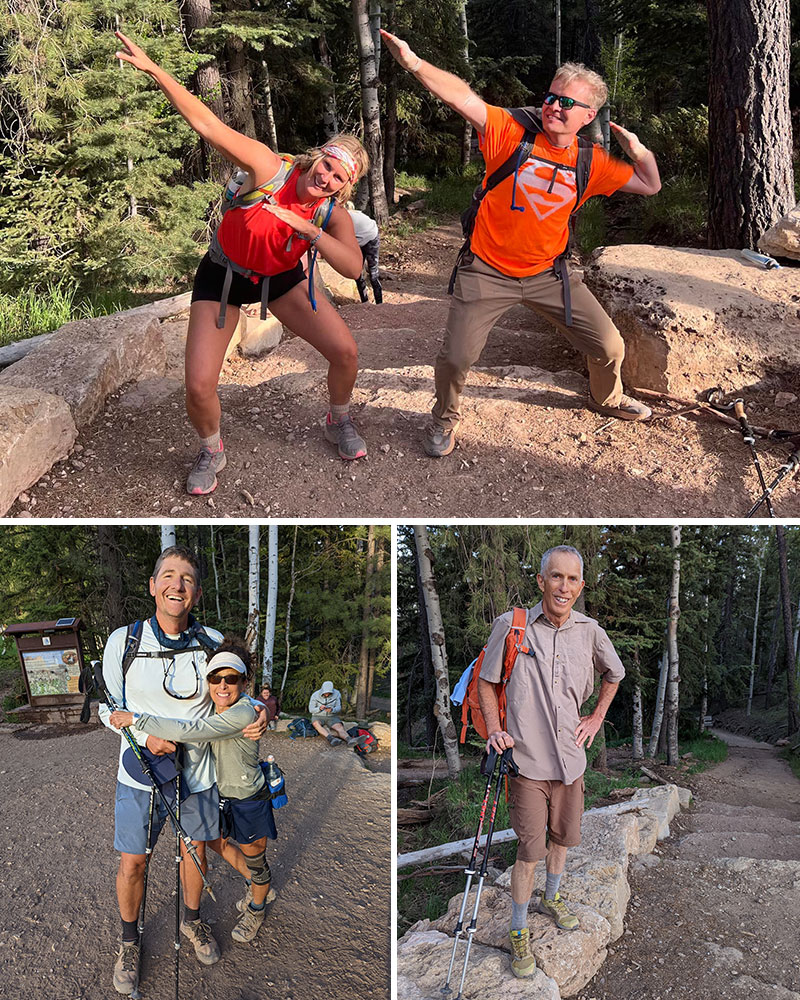 DAY 4: Return Home
We parted ways after breakfast at Adria's Restaurant in Kanab with most feeling pretty accomplished from this trip.  Much is learned about oneself from an experience like this… even when you have to call it off for reasons that are yours and yours alone.  But you build strength from the inside out and go after it again if you so choose.  As Jared put it:
"There were lots of miles, lots of elevation loss/gain, lots of heat, lots of hiking, lots of rock and sand AND lots of pure beauty, lots of laughs, lots of encouragement, and lots of incredible memories to remind us that not only can we do hard things but it creates who we want to be."