2021 was a great year for getting some hiking stuff accomplished!  I wasn't so much about reaching a specific mileage tally or total elevation gain this time.  Instead, my focus was more about knocking a few significant things off my list.  My biggest goal for the year was to get all lower 48 states west of the Missouri River, minus the glaciated ones.  I also wanted to do more mountaineering work in preparation for future plans that involve serious glacier travel.  Whatever else came my way throughout the year would be considered icing on the cake.
STATE HIGHPOINTS
Ever since the year of the Coronavirus, I caught the bug to do all 50 state highpoints.  That bug gave me 8 in 2020 and 12 more in 2021. I wanted to do more, but just couldn't pull it off with so many other things tugging on my time. It always makes me laugh when people tell me they wouldn't know what to do with themselves if they were to retire…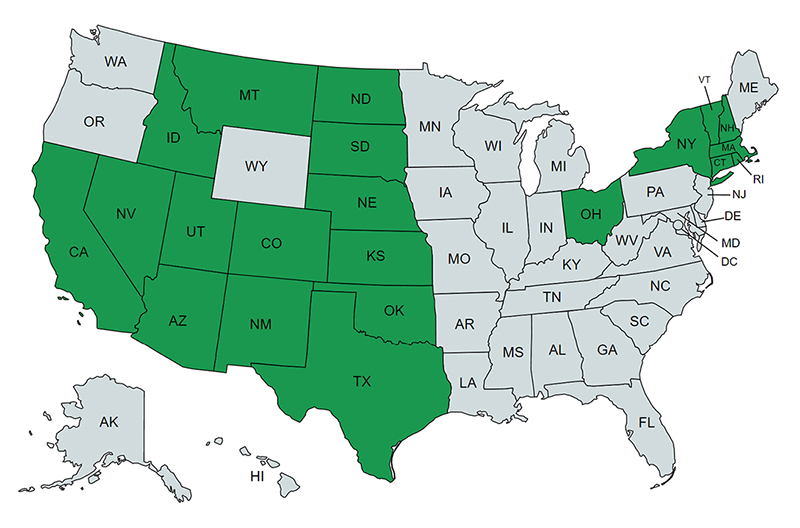 My focus on highpoints started in June with a failed attempt at Kansas followed by success in Oklahoma, New Mexico and Colorado.  Those were the warm-up peaks for my 2nd time to California's Mt. Whitney, this time up the Mountaineer's Route.
Things came together to get North Dakota in July but the lack of snow in August threw off plans for mountaineering experience in California on Mt. Shasta.  So plan B turned into a trip out east to pick up Ohio, Connecticut, Massachusetts and New York.
My momentum was strong as we rolled into September.  This is the month I tag along with my wife for her annual conference in Denver.  There was no hesitation from her when I suggested we add a day to go back for Kansas and to get Nebraska too.
I really only had one state left at that point.  Another great trip let me touch the top o' Texas in October.  That brought my season of State Highpoints to an end with a total count of 21 out of 50.
MOUNTAINEERING
More mountaineering was definitely high on my list for the Spring of 2021.  With plans and permits already in place to do the Mountaineer's Route on Whitney in June, I jumped all over the opportunities to do Cold Fusion, Memorial Couloir and White Baldy (from Silver Lake), all in May.  Shasta was also on the list but most said the snow conditions were so bad that I should hold off on that for another time.
SIX-PACK OF PEAKS
Early in the year, I signed up for the inaugural Six-Pack of Peaks Challenge for Utah.  This challenge was pretty straight-forward with 6 familiar peaks along the Wasatch Front: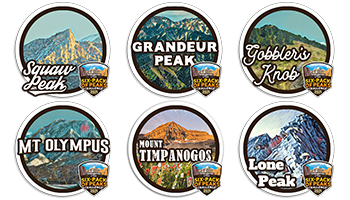 Squaw Peak – elevation 7,877′
Grandeur Peak – elevation 8,299′
Gobbler's Knob – elevation 10,246′
Mt. Olympus – elevation 9,026′
Mt. Timpanogos – elevation 11,752′
Lone Peak – elevation 11,253′
Even though I had already done all these peaks before, some even more than once, I thought it would be fun anyway and decided to tackle the list with a twist or two.  I kicked off the year with a Grandeur Peak Double and a Rock Canyon Combo, both in January.  Next up was Mt. Olympus from Neff's Canyon in May before my Summer Series of State Highpoints got underway.  Hitting those 12 states in 5 months didn't leave me with a lot of time to bag much along the Wasatch…not to mention, the major backyard project I had going on for the second summer in a row!  Nonetheless, I didn't lose focus.  I found time in July to bag Lone Peak for the 2nd time up a different way and Timpanogos for my 9th with somebody new.  A repeat of Timp in September, via a partial traverse, gave me a 10th summit of this Wasatch Front favorite.  Utah's Six-Pack challenge was then wrapped up in October with a Gobbler's Loop de Loop that put me at the top of this year's finishers.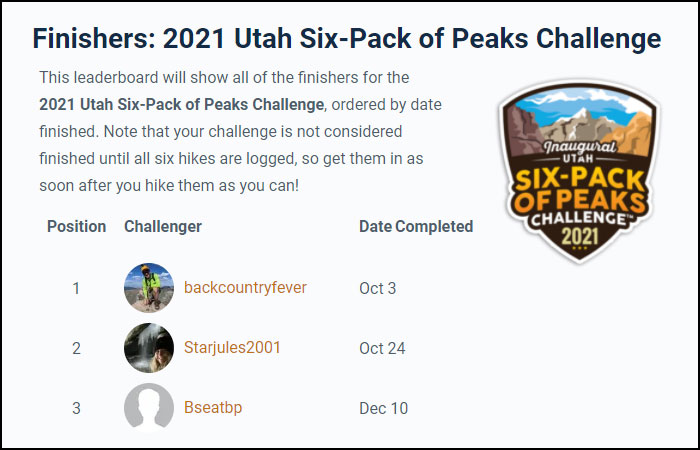 OTHER EPIC ADVENTURES
A handful of other epic adventures unfolded as the year came to an end.  Such adventures included Table Mountain (Wyoming) and Long's Peak (Colorado) in September and a third crossing of the Grand Canyon in November.  Finally, a mild start to December offered spring-like conditions on AF Twins and South Thunder as I closed out the year attempting to make a small dent on my list of Wasatch 11ers.
What a crazy cool year!  Can't wait to see what next year brings.